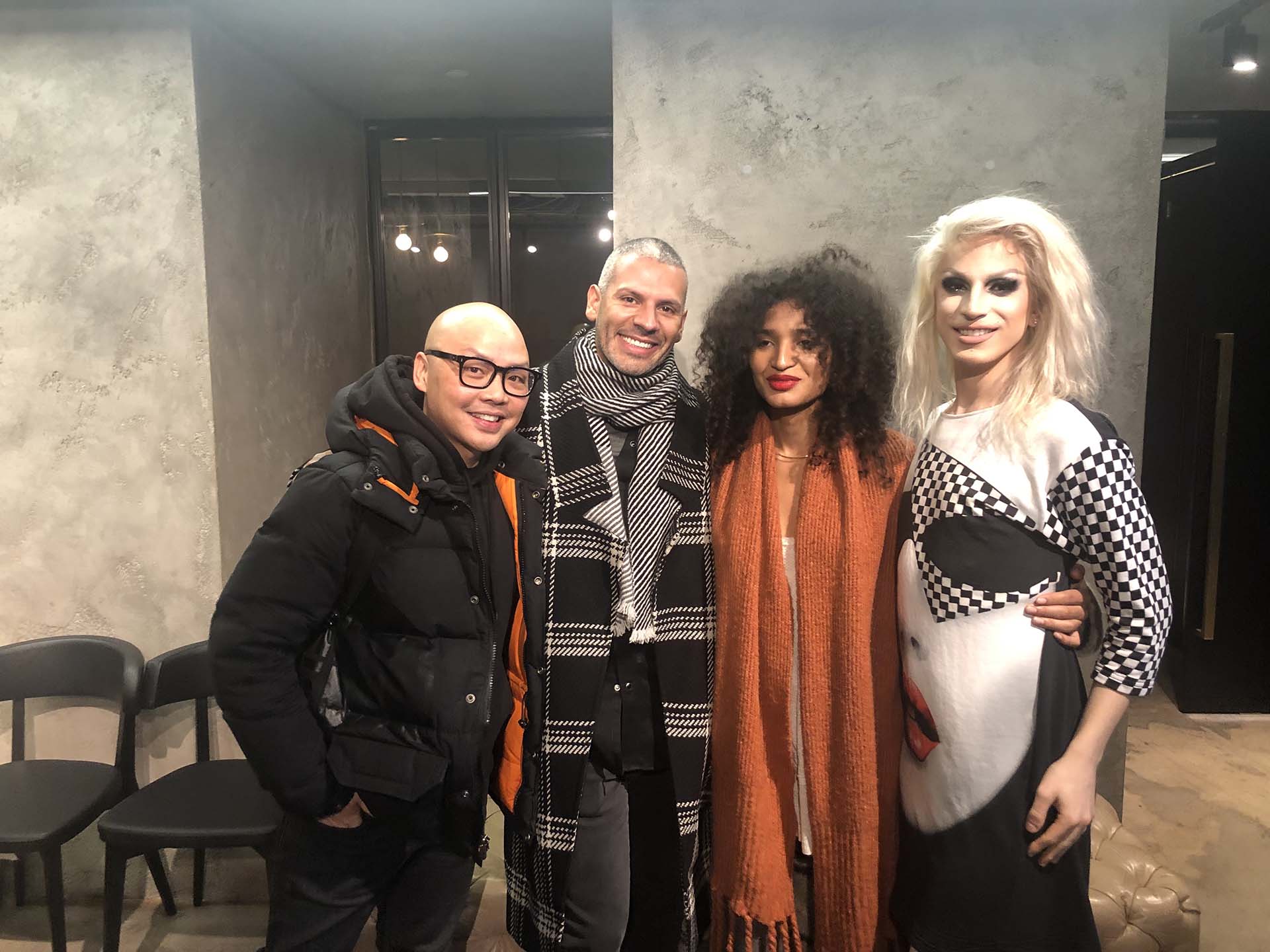 When I got an invitation to learn makeup tips from Daniel Martin, I of course said yes.
He's the one responsible for Meghan Markle's effortless, natural, and radiant wedding-day look. Who, after all, doesn't want to learn how to look like their best selves, but actually better?
Last night's first-ever makeup mini-masterclass and panel hosted by The Wall Group, IMG Models and The Ali Forney Center brought together celebrity makeup artists Daniel Martin and Vincent Oquendo, along with Pose star and social activist Indya Moore and Rupaul's Drag Race winner Aquaria. Unlike those other makeup masterclasses that consist of a lot of sitting and watching (aka it's YouTube, but IRL), and doing little makeup, this one was the complete opposite. Each participant was set up with a full-beat station, centered around an LED vanity mirror that made any filter on Instagram look dated. Bless selfie-lighting. Products included those from NYX, Honest Company, Shiseido, and Glossier that each participant could play and test.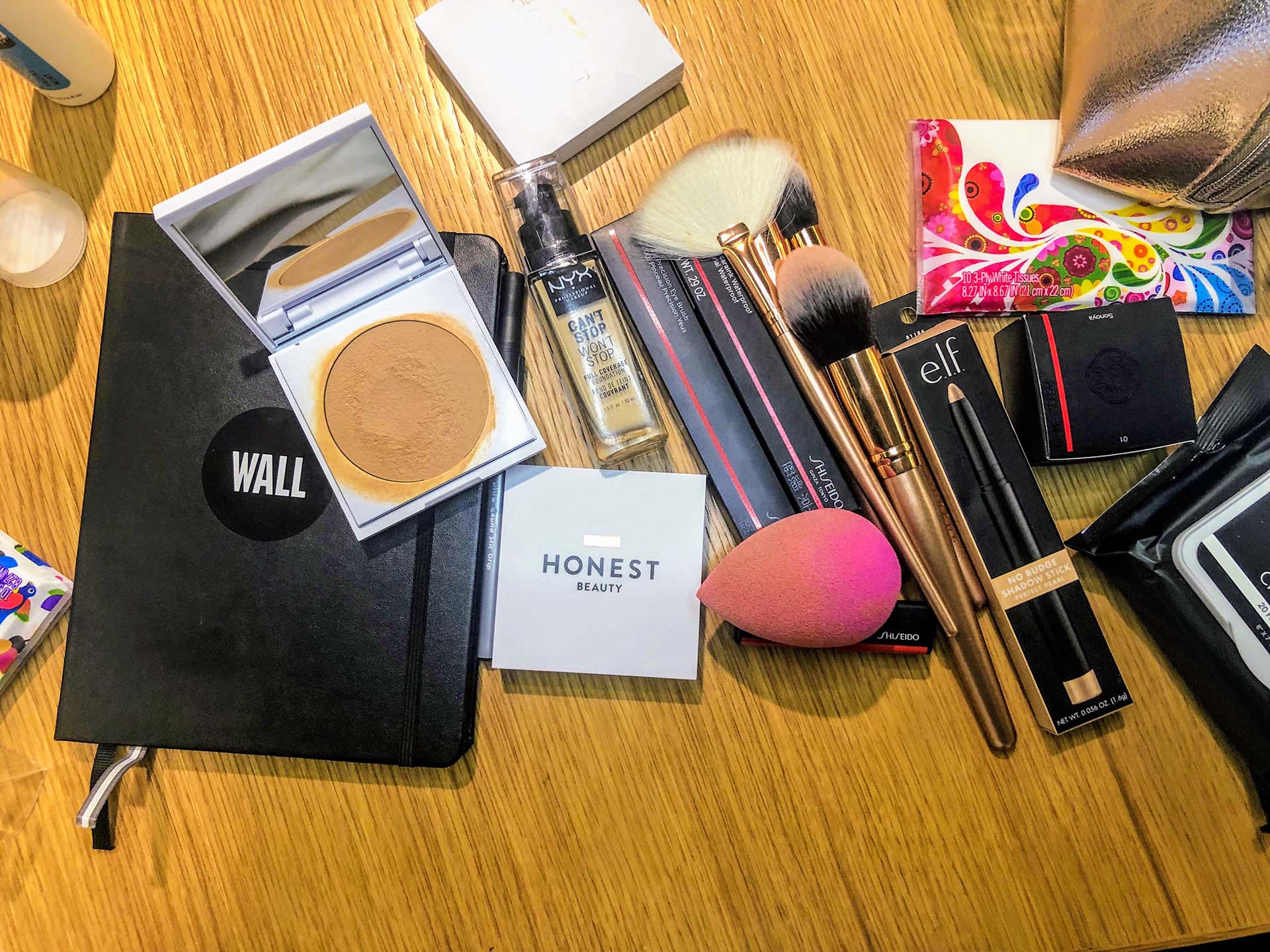 While doing our makeup, mini-tutorials were happening at the front of the room. Vincent Oquendo, who's clientele includes the Hadid sisters, Kendall Jenner and Ashley Graham, taught us how to fill out eyebrows.
"It's all about short strokes. You want to mimic the length of the hairs," he demonstrated on one of the attendees.
Another pro-tip? Do your highlight first, then contour. It's the Daniel Martin technique. He prefers this way because "the light enables me to see how much I can shave out, rather than go in and create a contour that doesn't make any sense." It's not the most groundbreaking thing, but I'm surprised at myself for not having tried it prior to last night. I tested out the DM method at my station and learned that's why Daniel Martin is a professional makeup artist. It works!
While some attendees, like myself, were closely following the tutorials happening at the front of the room, others were doing their own thing. Adding glitter eyeshadow, lipstick, someone was even going for a smokey eye, the possibility of looks was limitless. I'll admit that I'm pretty much a beauty newbie. I only started to regularly dabble in makeup about six months ago. Since, I've learned how to use a beauty blender, what selfie angles are best for my face, and how to highlight (and hide) parts of my face. It felt like getting to know myself all over again. Getting to know this face I'd refused to look at in mirrors due to acne and scarring, and instead finding the good – and that inner strength and beauty from within. Daniel seems to be aligned.
"Makeup has changed in so many ways," Daniel Martin tells Very Good Light at the class. "Women and men have become very comfortable with it. Makeup now is more about pulling out that inner beauty that someone has always had, but didn't understand or know how to release."
Painting your own face is one thing, but doing someone else's makeup is a completely different beast. I mean, look at Drag Race challenges where the queens need to do someone else's beat? They hate that one! Regardless of whether they paint a veteran, social media star, or family member, the queens' sisters-in-crime always leave feeling more empowered. Daniel Martin discovered the powers of makeup by doing it on others too.
"When I was doing drag as a club kid was when I really got into makeup and understood the power of what it could do to somebody," he says. "[Makeup] could hide, enhance, or accept what you already have, or what you don't like about yourself. It makes you come to terms with whatever nuance or flaw that that may be. But it's a very empowering thing," he tells me.
For drag queens like Aquaria and stare like Indya,  makeup transformed her entire life. "Being authentic and true to myself has led brands and people to me in the most beautiful ways," Indya tells us.
And for all of us, who might feel disenfranchised, different or as if we don't belong, makeup allows us to transcend from our day to day lives. For some, it's fantasy. For others, it's armor. Whatever it is, it's clear makeup is empowering and can change someone's perspective about themselves and the world. But it's only when we start to channel our inner power and light that we become agents of change. After all, beauty shines best when it comes from within.