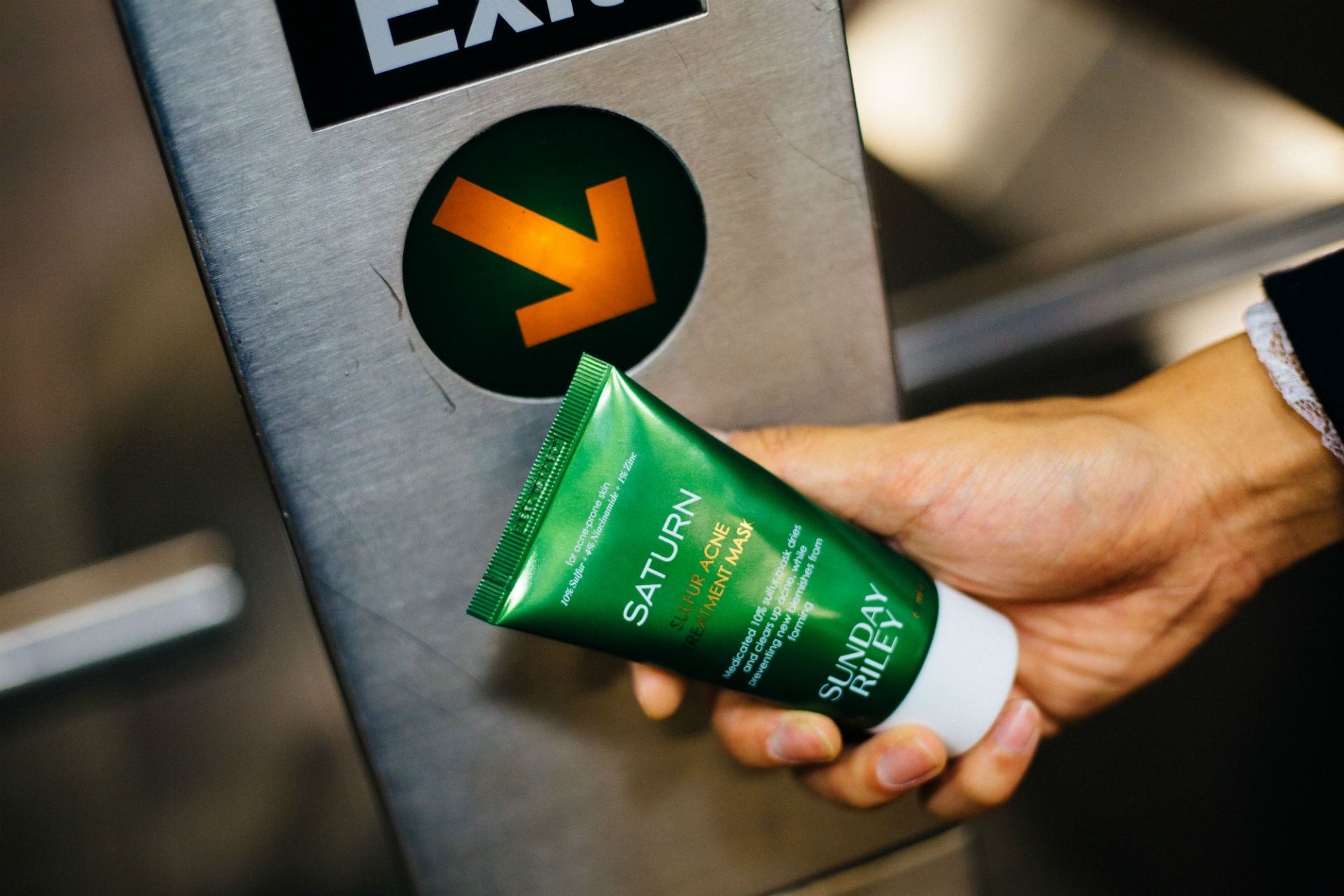 UPDATE: Sephora responded to Very Good Light's request for comment, below:
It's no secret that the beauty industry thrives off of peer-to-peer reviews.
It's one reason why the site Influenster is so successful – it allows "real" people to come and write their own personal takes on different products. And so it wasn't more than an eyebrow raise when we came across a disgruntled ex-employee from Sunday Riley who made some shocking allegations. The anonymous post, from a user named "throwawayacctSRiley" says on Reddit's SkincareAddiction that Sunday Riley forces all of its employees to write fake reviews. In this case, the user specifies that this incident targeted Sephora.com to boost the brand's acne product, Saturn (full disclosure: We partnered with the brand last year, here. From our findings, sulfur did help fight our blemishes) and its upcoming product, Space Race.
SEE ALSO: This $185 serum has a cult following. But is it actually good?

The poster goes on to write that she, along with all employees were "forced to write fake reviews" on an "ongoing basis," which is said to come directly from the brand's founder, Sunday Riley herself, and her head of sales. "I saved one of those emails to share here."
That entire email is below: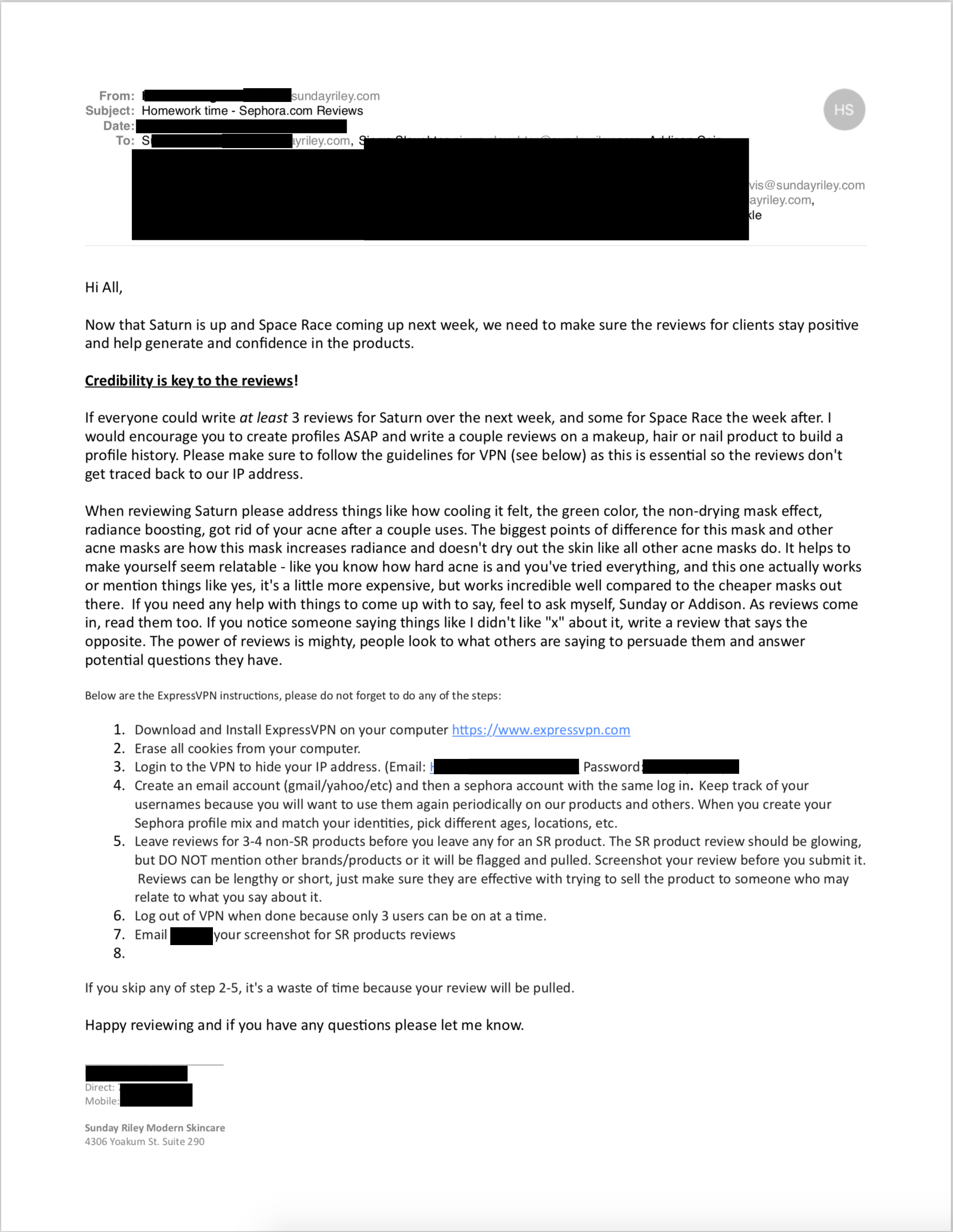 In the email are incredibly shocking tidbits. The entire Subject line alone is pretty insane. It reads: "Homework time – Sephora.com Reviews."
"Hi All,
Now that Saturn is up and Space Race coming up next week, we need to make sure the reviews for clients stay positive and help generate and [sic] confidence in the products.
Credibility is key to the reviews!" it goes on to say.
The email then instructs each employee to write at least 3 reviews for Saturn over the next week and for Space Race the week after. To make it look a lot less suspicious, the email instructs, all employees should "create fake profiles ASAP" and write a couple reviews on "makeup, hair or nail product to build a profile history."
Allegedly, all employees were supposed to write that Saturn "doesn't dry out the skin like all other acne masks do," and that it "helps to make yourself seem relatable." And if there are any negative reviews, Sunday Riley's employees were asked to write the opposite. If any user writes a negative review. "The power of reviews is mighty, people look to what others are saying to persuade them and answer potential questions they have." The post ends with an elaborate 7-step guide to VPN (virtual private network) instructions on how to hide your own IP address aka trick Sephora.com's website.
If these allegations are true, it's insight into just how much pressure a young brand has to succeed under Sephora's extremely competitive landscape. It's also a signal that maybe – just maybe – it's time we stop relying on brands and their own on-site reviews. In a very thorough report on Racked.com (RIP), Cheryl Wischhover last year, she goes into detail on how brands incentivize users to provide them with reviews.
"Brands can also request, as a condition of getting the free stuff, that reviewers leave reviews on other channels, including Sephora.com," the article says.
In the same article, it's noted that 89-90% of all consumers use reviews to make purchase decisions, "up from 72% in 2014. "It is the most influential thing in terms of making a purchase decision."
It's scary. And it's also infuriating. Many Very Good Light readers have DMed and emailed us this article vocalizing how they really do spend a lot of their hard-earned money specifically on acne-fighting solutions. To then spend so much on a product that doesn't work isn't only unfair, it's cruel. In a pay-to-play world – it's really disappointing to know that user reviews, once seen as truly authentic, could also be fake news.
Be warned.
Very Good Light has reached out to Sunday Riley and still has yet to receive a response. Sephora provided us with the below:
"At Sephora, we believe in the power of the beauty community and that knowledge should be shared to benefit all.  Sephora has very strict brand rules regarding our Ratings and Reviews, which we know are an important decision tool for our clients.  Additionally, we have teams dedicated to protecting the integrity of our Ratings and Reviews, ensuring through detailed moderation that it's a constant trusted, unbiased, authentic source for all. We do not believe this incident is representative of the Sephora Ratings and Reviews culture, or the countless hours our clients have spent sharing their product experiences with us and others.  We've been in touch with Sunday Riley on this matter, and they have committed to adhering to our review policy."