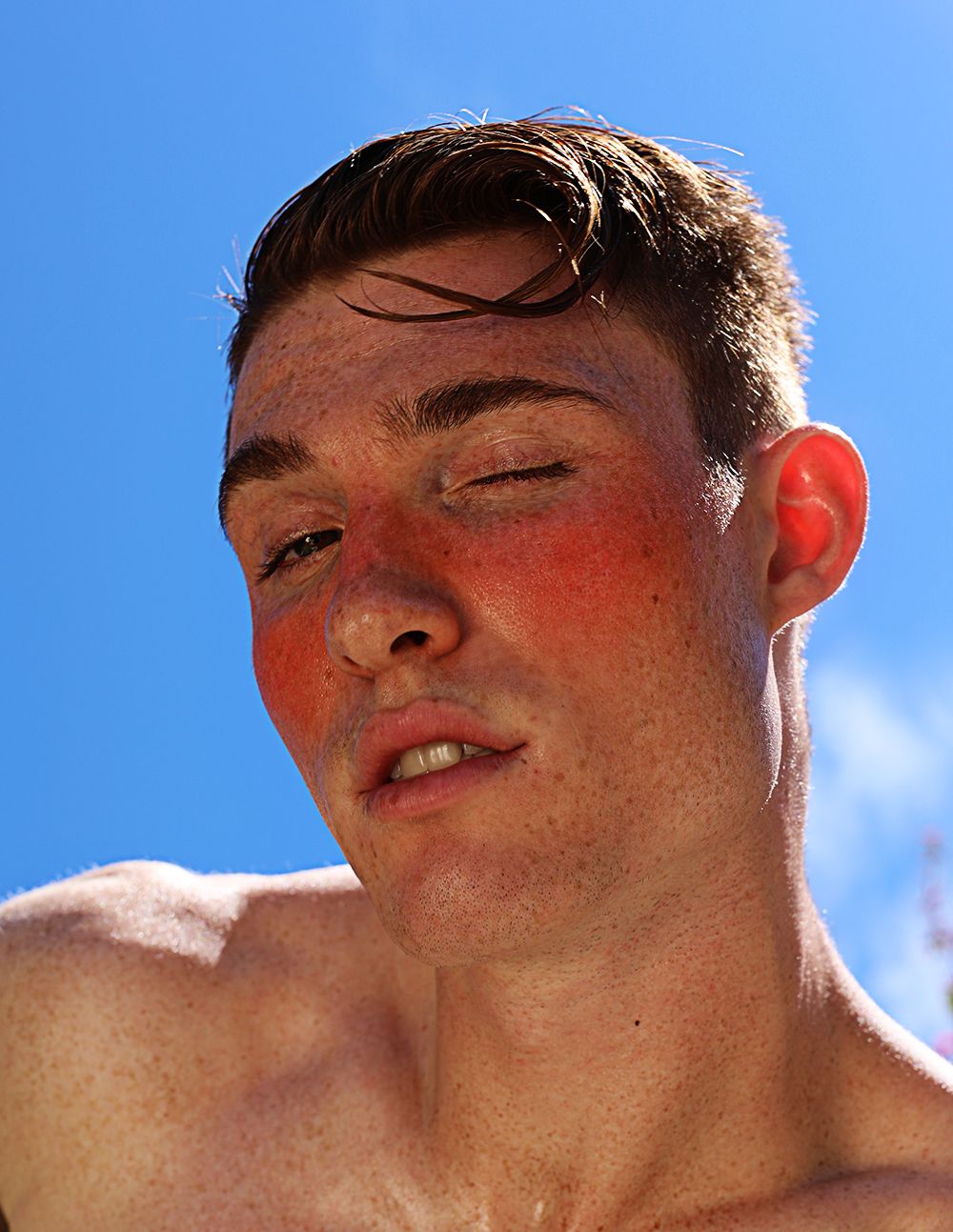 If you survived the Fourth of July and are back to work, congratulations!!! You made it without a hitch.
For the rest of you guys who are feeling the pain of summer – sunburned skin, dried out complexion, some cystic acne, or just, you know, a hangover – read our summer skin guide below. Unlike spring or the cooler months, summer is a time when your skin needs to be treated much differently. If you're super frustrated at your summer skin compared to other months, you're seriously not alone.
Summer skin is confusing. Your pores are bigger, you produce much more oil, not to mention pore-clogging agents that will make anyone go crazy!
And so, we asked one of our favorite dermatologists, Dr. Y. Claire Chang from Union Square Laser Dermatology in New York City, about what we can do to live our best summer skincare lives. Below, our short but helpful Summer Skincare Guide!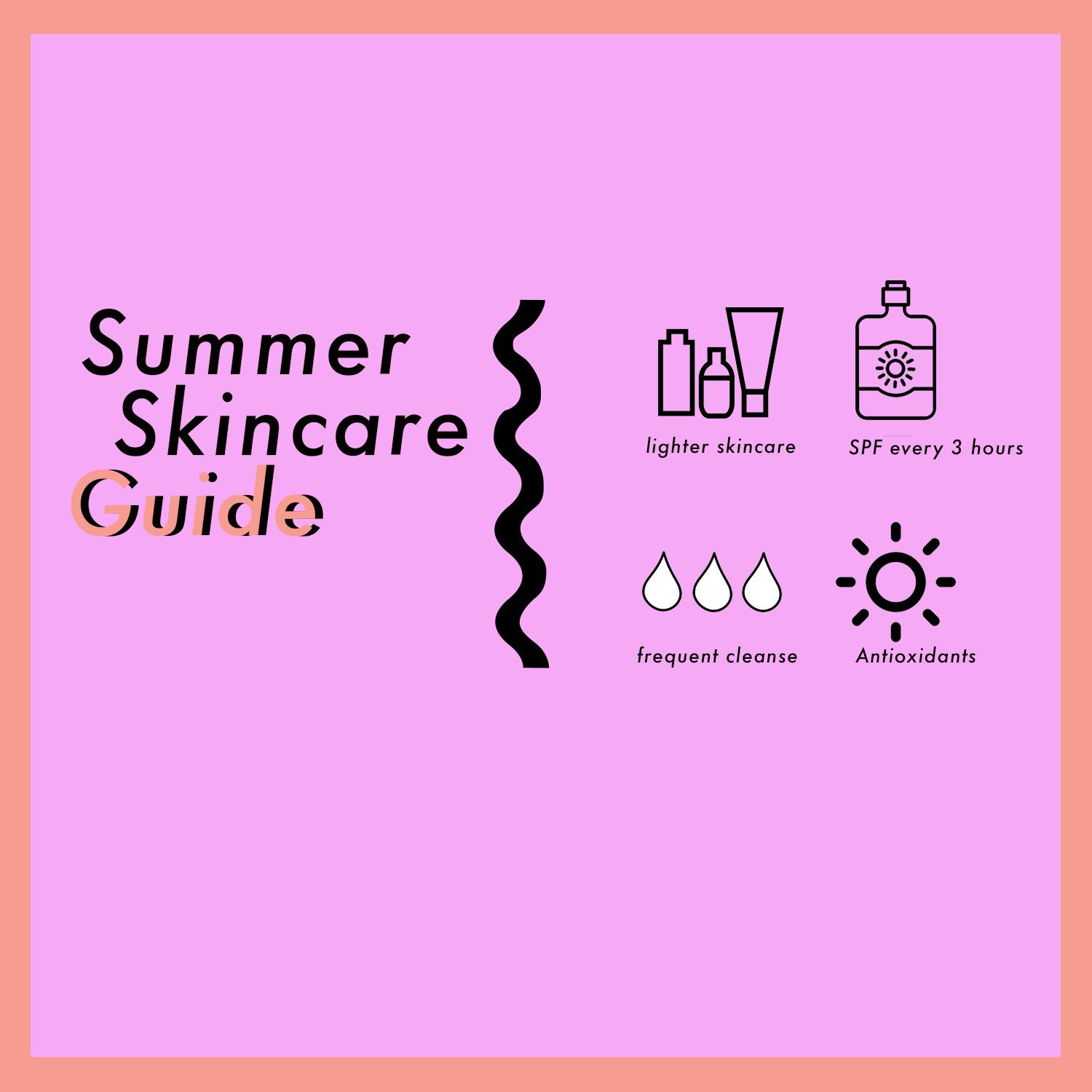 How is summer skin different than spring?
Compared to cooler seasons, skin in the summer tends to have higher oil and lipid production, increased skin hydration, and improved barrier function. Pores may also become more apparent in the summer.
What should people take into consideration?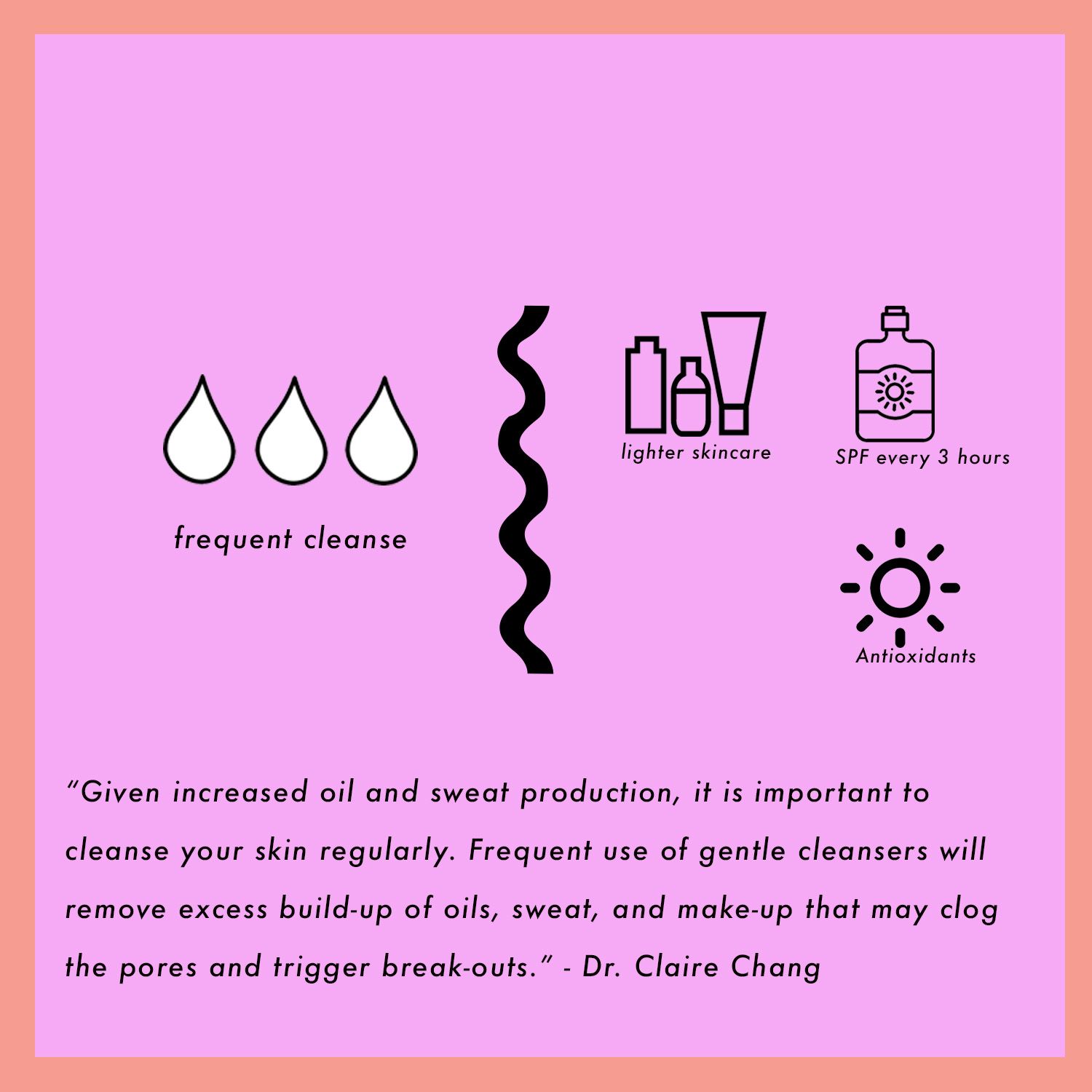 Given increased oil and sweat production, it is important to cleanse your skin regularly. Frequent use of gentle cleansers will remove excess build-up of oils, sweat, and make-up that may clog the pores and trigger break-outs.
VGL recommends: Clean Bee Facial Cleanser
, $28
Summer, with the longer days and stronger UV rays, can increase the risk of sunburns, photoaging, fine lines and wrinkles, skin cancer, and sun-related skin diseases, like rosacea and lupus. Sunscreen is the most important part of everyone's daily regimen, no matter your skin type. I recommend using sunscreen with SPF of at least 30 every day and remember to re-apply every 2-3 hours.
VGL recommends: EltaMD UV Clear
, $26
Is there more sweat production, oil production and how does that adversely affect skin?
Increased oil and sweat production in the summer may clog the pores and increase bacteria on the skin. In addition to cleansing frequently, I recommend using lighter moisturizers and make-up in the summer months.
How do you transition your skincare to summer from spring? What products do you look for to do this? Is it doing less heavy moisturizers etc?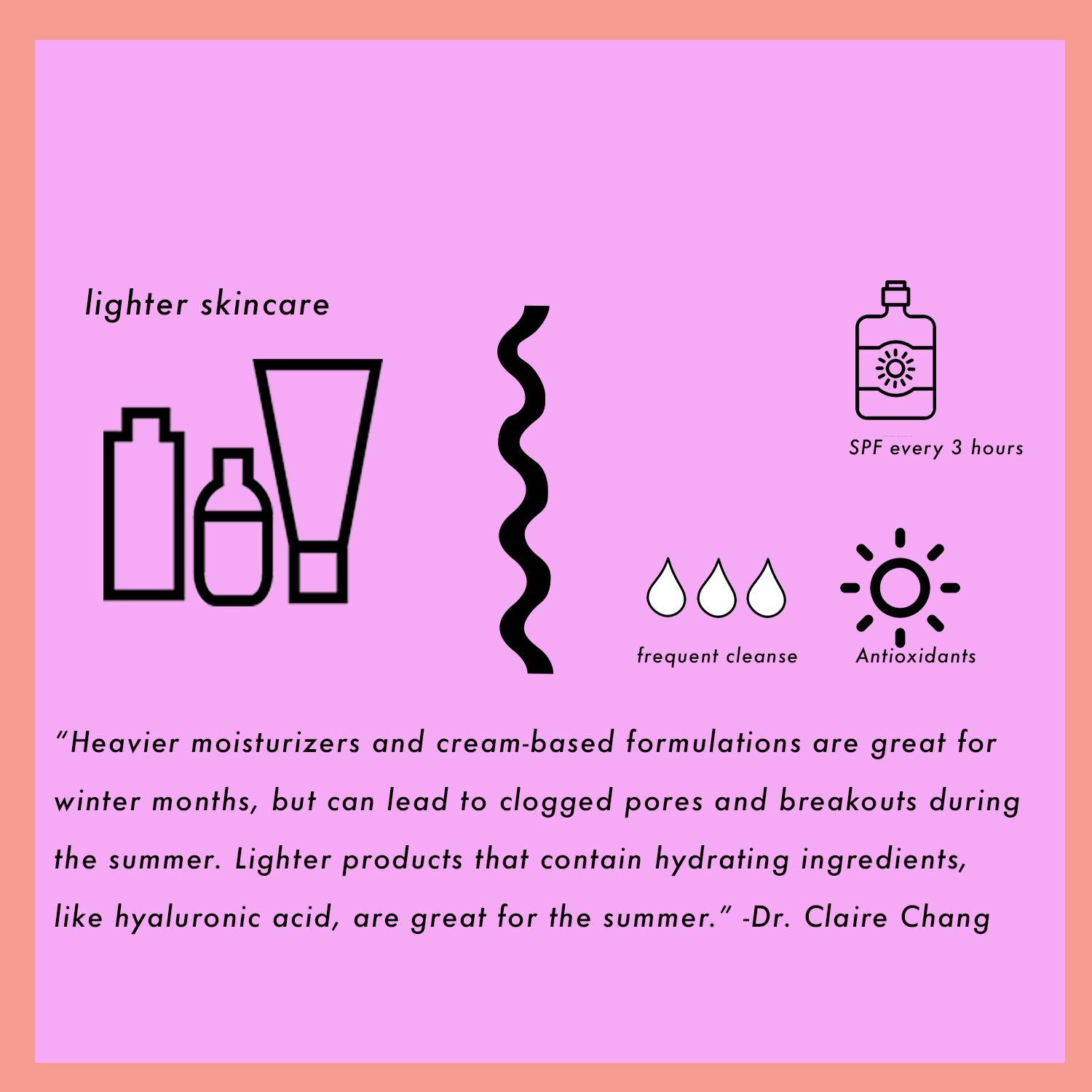 1. Lighter products:
With the transition of seasons, I recommend using lighter moisturizers and more mattifying make-up. Rather than using heavier creams and oils, I recommend transitioning to lighter serums and lotions, which will likely provide adequate moisturization in the summer months.  I also recommend transitioning from heavy foundations and concealers to lighter BB/CC creams or mineral powder foundation.
VGL recommends: Dr.Jart+ Water Drop Hydrating Moisturizer
, $28
2. Sun protection: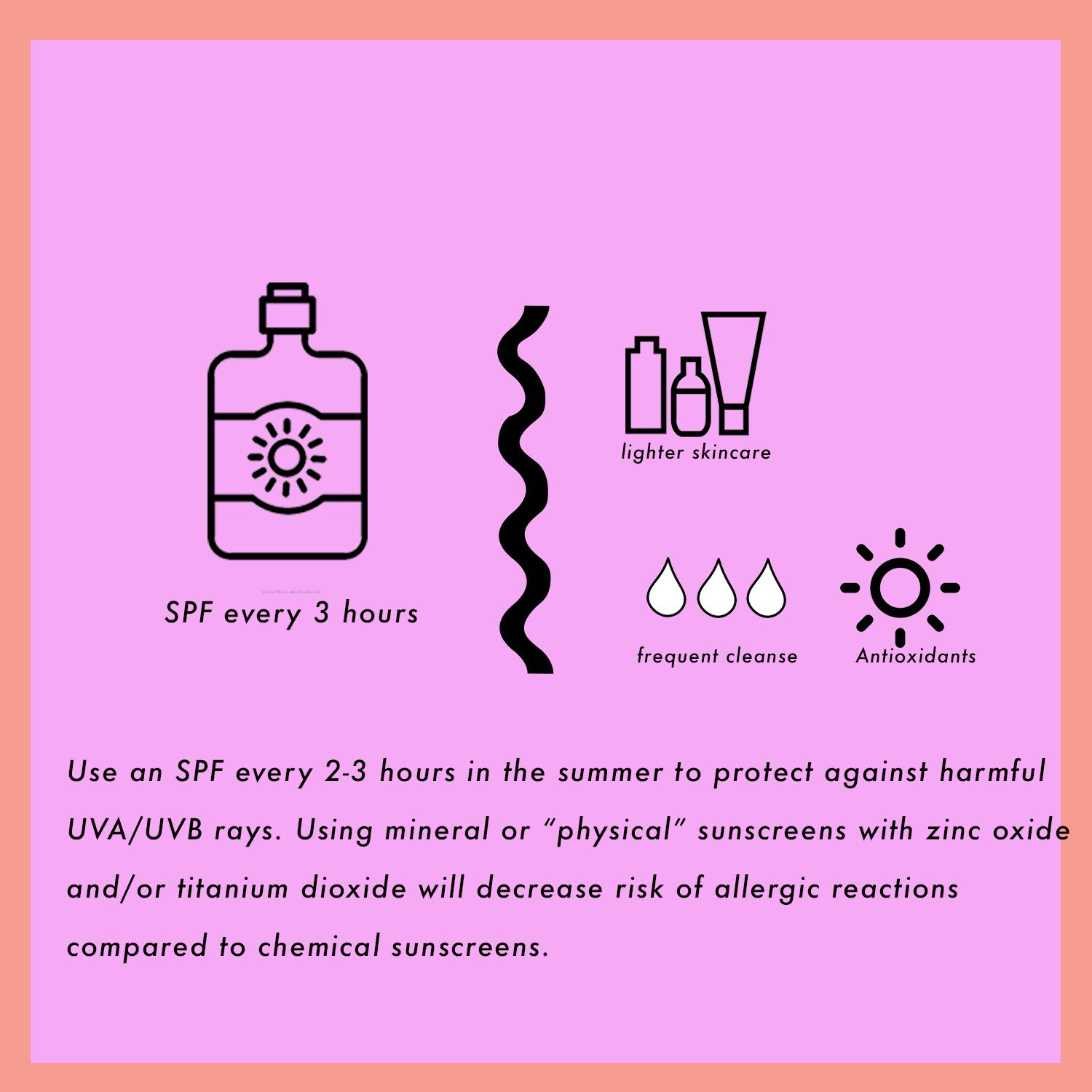 Sunscreen should be a part of everyone's daily skincare routine, especially as days become longer and UV rays become more intense. I recommend a minimum of SPF 30 for daily use and ideally SPF 50 if outdoors for longer periods of time. EltaMD Clear is a great sunscreen that is light and sheer to apply. It also contains niacinamide, an antioxidant and skin-restoring ingredient.
I recommend mineral or "physical" sunscreens, which contain zinc oxide or titanium dioxide, and protect against both UVA and UVB, both of which can cause long-term damage to skin health. Mineral sunscreens also have a significantly decreased risk of allergic reactions and irritation compared to chemical sunscreens. Overall, I recommend mineral sunscreens over chemical sunscreens due to its broad-spectrum activity and greater tolerability. Sunscreens should be reapplied every 2-3 hours and after sweating or taking a dip in the pool.
Also, don't forget to wear sunscreen on all sun-exposed parts, including arms, legs, neck, chest, and ears. I also recommend SPF-containing lip balm as this area is often neglected. Many companies are now making attractive sun-protective clothing and wide-brimmed hats that can be fashionable and protective!
3. Antioxidants: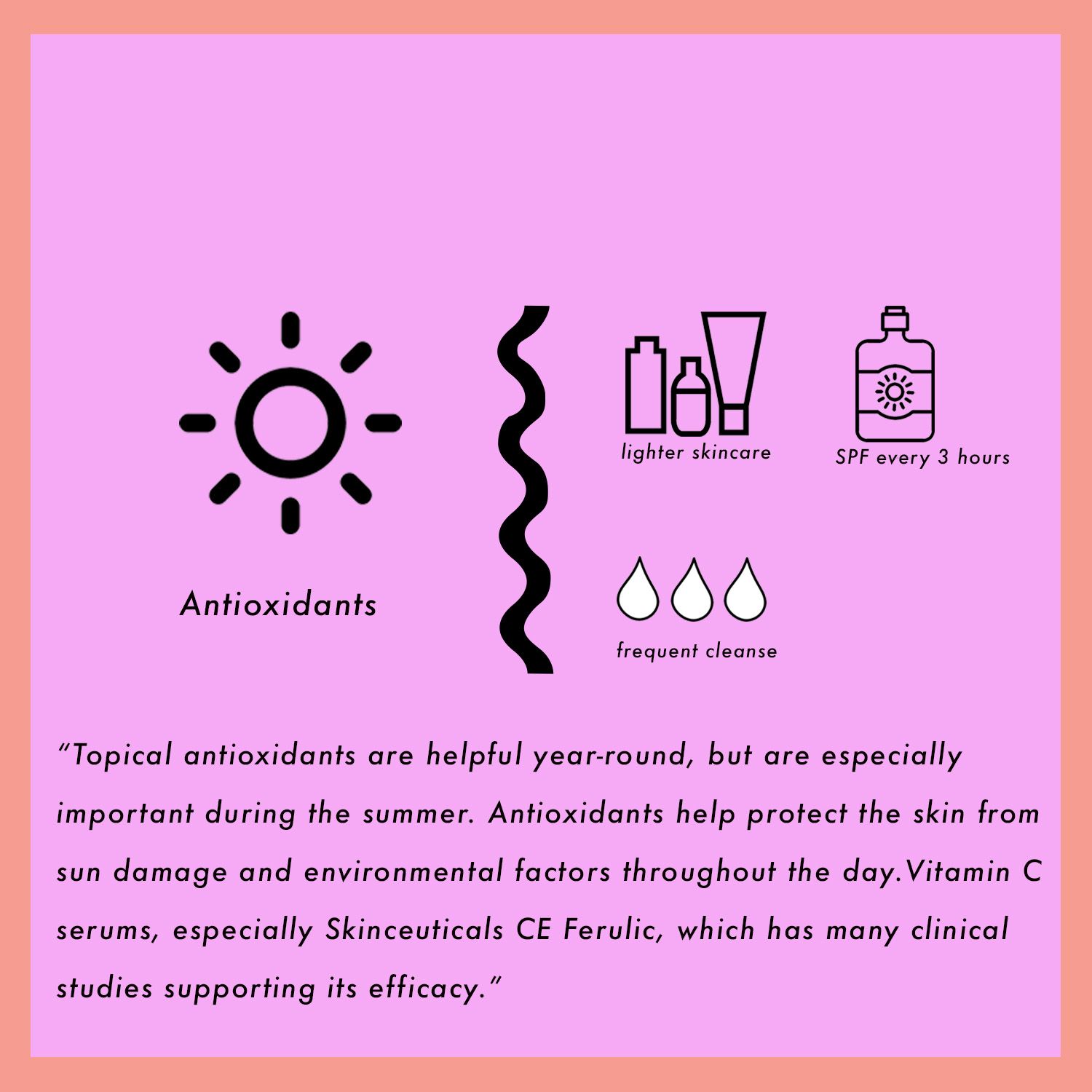 Topical antioxidants are helpful year-round, but are especially important during the summer. Antioxidants help protect the skin from sun damage and environmental factors throughout the day. I love vitamin C serums, especially Skinceuticals CE Ferulic, which has many clinical studies supporting its efficacy.
VGL recommends: Skinceuticals CE Ferulic, $168 OR Paula's Choice-BOOST C15 Super Booster 15% Vitamins C & E, $49
Is over-hydrating even a thing?
Heavier moisturizers and cream-based formulations are great for winter months, but can lead to clogged pores and breakouts during the summer. Lighter products that contain hydrating ingredients, like hyaluronic acid, are great for the summer.