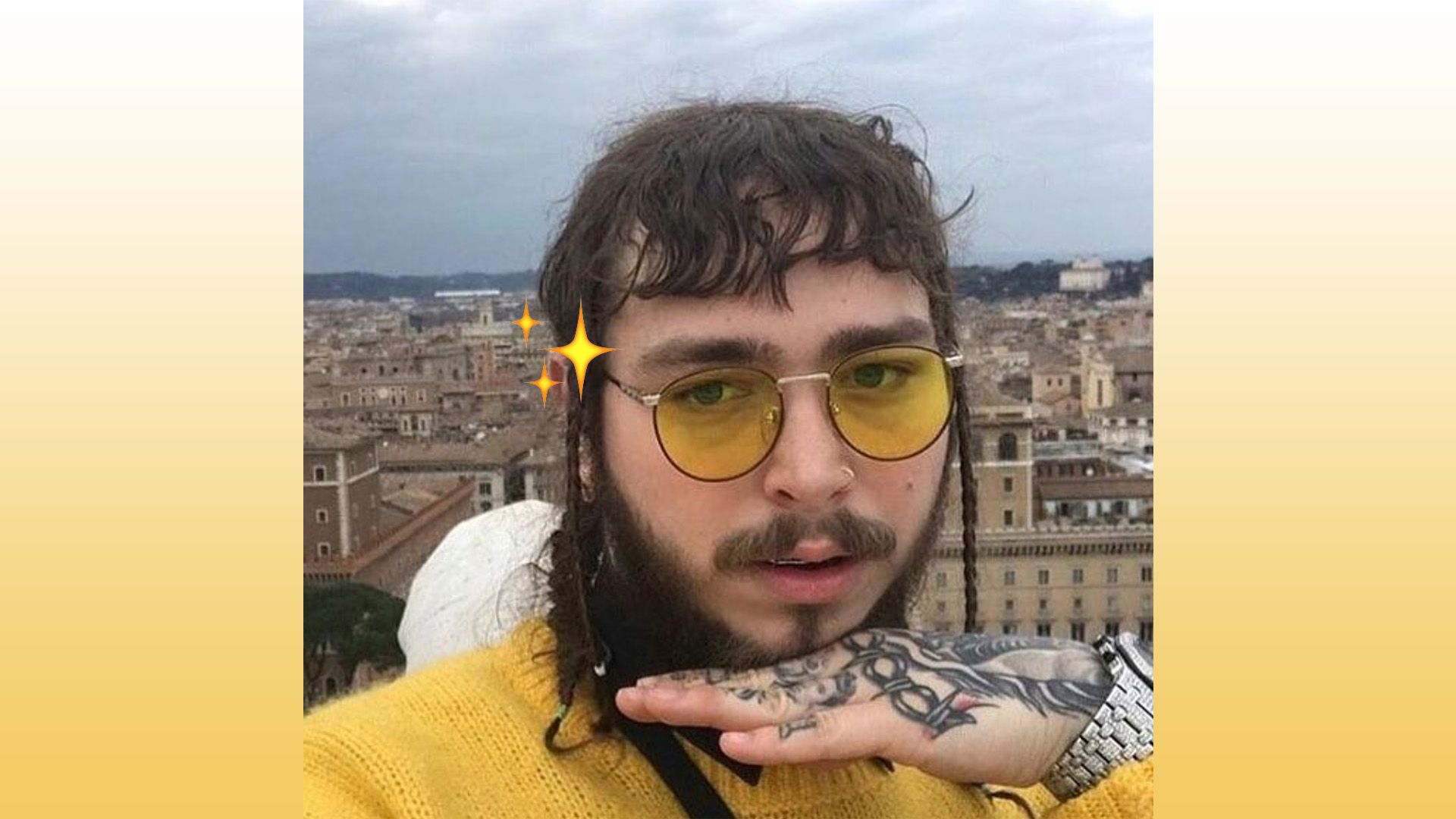 Ever since Post Malone dropped on the scene with 2015's "White Iverson," we've been captivated.
The 22-year old artist behind fire singles like "Psycho," "Rockstar," and of course, "Better Now," has proven that you don't need to adhere to traditional Hollywood standards of beauty to make it. In fact, the hip-hop artist has made it big on his own by completely rejecting said standards. He's rocked his own look, steeze – and smells – by being authentic to who he is, whether in the form of face tattoos, outre mullets, rejecting deodorant or his bangin' bangs.
And finally, this weekend, we learned how seriously he takes his aesthetics. Case in point, this past weekend when Nicki Minaj uploaded Post's 30-second long video onto her own Instagram. In the WAY TOO SHORT video, Post is the beauty blogger of our dreams, where he takes a flat iron to his hair and shows us how he gets his signature look.
"Hey, guys," he starts out. "Welcome to Post Malone's Beauty Blog."

Taking what appears to be a mini ceramic flat iron to his hair he says to the camera earnestly, "Today I'm gonna teach you guys how to get beautiful." The moment is completely adorable as he takes his unbraided bangs and heats them up with the straightener. "So you know I got really curly hair, so in order to get my bangs bangin' I like to give them a little flat iron maybe a little boom out," he explains as he proceeds to clasp his hair between the hot iron. "A little boom. See that boom?"
Below, is a step by step tutorial on how you, too, can properly use a flat iron.
1 Wash your hair and condition
The best way to prep your hair is to wash with a shampoo and condition it. For those of you who aren't shampooing in the traditional sense, make sure your hair is as oil-free as possible for best results.
2 Protect me
Like a hair dryer, a flat iron can totally fry your hair. To protect it, use a protectant spray. Garnier has one made especially for flat iron use and is under $5. Spritz on your strands before you go on to flat iron.
3 Dry > Wet
It might seem counterintuitive, but using a flat iron while wet is the worst idea. When your hair is wet it's at its most vulnerable stage. That, and wet hair will not work with you at all. Use a blowdryer and make sure your hair is completely dry before using a flat iron.
4 Separate your hair
Try splitting your hair in eight sections, splitting them in the middle: The bangs, middle section and back.
5 From start to finish
Taking the flat iron, position it from the root of your hair (careful not to get TOO close to your scalp!) and wait five-seconds before slowly straightening out your locks. Your hair should immediately straighten out. If you're looking for waves, simply curl your flat iron.
6 Add a finishing spray
Spray your hair with finishing spray so your hard work doesn't go to waste. We recommend a product like L'Oreal's, which is under $10.