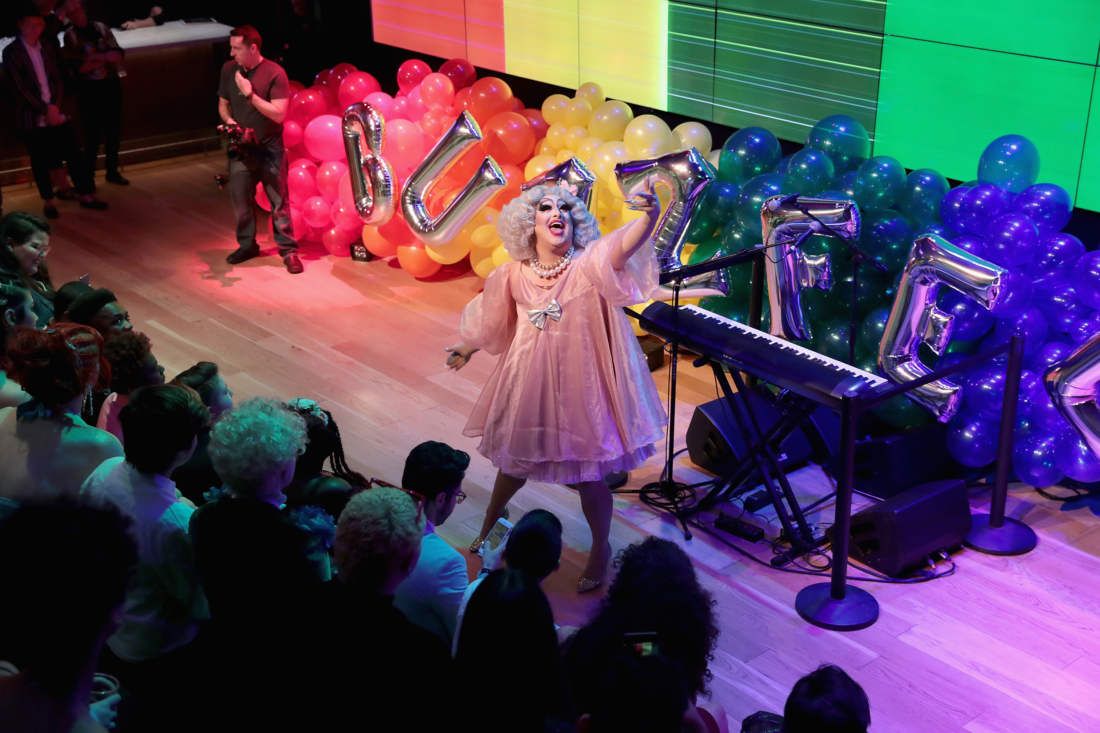 NEW YORK, NY – Teens, drag queens, LGBTQ activists, models and social media influencers gathered at the Samsung 837 space in New York City to celebrate a new kind of prom, a safe space for all identities.
Among the crowd was Jacob Pestefano, a 22-year old who now lives in Brooklyn. Around the time his high school in Midland Park, New Jersey threw prom, he'd just come out as trans. "The school didn't take kindly to it," he tells Very Good Light. Like many queer teenagers, he stayed home during his prom night and "pretended like it wasn't a big deal." Which is why Buzzfeed's own prom, dedicated to LGBTQ people like him, offered a chance to relive a quintessential high school experience.
SEE ALSO: Julian Walker is making space for queer black men in America
"It's important to have a safe space to celebrate our accomplishments… we overcome so much just by being queer," he said, half shouts over the music wafting up from the floor below, a mix of queer anthems, pop divas and dance floor classics. He was sitting on the second floor of Samsung's flagship store in Chelsea, wearing a black suit, red shirt, wire-rimmed glasses and a huge grin. "Obviously, the goal is to feel safe everywhere but that is not the case in this political climate," he said.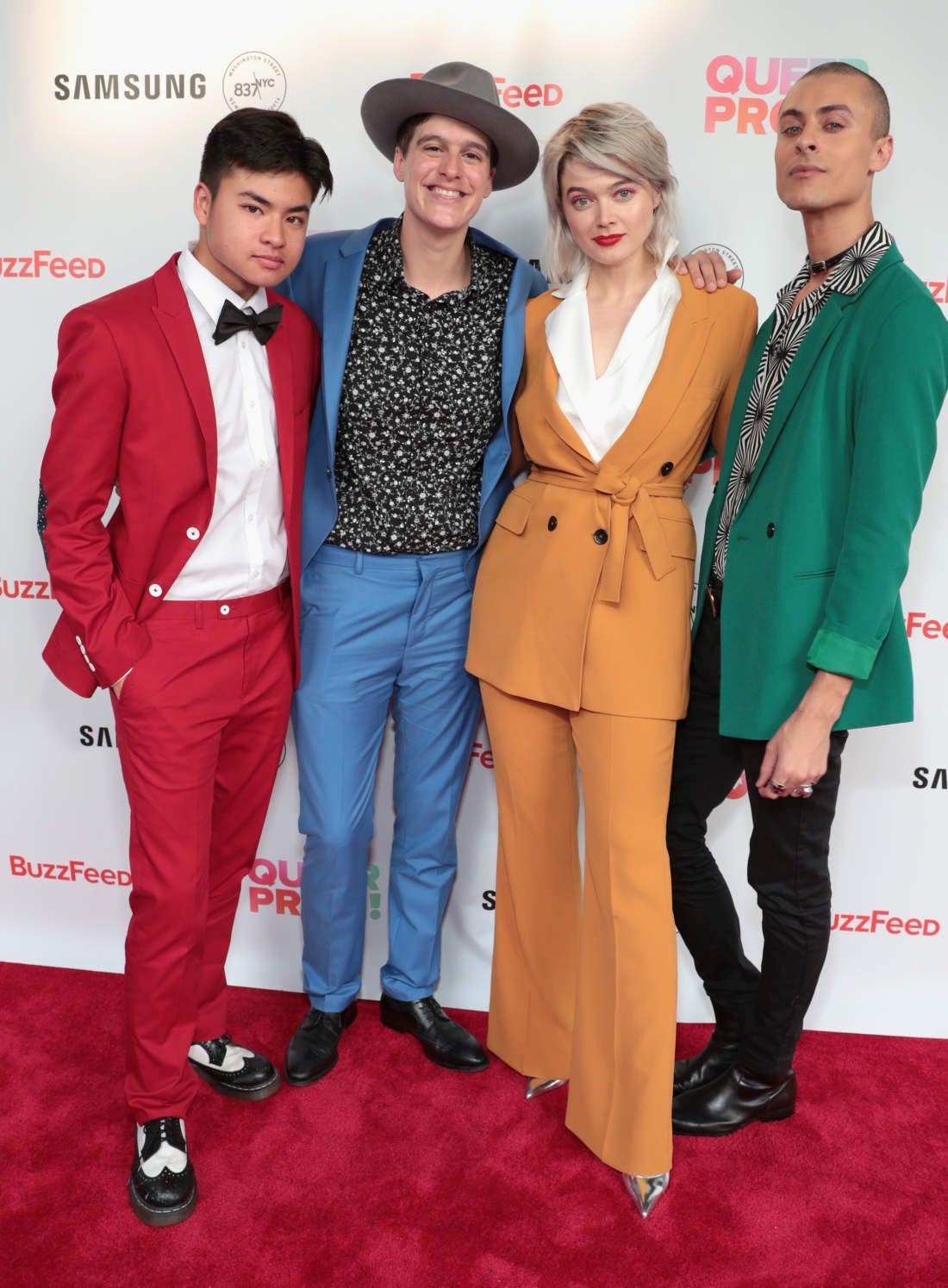 The venue was transformed into a queer wonderland, with props and plenty of good lighting for that perfect selfie to remember the night. The crowd—ranging from high school students to LGBTQ influencers, and even our favorite 10-year old drag queen Desmond—was glowing. "I'm so happy to see that prom is being celebrated in this way," said Cory Wade, a model and LGBTQ activist.  "It's a welcoming and warm vibe that I think is lacking in schools where there are so many rigid rules around events like this." Dressed in a green suit, while his friends Khrystyana, Chella Man, and Rain Dove wore similar silhouettes in mustard yellow, red, and blue, they came as a crew they never had.
But to be clear: no one had to abide by a dress code here. There was none. Guys wore dresses and heels. Girls wore suits. Drag queens wore, well, fabulousness. This freedom of expression for everyone to live their truth was the real reason for the glow-up.
Proms have held a long existence in American high schools. "Promenades" as they were originally called, these events have roots in debutante balls where young women would introduce themselves to potential male suitors. Ironically, these were also called "coming out" balls. While this event has become a celebratory right of passage for high school students, for people who don't fit within the rigid heteronormative structure in which it was founded, it can be extremely isolating. For LGBTQ people, the idea of prom can bring up uncomfortable questions around harassment and identity, so much so that the ACLU provides a "Know Your Prom Night Rights" document for students to feel safe.
"It's incredibly important that we have an outlet to be who we are unapologetically and to be able to showcase ourselves without fear of strife or further oppression."
That's why so many attendees felt that a queer prom is more important now than ever. This, especially under the current political climate where the president has initiated multiple attacks against the LGBTQ community, even refusing to recognize Pride Month.
Leah-Juliett, the 21-year old activist who founded the March Against Revenge Porn, shows courage beyond their years in fighting for LGBTQ rights. For them, queer prom is important because "queer and trans youth are constantly being oppressed under this administration so it's incredibly important that we have an outlet to be who we are unapologetically and to be able to showcase ourselves without fear of strife or further oppression." And, they weren't the only one who referenced the particular importance of a queer prom against the backdrop of the Trump administration, Later in the night, "Fuck Donald Trump" played over the loudspeakers.
For Karen Ledford and Rej Forester, the existence of a queer prom is a testament to the resilience of the LGBT+ community. Members of the band GRLwood, they both flew from Kentucky especially for the event, where, they say, it is often dangerous to be queer. For that reason, neither went to their high school proms. Self-described "queerdos," they both look like members of a punk rock band, which, of course, they are and speak with a unique sense of political urgency about the need for visibility in the queer community. They're a reminder that outside of New York City even more progress is necessary. Recently, in Louisville, where both still live, someone was fired from a coffee shop for wearing an LGBT T-shirt. An event like this shows that being queer is ok and that society may not be with you but a whole community is, Karen said.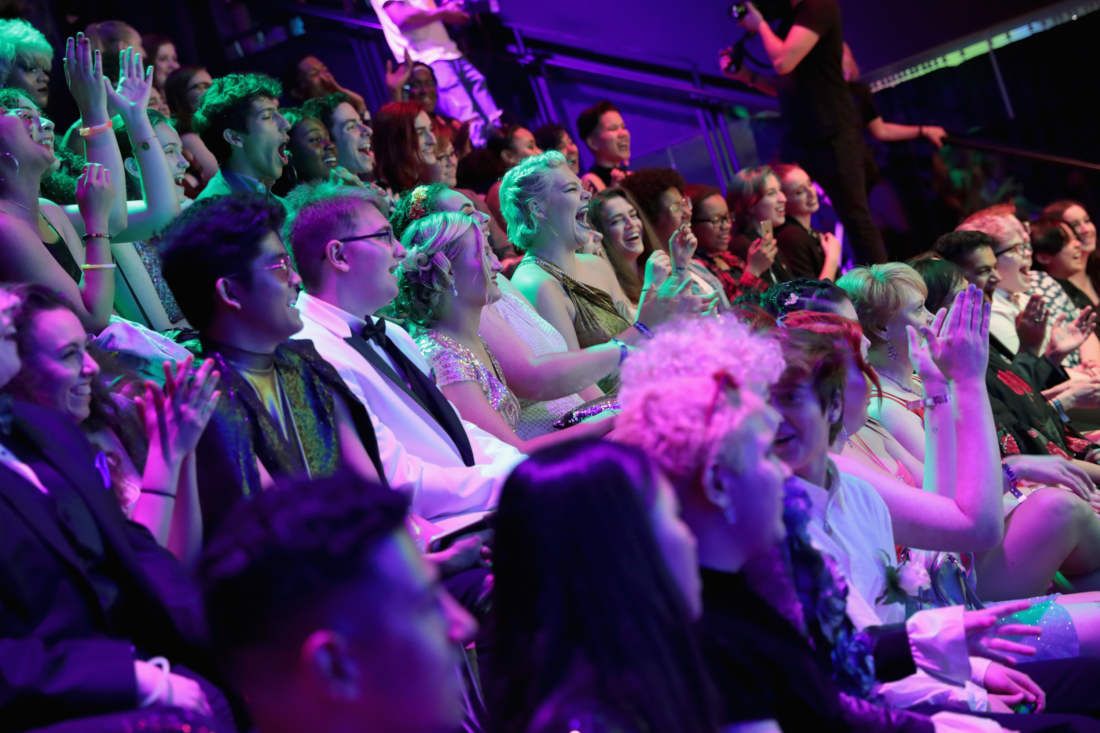 Within the four walls and three floors of the venue, everyone was free to be themselves. Leah-Juliett and their friends were taking pictures on the unicorn pool floaties, while groups of high school students danced to Cardi B's "I Like It." On the second floor was a table where people can get a manicure and try on some makeup products courtesy of Fluide Beauty. All ideas around identity were gone, and the people in that room were defining it in their own honest and proud way.
As the night started to unwind, we ran into Jay Manuel, a makeup artist and TV personality known for his work on America's Next Top Model and one of the speakers for the event. Though the prom wasn't for him, he felt in many ways, responsible for the young people. "They're the future and a prom like this only solidifies the foundation of their belief in themselves," he said to us. "To me, watching these kids all be themselves and feel included felt so powerful because they felt like we're here." Here, queer, and not going away.