"Be yourself, always."
Meet Desmond, the 10-year old drag kid superstar who's got the Internet singing its praises. Desmond recently slayed some of New York Fashion Week's biggest shows including Gypsy Sport. Declared "the future of America" by RuPaul at DragCon 2017, Desmond is proving he is here to stick around past this season's trends. The energetic elementary school student was born during New York City's Pride Week, and says he "came out of the closet at birth."
SEE ALSO: This 16 year old is already the CEO of his own beauty brand
We interviewed the burgeoning star over the phone where the androgynous drag prodigy talked to us about his identity, craft and his own favorite drag queen.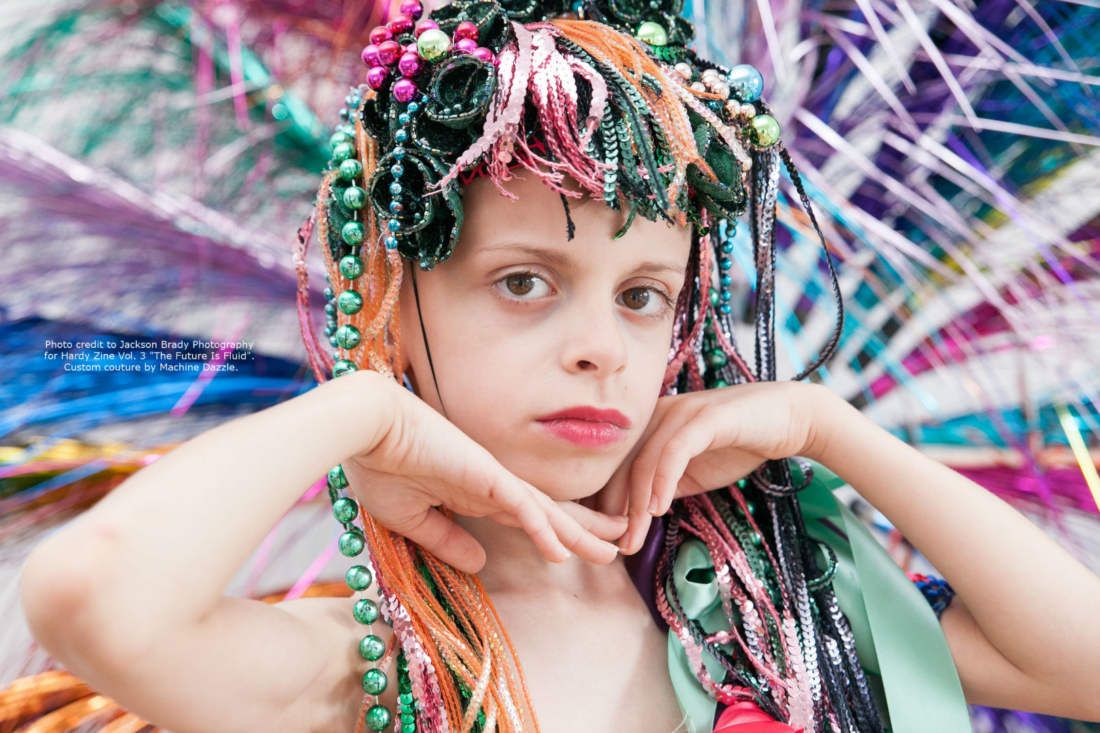 Very Good Light: Hi Desmond! You're the coolest 10 year old we've ever met I think, how does it feel to have walked your first New York Fashion Week? We're sure it won't be your last.

DESMOND: It was amazing! The press and garments were all so beautiful – especially the shoes.

VGL: Did you receive any good advice or tips from anyone special before your runway debut? Who were you channeling?

DESMOND: I was channeling my mom! She taught me how to walk down the runway. I just remembered "you better work, COVERGIRL! Work it girl."

VGL: Where do you get your confidence from? I can feel the energy just pouring off of you.

DESMOND: I think I have so much confidence because I always remind myself about my amaziness. Whenever I get nervous I just remember who I am and what I do.

VGL: What do you hope people can learn from you and your drag?

DESMOND: That you can be whoever you want to be! Being a drag kid is all about having fun. As long as you think you look cool it doesn't matter who you are, or what you look like. It doesn't matter if your makeup is a mess, as long as you know you look fabulous!  

VGL: When you're not tearing up the catwalk, what is a normal day for you like?

DESMOND: I go to school and I like to play with my trains and eat candy. I also like to draw, and hang out with my mommy. My favorite show is RuPaul's Drag Race. I'm watching All Stars 3 and my favorite queen is BenDeLaCreme.

VGL: You say you came out at birth, was the discovery of your own LGBTQ+ identity easy for you and those around you to understand?

DESMOND: This is a serious question, hold on I have take my coat off. [pauses] It was very easy for me I think because of the support I had support from my family. I've always been able to myself!

VGL: What's next for you? You're the busiest 10 year old we know!

DESMOND: I'll be walking for the Rebirth Garment's show. a gender-neutral brand that features models of every age, identity, gender, and racial identity. They are a LGBTQ+ based company, so I'm super-duper excited. Other than that I'll be doing more school and have DragCon coming up in May. I hope I get to meet more amazing, awesome people like I did at the one in New York City last year.,
VGL: We can't wait to see the places you'll go, Desmond! Thank you for taking the time to talk with us today, do you have any final messages?
DESMOND: Yes, my advice for my fans is to be yourself always no matter what anyone says, and to not let the haters faze you because they'll never be as fierce as you. Promise.
VGL: Words to live by, for sure.