PYEONGCHANG, South Korea – He may not have won a medal at the Olympics, but Gus Kenworthy won something bigger: international attention.
As the first openly gay Olympian, Gus went into Pyeongchang representing more than Team USA. He was representing the LGBTQ+  community, something that weighed heavily on him since coming out after 2014's Sochi Olympics.
SEE ALSO: Freestyle skiier Nick Goepper went from suicidal thoughts to the Olympics
"I thought coming out for myself was going to be kiss of death for my career," he tells Very Good Light. But doing so had the opposite effect. Not only has it boosted Gus's profile, it's allowed him to put a face to LGBTQ+ athletes, normalizing gay men and women throughout the world. This is important, especially in homophobic countries like South Korea, where gay identities are actively suppressed.
And so it was powerful when video captured Gus sharing a kiss with his boyfriend Matthew Willkas. It may have been innocent, but it was completely defiant.
"I'm a sex symbol, really?!"
"Didn't realize this moment was being filmed yesterday but I'm so happy that it was," Gus tweeted Sunday.
"My childhood self would never have dreamed of seeing a gay kiss on TV at the Olympics but for the first time ever a kid watching at home CAN! Love is love is love."
The kiss, shared by two men, is a historic moment, one that normalizes the LGBTQ+ community, while promoting visibility internationally. "I think that's the only way to really change perceptions, break down homophobia, break down barriers is through representation," he told media Sunday. "And that's definitely not something I had as a kid. I definitely didn't see a gay athlete at the Olympics kissing their boyfriend. And I think if I had, it would've made it a lot easier for me."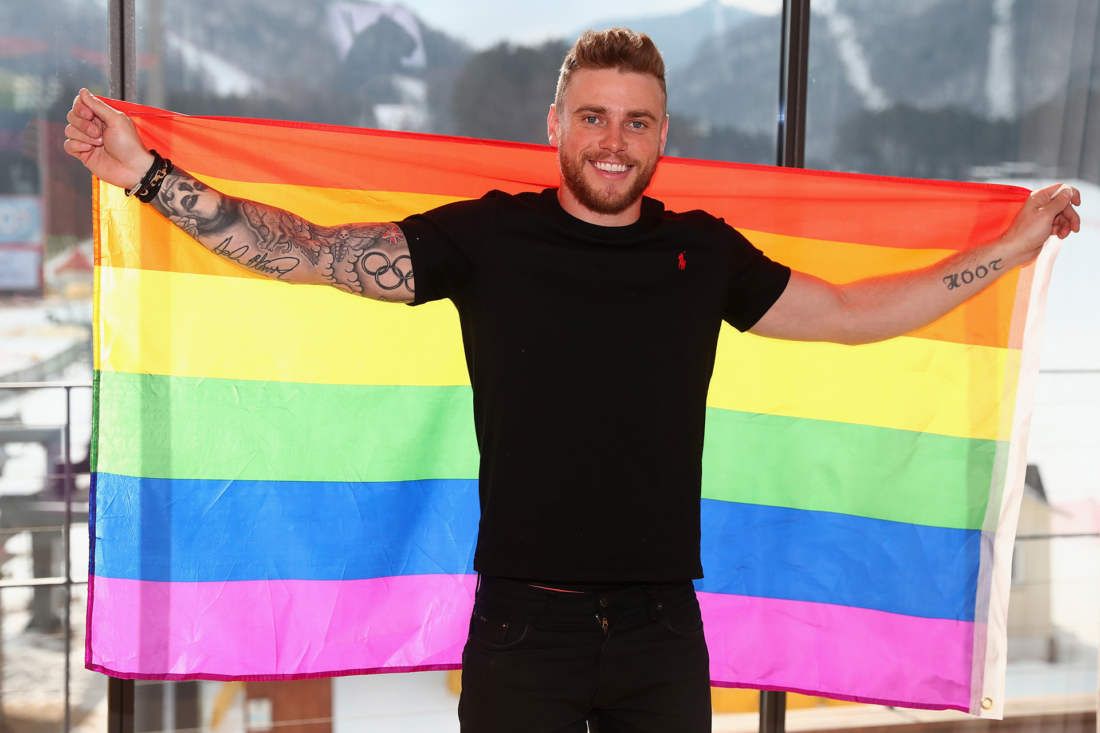 Homosexuality after all, is still illegal in 74 countries. In 13, homosexuality is punishable by death. These countries include: Sudan, Iran, Saudi Arabia, Yemen, Mauritania, Afghanistan, Pakistan, Qatar, UAE, parts of Nigeria, parts of Somalia, parts of Syria and parts of Iraq. In 17, including Russia, homosexuality is considered propaganda and banned from all media. Gus's kiss broadcasted around the world, was able to defy these countries and their hateful perceptions, while inspiring and representing LGBTQ+ people across the globe.
Of course, it hasn't been completely easy for Gus. He's had many critics, especially on social media, who believe sports and politics should be completely separate. But it hasn't deterred Gus from being outspoken, speaking out against President Trump and Vice President Pence.
"I think it's so important to have your own opinion and stand up for what you believe in," he tells Very Good Light. "For anyone saying athletes shouldn't have opinions on politics – it's similar to anyone commenting on sports if they're not a professional athlete. I am a citizen and because I'm an athlete, I do have a platform that allows me to speak up more."
"Athletes 10 or 20 years ago wouldn't have had this opportunity [to come out], so I want to make the best of it."
He's come a long way since his last Olympics when he was a fresh-faced, green, relatively unknown skiier. Today, he's grown into his looks, has gained muscle mass, while finally sprouting some facial hair. His aesthetics have only helped him with his many magazine covers to campaigns for the likes of Head & Shoulders. Today, he's become a sex symbol.
"If you asked me this five years ago, I wouldn't believe all the positive recognition," he says, before stopping us. "I'm a sex symbol?! All the support is incredible and I am so fortunate. A sex symbol, really? Thank you!"
And with that title, comes great responsibility – that is, maintaining your good looks. "I was a total babyface at last Olympics," he tells us. " I couldn't grow beard if I tried and it actually happened shortly thereafter." Now that he has it, he won't be seen without facial hair. "I use a Braun buzzer so I never really shave my face down to the skin. Beard oil goes a long way to maintain it. I also love Art of Shaving products."
As for his curly locks, he isn't as obsessed with them as everyone else is. "I do wash my hair every day – Head & Shoulders Old Spice shampoo smells awesome – but I'm pretty fussy about it. You always want the hair you don't have. Mine is curly naturally and I always hoped for straighter hair so I actually wear a beanie after I shower to flatten it. If it still needs work I'll use a medium hold pomade to comb it flat."
For protecting his complexion while skiing, Gus uses Kiehl's with SPF 15 every day. "With skiing, people don't realize that even if it's overcast and you're not thinking about the sun, the snow is reflective and amplifies the sun so you have to wear SPF always," he says.
Of course, your good looks don't matter unless you're confident from the inside out, something Gus knows all too well. While competing at his first competition after coming out, he was understandably nervous about the public's reaction. But as he landed his run at the Dew Tour, he saw that there were Pride flags held up and waved in the crowd. It gave him confidence to become even better. He later won the entire event.
"That's how it's been – a lot of unexpected support," he tells us. "I just feel so lucky to be out and represent the LGBT community and hope that I can be an inspiration for kids coming out now and those in the closet. Athletes 10 or 20 years ago wouldn't have had this opportunity, so I want to make the best of it."
And that you have, Gus. The world is beaming with Pride.