Even though I'm much more of a Charlotte, I was excited to have my Carrie Bradshaw moment.
City life hasn't exactly been part of my everyday; I grew up in Upstate New York and graduated from college in Vermont. Though, through many facets, New York City has always served as a source of inspiration for my future both career wise and personally. The fashion, music, culture, and people; I'm into it all. Seriously, what's better than New York?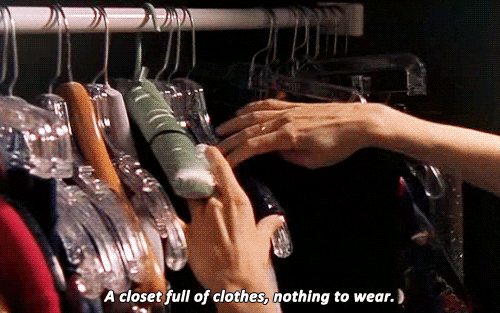 When given the opportunity to cover New York Fashion Week: Men's for Very Good Light, I jumped at the chance. I immediately called my friend Shannan and asked if I could borrow her Balenciaga bag and crash at her place in Williamsburg for a few nights (obviously I have my priorities in order). The day before it was time to begin coverage I did what any local New Yorker would do, I grabbed an iced latte with oat milk and headed to Heyday for a customized facial. Hydrated and glowing, I was ready to take on my first Fashion Week experience.
SEE ALSO: At Tom Ford, grooming is a rite of passage
My first stop of the day was New York Men's Day. There, twelve different designers showed their latest fall presentations. I put on a brave face and tried to introduce myself to as many people as possible. I graduated with a degree in public relations and couldn't stop thinking of my old professors drilling the importance of networking and making a good first impression. It's like… we get it. While everything ran smoothly, I found myself feeling stuck in my head with the start of the day. It was all right in front of me. Everything I pictured Fashion Week, this industry, and the people involved in it to be. Most people were friendly, though there were certainly some exceptions.
We're all just Andy's trying to make it, right?
[aesop_image imgwidth="80%" img="/content/images/wp-content/uploads/2018/02/will.jpg" align="center" lightbox="on" captionposition="left" revealfx="off" overlay_revealfx="off"]
"Name?"
Who knew one word could possess so much tone from a 19-year old fashion intern?
I was overwhelmed initially, but as the day went on I reminded myself of why I wanted to do this in the first place. The experience was something I wanted for myself, to say that I did, and did well. No, not everyone was like Miranda Priestly from "The Devil Wears Prada." People smiled at me, made conversation, and wanted to know who I was and what I was about. We're all just Andy's trying to make it, right?
No matter where you're from, what you identify as, fashion and beauty are ways for us to express ourselves and stand out.
The next stop was ASOS. Walking in, 'The Way Life Goes (Remix)' was blasting so I instantly felt right at home. The British e-tailer has been my one-stop-shop for modern, affordable fashion for some time now. You need the newest gear? They got you. Obviously I was psyched to be there and see what was new from the brand. Embracing diversity and inclusivity, ASOS' AW 18 presentation represented exactly what I admire about our generations appreciation for fashion and beauty – it's for everyone. Featuring models of different races, backgrounds, and sizes, I was able to meet others who, like me, were just really excited to be there.
"This is my first modeling presentation," said Trey Campbell, ASOS Plus Men's Insider. "I'm from North Carolina originally, I just want to give hugs and show everyone love here. Let's be happy."
No matter where you're from, what you identify as, fashion and beauty are ways for us to express ourselves and stand out. My Off-White belt and vintage Doc Martens acted as my armor that day. No, I didn't need them, but they helped me feel like me, which is a feeling I'm trying everyday to accept and love more.
Finishing up the night, I attended the Willy Chavarria and Ovadia and Sons runways where I met my favorite model, the iconic baby, and literally physically bumped into 21 Savage (I really wish I could have asked him if he moisturizes his face tats). All in all, the day was something I'll remember forever.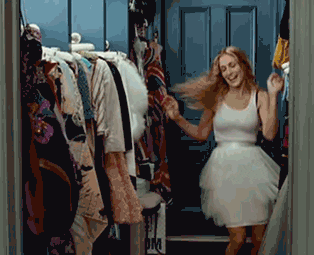 My doubts if I was "New York enough" or "fashion enough" went out the door when I just focused on being myself and having fun. Cheesy? A little. Still, I'm proud for stepping out of my comfort zone and going after something I've dreamt of doing.
I hope Carrie would be proud.