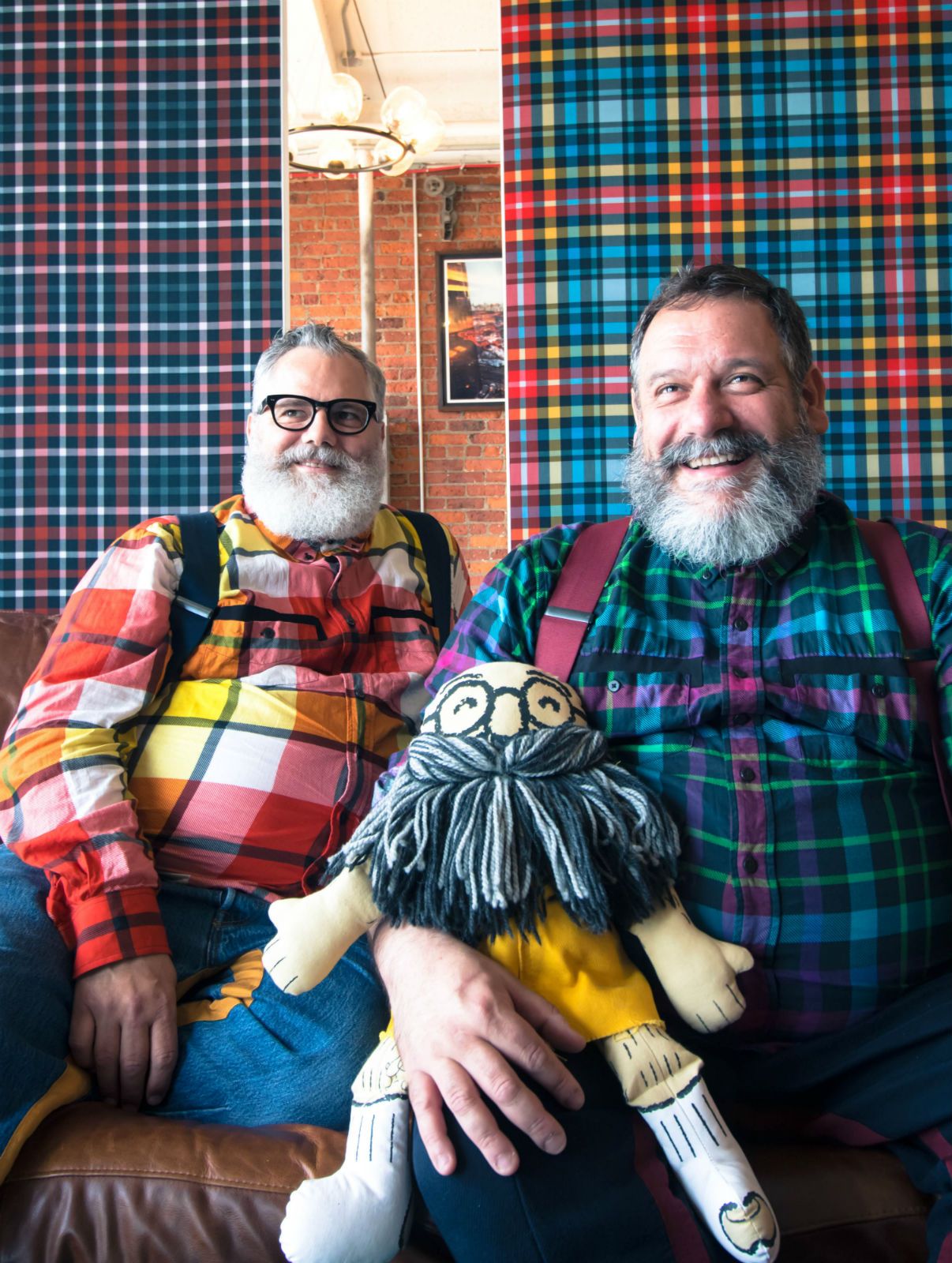 Welcome to Groom Raider, a weekly series where we, well, raid the grooming closets of the people we admire to see what products they use. While we browse through their moisturizers, creams, fragrances and more, we get a glimpse into their past lives and the stories behind how they came to be.
"Everyone in fashion calls us 'The Bears,' like Anna Wintour."
So says designer Robert Tagliapietra with a hearty laugh. He's one half of the design duo, JCRT, with his design partner (and real-life partner!) Jeffrey Costello. The two recently launched their first men's specific line of made to measure plaid shirts years after shuttering their beloved womenswear brand, Costello Tagliapietra. The brand was known for its outre cuts and killer dresses worn by the likes of celebrities to downtown cool girls.
SEE ALSO: Designer Michael Bastian on his awkward teenage years
The brand is no more, but the designers are now more inspired than ever. Known for their beards and signature lumberjack style, both decided to venture into what felt organic to them: Plaids in all shapes and sizes for both men and women.
"We all hate going to a bar and seeing someone else in the same shirt, like, your night's ruined," says Jeffrey. "There's a beauty to wearing something so unique no one else will have it."
We caught up with both Jeffrey and Robert at their Chelsea studio in New York City where they not only showed us a glimpse of their "Plaidiverse," but talked their beards, maintenance and even a few ~amazing~ beauty tips.
On their new brand:
Robert Tagliapietra: "We created this shirt that fits really beautifully, is really well tailored, a great price, and we treat it like a canvas. We throw ideas onto it and it's what we wear everyday anyway. We literally met wearing plaid, we've always had plaid on so it made sense to create this 'Plaidiverse.'"

On love:
Robert: "We met at Sound Factory nightclub, where Sleep No More is now. It was love at first sight but we were both way too shy to talk to each other. So, three weeks in a row, [Jeffrey's] friend Lauren Rosselli of Book of Love came up to me and she grabs me and is like, 'I am not coming here next weekend, you are going to meet my friend Jeffrey right now, and you are going to talk to each other.'
Jeffrey Costello: "It was embarrassing, I couldn't really grow a beard until I was like, 33 years old. I was trying, I would get a little fuzz, but then I met Robert and I guess he pulled the beard out of me."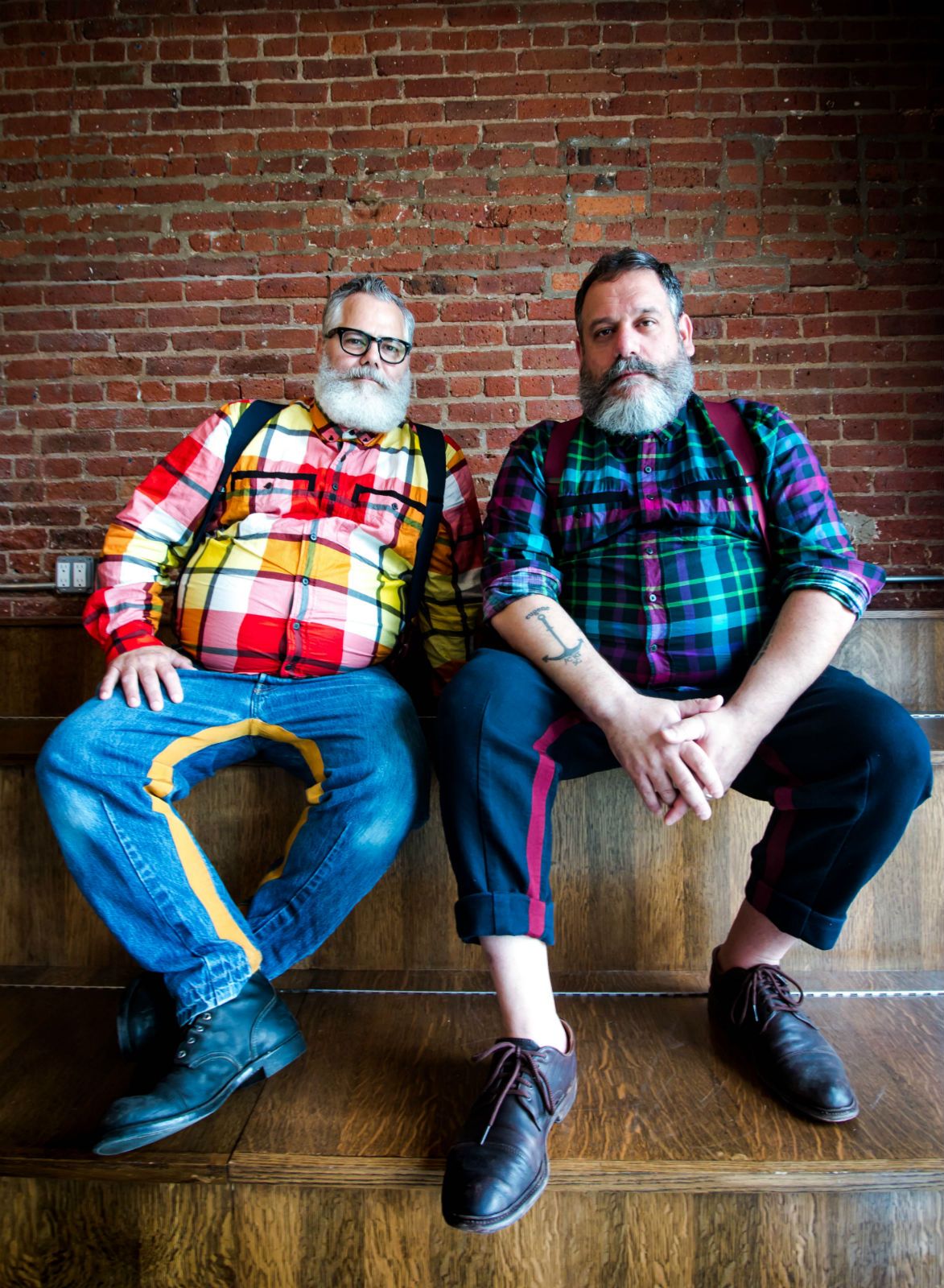 On Madonna bringing them together:
Robert: "We both had scruff. It was cute. We weren't bears yet, maybe cubs. Jeffrey had a line back then that was well received. I always joke that when we first met he was working on Madonna's 'Bedtime Story' video. I was a little 20-year old obsessed Madonna fan who really wanted to work with Jeffrey on that video. So I needled my way in, and that was the first project we worked on. I mean, he did it but I kinda pretend helped.
We started working together officially, doing things and projects through the 90's. That's when we worked on tours, with Nine Inch Nails, Bruce Springsteen, Salt 'N Pepa. It was an amazing period."
On being the only bears in fashion:
Robert:  "I loved when we would hear the industry and the higher-ups refer to us as 'The Bears', it's always funny hearing that come out of Anna's [Wintour]  mouth for instance. Like, its a funny thing. It's hysterical. It's never been something that stopped us, and it's not lost on us that this is an industry that prides itself on not only just health but also thinness.
Jeffrey: "I remember when Style.com was alive, they ran an image with the caption 'The Three Little Bears' with us an someone else. I thought it was nice.'
On Gender:
Robert: "I grew up in the 90s, I was a wannabee riot grrrl. I was obsessed with that whole culture, and I always loved how culture would inform politics and vice versa, so like it's those two things that excite me. Now when we see boys wearing skirts, that's politics and fashion working together. It's culture. I get so excited when I see that. I don't even think I would have ever thought I would see some guy walking down the street in a pencil skirt, and boots and normal hair. I fucking love it."
Jeffery: "It's just adding another layer of beauty to the world.  We have an older intern who has this huge beard and he walks around in a dress every day, and eyeliner, and  he's like my idol now."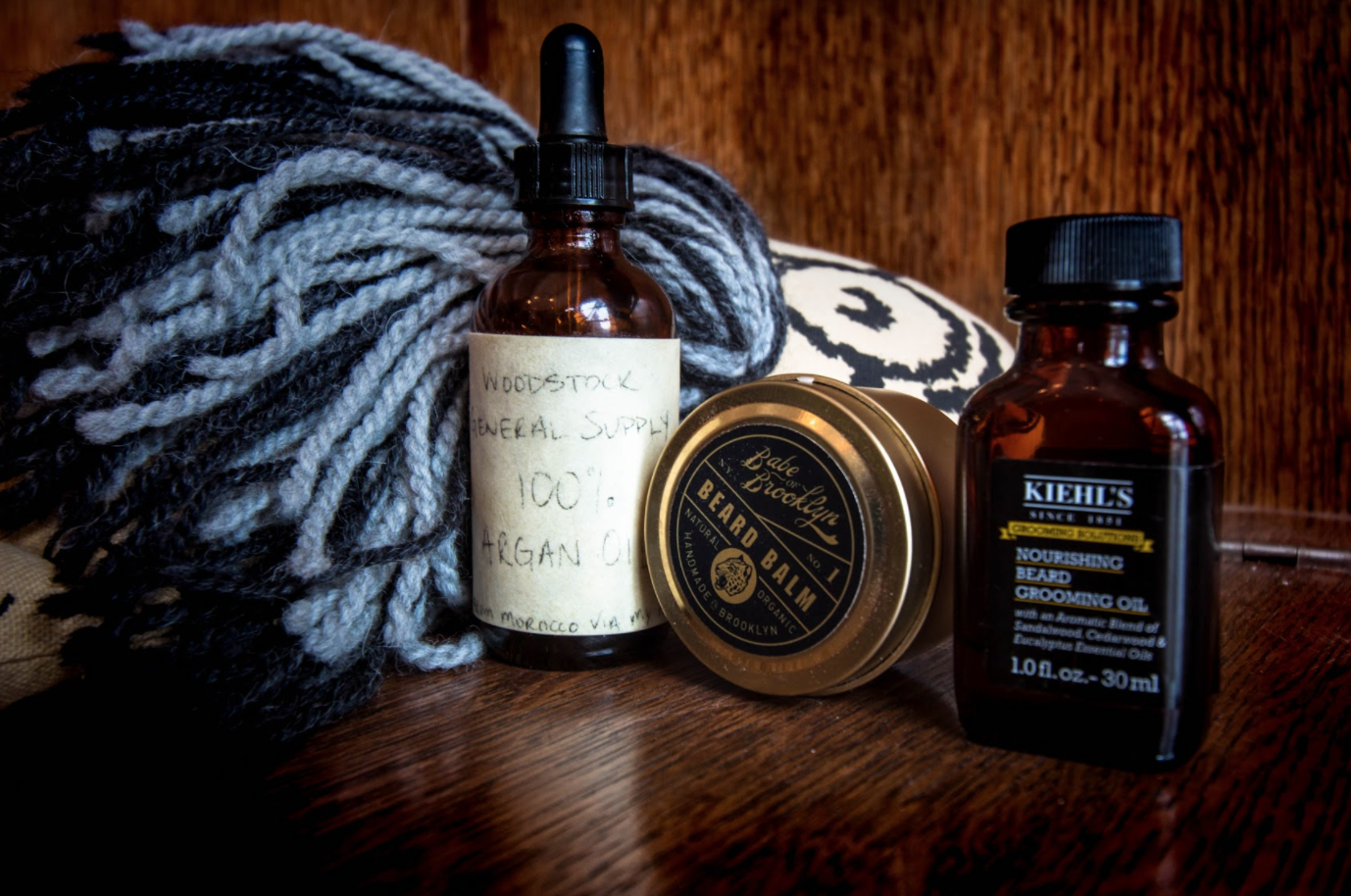 On beard pride:
Jeffery: "My beard fully took off at 33. I was always trying to get it going, I always wanted it, it was coming in a little patchy and  all of the sudden it just kinda was there. People were a little taken back by our beards because we looked a little country."
Robert: "I would be lying if I said it wasn't something that I knew was letting us stand out a little in a sea of 400 designers on Vogue.com. We're the bearded big guys who did very feminine dresses. Granted that wasn't an equation that we set out with, but it definitely helped us in a way. Even just this weekend a young woman came up to us at a restaurant and I think because we are so recognizable I think that was an easy thing to connect and that's exciting for us, that's still exciting for us. It's totally part of who we are."
Beard maintenance:
Jeffrey: "I feel like I need to wash it everyday. I do condition  it. What I do is brush my teeth, hop in the shower, wash my face with Kiehl's olive oil soap. Then, the Kiehl's ultra damage conditioner goes on. So I'm standing there in my soapy mess, and I let the steam from the shower bake it in. About 20 minutes later, I rinse it out. The argan oil goes in, and I'll choose between the Brooklyn balm or I might just leave it with the oil. It makes it super fuzzy and soft. Like a cloud."
Beard Advice:
Jefferey: "For me I always yell at people because they come up to me like oh I can't get past this certain place. The thing is to have a good boar bristle brush that's soft. Carry that with you, and just brush it out. Instead of saying it's getting itchy, just brush it through, and within like, 2 weeks, it's at that level you can live with."
Robert: "That's the common problem that people have when they grow it out, it gets to a certain point and it starts to itch. All you have to do is just comb it out. We micro trim everyday though, you always find that one hair that wasn't there yesterday. All of the sudden you will have that one hair that's longer than the rest and you just have to trim it off."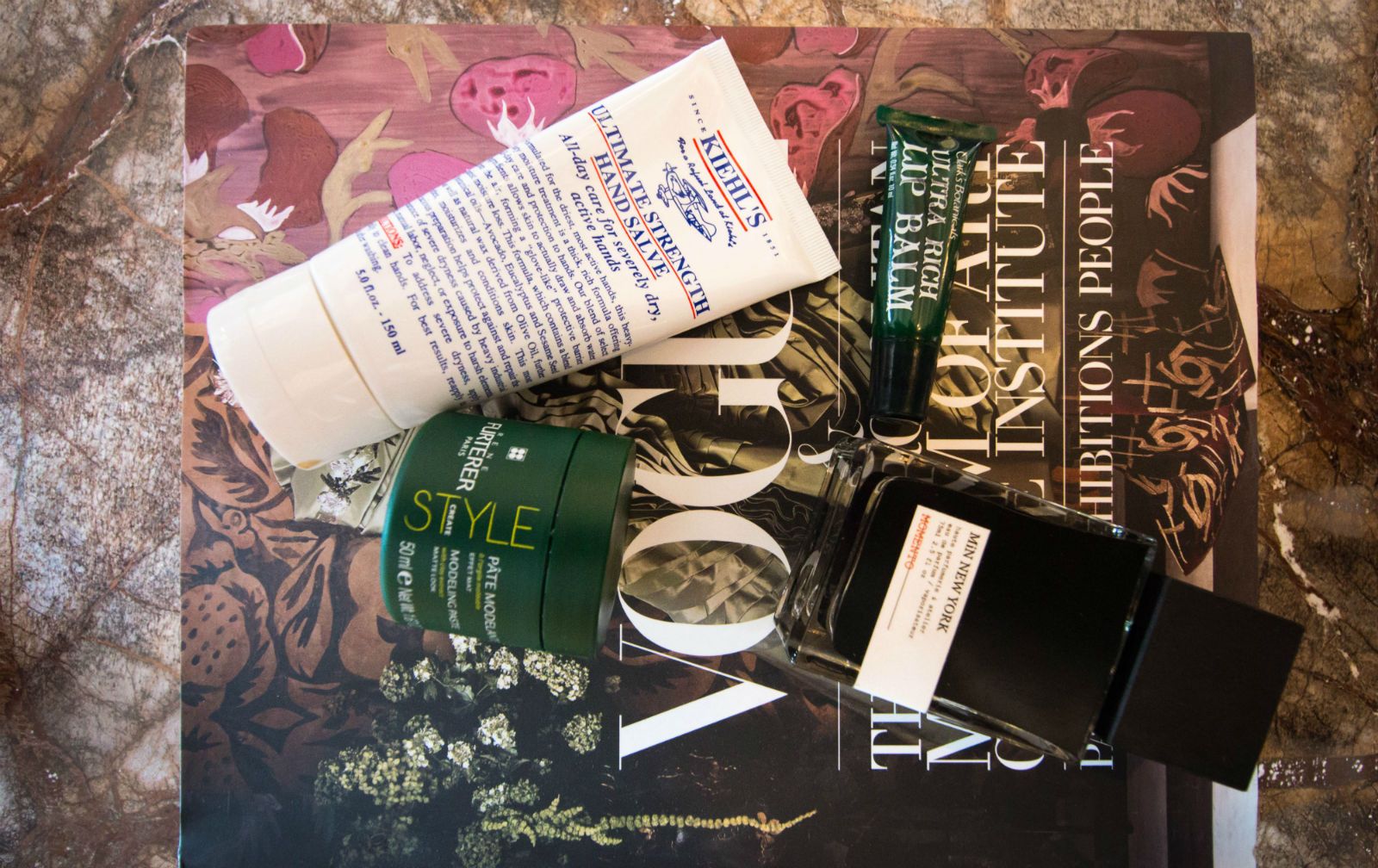 On controlling beard regimen:
Robert: "There are two products from Kiehl's that I really love. There's that Midnight Oil which I love love love, and there's that one in the brown bottle, the line reducing concentrate. It's got this warming thing to it. I'll put a little bit, because I'll break out otherwise. I have skin that either breaks out because it's too oily or breaks out because it's too dry, it's always a fine line, so I sort of have to play this game everyday of, 'Do I put something on or do I not?' It's frustrating and at 42, I thought it would have changed, but not so much.
The Lab Series face wash is also really nice, so sometimes I do that if I need a little more oil control. It's a bit of a game of circulating around. Clark's Botanicals has a skin clearing face wash that is really nice as well. I'll put that in my hand with a few other products and create a concoction. Then, I'll rub it in my face. It's just a feeling you get of what you need that day.
Sometimes, I'll take a blow dryer out if it feels really humid out. My hair can be kinda huge so if I'm going out, I'll take the blow dryer and quickly comb through it. That, and a balm to style it out. I use the Brooklyn Balm and it really hydrates while keeping my hairs in place."