Welcome to Groom Raider, a weekly series where we, well, raid the grooming closets of the people we admire to see what products they use. While we browse through their moisturizers, creams, fragrances and more, we get a glimpse into their past lives and the stories behind how they came to be. This week we meet with Michael Bastian, one NYC's biggest menswear designers.
Michael Bastian, designer, NYC
"More guys should use a makeup brush," says Michael Bastian, the New York menswear designer, defiantly.
We're hanging out in his West Village apartment in his charming abode, which is decorated with quirky art pieces he's collected over the years. On one wall sits a painting of a feckless young man staring off into the distance, a piece Michael found on the sidewalk one day. On another, there are dozens of framed paintings and photographs that he's collected over the years. The decor, one would say, is perfectly New York.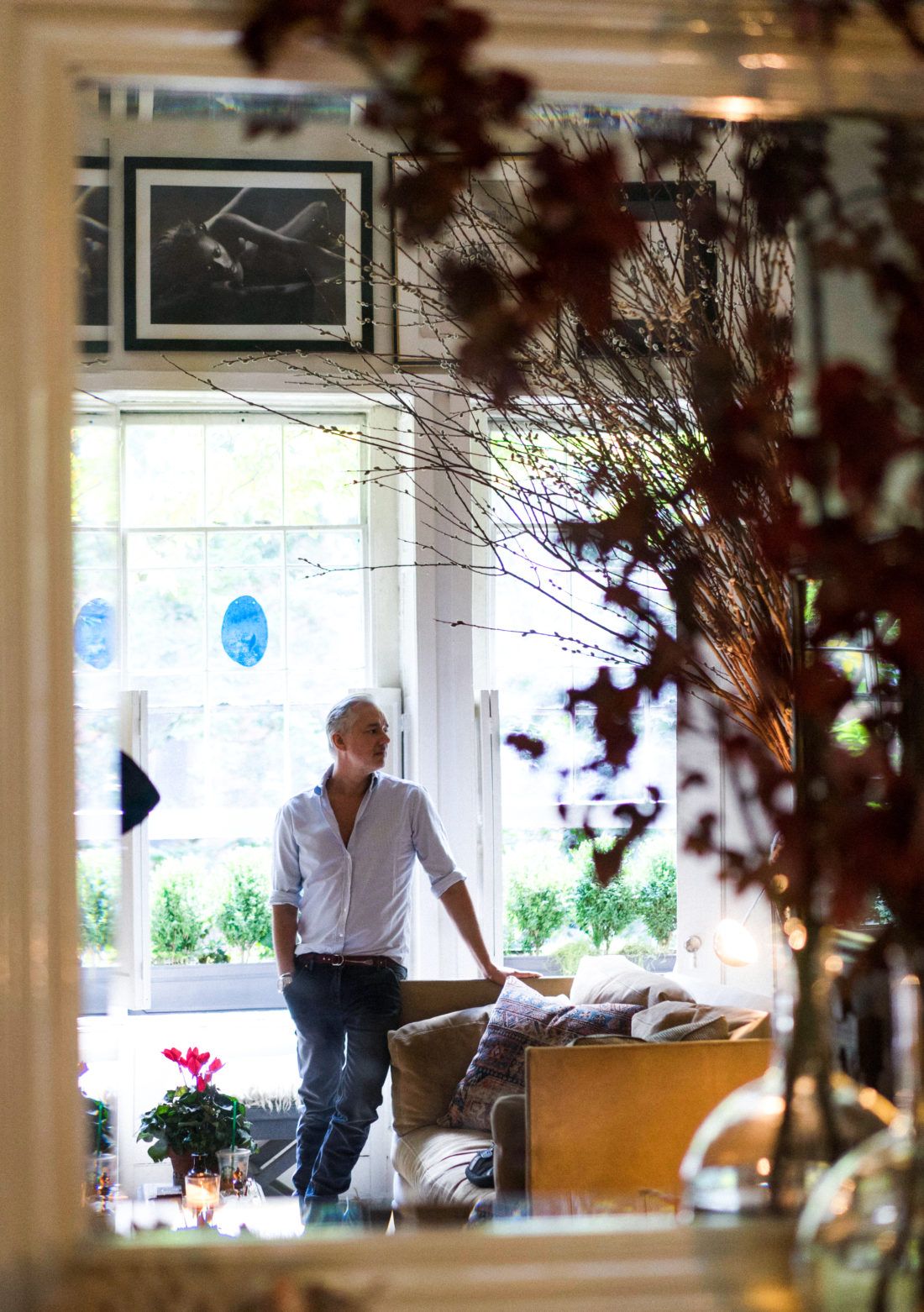 In his tiny bathroom – which is completely spotless, btw – he's applying a product called Mally
onto his face. He stares into his mirror, his hand swirling with a makeup brush to his pores. "I don't understand why more men don't use a brush, it's like a paint brush, nothing unnatural about it," he says. He tells me he discovered the wonder product while on a shoot for GQ. A makeup artist had been using it on his face to prep him for the shoot. Almost instantaneously, he saw a difference. "I was like, what is that and I need that now!"
Now in his early fifties, Michael, who's the Council of Fashion Designers of America's 2011 Menswear Designer of the Year award winner, is finding that he's more confident than ever. That is, with or without that miraculous powder, Mally
.
Growing up in Lyons, NY, a suburb between Rochester and Syracuse, he says he was always dreaming about a bigger life in the city.
"At 13, I was one of those kids how had a subscription to GQ," he says. "I lived in my own head." Though he had dreams of fashion, it was during this time when he found he was "completely a super nerd." In college, has says, he still wasn't self-assured.
"I was painfully skinny all of my life," he says. "I was so insecure about [it]. It's something no one talks about. The American ideal of a man is being big, muscle-y. I would drink protein shakes and eat anything I wanted but still never gained weight."
I was so insecure about being skinny. It's something no one talks about. The American ideal of a man is being big, muscle-y.
It was during this period that he fell in love with his first fragrance. It was Halston Z 14, now a cologne found on Amazon.com or Jet.com. "The sad part is if you smelled it now, it doesn't smell like it used to," he says. "They reformulated the product, which is a shame, but to me, it's worse because it's feel like you're f****** up with my memories. That smell, it goes to the middle of your brain."
[aesop_image imgwidth="80%" img="/content/images/wp-content/uploads/2017/01/BukunmiGrace_MichaelBastian-2-of-56.jpg" credit="Photo by: Bukunmi Grace/Very Good Light" alt="Michael Bastian" align="center" lightbox="on" captionposition="left" revealfx="inplaceslow"]
Halston Z 14 conjures pleasant memories, Michael says, of the early 80's. It was well before he ever stepped foot in the city, a time when Ronald Reagan was still president. "I wanted to be someone," he remembers saying. "I want to be that cool guy who was in New York City, going out every night, living that lifestyle."
"I wanted to be someone."
Years later, he moved to New York City and soon enough found himself living that life. He worked at Ralph Lauren in the home department then at Tiffany in the table top division. Then, he made it to one of the top positions in the entire industry: fashion director at Bergdorf Goodman. It was there when he started to think about going off on his own.
"I thought I was going to start a chino line," he says. "But then someone told me I had to go all in. I was just going to do this on the side while I was still working. I was designing the line and Brunello Cucinelli (an Italian menswear brand) offered to produce it. So I quit my job and my mom cried saying, 'how can you be so reckless with your career?'"
It was at this point, where he started gaining personal confidence in himself. "In my 20's I was insecure but it was in my 30's I started to accept how I look. Some people peak in their teens, I peaked in my 40's." It's in his 40's when he started gaining weight, his "weird gray hairs" sprouting. "My grandfather had white hair," he says. "He was a handsome guy with blue blue eyes and super tanned. His whole philosophy was the whiter the hair more tanned you had to be." Which is why he says he loves the sun. "I know I'm doing something bad with the sun so have to make it up with lots of beauty and grooming products."
And after a successful brand and career, Michael says this about finding confidence: "Be aware that people peak at different ages," he says. "Don't think it's all about the 20's and that that will be your most gorgeous years. Some people are in the 30's, 40's, 50's, 70's. If you think you're insecure, you're not alone and better days will come. They did for me."
How he grooms:
Face wash: Lab Series MAX LS daily renewing cleanser
"I'll use it in the morning with a Clarisonic brush, that's how I start the day. I feel super clean without being too dry."
Buy it here
Moisturizer: Lab Series Future Rescue and La Prairie Skin Caviar
"It's a serum in a blue bottle. If you're feeling a little dry it's a great light moisturizer that goes on smoothly. I mean, how do you not love that? In the middle of winter I was addicted to La Prairie Skin Caviar when I worked at Bergdorf Goodman. It's so expensive though. It's a round trip to LA but 9t does last a long time and makes me feel like a rich old Lady. When it's really cold it's amazing it's the perfect."
Buy Lab Series here
.
Buy La Prairie here
.
Shampoo: O&M Purple shampoo
"This is something I swear by and have been using for years. It's a purple shampoo that takes all the yellow away. It really works, so much so that I've been thinking that we should make a purple toothpaste. Isn't that a genius idea?"
Buy it here.
Bronzer: Tom Ford
"In the middle of winter is when I get super pale and who do you trust more than Tom Ford to give you a nice bronzed, sun-kissed tone? I put on the tiniest dab and work my way across my face. It gives you a nice glow that summer seems to have left over."
Buy it here
.
Fragrance: Chanel Sycomore
"I have a book all about fragrances. It's called Perfumes the A-Z Guide (by Luca Turin and Tania Sanchez). It's a genius book because they reviewed every perfume from the beginning of time. One of my all-time favorites is called Chanel Sycomore. It's incredible. Expensive as f*** but it's so amazing and takes me back to another time. There's nothing more comforting than a fragrance that brings you into a different world."
Buy it here.