Let's get ready for the day with our favorite guys who give good face. It's our series called #GRWM ("Get Ready With Me"), where we wake up with our friends and uncover their hidden grooming secrets, documenting every step of the way. This week, we head to New York City where we get ready with Chris Pond, student, skincare blogger and artist.
Chris Pond, skincare blogger, @Tophcam
"I've got a combination of Richard Petty, someone who frequents the Nascar track, and Barry Gibb, that's what I'm sort of going for," says Chris Pond, a skincare blogger. We're getting ready with him in his NYC apartment while he ponders life's musings aloud while fluffing his hair in the mirror. "God could you image what my life would be like without making some sort of cultural reference? Who would I be?"
It's clear that pop culture has a hold on Chris. The 22-year old's Queens apartment is covered in posters of music icons, both Marilyn Manson and Adele featured prominently, 90s supermodels, and drag queens. A David Lachapelle photo book sits open on his coffee table, and Chris explains he is always drawing inspiration from the art around him.
Another thing that's clear? Skincare ranks just as high in Chris' life as culture. He has drawers upon drawers of favorite products, products he's yet to test, and products to give away. Empty toner bottles have been transformed into vases and incorporated into his decor.
I'm always chasing glow.
Chris took his love for skincare to the next level after launching his YouTube channel, and his blog Tophcam.com. He has also turned to Instagram to share creative posts on his love for green beauty and small brands, as well as occasionally drooling blue slime in order to bust myths on toxins.
"I love skincare that's made by people who love skincare, and people who really appreciate it and understand it," Chris tells Very Good Light. "I think it's so obvious when you read an ingredient list or see a brand website or read brand claims. You can tell when it's made by someone who understands and loves skincare and you can tell when it's made by someone who works in marketing."
It's no surprise that Chris' routine is mainly focused on beautiful, fresh skin. "I'm always chasing glow. I want to just look like my skin is healthy, that's what I look for," Chris says.
Read on for his lucky 13 step-routine for plump, dewy, baby skin.
1 Cleanse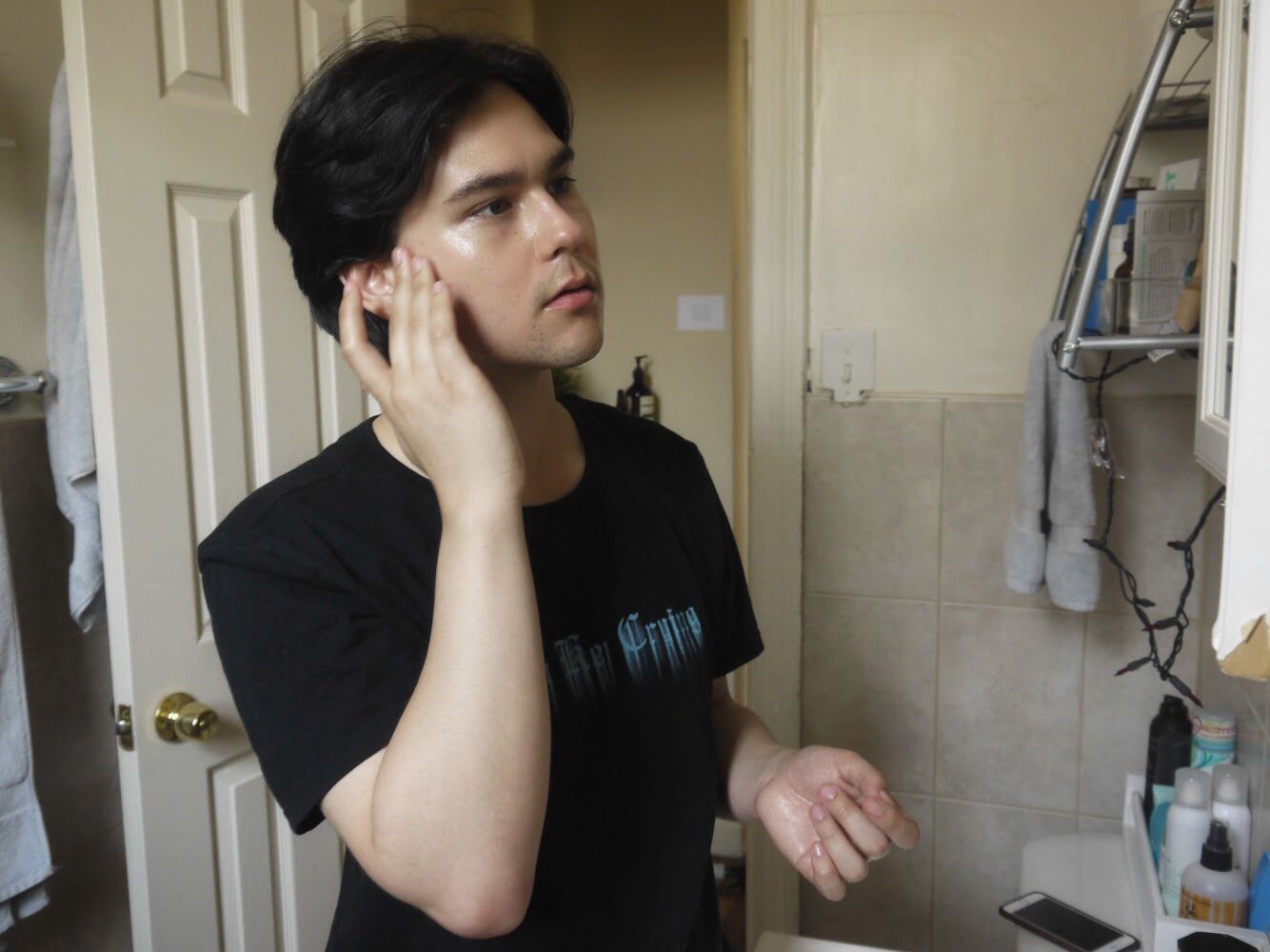 "First I cleanse with Votary Super Seed Cleansing Oil. It's so funny because at first I did not like this, it's extremely herbal. But the more I use it, the more I love it, and it has become my favorite cleaning oil –period. I don't really use it for any other purpose other than cleaning my skin and doing a really nice facial massage, but to me it's perfect, it's calming, it's anti inflammatory.
2 Tone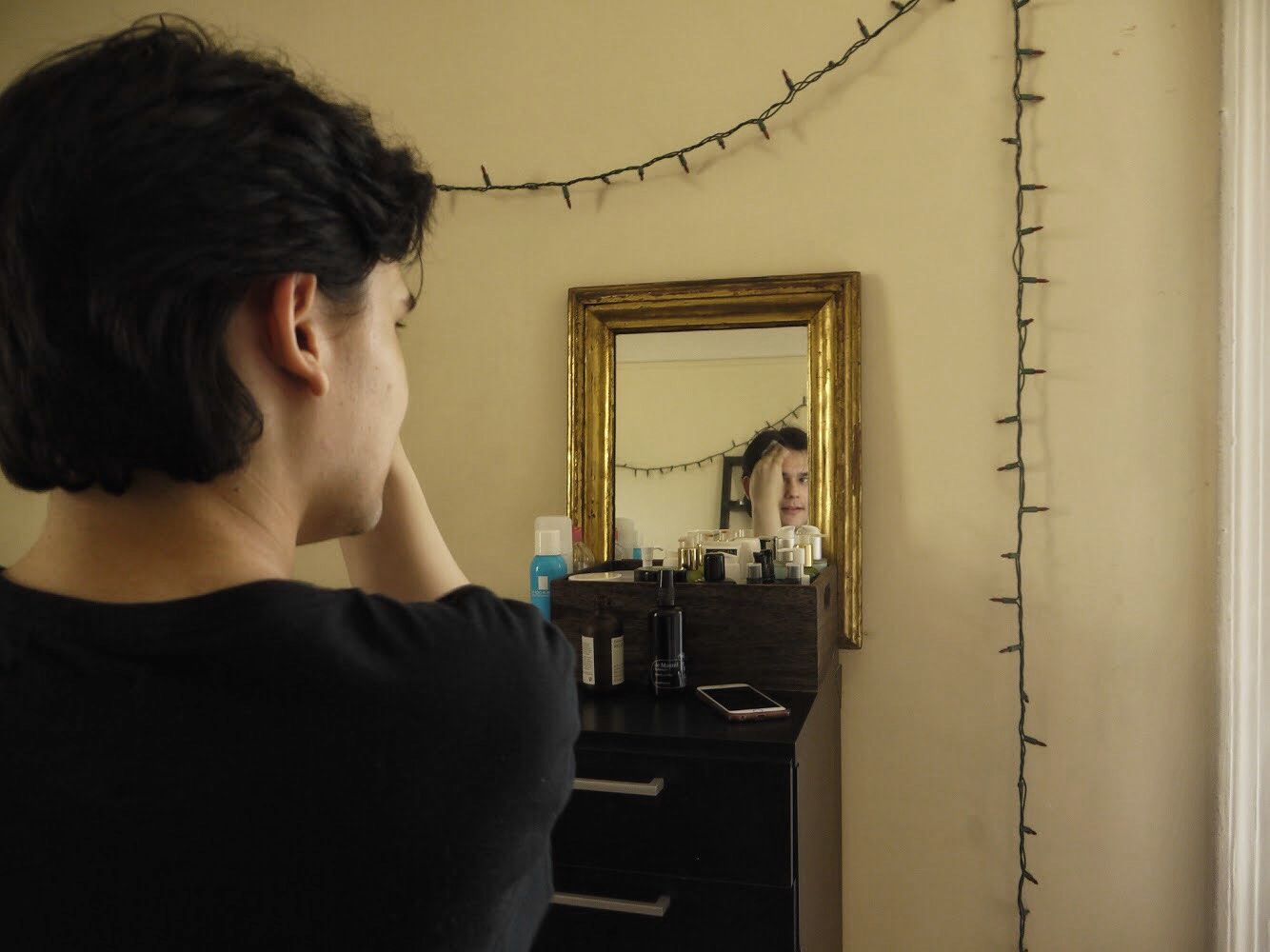 "I have a zit, kinda right on my orbital bone and one on my nose because I fell asleep without doing a full ritual. I'm going to use the Perricone Pre:empt Exfoliating Pore Refiner. I like this a lot because it's really mild, but extremely effective so I can use it more than I would use another regular higher strength BHA. It's really great at cleaning out the pores, dissolving sebaceous clogs, or erasing my mistakes. It's also really great after shaving, which I did yesterday morning. Don't forget the neck and chest!"
3 Mist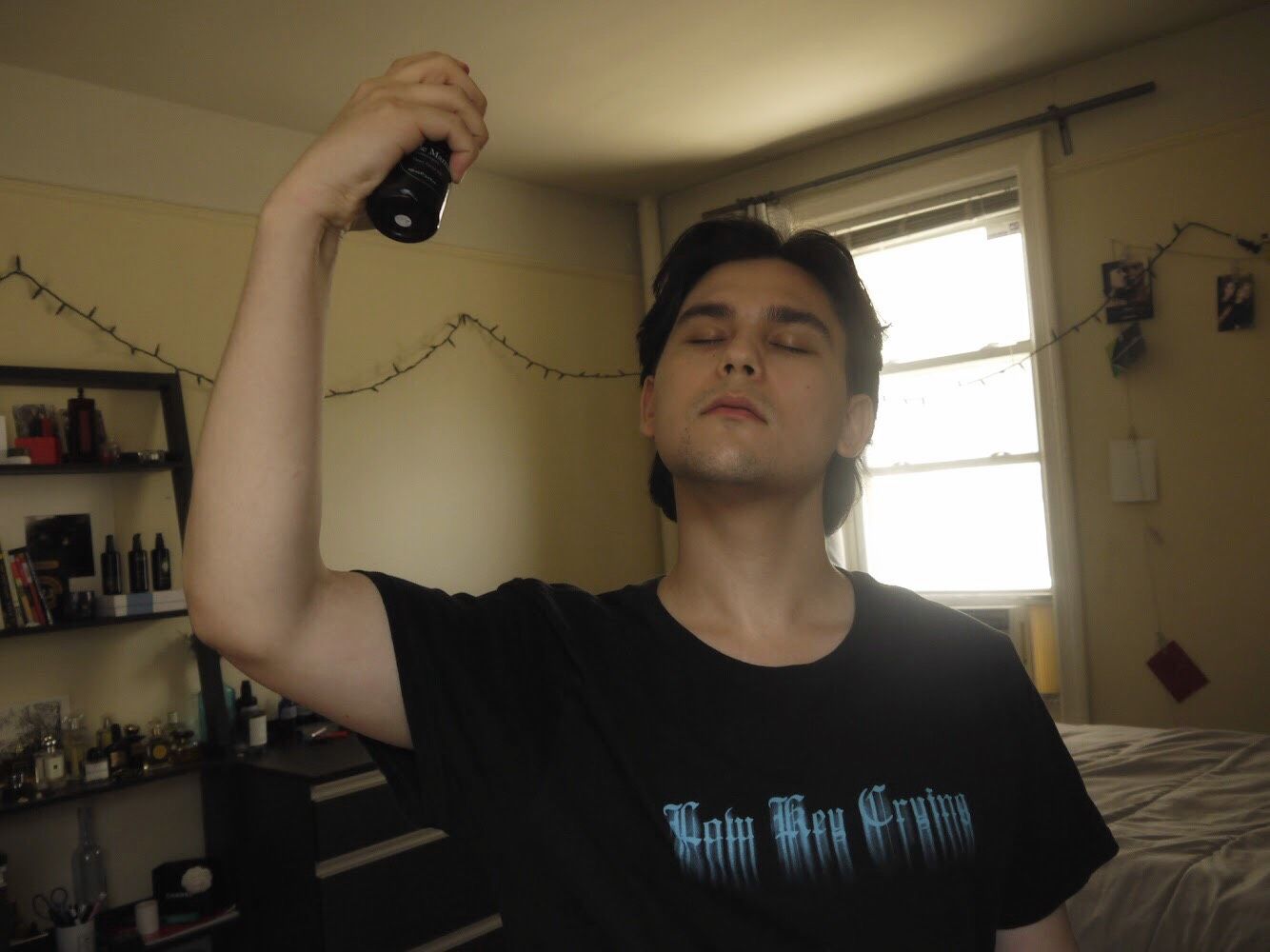 "This is the de Mamiel Dewy Facial Mist, which is just ugh! This one's nice because it has a little bit of oil in it, and my skin has been feeling a little dry. I use it as more of a supplemental thing. It's finishing off the cleansing and toning ritual, and it's the ice cream in the sandwich if you will, as the second half of my ritual is more about replenishing and treatment."
4 Treat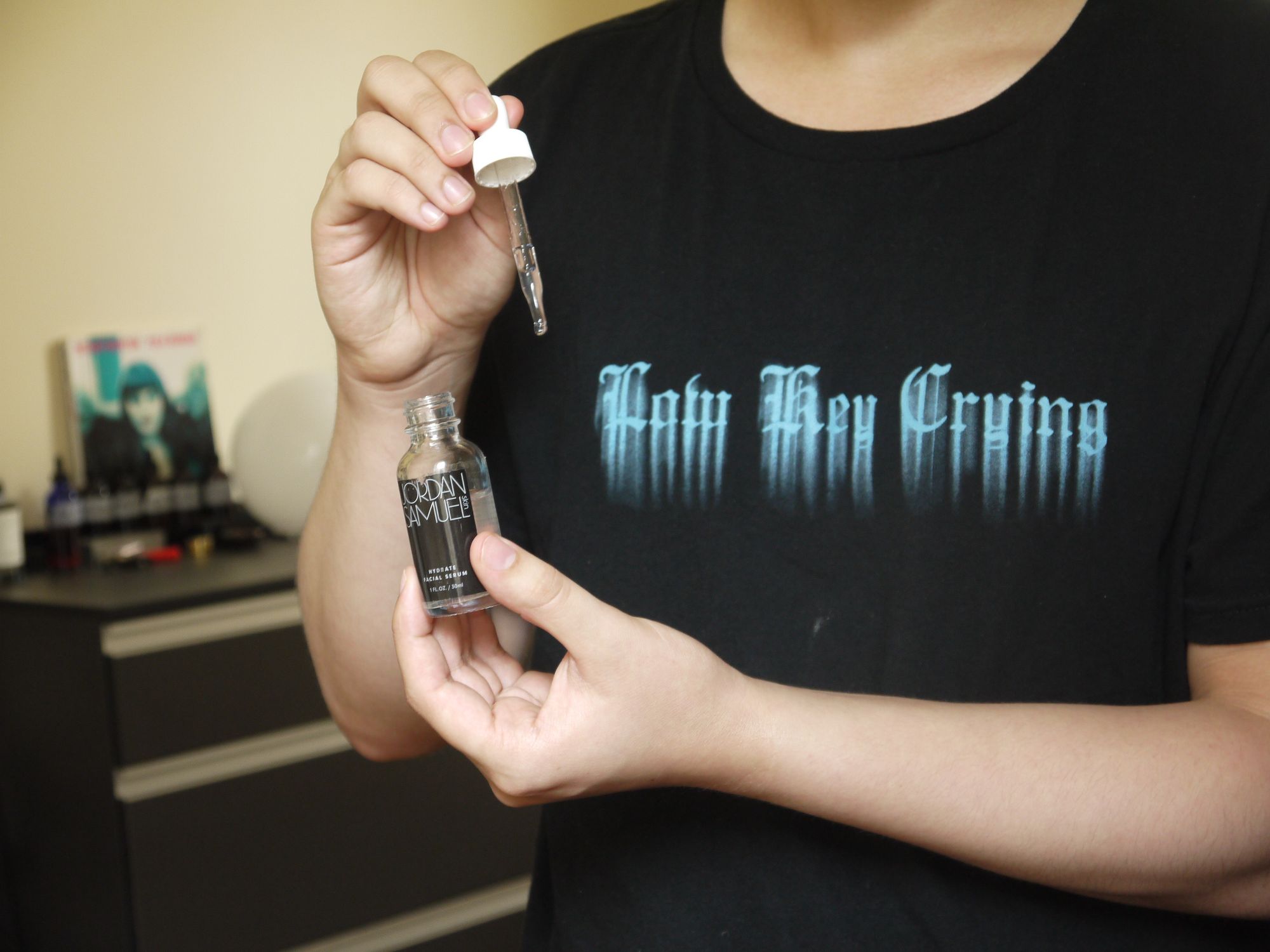 "Now for Jordan Samuels Skin Hydrate. Because I'm chronically dehydrated I use this pretty much every day. As much as I love things that smell really good and have a lot of aromatic plant extract, there's something to be said for a really good, very, very bare bones product that just does what it's supposed to do really, really well. To me, that's what this is."
5 Eye serum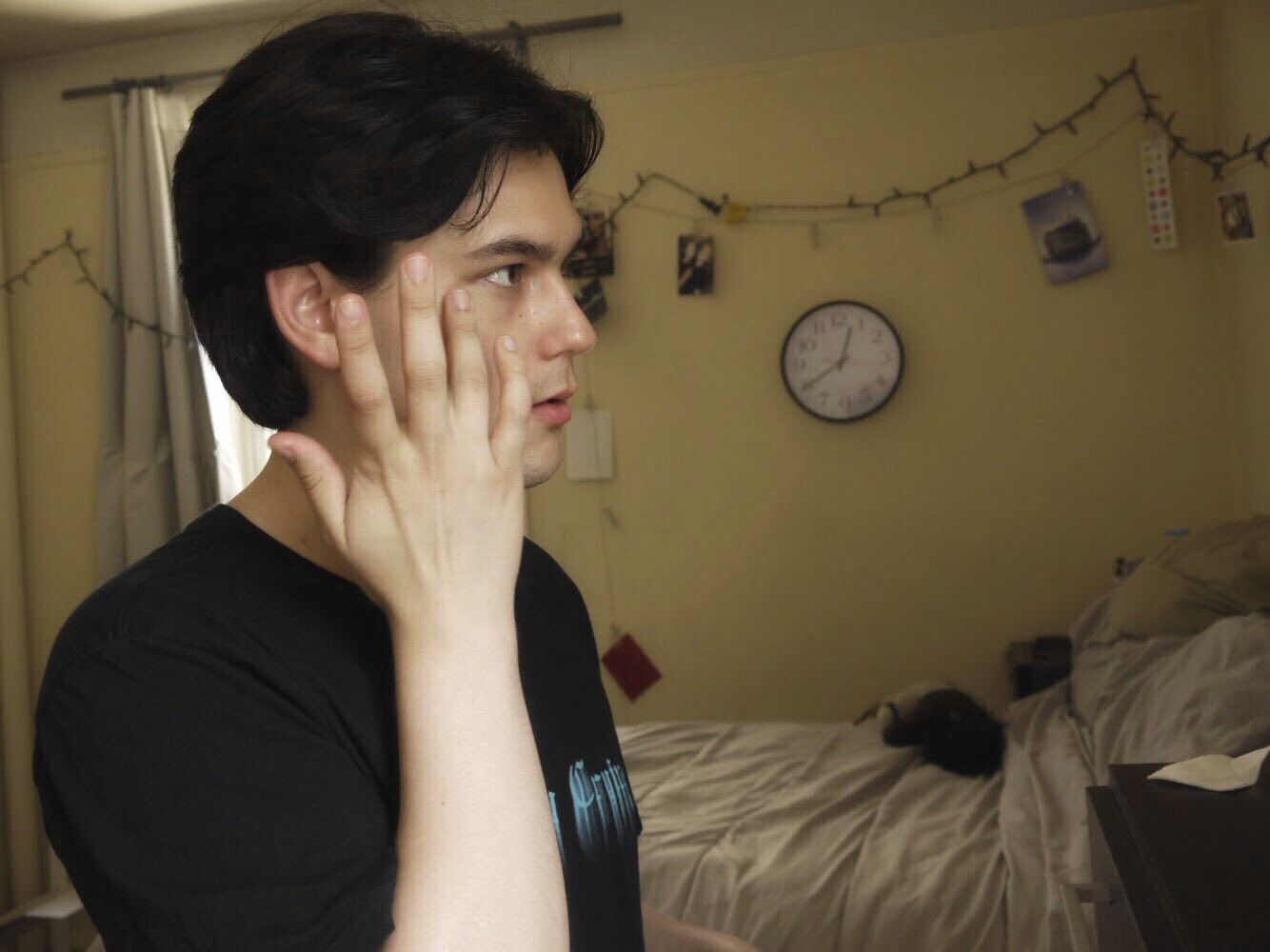 "For the eyes, I have been obsessed with The Ordinary Caffeine Solution. I'm extremely darkness prone and puffiness prone. I like to do eye serums when I do my face serums so that way they kind of have time to sink in while I'm doing everything else. And I think an eye serum is an extra. I still have to go in with an eye cream for texture, because I use concealer so I need something with a bit of an emollient quality to it, but if it's a couple bucks and it makes a world of difference, I'm all for it."
6 Eye Cream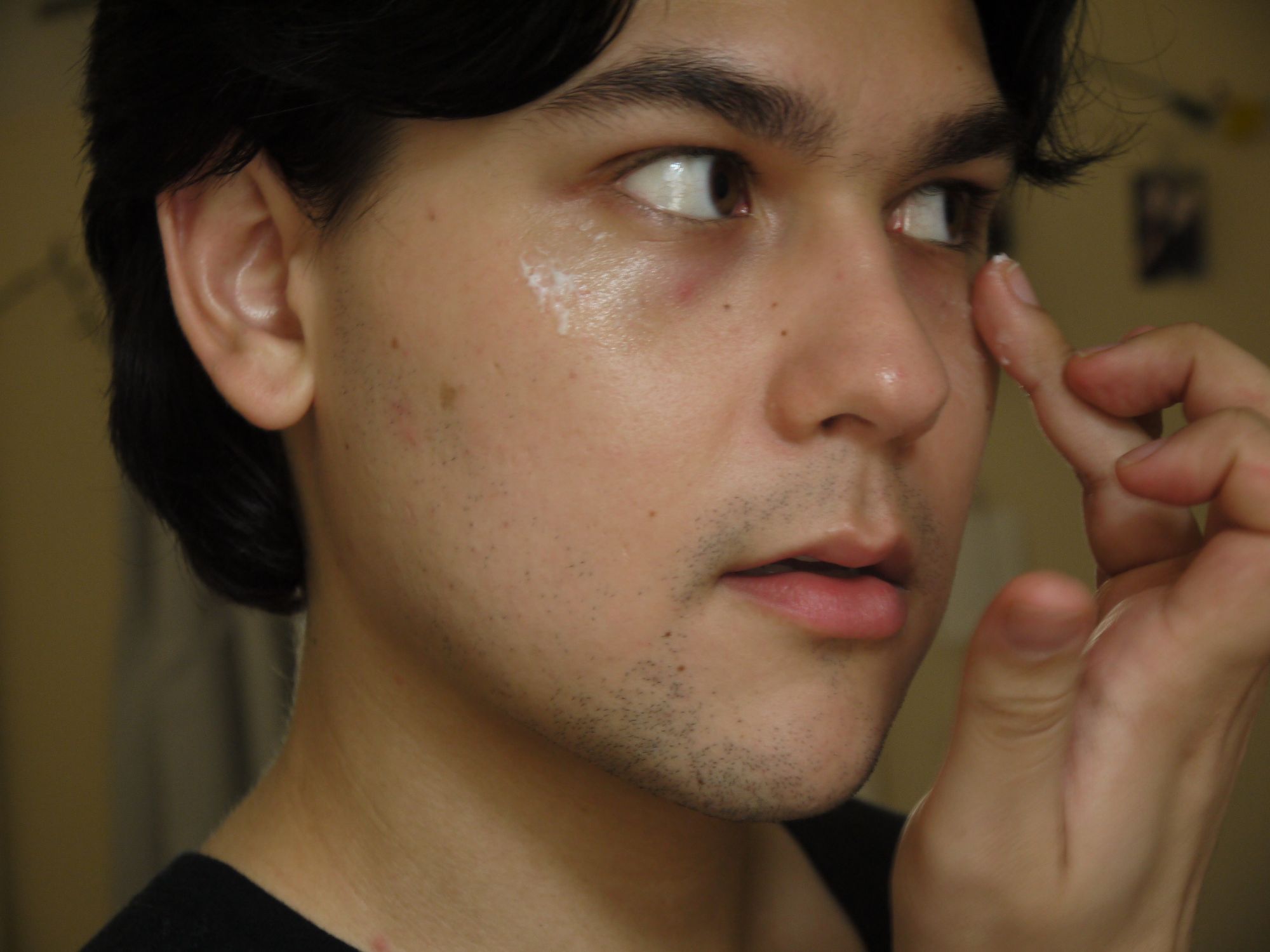 "I ain't got no time for a spatula, I'll tell you that much. But I am going to do quite a bit of this. This is the Tula Revitalizing Eye Cream. I like it a lot. A couple weeks ago I used it twice a day for a week straight, and at the very end of it I couldn't stop looking at how bright my eyes looked. I think the Ordinary gives me that immediate brightening boost and this kinda maintains it and is also a great consistency for concealer because its really whipped."
7 Face Oil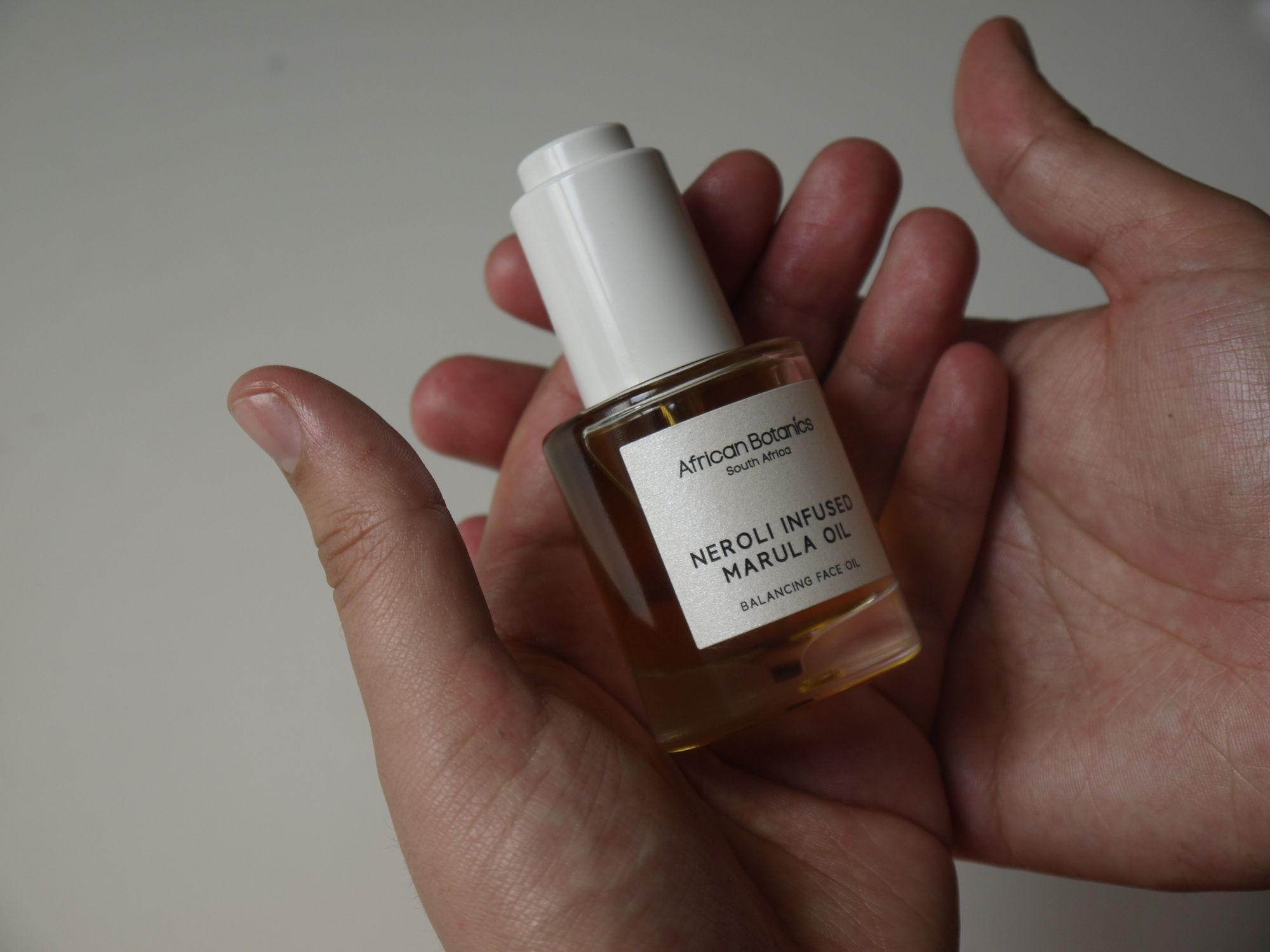 "This is African Botanics Neroli Infused Marula Oil. It's one of those things that's so good because it's so simple. Marula is nice for daytime because it's really lightweight, especially during the summer. I also find it's really toning and kind of calming at the same time. I take a couple drops. I want to enjoy every element of skincare.
8 Lips and Body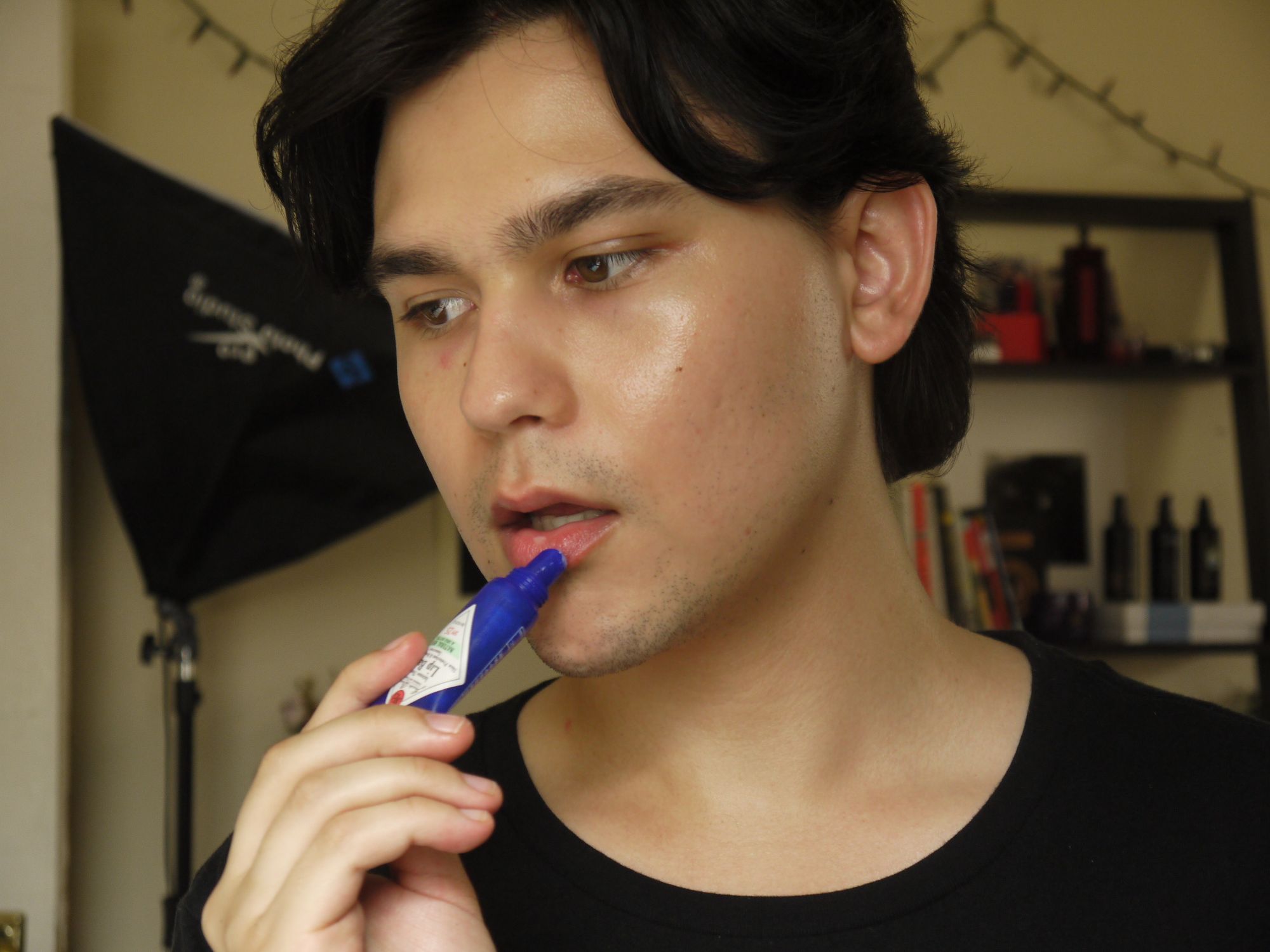 "What I tend to do while my oil is sinking in is put my body products on. This is my lip balm,  Jack Black, I like the mint one the best because it makes the breath a little fresher. And then, I've been using the Mun Pure Argan Oil non-stop on my body."
9 Balm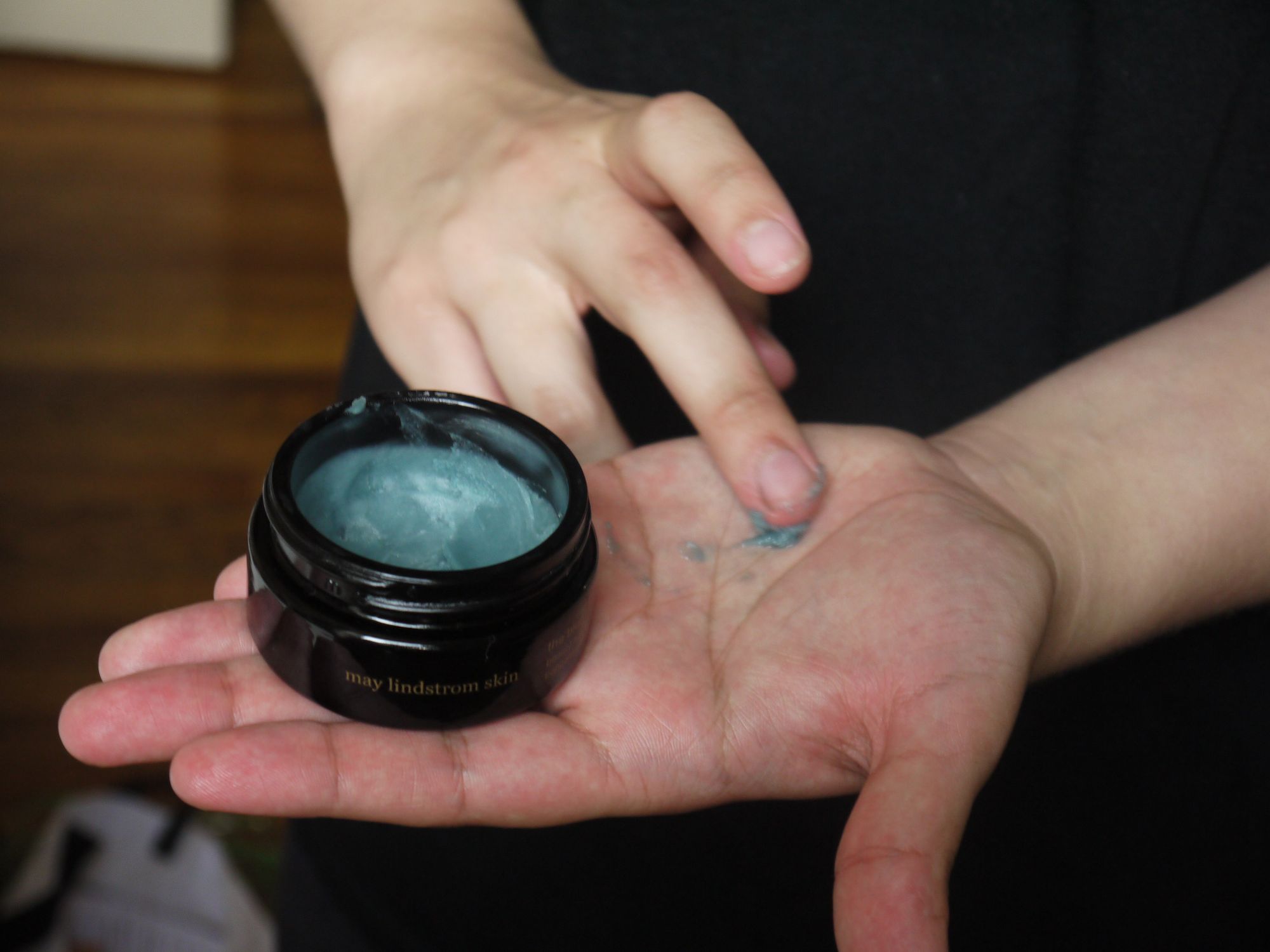 "So while the body oil's sinking in, I'll go in with some Blue Cocoon. Blue Cocoon is my favorite skincare product, on the face of this planet ever to exist. It changed the way I thought about skincare. After I used it, I started viewing skincare as self-care.  When it's used on the skin I find it to be very anti-inflammatory, very nourishing, very glow-y, softening. As a skincare product it really performs, but as a vessel of well being, that's why it's incomparable to me."
10 Sunscreen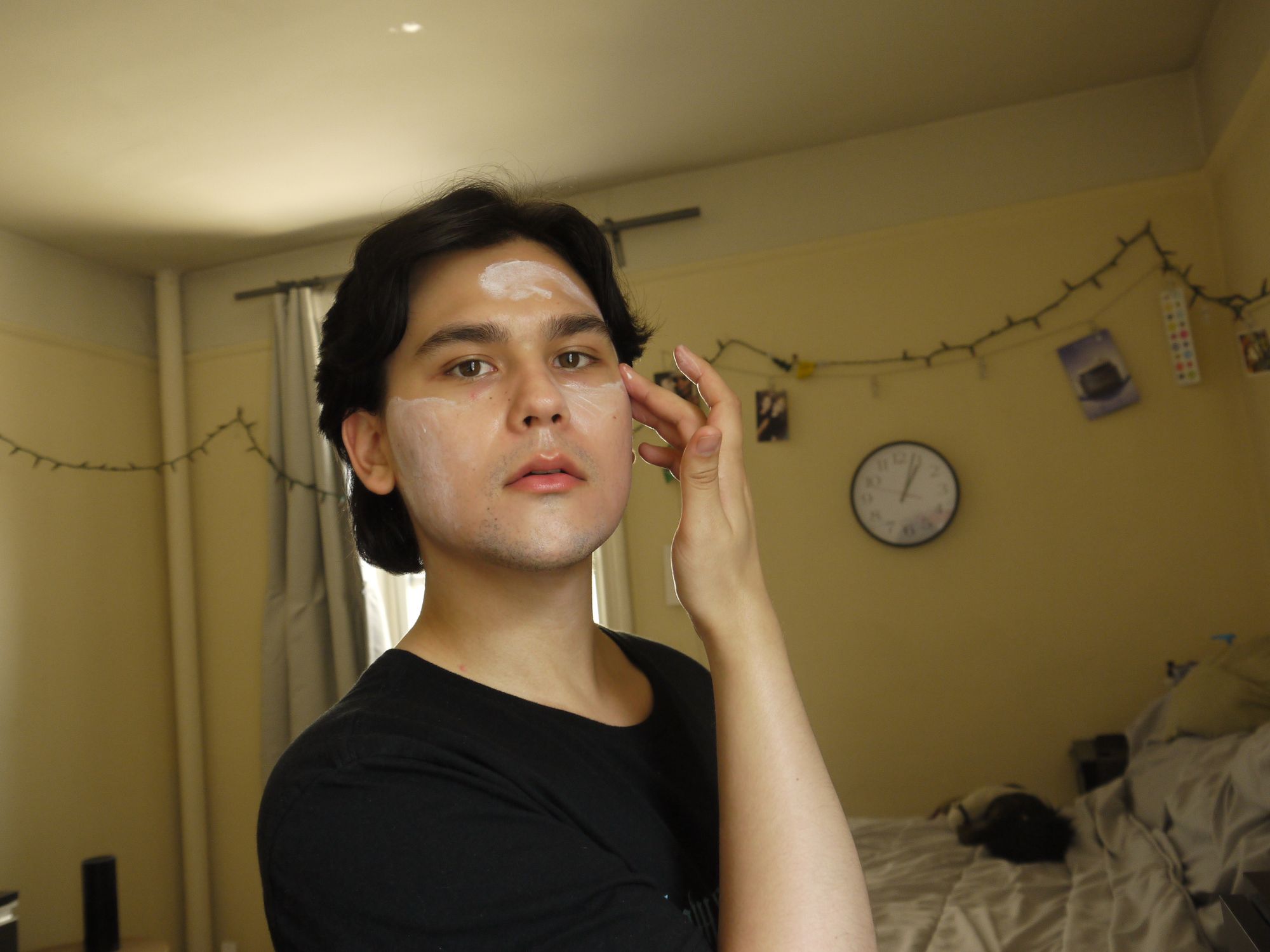 "I love Farmacy Green Screen. Be sure to use an adequate amount of sunscreen! What I do is dot it to make sure I'm getting an even layer all over the entire face. And as pasty white as this looks right now, once it absorbs you would never know I have a mineral-based SPF 30 on."
11 Hair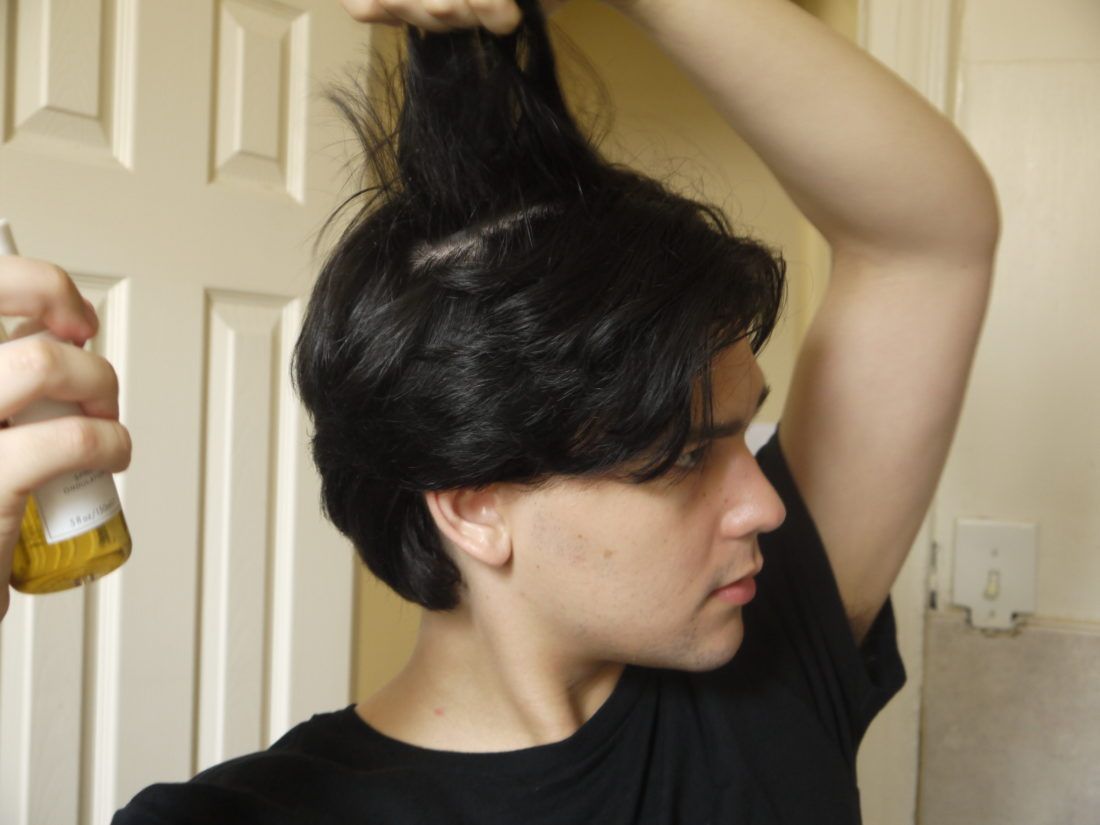 "When my hair is still a little wet I'll spray the Bumble and Bumble Tonic Lotion Primer. It has tea tree, peppermint, rosemary, and  hopps. I spray it on my scalp and its super soothing on my scalp and also it's a primer and de-tangler. I tend to lift my hair up and spray under it, I've got really thick hair so if I spray from above it will really weigh everything down, so I have to go from underneath. The Oaui Wave Spray is amazing. I love the smell, it gives me some texture without heaviness, and I hold it really far away, and do a really light spray, sort of shake the hair and let it fall."
"The kicker is I flip my hair over, and shake the living daylights out of it, and stand like a linebacker, or quarterback, is that's what it's called? I brush it out because it makes me look like Veronica Lake and just to separate the texture. And then this is the Harry Josh brush and I really like it. It's a blend of bristles and I like that it has different lengths."
12 Concealer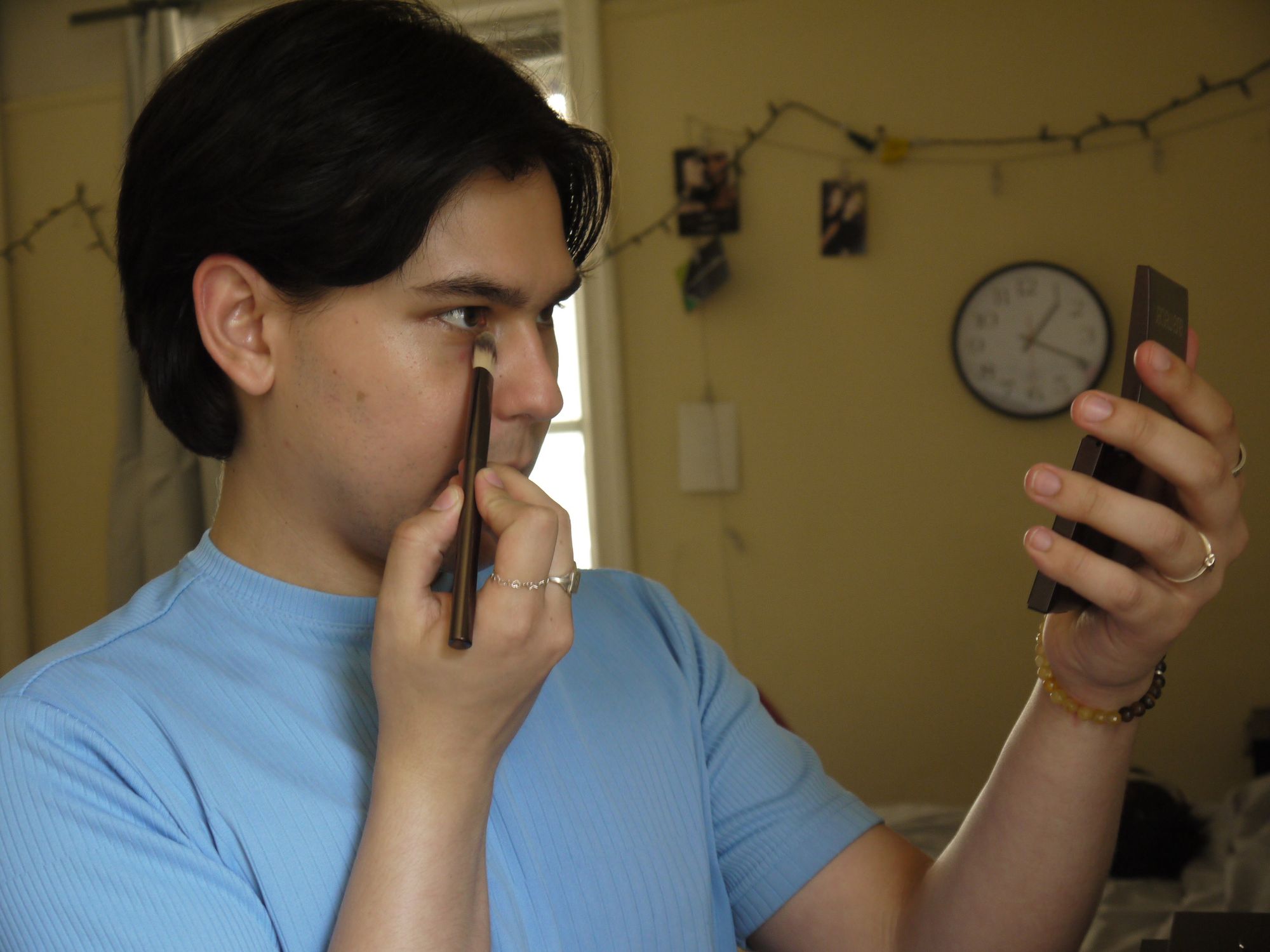 "I'm using Laura Mercier's Secret Camouflage Concealer. This is an old favorite from when I was watching Lisa Eldridge videos in high school. I'm using an Hourglass #8 brush because it's big and it takes very little time, and lord knows I don't have patience. I only use it under my eyes. I don't mind if I've got a zit and it shows, I think there's something to be said about looking human and flawed, I really like it. But underneath the eyes, I just don't want to hear from everyone all day 'oh you look so tired', because I probably am."
13 Fragrance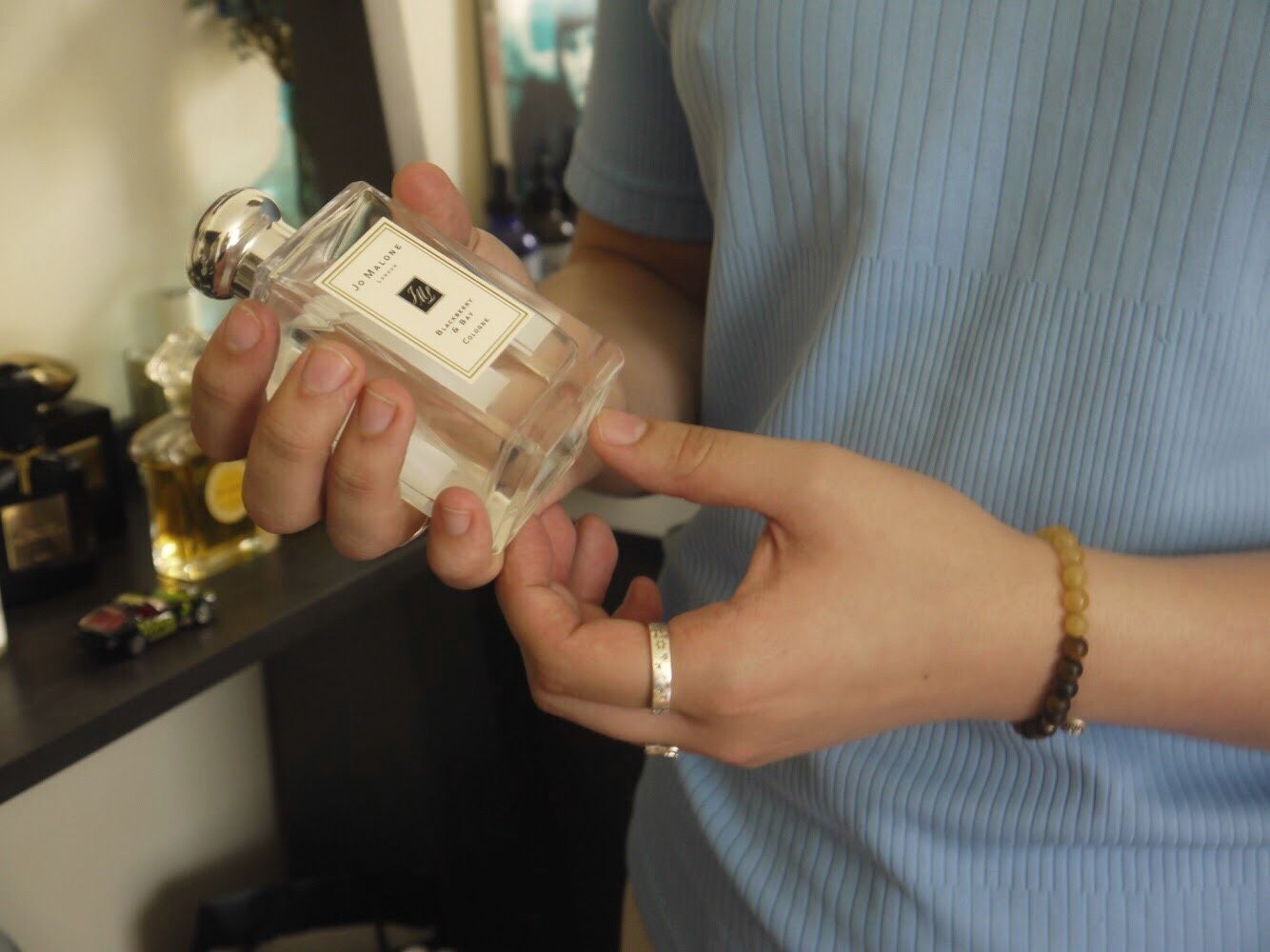 "This is Jo Malone Blackberry & Bay. It's probably, in the universe, one of the top 3 things I've ever smelled. I wear it when I want to be a classy bitch. I spry the arms, so the fragrance sticks to the hair and lasts longer."