You may have heard of a juice cleanse. What about a juice cleanse for your face?
That was the thought behind the indie skincare brand Youth To The People, a new line of green skincare created by cousins Joe Cloyes and Greg Gonzalez. The line of skincare is still fairly new but is now on Sephora shelves everywhere. The brand originally started with three products, but since has grown into five essentials that cover all bases of your skincare routine. Called the Age Prevention line, it contains a cleanser, a serum, an eye cream, a face-mask and a moisturizer.
SEE ALSO: This delicious watermelon mask is so sweet you'll want to eat.
I've been incredibly fascinated by green beauty lately and, as an avid green juice-drinker, I had to get my hands on some products to try them out for myself. The good people at YTTP were gracious enough to send over their full line of products and I've spent the last few weeks testing.
After a few weeks of testing them, here are my ~true~ feelings:
First off, when I received the package in the mail, upon unboxing the packaging immediately wowed me. Youth to the People does mess around when it comes to ~aesthetics~. Each product comes in a heavy-weighted, recyclable brown unicarton. NOTE: The packaging is the only place that contains the ingredients and instructions of use, so don't throw them away before your first use!
Each product is bottled in a clear glass bottles or jars, which look very sleek and modern, and the main active ingredients are listed on each bottle (these are not all of the ingredients, though.) When I first saw these products in Sephora, the glass packaging is what initially sold me—you know what they say about plastic, it wouldn't make sense for a green-skincare company to use it.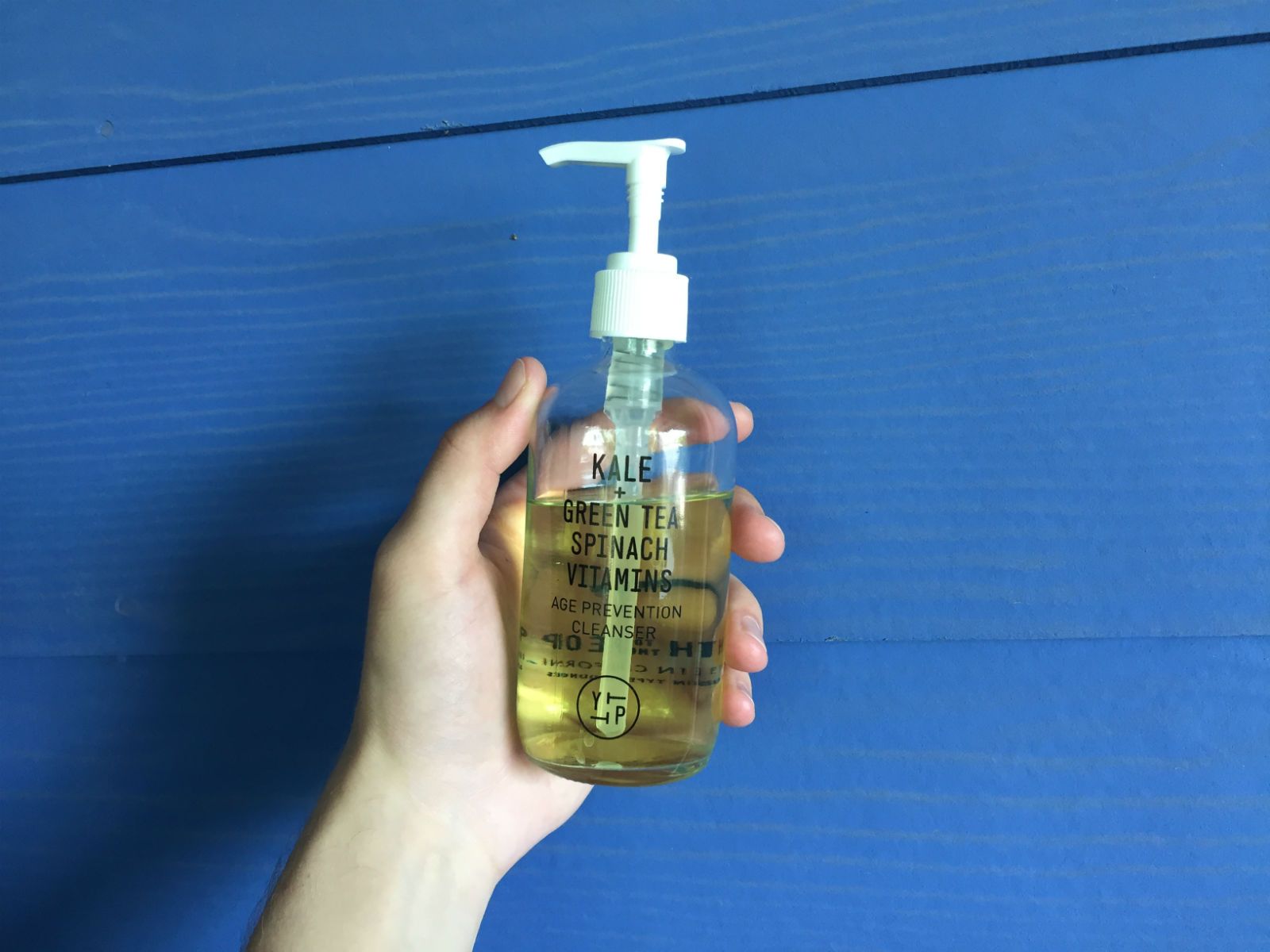 The Age Prevention Cleanser (8 oz, $36) was the first product that caught my eye, and the one I was most interested to try. The main active ingredients in this formula are kale, green tea, spinach and vitamins. Don't be alarmed by the green color! I found that all of YTTP's products are free of additives. The green coloring is due to the alfalfa in the product, another key ingredient (however it is not listed as such on the bottle.) All of these products are excellent antioxidants and great at fighting free radicals, which are just fancy ways to say it cleans yo' face!
And that it does.
The consistency of the cleanser is a bit like a cross between a gel and a liquid and the formula is extremely gentle on the skin. In fact, I've found that unless I load up on the product (about two pumps), it doesn't really foam up that much. Personally, I prefer a cleanser that foams (I need visual evidence that things are happening on my face) but this one surprised me. It left my face feeling soft and cleansed but not stripped, like a lot of foam cleansers on the market. There is a strong scent of alfalfa in this product and to be truthful it sort of smells like a shot of wheatgrass. But if that's something you're into or scent doesn't really bother you, then I would highly recommend this gentle cleanser for anyone with normal to combination or sensitive skin. Go for it!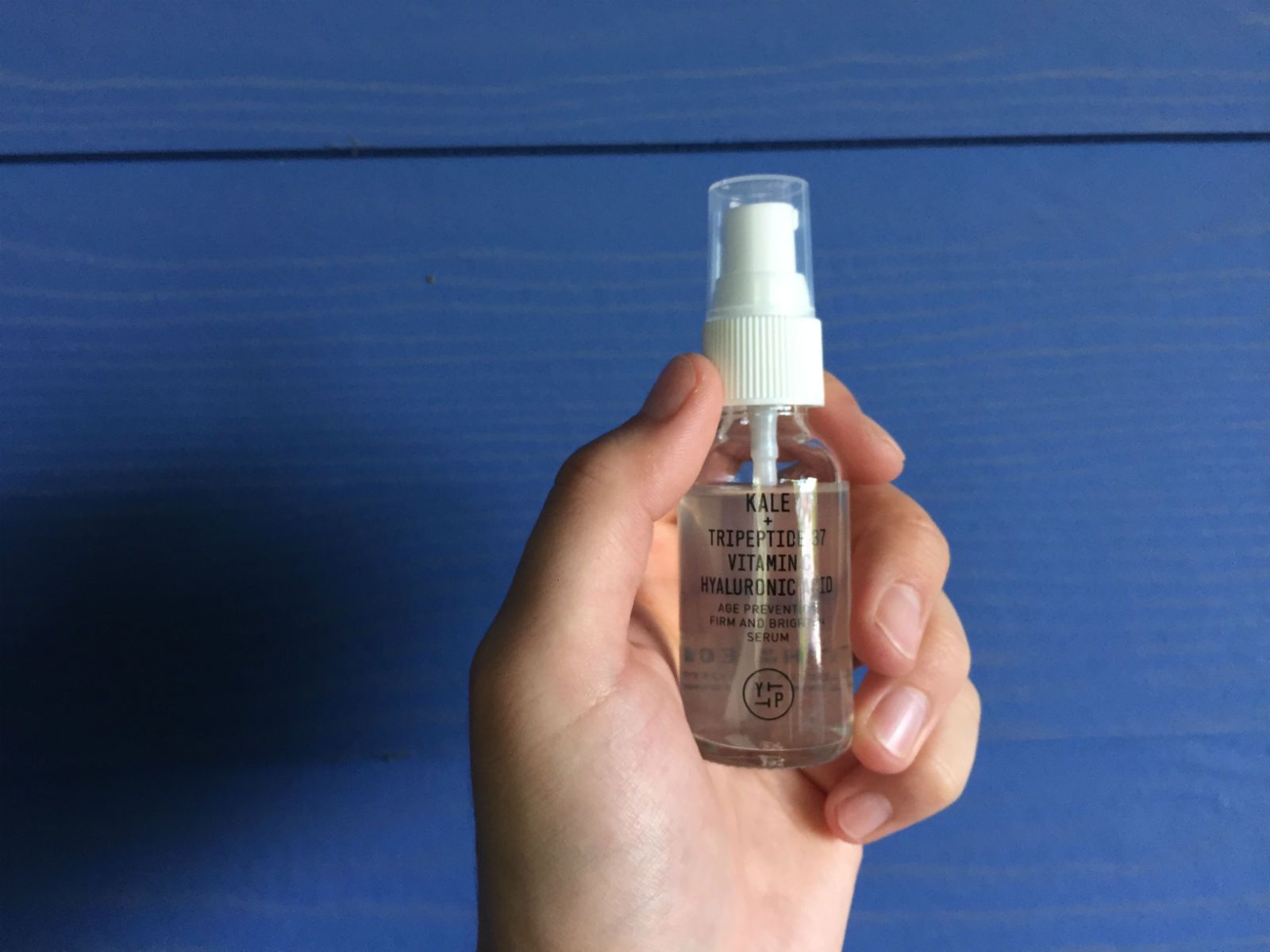 Next up is the Age Prevention Firm and Brighten Serum (1 oz, $62). Since getting into K-Beauty, I've been very into trying any and all serums—especially ones that will help fade my post-inflammatory erythema, AKA Vitamin Cs. YTTP's take on serum is their Age Prevention Firm and Brighten Serum which contains kale, vitamin C, hyaluronic acid and an ingredient called Tripeptide 37. Upon closer investigation, Tripeptide 37 is a protein that is said to help rejuvenate skin and reduce wrinkles in 28 days. Essentially, this ingredient is a mega collagen-booster. And along with vitamin C for brightening and hyaluronic acid for moisturizing, how can you go wrong?
After testing this product for a few weeks, I found an actual improvement in the coloration in my face, especially on my forehead. This formula is completely unscented, which I appreciated and for a serum, the product actually goes quite a long way. Two pumps is plenty for your entire face and it spreads quite nicely (something I've found to not be the case with other serums.) This was easily one of my favorite products from the line because it gave me noticeable results in as little as a couple weeks. I also love the idea of a combination of hyaluronic acid and vitamin C in one as vitamin C alone can be pretty harsh on your skin. The added moisture from the hyaluronic acid is a game-changer.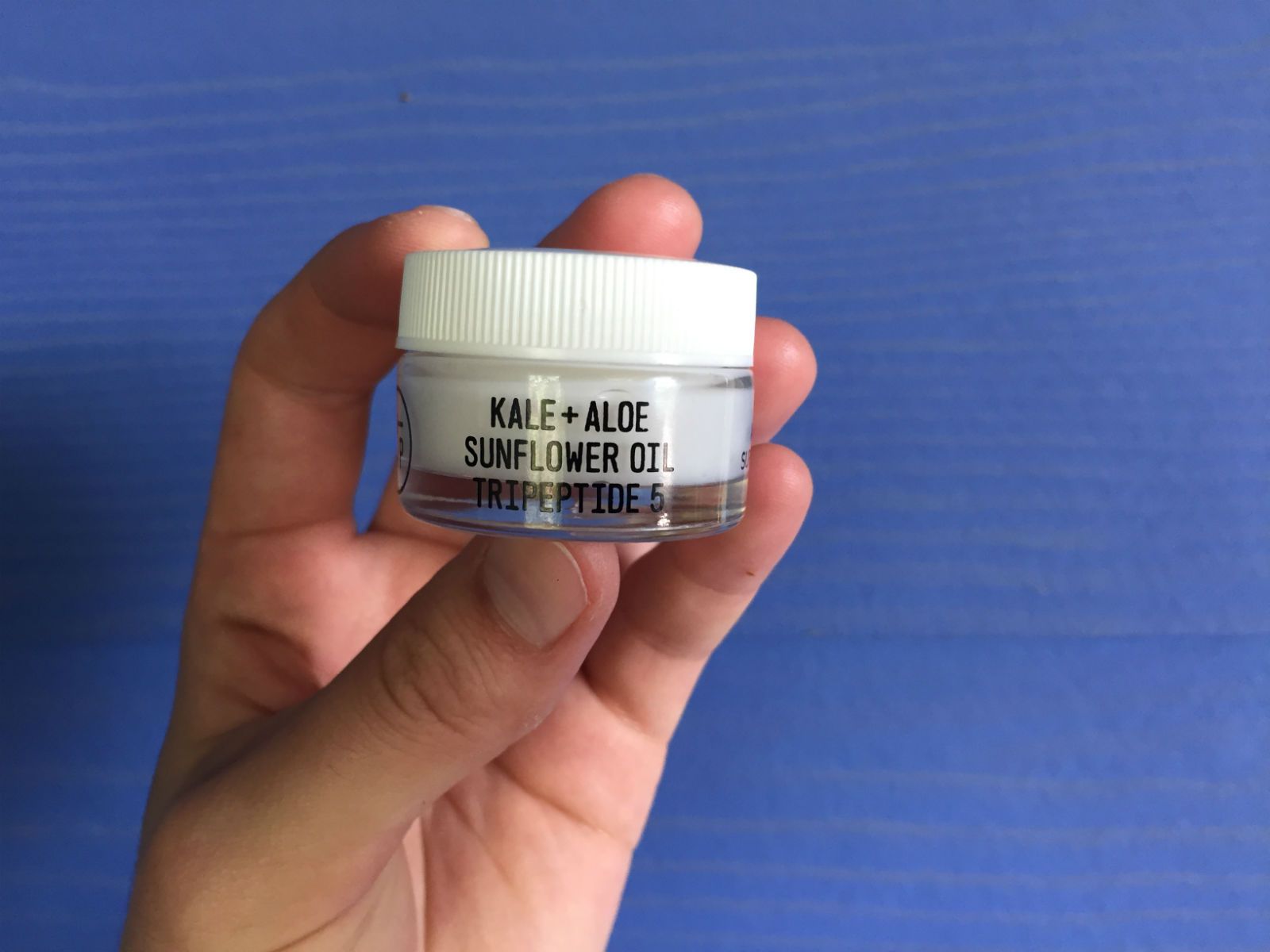 The Age Prevention Superfood Eye Cream (0.5 oz, $35) was the next product to go on my face, while I let the serum absorb. This eye cream's main ingredients are kale, aloe, sunflower oil, and tripeptide 5 (another excellent protein.) One stand-out product, which unfortunately isn't listed on the bottle is a crosslinked hyaluronic acid. We all know hyaluronic acid is great at retaining moisture—YTTP boosted this ingredient with their crosslinked hyaluronic acid. This HA has five times the water binding capacity as traditional hyaluronic acid. I was extremely excited to try this eye cream but my expectations came up short. While the cream is extremely thick and creamy (something I do like in an eye cream), the product itself irritated my eyes to the point of watery discomfort. After a bit of digging, I read that other users experienced similar eye irritation with this product.
That being said, my eyes are extremely delicate and sensitive. I can only wear one brand of contacts and even those irritate my eyes throughout the day. If you aren't as sensitive, I would still recommend trying this product. The ingredient list is phenomenal and my eyes did feel moisturized the few times I tried it. It spreads great, a little goes a long way, and is completely free of added fragrance—all things I like. I just wish I knew what in it irritates my eyes so much.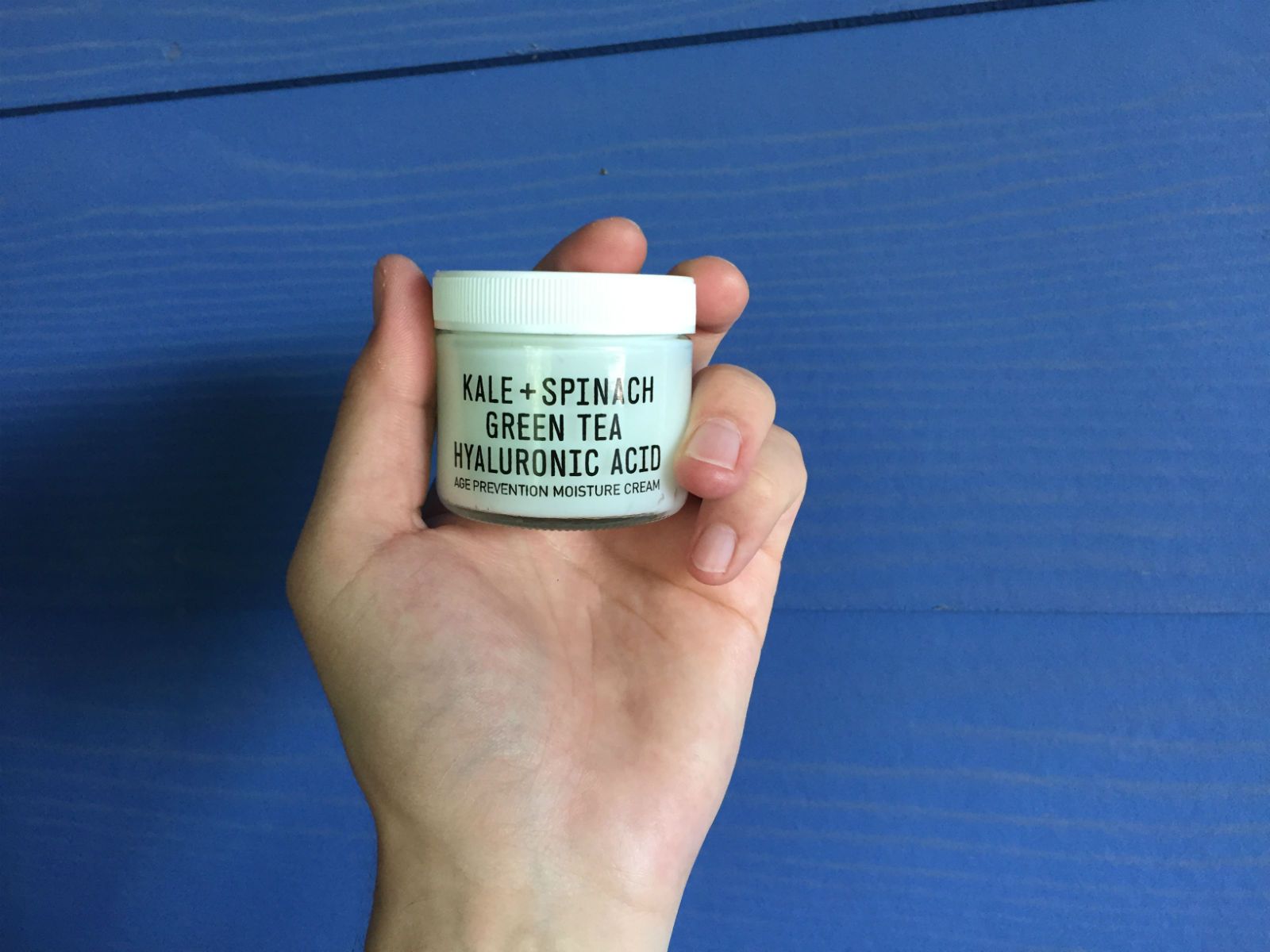 Last up in my daily facial routine is the Youth to the People Age Prevention Moisture Cream (2 oz, $48). It is formulated with the main ingredients kale, spinach, green tea, and hyaluronic acid. Also included in the formula is alfalfa, aloe, a blend of vitamins, and chamomile. This product does have a slight green tint and a hint of scent, similar to the cleanser, and this is due to the alfalfa. This moisturizer is packed with antioxidants and the addition of hyaluronic acid makes it super hydrating.
I've recently been spending a lot of time outdoors, hiking with my pupper and due to my fair skin and general aversion to the sun my skin burns very easily. The Age Prevention Moisture Cream is amazing for a sunburned face. I even slathered some on my burnt shoulders and the relief is immediate. While it does provide a good deal of moisture and hydration to my face, I have strictly been using this product when my skin is sunburnt or irritated.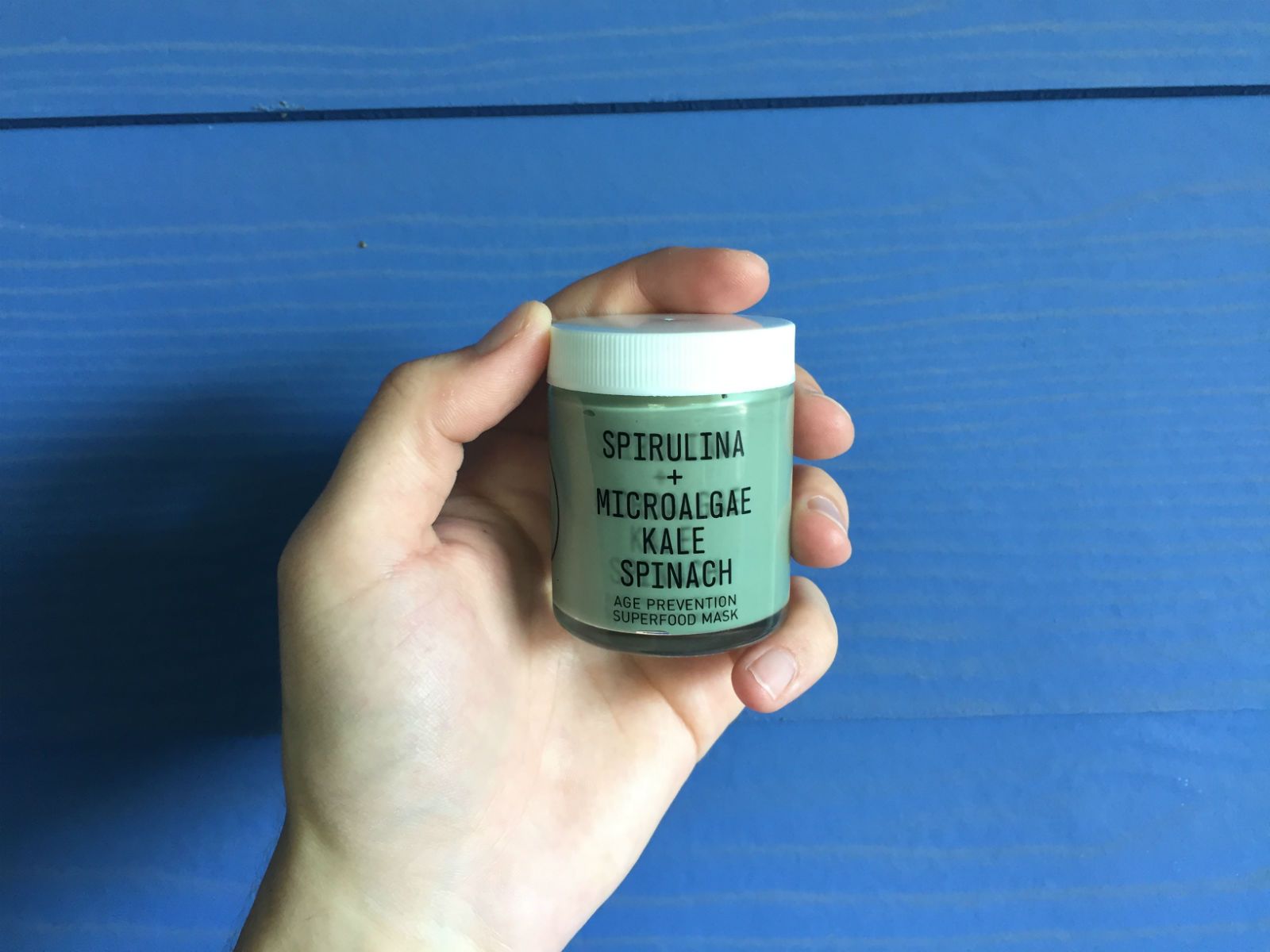 Last up, and another one of my favorites from the YTTP line is the Age Prevention Superfood Mask (2 oz, $44). This product is unbelievable! It's formulated with spirulina, microalgae, kale and spinach as its main ingredients. It also contains alfalfa (so again, the deep green color is completely natural), crosslinked hyaluronic acid and a blend of vitamins. The formula of this mask is thick—I find it's best applied with a brush—and unlike other clay-like masks I've tried, the Superfood Mask doesn't dry! This allows for the moisture to stay locked in while the mask is on for ensured hydration.
Recently, I've had some stress breakouts on my forehead and the Superfood Mask has been a lifesaver! After a peel or deep exfoliation, I throw this mask on my face for 10 to 15 minutes and when I take it off my facial redness has reduced and my skin feels amazing. Again, this product has a strong "green" odor, but honestly, I will suffer through it for this mask—results are results, amiright?
After almost a month of use, I would gladly recommend Youth to the People to friends and family—especially the vegan and everything-organic ones. I love the mission and formulations of all the products (minus the eye cream, but that's personal).
It's important to keep products all-natural and cruelty free and I hope YTTP keeps growing and expanding as a brand. I would really love to see some more serums, oils and like, what do I gotta do to get a kale facial mist? Aren't we all obsessed with mists? I would love to mist and hydrate my face while ~actually~ attempting to physically drink a green juice at the same time. How meta.
You can find the entire line of YTTP products on the company website as well as Sephora.