Life is full of characters.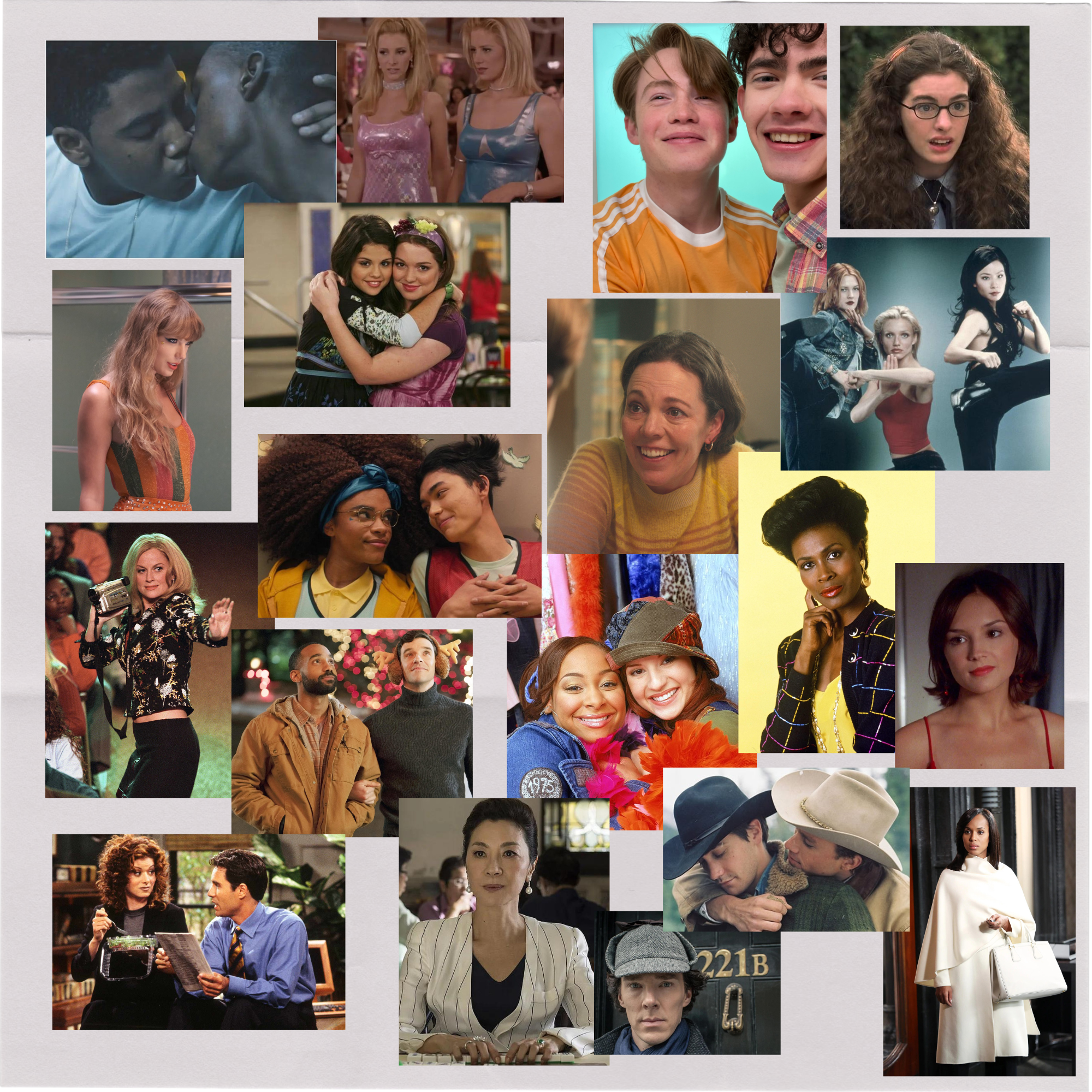 They make up the vibrant, entertaining cast that surrounds us every day. Without them, our lives would be a dull, predictable rerun with no promise of landing a second season. For as unique as these specimens are, you may find that they remind you of characters on the big (or small) screen. That resemblance and blurring of life and art inspired this year's holiday gift guide. Five highly-curated lists (with one bonus!) for all the main characters in your life.
Action!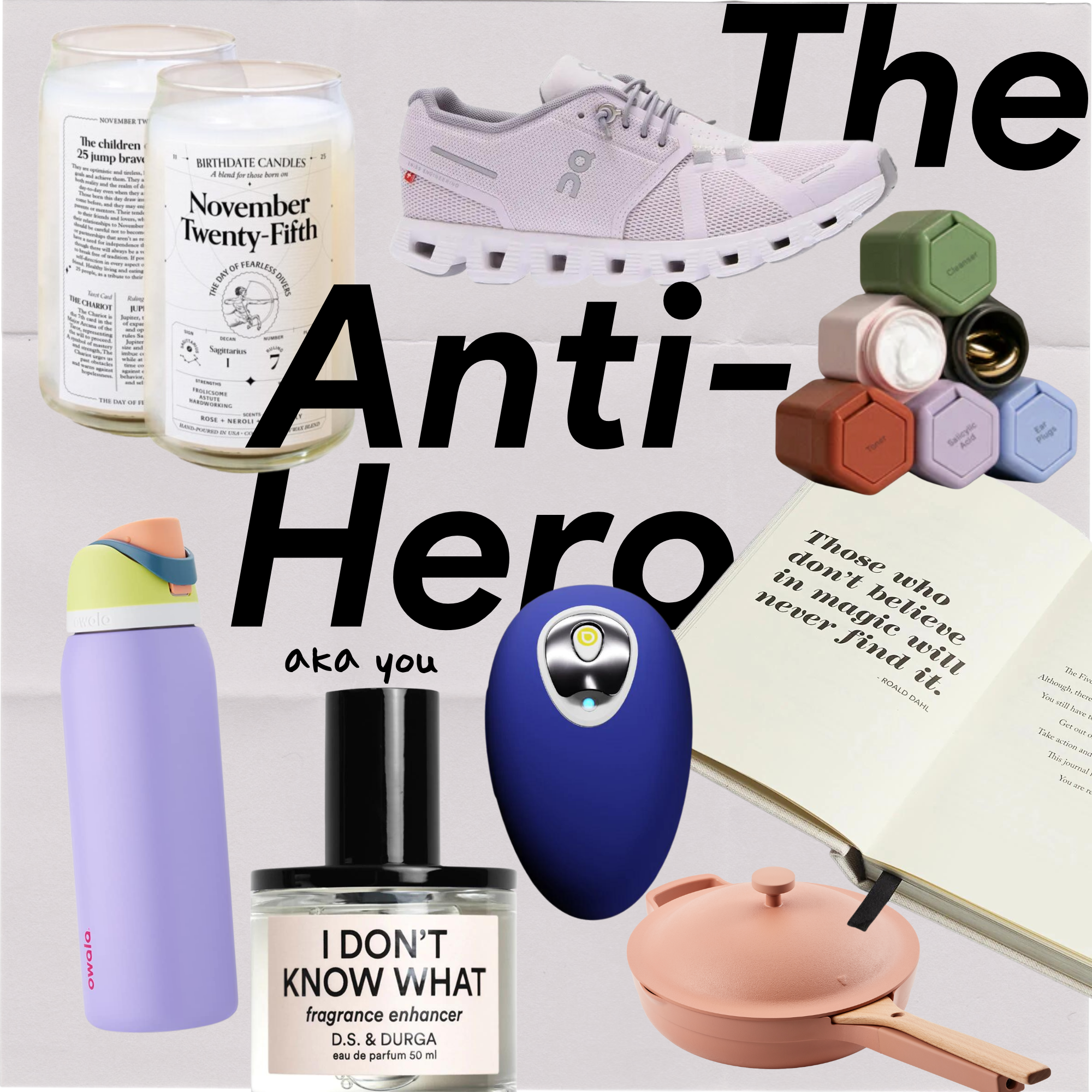 The Anti-Hero (a.k.a. you)
The anti-hero makes one hell of a main character. They are often complicated and have somewhat opaque motives, but they always function in their best interest. That's why this chapter, dear reader, is dedicated to the gifts you can (and should) get yourself.
DS & Durga I Don't Know What, $190
As the main character of your own lived-in fantasy, this fragrance allows you to become anyone, anytime. Let me explain. This unique blend is a perfume that has no notes — which is actually a good thing. That means that the fragrance is, as DS & Durga says, "like a building with only structure – no interior." Choose your own adventure, spritz, and layer without abandon, add this as an enhancer to a fragrant oil from a faraway place. Because in this journey, you can do whatever the hell you want.
Droplette Micro-infuser, $299
Does your skincare actually soak into your skin? That's the question posed by Droplette, a device with a micro-mist that allows skincare to go deep into your pores. The device in question was developed by MIT scientists with actives that turn into concentrated cloud, shrouding your face with an air of er, mist-ery.

Our Place Always Pan, $99
A true multitasker, this is for any main character who needs multiple skill sets at a time. The viral pan in every young person's 100 sq. foot NYC apartment, it's Selena Gomez-approved. And with good reason. With beautiful pastel colors, dozens of ways to utilize, this does it all – and then some.
Owala Water Bottle, $27.99
On your journey through life, one needs hydration. While most water bottles are unsophisticated with awkward ways to open, this one from Owala is fool-proof – even for the laziest of lazies. Leakproof, stainless steel, with a built-in straw, go on forth through life while sipping your agua.
Cadence Storage Containers, $76 for 6
Whether you're off camping in the woods or stuck in a gym room bathroom, never be stuck without your favorite products. Cadence allows you to fill a small, refillable, leakproof, and stackable (they're magnetic!) capsule for any and all beauty products. This means yes, to your luxurious body scrub and hell no to the generic, overdrying mystery liquid at your gym.
Birthdate Candles, $44.99
If you don't know your moon and rising signs by now, well, skip this part. If you're into your astrology like the rest of us, this is the candle you need. Birthdate Co. has a candle for every single day of the year and creates a different fragrance for each. Meaning, whether you're a Taurus with a Scorpio moon or a Scorpio with an Aquarius rising, there's a captivating story just for you.
On Cloudmonster Running Shoes, $169.99
On the go or literally on your way to minding your own business, On Cloudmonster, those funky shoes you've maybe seen on the subway, are the way to go. Created to be overly cushiony, these running shoes are light, plush, energy efficient, and oh-so-comfortable.
The Intelligent 5-Minute Journal, $20.30
End your epic day with this 5-minute journal with proven principles to create gratitude within yourself. The positive psychology journal allows you to gain more meaning into your life, enhance relationships, and expand on your emotional intelligence.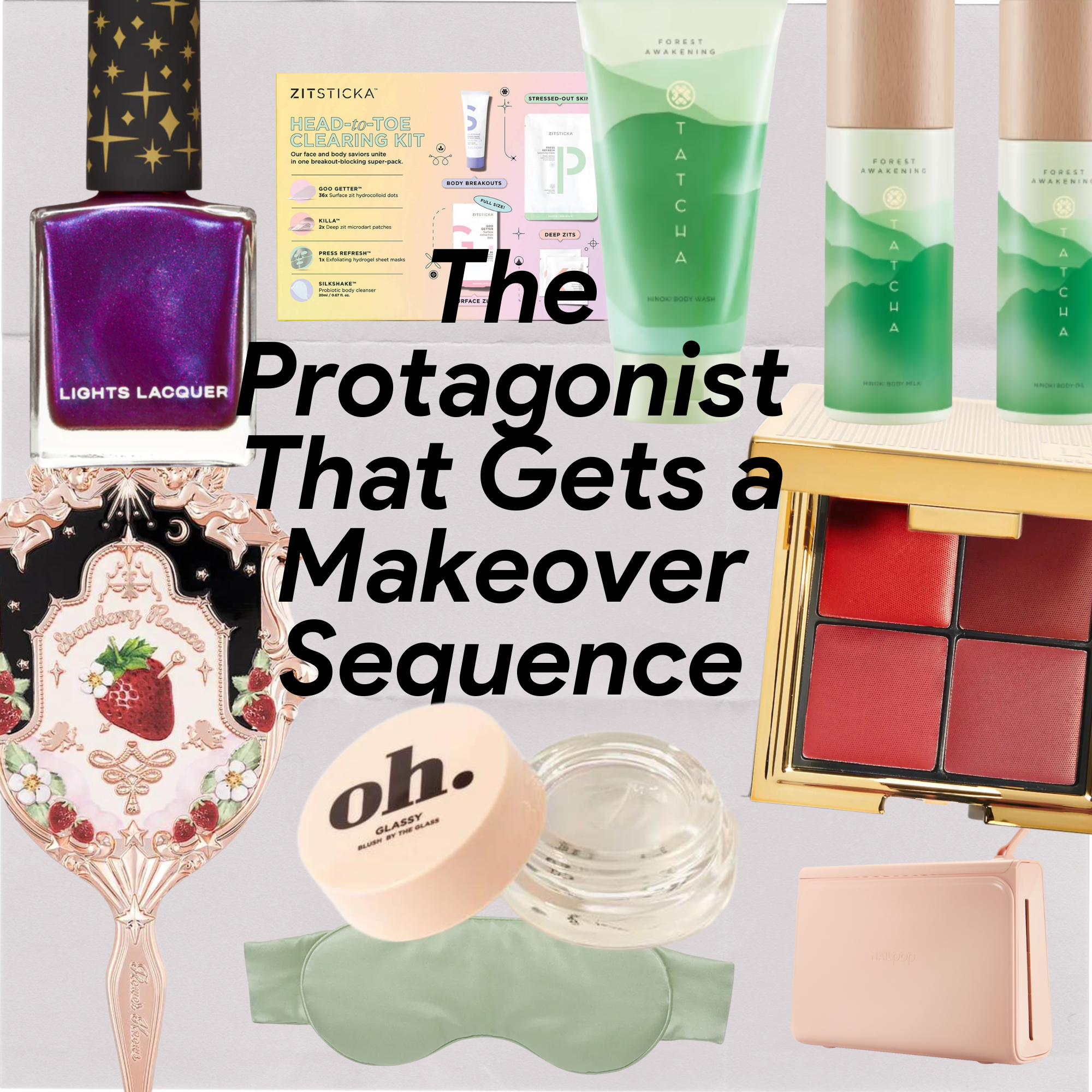 The Protagonist That Gets a Makeover Montage
Usually, this is when the film cuts to a music track and allows the visuals to do the talking: swiveling around in salon chairs, multiple people brushing out massive knots, tweezing, waxing, and the protagonist in question coughing into a cloud of hairspray. Sure it's over the top, but that reveal sure is worth it.
Les Filles en Rouje Lip Palette in Madam, $50
This is what I consider to be French beauty personified: A solid, gilded compact filled with four wearable shades (including rosewood, bruised plum, antique rose, and poppy) that you apply with your finger. The formula is soft and forgiving — a demi-matte. Stunning on all accounts.
Flower Knows Strawberry Roccoco Hand Mirror, $25
Any and all transformations begin and end with a good long hard look in the mirror. Preferably this one. Incredibly photogenic, with gilded flourishes here and there, any vanity would be immensely more glamorous with a gift like this atop it.
Nail Pop Nail Art Printer, $159.99
This little printer, in tandem with a smartphone, allows you to print custom images onto nail stickers that you can then affix to your manicure. Your recipient can then print anything they please, so long as it scales well to the size of a Welch's Fruit Snack.
Zit Sticka Head-to-Toe Clearing Kit, $20
Zits! We all have them. I have three on my person as I write this. Pimple crusaders, Zit Sticka, released a perfectly giftable set to tackle all the zits that the human condition can dream up: whiteheads, cystic zits, and bacne. It's like a first aid kit for zits, and who couldn't use something like that?
Good Side Silk Night Mask, $48
This brand, which I discovered thanks to Instagram's algorithm, creates sustainable, ethically-produced silk goods like pillowcases, scrunchies, and this sleep mask that feels like kittens on your closed eyes. They come in a wide range of colors you'd find at the likes of Lisa Says Gah. I opted for "The Sage" — kind of a gentle mint chocolate ice cream shade that, even though I can't see myself in it, I imagine looks gorgeous against my ruddy permatanned complexion.
Lights Lacquer Big Three Set, $29
Everyone loves a personalized gift, but not everyone wants their initials monogrammed on a Vera Bradley tote. Here's a better solution: you pick three polishes that correspond to a sun, moon, and rising sign. The options are moody, velvety, and occasionally twinkly. Lights Lacquer makes one heck of a nail polish — with one-swipe coverage and colors you'd be hard-pressed to find even at the most expansive brands.
Tatcha Forest Awakening Trio, $115
It's kind of bananas to think that Tatcha didn't get into body care until this year. Perhaps that's because they wanted to make they got it exactly right. And they did. This three-piece collection (including a body wash, body milk, and body oil) offers you a glimpse into what it's like to bathe in the forest, thanks to its intoxicating hinoki scent and thoughtfully emollient recipes.
Espressoh Blush by the Glass, $26
A synecdoche is a figure of speech in which a part acts as a stand-in for the whole (e.g., "wheels" to mean "car" or "Orange Julius" to mean "mall food court.") In this scenario, this clear jelly blush, that itself, transform into a sheer pinky tint with a long-lasting dewy finish, is the perfect representation of this trope. Apply daily.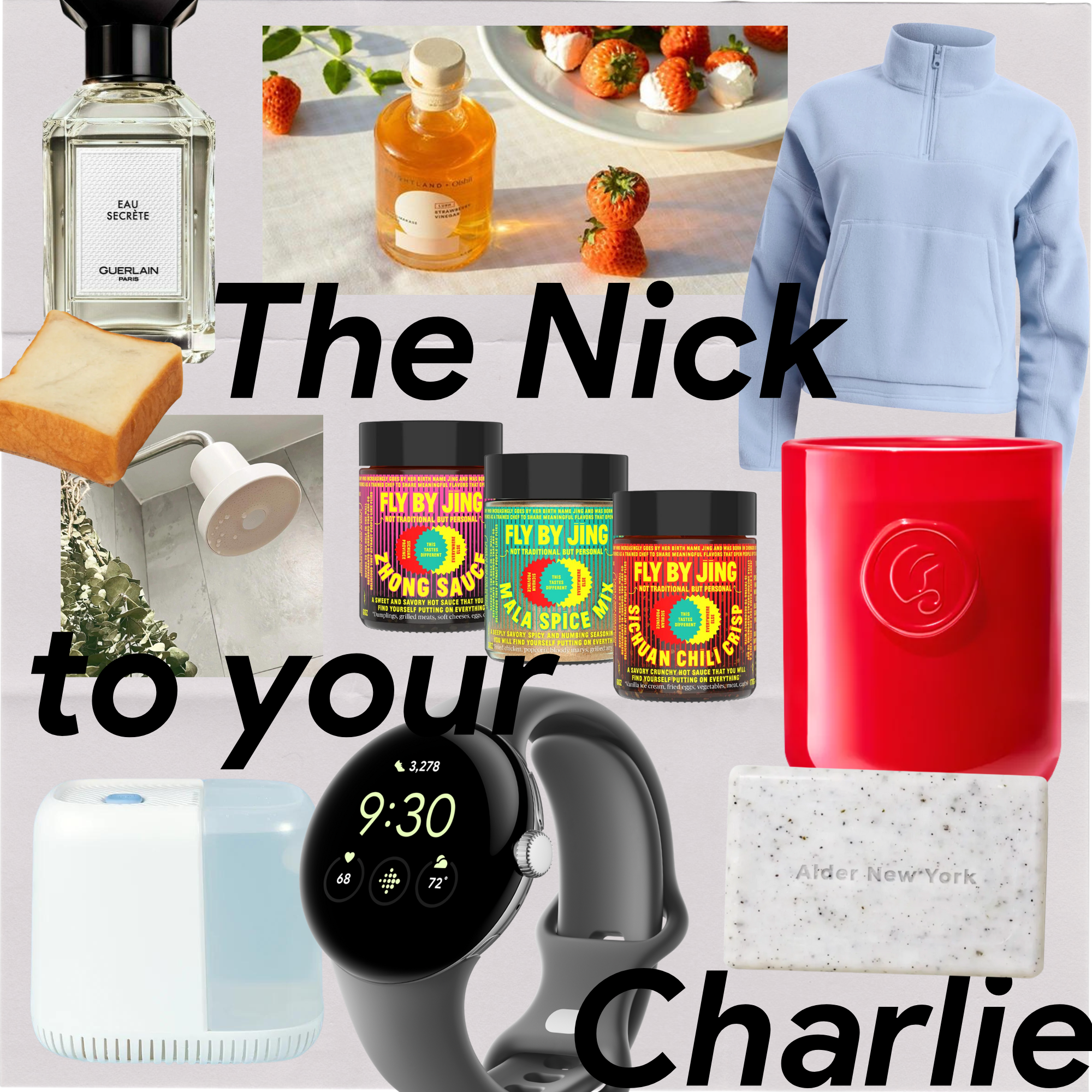 The Nick to your Charlie (or vice versa)
There are many keys to getting your significant other a good gift. One of them just happens to be getting them something you can covertly enjoy. Devious? Sure. Downright pragmatic? Also sure.
Glossier Candle, $45
Introducing the status candles of 2022. Take your pick between the signature gauzy Glossier You scent (that smells like the neck of a worn hoodie, plus pink peppercorn) and their Body Hero scent (a truly addictive neroli number that smells like soapy, sunbathed skin). Screw it. Get both. One for their side of the bed, one for yours.
Pampshade Toast Lamp, $105
Also for your nightstand: a lamp made with real bread. Not the whisper-thin, Sara Lee stuff — real Texas toast-sized slices that cast an inviting, flattering incandescent glow atop anything it touches. That could be either your naked body or some Joan Didion paperback. Whatever!

Jolie Filtered Shower Head, $148 with subscription
Upgrading your shower tenfold can take, like, 15 minutes with Jolie. This thoughtfully designed shower head filters out chlorine, heavy metals, and other crap that makes our hair and skill dull. The truth is you probably forgot what your hair and skin could be like if you were to bathe in the equivalent of bottled water. Luckily, this showerhead is here to remind you.
Alder Body Bar, $12.99
While we're sprucing up the bathroom, you can replace their shriveled-up bar of Lever with a completely dignified alternative. This one has glycolic acid and sea kelp, so it exfoliates your skin without harsh physical scrubs. Playing footsie can only be infinitely improved as a result.
Guerlain Eau Secrete Perfume, $180
A splurge-worthy scent of white musks, orange blossom, and almond to create a fragrance aura that feels like a cloudy Sunday afternoon. To best appreciate this archival Guerlain eau de parfum, one must lean in. Closer. Even closer. So close you're nearly touching. There. Isn't that lovely?

Canopy x Laneige Humidifier, $175
Canopy collaborated with K-beauty powerhouse Laneige to assert a simple notion: a humidifier could be a part of your beauty routine. It makes all the sense in the world, doesn't it? What good does any moisturizer provide if your room's humidity is nonexistent? That notion, however, is only good if you actually want to keep the thing out. (You will.) This is not only the first humidifier that looks good enough to leave out 365 days a year, but it is the first to have a mold-inhibiting design.
Brightland x Oiishi Lush Vinegar, $25
You know those $50 strawberries all over Instagram? How good could they be? I couldn't actually tell you, but I can say this collab between Oiishi and pantry company Brightland is the next best thing. The creation is Lush — a gourmet vinegar made with the same select omakase berries people lust over. Use it with wild abandon the next time you whip up dinner for an at-home date.
Fly By Jing Triple Threat Variety Pack, $44.95
Vinegar isn't your thing? Fine. Swap our your hot sauce with this trio of punchy, covetable spices that, by comparison, make Tapatio seem like flat Sprite.
Pixel Watch, $349
Good gravy, that is one gorgeous-looking watch. Most smartwatches have taken to two form factors: Tide Pod-shaped or manhole cover-shaped. That is until the Pixel Watch — deliberately devoid of any right angles and feels like a smooth, glass pebble on the wrist. It's useful enough to surprise and convert even the most staunch anti-wearable tech Scooches all due to this rhetorical question: Can you really beat the intuitive helpfulness of Google and the health tracking of FitBit?
Isn't it high time they understand they're not getting that sweatshirt you stole from them back? May I offer a suggestion to fill the hole in their wardrobe? This 50/50 half-zip by Girlfriend Collective. The fit is boxy and slightly oversized, with a crop that hits right at the top of your jeans for a flattering silhouette. I think the soft periwinkle shade, Coast, is the most perfect shade that all sweaters should come in. I also sized up two sizes from my regular size, and if they're into a casual fit, you should, too.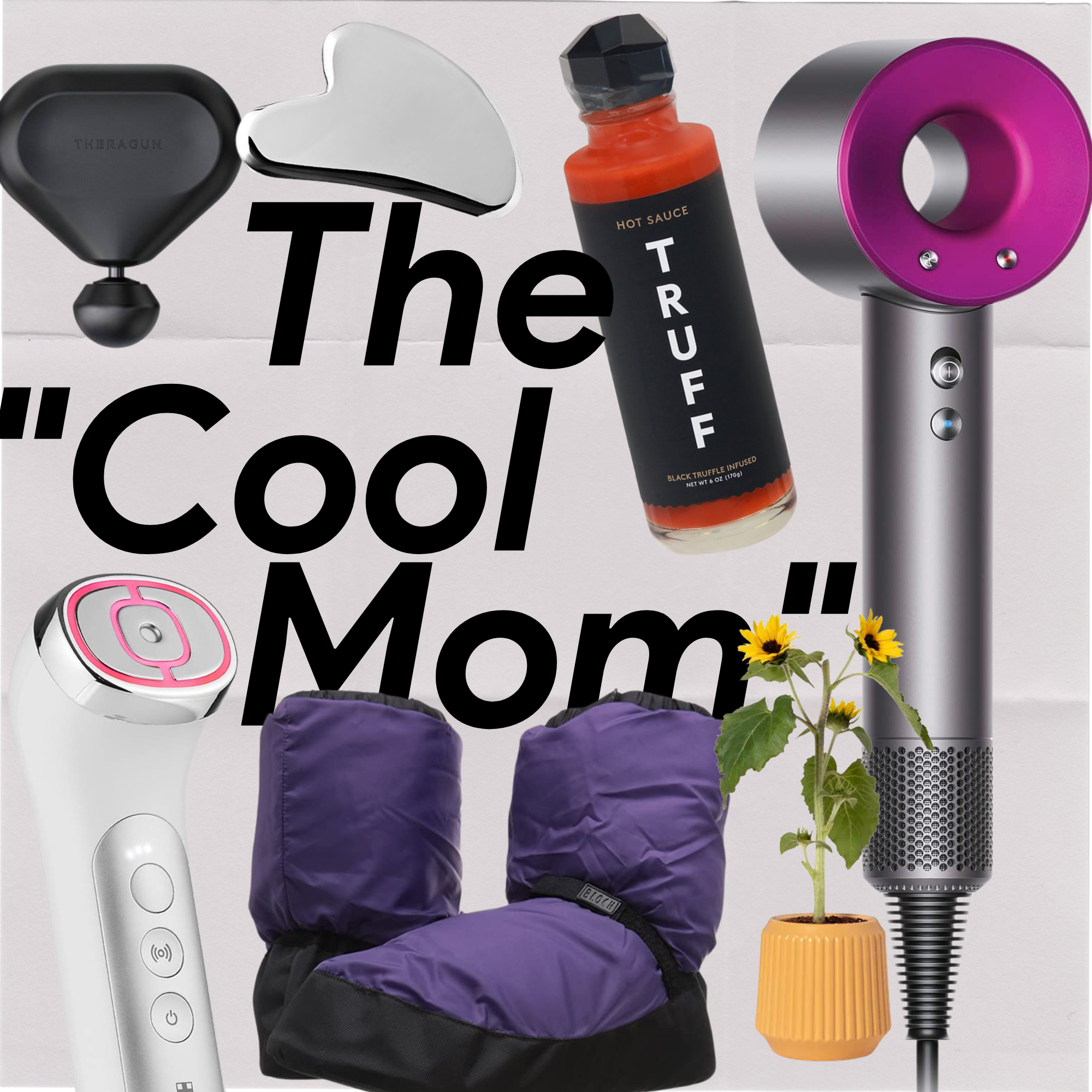 The "Cool Mom"
Even if she doesn't wear a pink tracksuit, know the choreography to your "Jingle Bell Rock" performance, or even seem all that cool — she's a cool mom. Her gifts should be a reflection of such.
For the mothers who love an at-home spa experience, look no further than this futuristic device from Medicube. Called the Age-R Ussera Deep Shot, it's a device that shoots 80 shots of red light deep into the skin. A beloved treatment in South Korea, this is supposed to smooth fine lines and wrinkles while promoting collagen production. As a bonus: Use freely as an incentive to visit your mother more!
Dyson Supersonic Blowdryer, $429
When Dyson first launched its Supersonic, it was perceived as revolutionary. With a dryer that's engineered to protect hair from heat damage, the stunning device was an instant bestseller. Years later, the Dyson is still a beautiful and worthy gift for any mother – now in two new shades: Vinca Blue and Rose. It's the perfect gift for cool moms who always rock the hottest bobs.
Truff Hot Sauce, $34.99
Truff, the brand whose geniuses mixed hot sauce with truffles, is one of the, well, hottest hot sauces around. Now with its Truff White Hot Sauce, it's taking the holidays to the next level. For the mother who likes to cook with spices as flavorful as hers, this one has it all. Ripe red chili peppers are infused with organic agave nectar, white truffle, and organic coriander, creating a sumptuous profile.
Sacheu Stainless Steel Gua Sha, $35
There are jade rollers, then there are stainless steel gua sha devices that take skincare exercising to the next level. If your mother's in need of a skin tool, this one from Sacheu is impeccably made – and unbreakable. With two sides, one to sculpt and another to scrape, this will allow all serums to soak into skin maximally with minimal effort.
Theragun Mini, $149
Good things come in small packages. It's no different for Theragun's mini version. The device is ultra-portable and super mighty, kneading out every knot in your poor mom's back. A perfect redemption gift if you were an especially naughty child (or still are!).
Self-Watering Sunflower Kit, $38
Bring sunshine every day of the year with this oh-so-easy self-watering sunflower kit. For the mother with the aspiring green thumb, who maybe isn't so great at plants, this soil-free planter is effortless.
Self-warming Boots, $51
Ice-cold feet – meet your match! These warm-up boots were designed for dancers in the American Ballet. Since, they've been translated into a wider market for everyone who lives in a house with hardwood floors. They work by encasing a foot with soft pads, and foot straps for a comfortable fit that can be worn around the home.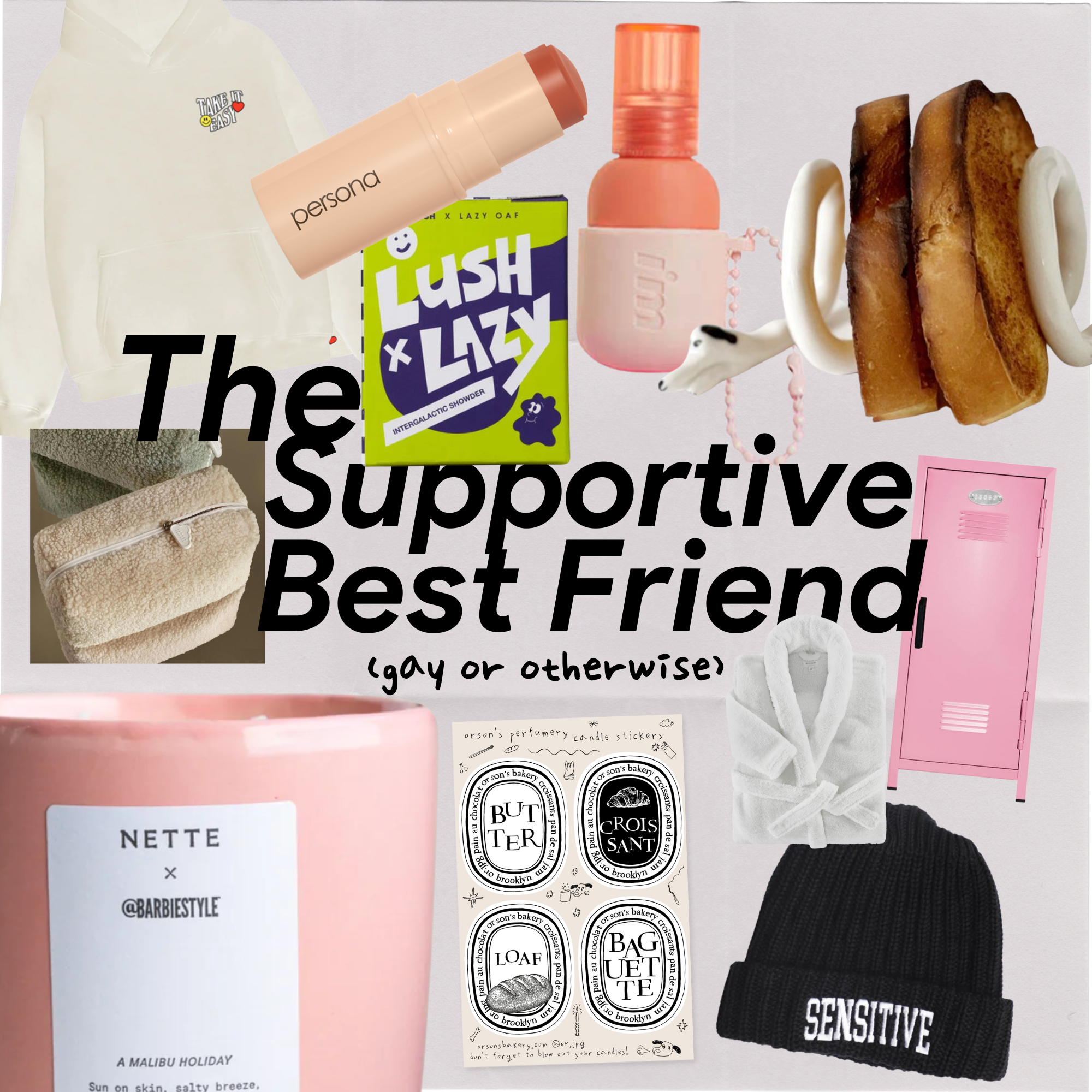 The Supportive Best Friend
Even though they are usually billed as a "supporting role," the best friend is really is a main character in their own right. They get the best comebacks, have a much more exciting wardrobe, and they usually get to say (or at least think), "I told you so." Face it. You'd be lost without them.
I'm Meme Color Ring Velvet Tint, $20
I've shouted out the lip stain version of this product before, but since then, I'm Meme has released a new matte formulation. It's a petal-soft blurring creme that clips on your keychain, bag, or belt loop. The colors are evocative, yet natural — MLBB shades like "moody plum" or "cozy red." Touch-ups are about to get a whole lot cuter.
Nette x @BarbieStyle A Malibu Holiday Candle, $82
Barbiecore is going strong into the end of the year, and Nette has the candle to prove it. This candle (made in collaboration with Barbie herself!!!!!) is soft, creamy, and sweet. Notes include star jasmine, coconut water, and sunny musks. If Ariana Grande were to flip her ponytail in front of my face, this is precisely how I imagine it to smell.
Gravity Blankets x Modernist Weighted Robe, $65
Sometimes, if you can get a sentiment across in a few words, you should: It's like the weighted blanket they've always wanted, except they can wear it around the house.
good light Sensitive Beanie, $30
Aren't we all? Good light's beanie is more than just a declaration of a skin type (and emotional predisposition.) It goes with everything, it actually keeps your ears warm, and accommodates even Texas-sized hair.
Summer Fridays Cloud Pouch, $42
Fluffy and roomy enough for a whole week away. I managed to stuff my whole skincare routine (full-sized bottles, to boot) and a bottle of shampoo in this thing with some room to spare. Send it off with a list of vacation spots they can lug it around to.
Ceramic Dog Toast Holder, $100
What the heck else is anyone supposed to hold their toast in?
Facile Hoodie and Shorts Set, $118
You're at each other's houses in pajamas anyways. They might as well be cute. Facile made a plush cotton sweatsuit in a butter biscuit color, embellished with smiles, hearts, and a gentle reminder to chill out. They nailed the fabric weight, too — it's not so heavy that sleeping in it could cause hot flashes and not so thin that it's presence is merely symbolic. That's a hard balance to strike and should be noted.
Persona DreamStick, $26
Makeup of the moment is all about faking various exposure to stimuli: the sun, the cold, sliced onions (search "crying makeup tutorial" on your social network of choice, if you don't believe me.) It's almost like Persona had the insight into these trends and created three blendable, moisturizing lip and cheek sticks. There's sandy terracotta, muted rose, and a cherry tomato shade to achieve whatever environmental or emotional state your giftee is looking to recreate. Happy happy joy joy.
Lush x Lazy Oaf Intergalactic Showder, $20
Lush is back at it again with what it does best: remove the water from products that don't need it — this time in collaboration with streetwear brand Lazy Oaf to create this bracing peppermint and grapefruit powdered body wash. Just sprinkle a bit into your palm, activate it with water, and mix it together to create a frothy cleansing batter. Be sure to keep that cute box, too.
Mini Pink Locker, $32.99
A cute desktop locker to stash away skincare, makeup, jewelry — whatever. The Y2K energy practically radiates off the vibrant pink and just begs to be covered in stickers.
D*ptyque stickers, $10
Okay, that segue was ambitious. These stickers are bakery-themed parodies  a very famous French perfumery. The material? High-quality matte vinyl. The applications? Practically limitless. Best of all, they are made by VGL Or Gotham — and if including them in this gift guide isn't main character energy, please tell us what is.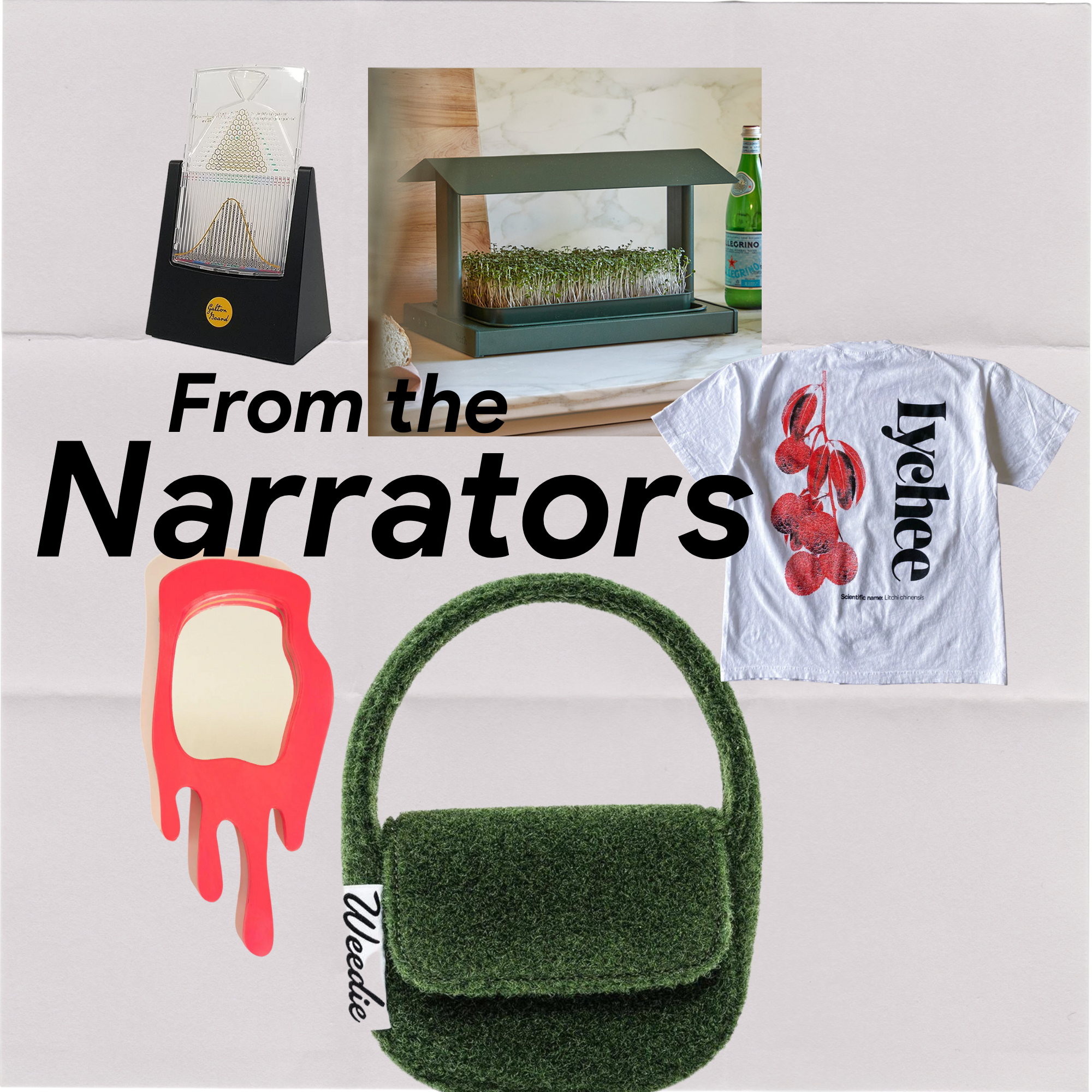 Bonus: From the VGL team
What the Very Good Light team is getting our loved ones, presented with little or no explanation.
I'm Melting Mirror, $95
Don't worry! It's just an optical illusion.
Leath Microgreen Growing System, $295
Easily cultivate your own mini-garden of microgreens with close to no effort.
Edie Parker Mini Grass Bag, $275
At the Moment Lychee Shirt, $25
Galton Board, $49,95
Someone on our team is, and I put this delicately, dating a nerd.