Hispanic Heritage Month honors the rich narratives that lie behind the Latinx, Hispanic, and Spanish individuals who make up our society's cultural mosaic. Although we have acknowledged many of the advancements these groups have contributed — and continue to strive to make progress by giving credit where it is due —  there is still a large gap in both the beauty and fashion industries when it comes to representation. Most commonly, these demographics are left out of the framework, but we want to see a positive change in that space. Many products that are household staples are actually Hispanic or Latinx-owned, so we've listed a few of them here to keep you up to speed.

Here are some of the best beauty brands (along with a couple of fashion and accessories brands) that you should definitely get to know — whether it be during Hispanic Heritage Month or any day of the year.
Ceremonia is Latinx haircare, created by a Latinx woman herself: Babba Rivera. Rivera grew up seeing a stark lack of Hispanic representation within the beauty industry. Coming of age with a hairdresser as a father, she was constantly surrounded by beauty and hair and these rituals became a big part of her cultural upbringing. Embarking on a journey to share her knowledge with the world and also create products that actually catered to her hair type, Ceremonia was born. The brand uses natural ingredients sourced from Latin America to assure long, healthy locks. We recommend taking the brand's personalized hair care quiz to discover which combination of products — from Guava Leave-In Conditioner to Scalp Remedy Oil — is just right for you.


Selena Gomez stole our hearts with her acting and singing career, but she somehow managed to woo audiences even more with her best-selling makeup brand, Rare Beauty. The Mexican-American star has long championed mental health transparency and her cosmetic brand seeks to continue disseminating this mission. All of her products are made to enhance one's features and highlight the natural, rare, and individualistic beauty within us all. We recommend the Stay Vulnerable Melting Blush in Nearly Apricot ($21) for that soft, coral-tinted glow that will carry you from summer to fall effortlessly.

Francisco Costa's goal, when setting out to create a beauty brand, was simple yet effective. Formulate products that make people happy, while also keeping our earth happy and healthy. The brand's range of offerings, which include hydrating facial serums and oils as well as enriched body scrubs, are all clean and responsibly sourced. The rejuvenating line was directly inspired by healing rituals from Costa's native home of Brazil, which he picked up while observing the Amazon Rainforest and the way its inhabitants honor their land. We recommend trying out the Kaya Jungle Firming Body Oil ($98), proven to deliver gleaming results in just four weeks.

Not only is Elaluz Latinx-owned, but it is also heavily female-led, making this a brand you should definitely know and include in your daily roster. Brazil's colorful scene and intoxicatingly powerful natural ingredients are the backbone of this collection of cosmetic and beauty products, spearheaded by founder Camila Coelho. The brand's name translates to "She's light" in her native language of Portuguese, highlighting the brand's intentions to shine a light on every individual's uniqueness — because we are all worthy. Try out the brand's cult Beauty Oil ($39) or convenient Stick Bronzer with Camu Camu essence ($29) for an undeniable glow.
With the founders of the brand being of Hispanic origins, preserving that heritage was vital when launching their accessory label. De María is an ethical brand that produces stunning bags, shoes, and small leather goods with the help of artisan workshops in Mexico. Each accessory features local, sustainable materials and is created with utmost care and love. The La Peque Shoulder Bag ($445) is the perfect pairing for any night-out look.

Sofia Elias hails from Mexico City and celebrates her unique identity through bold, unconventional designs. Her jewelry brand, Blobb, shows off technicolor, candy-like creations that are truly unlike any other arm candy we've seen. Each piece is made from resin that she sculpts into various shapes, resulting in a one-of-a-kind shape every time. Since every product is different in size, shape, and color, we recommend taking a look at the offerings to choose which is just right for you.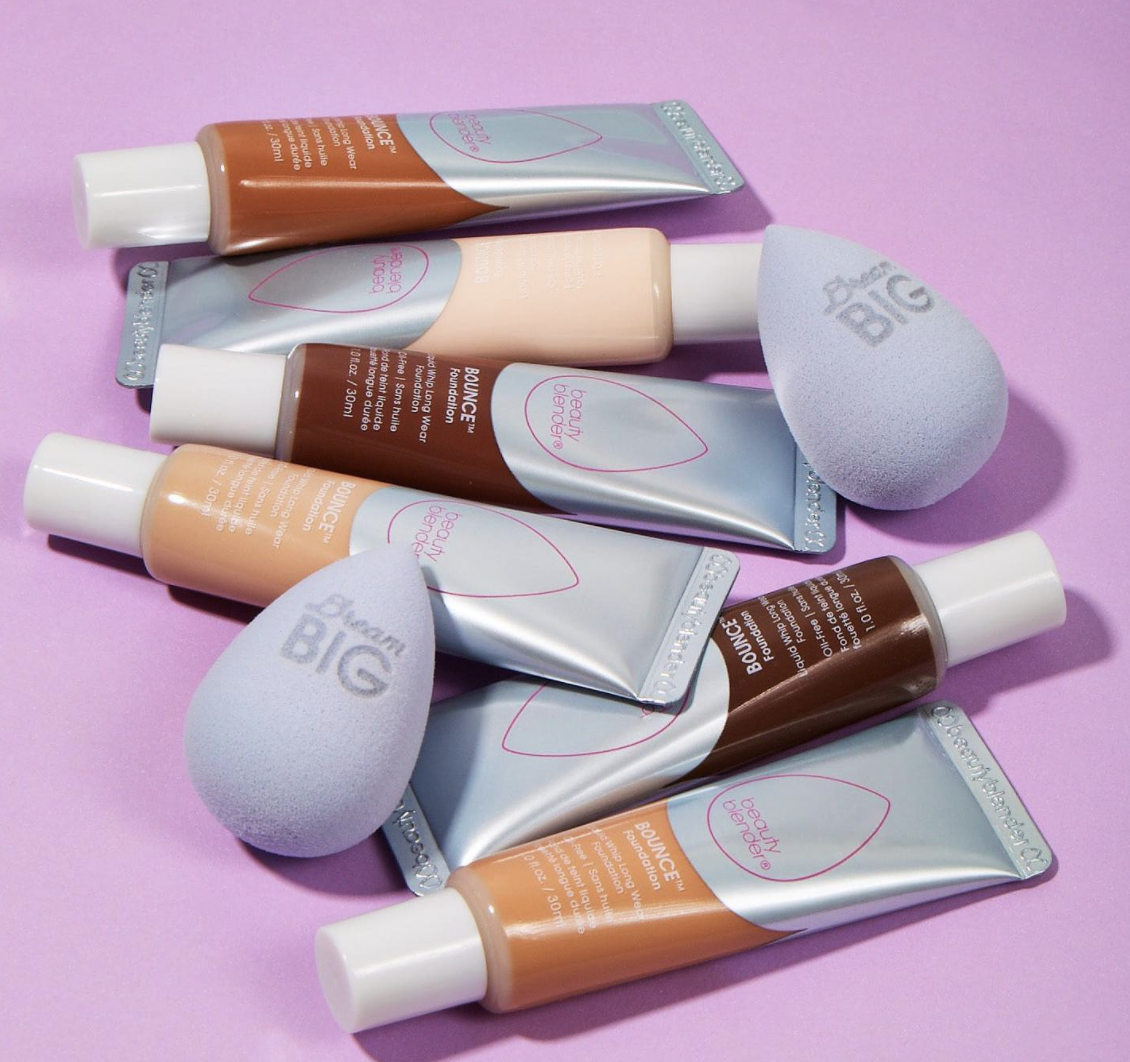 The Beauty Blender has been a non-negotiable tool in my beauty kit for years on end, so, of course, we had to round out this list with a true classic. The dynamic, sponge tool was created by Mexican, Portuguese, Spanish, and Irish founder Rea Ann Silva, a renowned makeup artist. She wanted to formulate a dependable product that assured airbrushed skin on and off camera. Now, the brand has evolved into a space where it creates other groundbreaking cosmetic accessories and makeup, such as the BOUNCE Liquid Whip Long Wear Foundation ($20) and the BLENDER DEFENDER Protective Case ($12) so you can take your blender with you on the go.
---
READ MORE LIKE THIS