September 15-October 15 is officially National Hispanic Heritage Month, where we recognize the accomplishments of Hispanic Americans and how they've influenced American culture, history, and identity. Throughout the next month, Very Good Light will be sharing a series of stories that aim to put a spotlight on the Hispanic American experience. From Hispanic Americans in Hollywood to entrepreneurs blazing their own path, we're telling the stories that have shaped the fabric of American culture. Hispanics are a vital part of America's past, and their achievements are essential to a prosperous future.
To kick off this month's festivities, Very Good Light's editor, Cristina Montemayor, shares her own experience coming to terms with her Hispanic identity and explains why this month of celebration is important to Hispanic American culture.
My hair was my identity before I knew I had an identity.
I'm Hispanic with Mexican roots, and curly hair runs in my family. In school, people didn't know my name, but they knew my ravel locks. I've always had a long, curly mane that twisted down my back, at times grazing my butt. Growing up, people would ooh and ahh, almost as if I was a beautiful pet – there to gaze and allow to stay put.
My friends, who were overwhelmingly white, their ponytails sleek and slim, was a stark difference from my own: frizzy and thick. For every compliment they gave me for my "exotic" looks, I felt like I was being othered or gaslit into believing a narrative that was concocted to make me feel better about my appearance because it was so clearly different.
My curly hair became my signature, but one that I never co-signed.
At 12-years old, I had finally had enough. I was sick of my curly hair defining me, so I decided to cut it off.
All of it.
Remember Halle Berry accepting the award for Best Actress at the 2002 Oscars? That was my hair inspo, and boy, did I get it.
I chopped off over a foot of curls and I quite literally never felt lighter. It was as if I was reborn into a whole new person, but anyone who's had a drastic haircut knows that high doesn't last. If I was no longer defined my corkscrew tresses – who was I? I didn't know. Luckily, I had plenty of time to figure it out while waiting for my hair to grow back.
"Hispanic Americans often try to erase parts of ourselves to fit the American mold."
Within a few weeks, and for the first time in my life, I missed those locks. I had felt like an outsider before when it came to my friends, but cutting my hair made me an outsider in my family, too. All of my cousins had long, flowing, dark hair, and mine was mere inches long. I felt separated from them, from my heritage, and from my true identity as a proud Latina. I decided then and there to start the long, painful, years-long process of growing my hair out – this time, on my own terms.
I would venture to say that most Hispanic Americans have a story similar to mine of coming to terms with their appearance, whether they were the first in their class to grow a mustache (uhh, also me) or they were afraid to wear hoops out of fear of looking "ghetto." At times, being Hispanic American can feel like you're having to choose between the two.
It's not about appearance. It's about feeling this sense that you don't belong. There's a certain loneliness that comes from looking different than your peers, of not sharing the same experiences. I started getting my eyebrows waxed before any of my white friends did, which made it feel shameful instead of just another beauty treatment, like getting your nails done.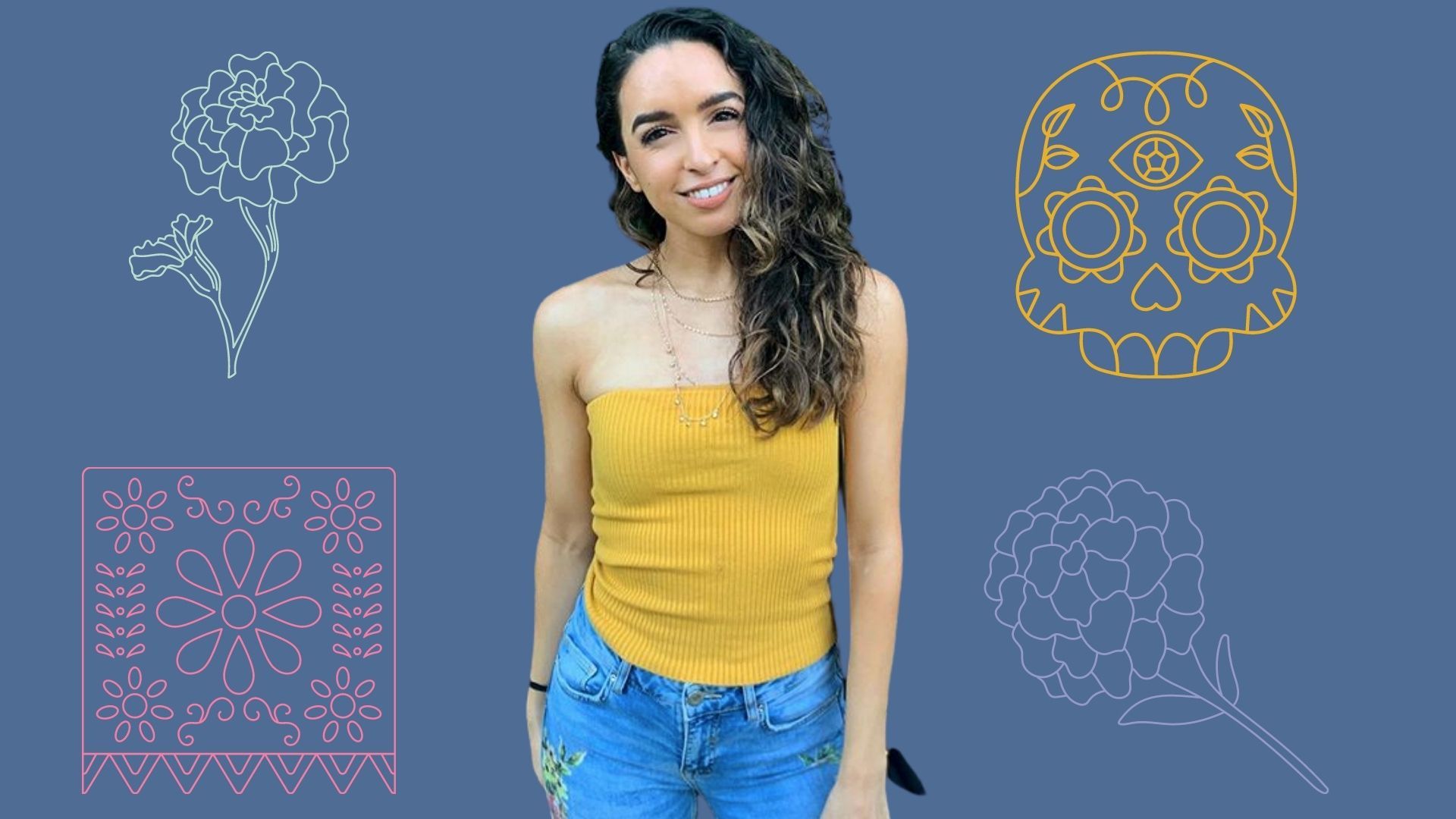 Hispanic Americans often try to erase parts of ourselves to fit the American mold. We straighten our hair, we shave our beards, or we stay out of the sun to avoid looking too dark. Many second-generation Hispanic Americans, like myself, never learned Spanish because our parents and grandparents avoided speaking it in the home. This often creates an identity crisis in kids who don't feel Hispanic because they don't understand the language, but don't look or feel like they can relate to their white American peers, either. This is part of what led me to change my appearance dramatically and cut off all my hair – I didn't feel connected to it. I didn't know what it meant, all I knew was that it made me different.
"Representation matters because it teaches others about our culture, but it also teaches us about ourselves."
That feeling diminished over time, as I grew up and learned more about my culture and family. Accepting my curly hair allowed me to step into my power, fully and confidently, and feel proud to have my heritage displayed so prominently on my head. When you recognize your power, the world opens up to you.
All Hispanic Americans have that power.
For proof, look at legendary Hispanic icons like Jennifer Lopez and Cardi B, or men like Enrique Iglesias and Mario Lopez. Spanish language songs are topping the U.S. charts. Successful Hispanic actors and producers like Eva Longoria and Steven Canals are doing their part to tell the most powerful, inspirational stories from our community, and while there's still a long way to go, successful shows like "Jane The Virgin" and "Narcos" prove that the demand is there.
Our voices matter, thanks to people like Rep. Alexandria Ocasio-Cortez and Julian Castro fighting for issues that are important to Hispanic Americans, like access to education, healthcare, immigration, and jobs. Hispanics make up nearly 20% of the U.S. population and are the largest minority electorate for the 2020 election – a force that so powerful that it might just tip the polls.
We all have the power of AOC or Jennifer Lopez or Cardi B – powerful Hispanic Americans that have fundamentally changed American culture just by being themselves. THAT is power. These public representations of Hispanic Americans doing just that is crucial to our continued success, and in turn, American success. Representation matters because it teaches others about our culture, but it also teaches us about ourselves. I know I needed that, which is why I know that it's valuable to so many others.
Hispanic Heritage Awareness Month is a time for Hispanic Americans to reconnect with ourselves and with that power. It's about celebrating those contributions and inspiring those still yet to come. We are a force to be reckoned with. Hispanic American are both Hispanic and American, and that is our gift. Feel that power.