You shouldn't need a chemistry degree to understand how skincare works – or why a good skincare routine is important.
Will salicylic acid burn my skin? WTF is a retinol, and do I really need it?
Skincare brands oftentimes deliberately confuse consumers with their marketing in an attempt to get them to add one more "miracle product" to their cart. This shady tactic inevitably turns people into skincare skeptics – someone who thinks all skincare products are the same, are all a waste of money, and don't deliver on the results they promised.
Most people only want to know one thing when it comes to skincare: does it work?
SEE ALSO: The best eczema creams for dry, itchy skin
One brand is taking the hassle out of creating a skincare routine, and in the process turning skincare skeptics into true believers. Geologie is a skincare brand with simple, science-based products made from high–quality active ingredients that your body naturally makes and recognizes, formulated by a renowned dermatologist and team of cosmetic chemists. Translation: it's skincare that actually works.
No more standing in the skincare aisle in a state of utter confusion. Geologie uses a diagnostic test to identify your specific skin profile and match it with a personalized regimen, complete with everything you need to tackle wrinkles, acne, or whatever kind of mood your skin is in. No hype, just healthy, happy skin – thanks to a hassle-free skincare routine.
So, how does Geologie work? We spoke with founder Nick Allen to find out the secret behind the brand's personalization algorithm, the powerful ingredients, and so much more.
Geologie's diagnostic test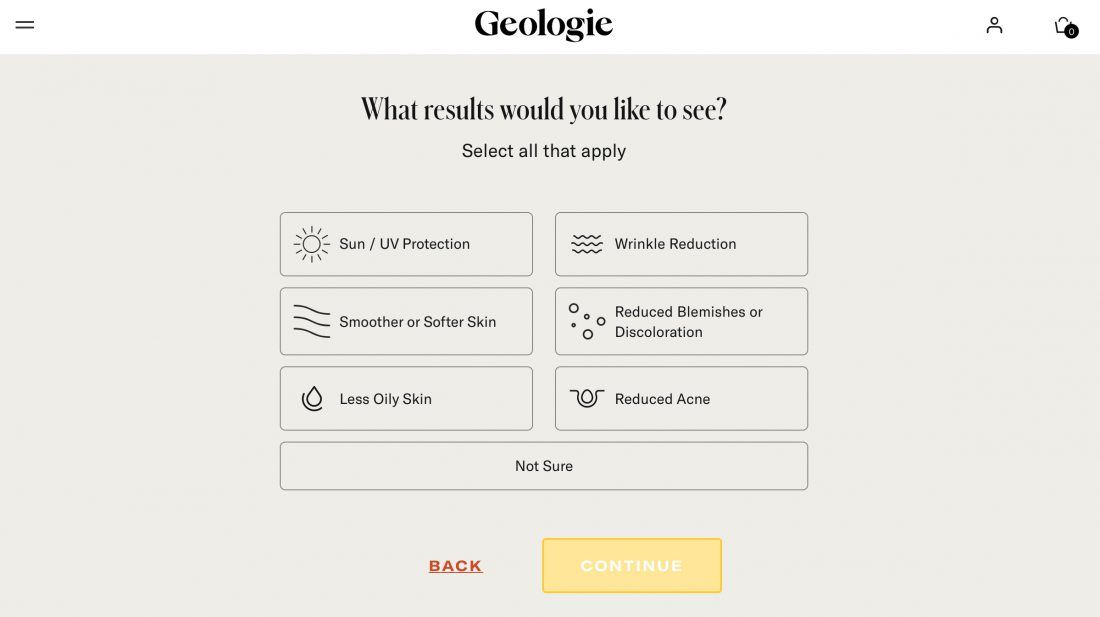 If you've ever had trouble deciding what to eat at a restaurant, you know how hard it is to decide on what skincare products to purchase. Drugstores have more options than a Cheesecake Factory menu, except they're all average at best.
Geologie's clever diagnostic test pairs you with the skincare products they know your skin will love. Simply take the diagnostic (it takes less than two minutes to complete) and Geologie will calculate your regimen, which is NEVER complicated. All regimens only require one minute in the morning and one minute at night. Geologie's products are a cut above what you could find in the drugstore aisle, made with proven ingredients like retinol, niacinamide, peptides, and hyaluronic acid. It's a truly personalized routine – Nick and Dave explain how their algorithm always manages to get it right every time.
"We don't ask you complicated questions like 'What's your skin type?' because no guy knows that," says Nick. "We talk in plain terms. We make it easy to find what's right for you."
After taking Geologie's diagnostic test, I was matched with regimen 13 – a routine designed to prevent wrinkles, protect my skin from the sun while smoothing and softening the skin. The complete routine consists of four products: the Everyday Face Wash (2 bottles) ($25), the Vital Morning Face Cream ($35), the Repairing Night Cream ($55), and the Nourishing Eye Cream ($45).
Geologie's ingredient philosophy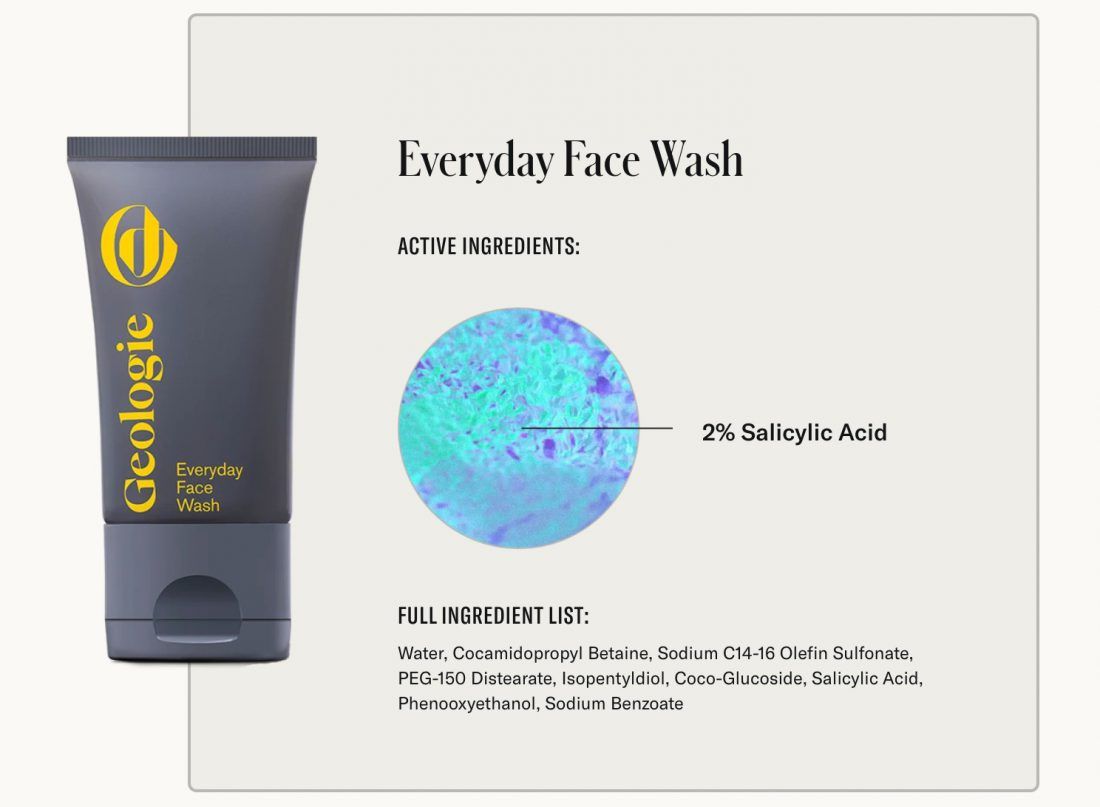 A lot of skincare products available on the market contain ​​cheap filler ingredients and are heavily fragranced, which could actually trigger acne or cause your skin to become more sensitive. Or, some brands lean heavily on trendy, ineffective ingredients to make people believe they've discovered the one anti-aging factor that no one else in the world knows about.
Here's the honest truth: there is no secret ingredient, no magic pill, no one-time treatment that will make your skin appear healthier and younger over time. It takes high-quality ingredients, commitment (just like eating healthy or working out), and a tailored plan to keep your skin looking its best 24/7.
Geologie turns to its team of world-renowned cosmetic chemists to source and formulate skincare products at the proper concentrations where they'll be most effective on your skin. You can trust that what you're putting on your face is scientifically proven and optimized for maximum (positive) results – no chemistry lesson required.
However, if you are curious about what kind of scientific magic is in each bottle, Geologie comes correct with the receipts. Each regimen comes with a detailed ingredients list, which contains all the important info on what all is in your formulation—even down to the percentage—along with what each ingredient does.
"What really matters is just a few things: tried-and-true ingredients, stay away from the fads, and find a routine that you can actually stick to with ingredients that actually work for your skin," says Nick.
My Geologie regimen contained a few ingredients that I know my skin already knows and loves, like 0.05% retinol, 2% hyaluronic acid, and 3% niacinamide. The Vital Morning Face Cream ($35) also contained SPF 10, which is important, since I never leave the house without wearing SPF. After taking a look at the ingredient list, which Geologie makes super accessible and easily understandable on their website, I knew right away that my skin would get along with these products.
Geologie review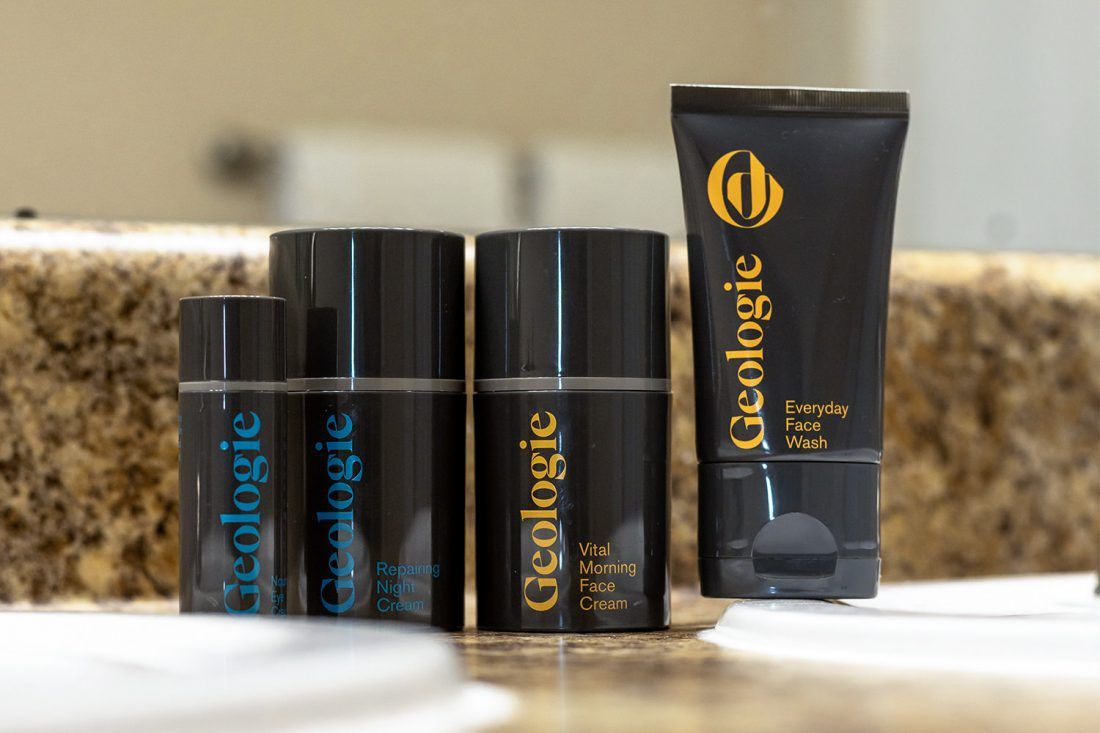 I started incorporating Geologie into my skincare routine immediately after it arrived. Usually, when I introduce a new product into my routine, I may experience a breakout or mild irritation until my skin gets adjusted.
Not with Geologie. The products are gentle enough to slip into your routine without setting off any alarm bells from your skin, but don't mistake gentle for weak.
Geologie is wildly effective – particularly the evening routine. I was surprised at how much my skin loved the Vital Night Cream. The 0.05% retinol was just potent enough to deliver real results (smoother skin and reduced wrinkles) in a short amount of time without causing any irritation. The Nourishing Eye Cream ($45) quickly became my favorite product of the entire line. I'm usually one to skip eye cream, unconvinced of its effectiveness, but I noticed a major difference in the lines around my eyes after using this product for just a few weeks.
The daytime routine is quick and easy – just how I like it. The Vital Morning Face Cream ($35) is lightweight and protects my skin from the sun's harmful rays. I love that Geologie includes two separate bottles of the Everyday Face Wash ($25), one to keep in the shower and the other to keep in my gym bag. The face wash itself is uncomplicated in the best way. It cleans the skin without stripping, and doesn't leave my face feeling tight or dry after using.
Geologie's no-fuss approach to skincare is refreshing, especially in an industry that is prone to inducing analysis paralysis with the number of options available on the market. The diagnostic tells you exactly what your skin needs to perform optimally, and the straightforward routines are easy enough for the skincare novice to follow. Plus, if for any reason your routine isn't working for your skin, Geologie's legendary customer success team will work with you to get to the bottom of the issue and find the products your skin loves.
Ready for a personalized skincare routine that actually works? Try Geologie HERE, and use code VGL50 for 50% off the cost of your trial.
📘
Read these stories next...
1) How much sunscreen should you really be applying to your skin?
2) Dezi Skin's new Masque is the cure for seasonal skin changes
3) Rael's new acne collection made me realize how much I missed my pimples,not!