In Partnership with Peace Out Skincare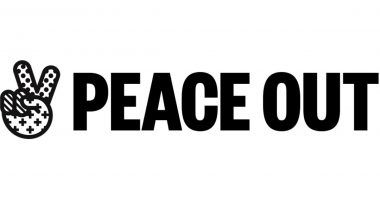 It's rare we see folx with acne in beauty campaigns.
At least, it's never very obvious. And if you have acne, it can be hard to trust celebrity or influencer-backed campaigns when looking for skincare solutions. While many beauty brands are pledging to show real, unretouched in their campaign photos as of late, the industry is still lacking the telling of real skin stories and journeys.
Here at Very Good Light, not a day goes by where we don't discuss representation in beauty. People want to see themselves, and frankly, people need to see themselves! It's only then when we can realize our true beauty and are able to build confidence.
SEE ALSO: The 8 best gentle cleansers for cystic acne-prone skin
Peace Out Skincare wants you to "make peace with your skin." Their philosophy is "to help you bring peace to your skin through  effective, clean, and fun skincare solutions, like our patent-pending acne dots, pore strips, and first-to-market micro-needling patches." Known for their innovative products like pore strips, wrinkle patches, and retinol eye stick, Peace Out wants everyone to feel like a #skinchamp.
Peace Out's Acne Champs campaign
The word 'champion' is often referenced by Peace Out. The brand says, "we'll champion your skin, so you can focus on the rest." Their latest campaign is no different; championing those who have acne, showcasing their beautiful skin, and letting them tell their journeys!
The OG Acne Champ is, of course, their founder, Enrico Frezza. Before Peace Out was born, Enrico had tried everything to help his acne-prone skin. The idea for Peace Out sparked after he discovered hydrocolloid bandages from the drugstore aisles and saw how well they worked for his skin when nothing else—even harsh prescriptions—did.
While Peace Out has championed acne since its inception, the brand launched a special campaign just last March to further this idea. Called "Acne Champs," this new campaign aims to create an inclusive and positive space where everyone can talk about their acne. Empowering and educating their community through this campaign is Peace Out's number one goal.
Acne, but make it interactive
The Acne Champs page features new skin quizzes to help individuals determine what kind of acne they experience and offers resources to help them get to know their skin and how to treat acne better.
"I wanted to create a community that can give tools to people that are currently struggling with acne and open conversation about mental health, which is a support system that I wanted as a teenager and didn't have," says Enrico.
The best part? You can watch videos and hear stories from real people in the Peace Out community. They touch on what beauty means to them, detail their acne journeys, what they would tell their younger selves, and how they find confidence within themselves. Acne has seriously never been this fun and uplifting!
"Understanding that one, not everyone has the same acne experience, but understanding your acne doesn't define you," says Dedrick, a 25-year-old from the Bay Area.
Plus, you can be an Acne Champ too! Anyone can! Peace Out is challenging everyone to step into the skin spotlight. You can apply to be a part of the campaign here.
The Acne Champs Kit ($25)
To help celebrate this amazing campaign, Peace Out has launched an Acne Champs kit ($25) ready to kickstart skin confidence within all of us. The kit features three of their best-selling acne products, acne dots, acne serum, and the blemish balm.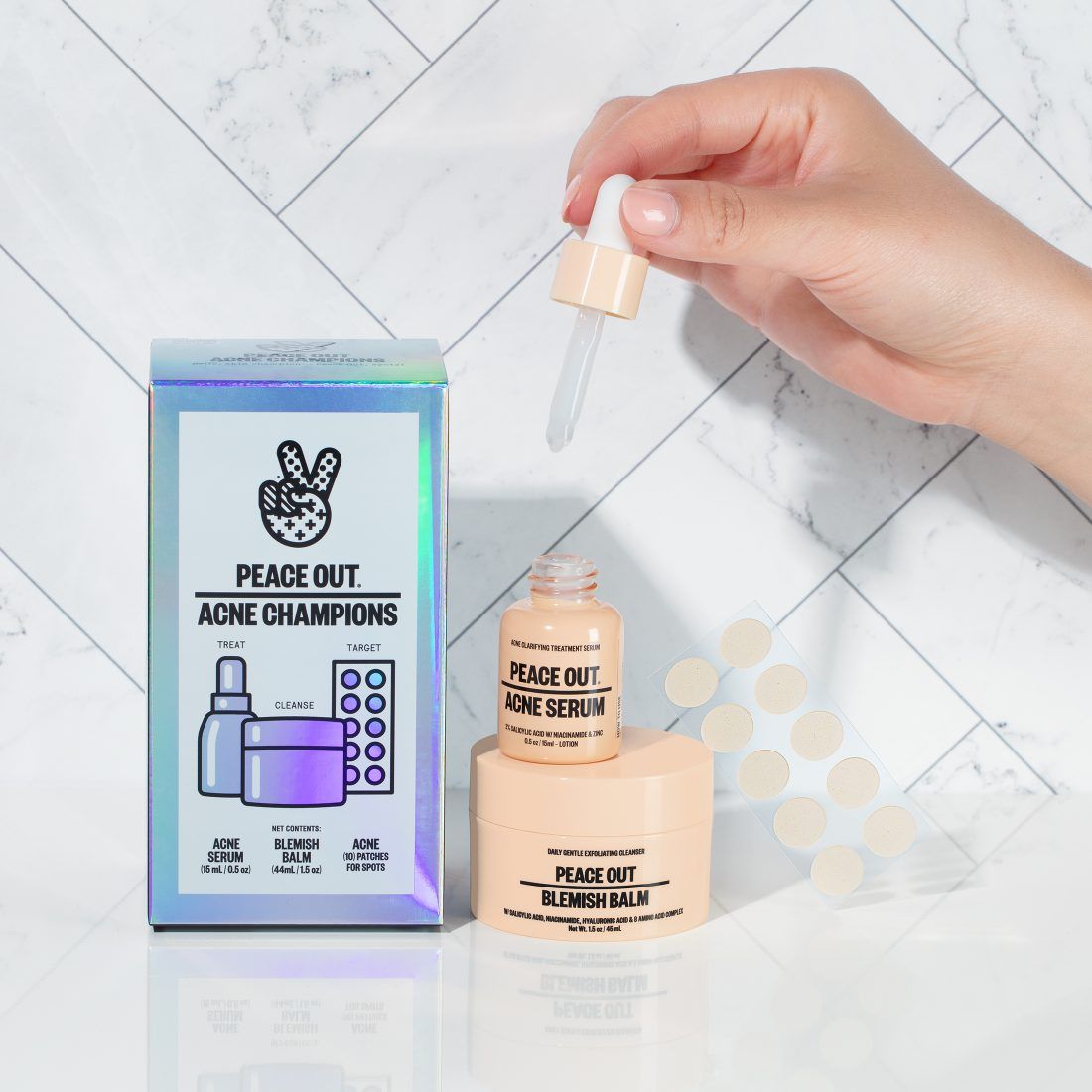 Together, these three products help smooth and calm skin down without stripping skin. You'll start with the blemish balm, a solid cleanser that becomes a creamy consistency when mixed with water. Ideal for oil and acne-prone skin, it helps control excess sebum and brings balance to your skin barrier. Made with salicylic acid, niacinamide, hyaluronic acid, and an 8 amino acid complex, this cleanser gently exfoliates and is safe to use every day.
Then, you'll follow up with their acne serum. It's a gel-like consistency that hydrates skin like no other and leaves behind zero residue. It instantly renews your skin's complexion with niacinamide and zinc, while 2% salicylic acid treats blemishes.
Lastly, treat any pimples you have with their hydrocolloid acne dots infused with salicylic acid. Day or night, help them heal by adding a protective layer over them. The Acne Champs kit ($25) comes with a sheet of 10 acne dots.
To kickstart your acne journey, become an Acne Champ yourself, and hear inspiring stories from others, check out the campaign here.