Quarantine dye job gone wrong?
We've all been there. With hair salons shut down for the majority of the year, many people turned to at-home hair dye kits as a temporary cure for the never-ending boredom of quarantine and to experiment with their look. But as anyone who's ever played around with a-home dye kits knows, there's a reason why hair color is left to the professionals: it's so easy to F it up.
SEE ALSO: Josh Liu, the hairstylist behind the world's most iconic ponytail, unravels his identity
If you just bleached your hair and it ended up looking yellow or brassy, we're here to help. Thankfully, a bad dye job can be salvaged with the help of purple or blue shampoo.
Contrary to how bright and bold the colors may look in the bottle, purple and blue shampoo don't actually dye your hair those colors. These special treatment shampoos are actually colored these rich vibrant hues in order to tone and color correct your hair. It's basically Photoshop for your hair, except they don't deposit any color.
The reason why purple and blue shampoo work can be explained by color theory, which is both the science and art of using color. It explains how humans perceive color – how colors mix, match or contrast with each other. Purple is opposite yellow on the color wheel, while blue is opposite orange. This indicates that these colors counteract or cancel out the unwanted brassy yellow or orange undertones, leaving behind a crisp, icy white that looks great on its own, or serves as the perfect canvas for brighter, bolder colors.
When to use purple shampoo
Purple shampoo is the trick to turn yellow hair icy white, which happens most commonly in people with blonde hair. The Joico Color Balance Purple Shampoo will give you instant results while preventing further damage from hair dyes. We spoke with hair color expert, salon owner, and Joico ambassador Larisa Love, to get all the deets. "Purple shampoo, like Joico Color Balance Purple, will cancel out the warmth and can create a brighter look," says Larisa, who has mended many post-bleaching mishaps.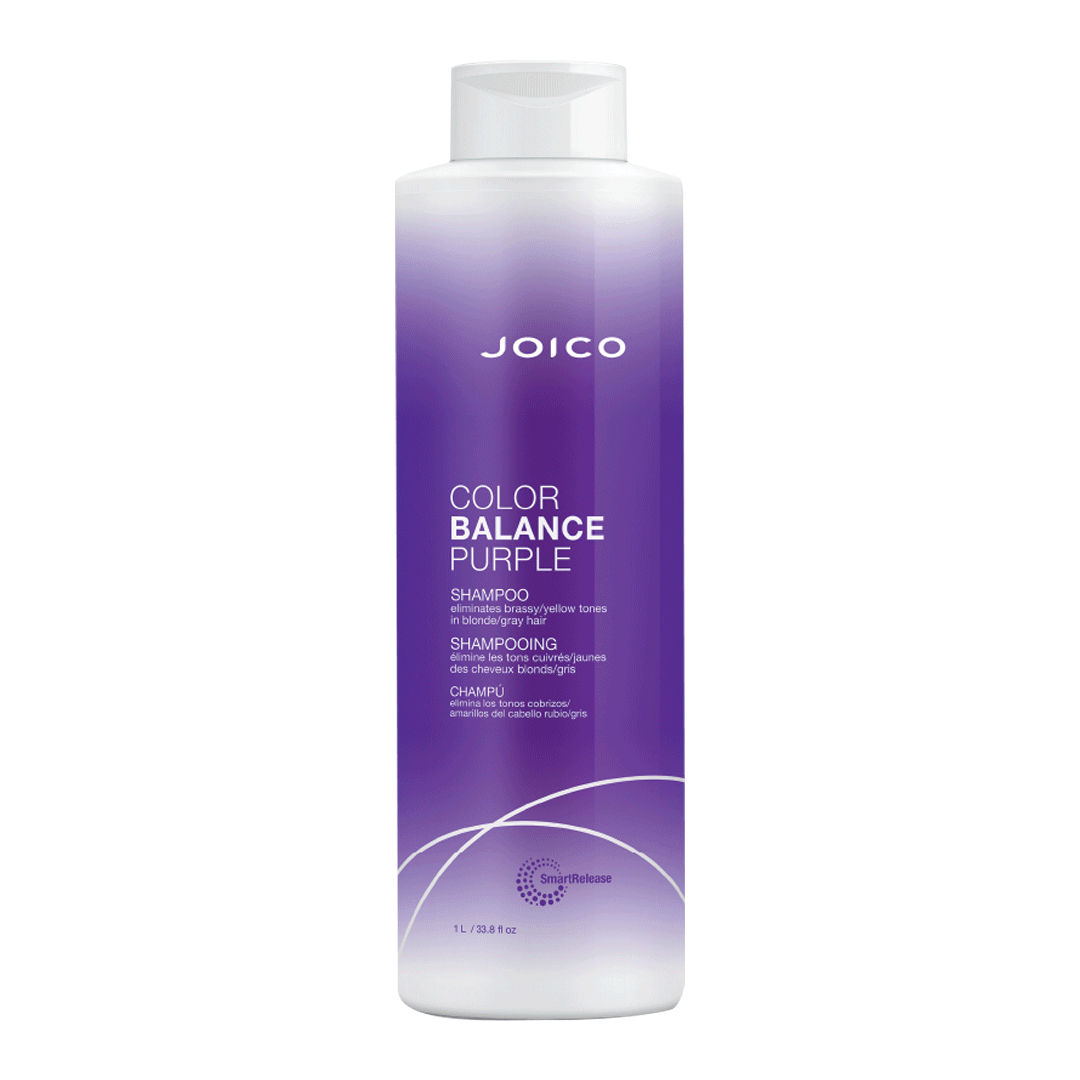 When to use blue shampoo
If your bleaching results turned out to be more on the golden, orange-y side (which tends to happen when brunettes bleach their hair), a blue shampoo is recommended. "Joico Color Balance Blue will cancel out any orange and give you a cool-toned result," says Larisa.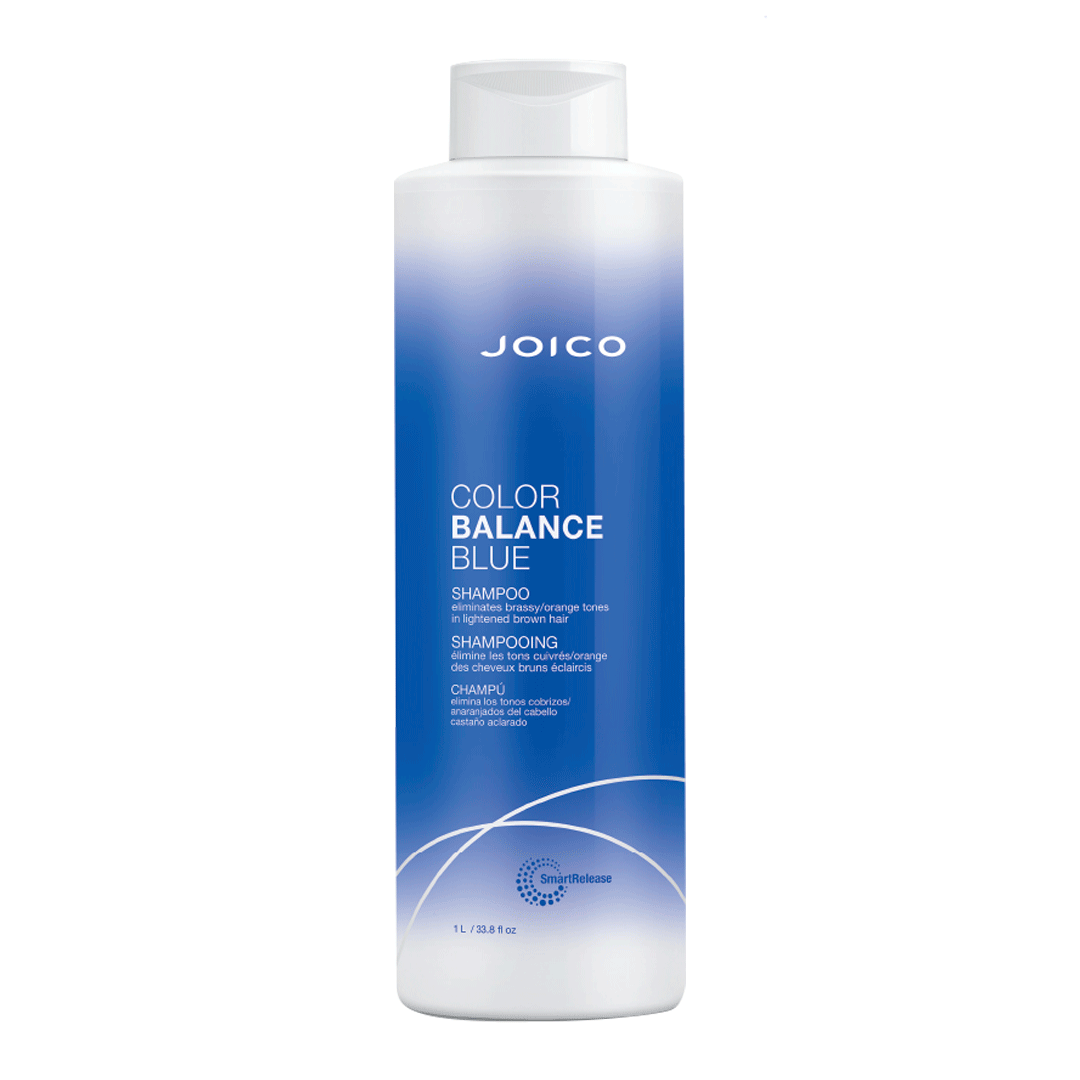 If you're going for the straight bleached look and not adding any additional colors on top, it's important to continue to use these products daily to keep your hair looking healthy and vibrant. Larisa recommends toning with blue or purple shampoo every 1-2 weeks. To heal your hair post-bleach, the Joico Color Balance Collection is formulated with nourishing ingredients that will strengthen and fight-frizz. They also guarantee to keep hair toned for up to 12 washes.
To get the most out of your toning products, Larisa recommends taking extra care to completely saturate every strand.
"Personally, I suggest to some of my clients to leave it on for at least 10 minutes for the shampoo to be able to tone the hair, depending on the starting condition of the hair," says Larisa.
From my own experience, I love to rinse and repeat the toning process, just to make sure you get a good and even distribution of the product. After using the treatment product, it's best to wash your hair in lukewarm or even cold water to help seal the cuticle and prevent further damage and breakage.
If bleaching wasn't on your radar this pandemic, but you're still looking to spruce up your natural color, these colorful shampoos can give your hair an instant makeover.
"You most definitely can see results with purple or blue shampoo on non-color treated hair as long as they are at a high enough color level naturally," says Larisa.
Apply the shampoo and make sure you evenly saturate each strand as you similarly would if you're toning bleached hair. The results are instant and can freshen up your already beautiful natural hair color.
READ MORE LIKE THIS