Six hours in the salon or a six-second spray? It's a no-brainer for me.
Due to the COVID-19 pandemic, I've been avoiding the salon to keep myself and my loved ones safe. Even though salons are slowly opening up, my hair takes at least four or five hours to cut, color, and style. All things considered, I decided I wanted to try coloring my hair myself. I knew I wasn't ready to commit to giving myself an at-home bleach dye job, and box dye was out of the question. I decided to try out John Frieda's Go Blonder Lightening shampoo, conditioner, and lightening spray.
This line helps those with blonde hair (or lighter brunettes) to amp up the blonde color. It claims to specifically help those with natural, color-treated or highlighted blonde hair to achieve lighter tones by depositing yellow-tones. One aspect of the line I particularly like is that Go Blonder products are ammonia and peroxide-free! Additionally, Go Blonder tends to lean towards a more golden than ashy blonde, which could easily be fixed with a proper hair toner like Wella. I really wanted to try this product to see if it could help break up my harsh roots and brighten my blonde.
SEE ALSO: An honest review of Sunday II Sunday's cruelty-free and vegan line for textured hair
My natural hair
My hair was always very light when I was younger, but as I have gotten older it's only gotten darker – much to my disappointment. I typically prefer myself as a blonde, or at least having various highlights on my head and/or around my face. It is slightly difficult and rather expensive to constantly bleach my hair, so I often look for alternative methods, especially in the summer. My hair often gets lightened from the sun naturally, but using products allows me to give it a little push and achieve the look I desire, although not immediately, without going to the salon.
While I have never tried using a lightening shampoo before, I have tried various hair-lightening products, from store-bought to homemade. In particular, I have used Sun-In, which is an inexpensive hair-lightening spray that allows you to lighten your hair with heat from the sun or a blowdryer.
In my experience, Sun-In does work, but unfortunately, it tends to leave behind a bright, brassy-orange hue, and is also rather drying. I've also used fresh-squeezed lemon juice on my hair in an attempt to lighten it. Sometimes I would put it in a spray bottle, but other times, I would just squeeze a lemon over my head and sit outside. Lemon juice does actually work, but is very damaging to your hair due to acidity.
The review
My first impressions of the product were positive, and I like the packaging a lot for this line in particular. My only qualms would be the scent of the spray, although it really is not that bad, especially if you use it outside. For that reason, this spray is perfect for bringing to the beach to lighten your hair as you get a little sun.
The shampoo and conditioner smell amazing, and I really like the consistency of this product when I first used it. It made my hair so soft afterward. Usually, my hair gets very dry after lightening it, especially after bleaching it at a salon, so this was a nice surprise.
I starting noticed my hair beginning to lighten after the first day. My dark roots immediately started to lift, which was great! The changes became more obvious by days three to five. I did notice that using the shampoo and conditioner daily made my hair dry out a bit, so I recommend using it weekly or 1-3 times per week, versus daily. In between, use a deep conditioning mask or a very nourishing conditioner to help combat the dryness. It's important to always apply the spray when your hair is wet or damp. Make sure to fully read the instructions and how to apply the products before use.
Overall the process was super easy. Towards the end, my hair started taking a slightly brassy hue, which I expected since it typically lifts more golden anyway. A quick wash with purple shampoo fixed it right away.
All in all, these products work very well, and you can see the results fairly quickly. Plus, it is super easy to use! In my opinion, this is a better, more effective replacement for Sun-In. See my progress pics below!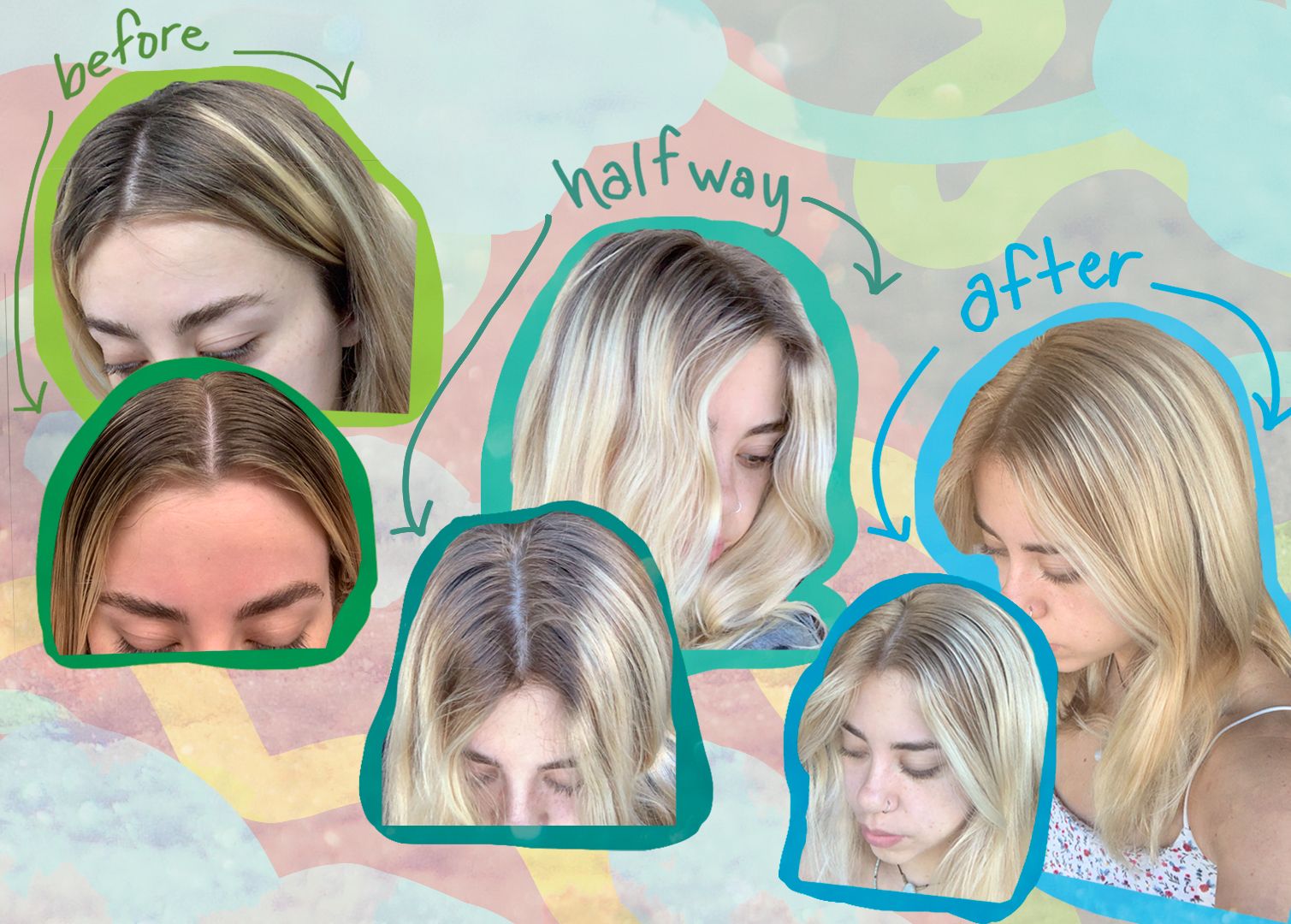 These results are just from using the spray and shampoo/conditioner duo for a little over a week. As you can see, there is a significant change in my roots from the before photo, and they are virtually gone now. I did focus the spray on my roots since they're very prominent and I wanted them to blend a bit better. I still use the spray whenever it's going to be sunny outside and the shampoo/conditioner closer to once a week now.
Final thoughts
Overall, my experience with the Go Blonder line was positive, however, I do think people who have mostly darker hair should pay attention and be aware of not overdoing it. My hair did slightly turn a bit brassy, but never to the same extent as Sun-In. I used purple shampoo once or twice per week to get rid of any brassiness.
TLDR;
– John Frieda's Go Blonder Lightening shampoo, conditioner, and lightening spray helps amp up blonde hair
– All products are ammonia and peroxide-free
– You can see changes in your hair color after the first use, and full results within five days
– Use products a couple of days per week alongside a purple shampoo to get rid of any brassiness
– BUY HERE ($24)