Shaving icon Gillette is taking us back to their roots with the latest King C. Gillette launch.
Before we dive into their latest launch, first, a little history lesson. In the eighteenth century, steel was king. Referred to as "the enlightened metal," technological innovations made steel an increasingly abundant and important good, but also a component in the fashioning of a new, refined self.
SEE ALSO: How to make your shaving routine more sustainable
Razor‐making was one area that certainly benefited from the input of new steel technologies. It was steel's capacity to carry a fine edge that enabled the production of a new range of sharper, more durable, and even more aesthetically pleasing razors. This birthed the invention of the straight razor, which looks very different from the razors found on the shelves of Target today. The straight razor is a steel blade that can fold into its handle.
At the time, straight razor shaves were time-consuming and expensive, thus leading to a new steel shaving tool, the safety razor, invented by King C. Gillette in 1895. Gillette's invention is widely known as the first disposable shaving razor. This invention revolutionized men's grooming, allowing men to shave from the comforts of their own home.
The relationship between masculinity and politeness during the eighteenth century was quite interesting, to say the least. The removal of facial hair implied control, discipline, and self‐mastery, leading to, what is called "a harmonious self‐presentation." Shaving also opened up a man's face to the world, leaving nothing hidden from view. It has been widely explored how manufactured goods such as razors, can offer insight into the world of eighteenth‐century male consumption and masculinity.
Thankfully our generation has had the power to rewrite the definition of masculinity, and men's facial hair is widely celebrated and considered a gentleman quality today. However, King C. Gillette left a tradition of craftsmanship, quality, and excellence that is still appreciated by the ultimate groomers who opt for the classic shaving tools.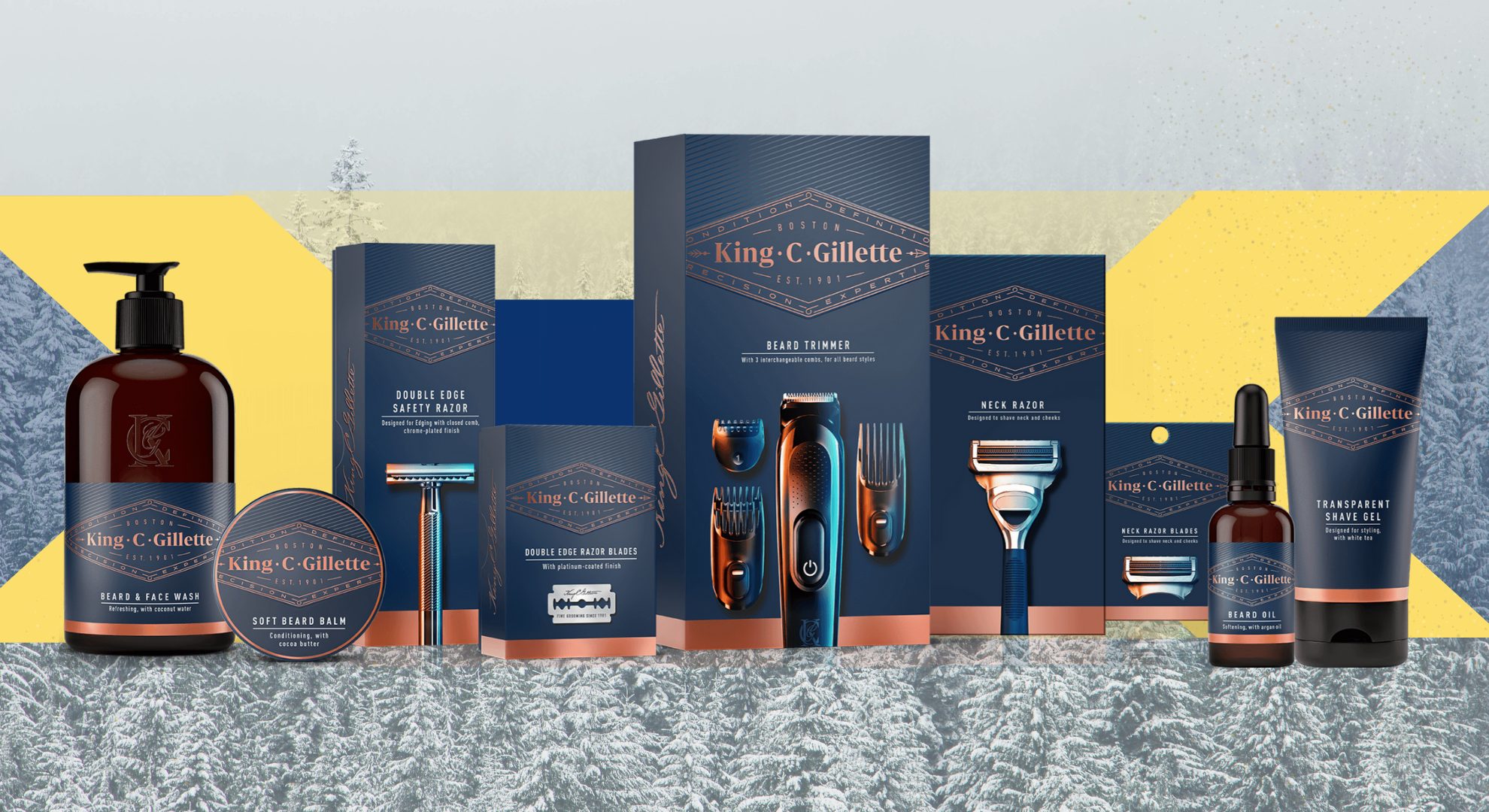 King C. Gillette is a new collection of beard grooming and shaving products recently launched from none other than Gillette. Men, feast your eyes on a range of products including beard oil, balm, wash, electric trimmer, neck razor, shave gel, and double edge safety razor – all with King C. Gillettes stamp of approval. This is the most exciting grooming drop of 2020!
At first glance, this collection looks very different than your standard run-of-the-mill Gillette collection. But after living and working with each product for a few weeks now, I am happy to say, this collection is true to the innovation, precision, and attention to detail that was pioneered by King C. Gillette himself. From the packing, curation of products, and formulations, it is clear that Gillette is speaking to a new kind of audience that is in tune with style and self-care.
The King C. Gillette collection is masculine, but also stylish, sophisticated, and smart. Unlike the original Gillette collection more geared to the sports fanatic, the King C. Gillette collection is for the artist, innovator, and creator. The beard-focused products of the collection offer ways to tame the beard, make it look polished while being hassle-free. Since I am not one to grow a beard, I was excited to see Gillette launch a double edge safety razor in this range, coupled with platinum-coated razors and a transparent shave gel.
The Review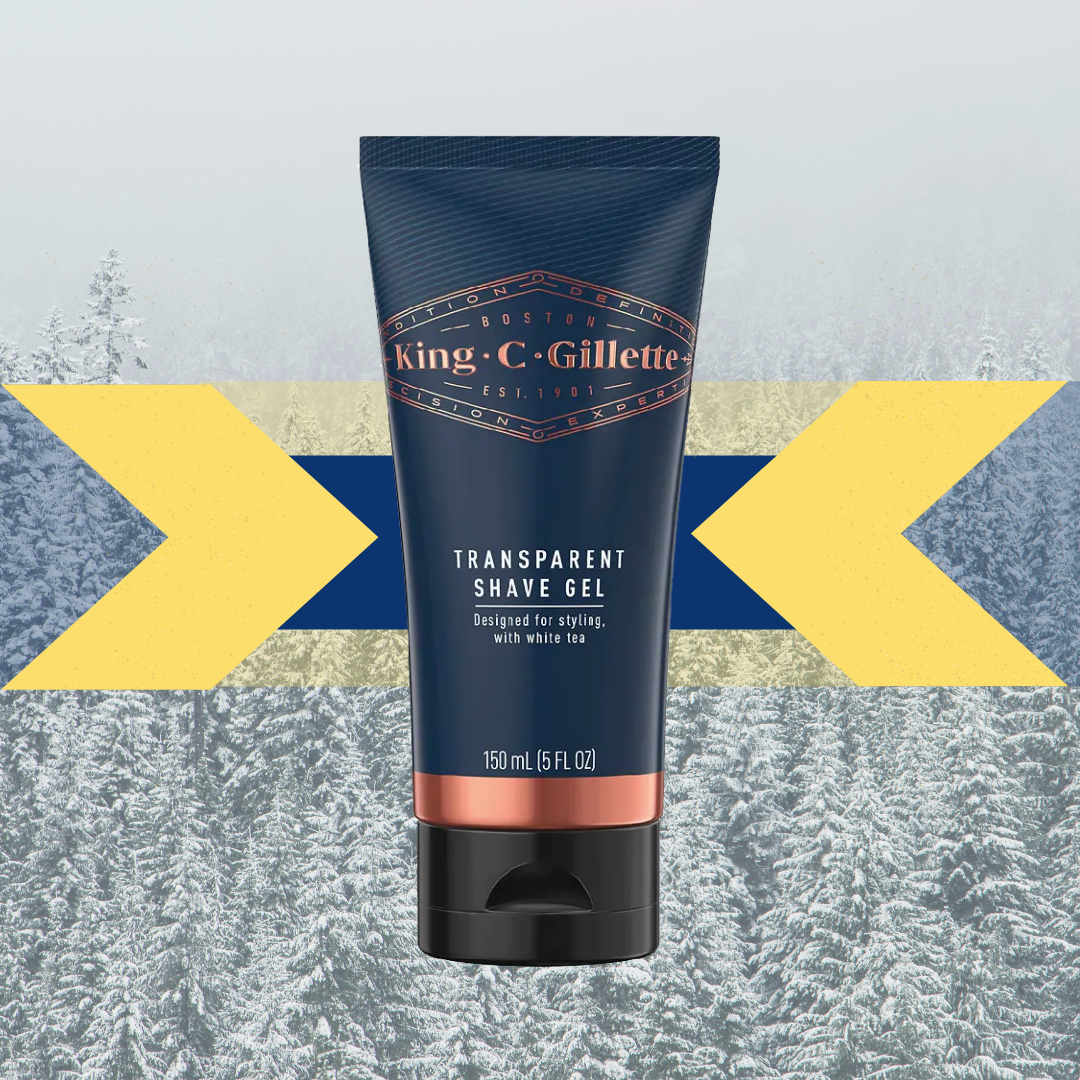 Finally, a transparent shave gel. Unlike your typical thick, creamy and opaque shave creams, this formula is completely translucent, allowing you to see exactly where the blade is going. This style of shave gel is an excellent addition for any guy looking to achieve barber-grade grooming. The King C. Gillette transparent shave gel is exactly what you need whether you're new to shaving, trying out the double edge razor for the first time, or simply looking to edge your beard like a pro.
You can apply it just like you normally would with any other shave cream, but the thick gel hugs and contours to your own unique face shape, allowing for the smoothest and most precise stroke of the razor with zero tugging. If you're looking to edge your beard, you can apply the gel to specific locations on your face to get accurate lines.
I prefer to shave in the shower so I was interested to see how this would perform in the steam and heat. The gel kept snug to my face and gave me clean-cut barber vibes. The gel does not foam up but remains a gel texture throughout the entire shave. I was happy to know that it did not irritate my eyes or gunk up my nostrils as a typical shave cream would. The gel was comfortable enough even for a second pass across the grain.
Since the shave gel was shower-approved, I was curious to see how it would hold up for a full shave at the sink. This is where I really started to appreciate the transparency of the shave gel. It allowed me to see exactly where the blade is going in order to avoid nicks and ensure I am getting the closest shave. I could imagine this would be an incredible tool for the guy who likes to keep a neatly edged beard but hasn't had the chance to make it to the barber recently.
Double Edge Razor Blades 10 ct., $6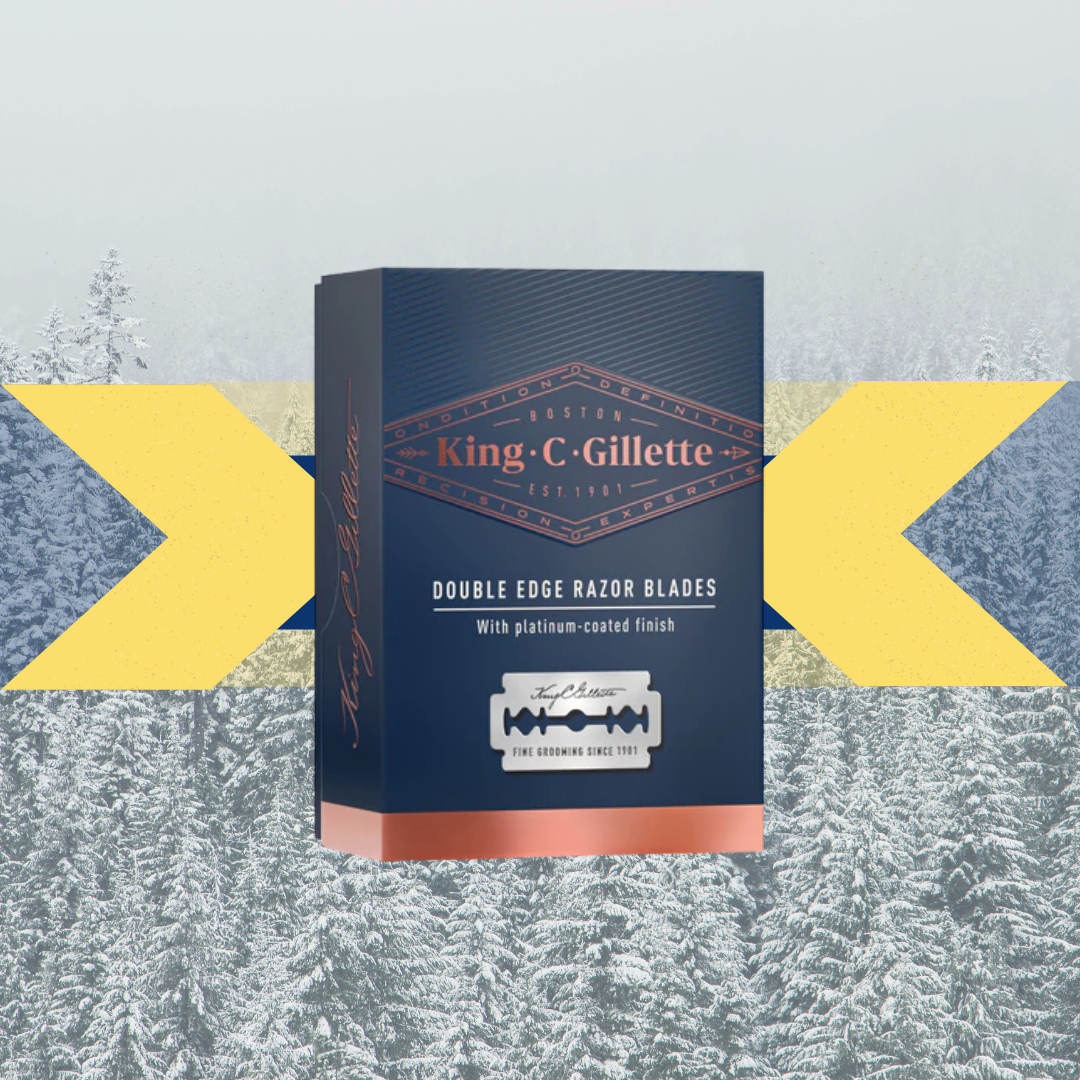 If you've been on the fence about committing to a double edge safety razor, or even just terrified, these razors are the perfect entry-level blades. Although it can be fun to buy and try new safety razor handles, it all really comes down to the blade, and these ones were impressive. When I first got into double edge shaving I always believed the sharpest blade was the best, but boy was I wrong, and I had the torn-up face to prove it.
When it comes to finding the best blade that will provide a close shave without compromising comfort, it is all about quality, and King C. Gillette delivers. Paired with the Transparent Shave Gel, these blades glide through even the shortest of stubble (think 1 day of growth) without a single nick. If I am able to finish a shaving ritual without bleeding, that is a win for me.
Since these blades are platinum-coated, they will continue to give you a clean shave day-after-day without having to switch blades. This was surprising for me because I tend to do three passes in one shave and expect a blade to be dull after a few uses. I would imagine a single blade could last a few weeks, maybe a month. Each blade even has the stamp of approval for King C. Gillette himself with his signature etched into each individual blade. The box for the razors is pretty neat, too, and looks great as an accessory for your bathroom shelf.
The King C. Gillette Double Edge Blades paired with the Transparent Shave Gel is a true innovation. Mess-free, gunk-free, knick-free. What could be better? I was very happy to know that these two products are a dream when used together. The shave gel allowed me to confidently shave while using a safety razor meant I would get a terrific shave every time.
Performance and packing aside, to see a brand like Gillette launch safety razors in 2020 is major. You can tell from the detail and design of these products that Gillette was sincere about this collection in terms of developing a product that stays true to the legacy of King C. Gillette while tapping into the lifestyle of the modern gentleman.
TLDR;
-Gillette has launched a new brand called King C. Gillette offering modern grooming and shaving tools.
-The King C. Gillette collection offers barber grade tools to keep beards fresh and neat.
-The collection includes a transparent shave gel great for beginners and masters.
-Available now at Gillette and major retailers.