It's been 25 years since Selena Quintanilla's shocking and untimely death, but America's obsession with the Mexican-American superstar has only continued to skyrocket.
The Latina singer and songwriter is credited with bringing Tejano music to the forefront of American culture and even made history in 1994 for becoming the female Tejano artist to win a GRAMMY for Best Mexican-American Album. Her life was tragically cut short at the hands of her former friend and founder of her fan club, Yolanda Saldívar, in 1995. Fans around the world have been in mourning ever since.
Selena's inspirational life story was first brought to life in the 1997 movie "Selena." In the now cult classic film, Jennifer Lopez gives the performance of a lifetime, looking and sounding nearly identical to the Queen of Tejano music. (Fun fact: it was this role that inspired JLo to pursue a music career!)
SEE ALSO: 20 Latinx beauty influencers you need to know
Since then, her legacy has continued to inspire multiple collections at MAC Cosmetics, the first of which sold out mere minutes after it launched in 2016. The latest collection, which debuted in April of this year, sold out equally as fast, prompting MAC Cosmetics to issue multiple restocks. The success of the film and subsequent makeup launches proves that Selena's legacy is stronger than ever – even 25 years after her passing.
Selena Quintanilla passed away at 23-years-old, which now means she's been gone longer than she was here. But a new miniseries debuting Netflix on Dec 4 – its trailer just debuted today! – aims to offer superfans a look into Selena's life before the fame.
"Selena: The Series" is a coming-of-age story based on her life and the journey from childhood to international superstar. Starring Christian Serratos as the titular character, the series is certainly one of the most-anticipated shows coming to Netflix in 2020. Watch it now here.
Very Good Light spoke with the show's creator, co-showrunner, and executive producer Moises Zamora, whose journey as a Mexican-American writer trying to make it in Hollywood mirrors Selena's own life story. We talked to him about the immense pressure of creating a series based on the iconic celebrity, heading a truly diverse writer's room, and the spiritual connection he has to Selena.
First, let's talk about your background. As a Mexican-American immigrant, how were you able to breakthrough in Hollywood?
I was 11 years old when my family immigrated to the United States. I was old enough to understand what I was leaving behind: my family, my friends, my dog. So it was kind of it was heartbreaking in that way. The town we moved to didn't have a lot of Mexican kids, so I was one of very few kids in my school that didn't speak English. Luckily, kids learn languages pretty fast.
I learned really quickly that in order to integrate myself into American society, I had to get good grades. Getting straight A's was my ticket out. I ended up going to a really good university, Brown, and that also opened my mind a lot. But once I got there, it was very clear to me that I was gravitating immediately to theater and fiction writing – to literature and languages.
My first TV writing job was on "American Crime" with John Ridley, who is this brilliant visionary. Eventually, I got set up on the next show, which was us "Star," [created by] Lee Daniels, so that was also incredible. But I also knew that if you want to really make a difference as a TV writer, you have to wear other hats, like be a producer too.
How did the opportunity to create 'Selena: The Series' come about?
My agent put me in front of the production company that had the rights to Selena's life, so I went in there really prepared for that meeting. I shared my vision with them about how many episodes it should be and how inspirational it could be. It's also about the pursuit of the American dream, because [the Quintanilla's] are American. They are of Mexican descent, but they're also third-generation. We need to get used to the idea of the American Dream comes in different colors and shapes and journeys. That particular angle really resonated with the producers and resonated with the family. They blessed it, and then we sold it to Netflix.
We're very lucky that we got this far. We're very lucky that Christian Serratos is playing Selena, and she's doing a phenomenal job. She's so talented and wonderful.
I'm sure you were obsessed with Selena, as we all are. Did you feel any pressure bringing this show to life?
Of course, there's tons of pressure when you take something so iconic and it becomes your responsibility. But you know, I didn't do it alone. The family was involved in the storytelling process, and they shared a lot of things with us. Additionally, I hired 14 different Latinx writers from different backgrounds and racial compositions, and a majority of the writers are Latina. As a man, there's that voice that I wanted to make sure that I'm respecting and listening to when we tell this story. We have women directors like Hiromi Kamata directing a bulk of the episodes.
I was surrounded by a lot of great people. It didn't all land on my shoulders. The family has been so generous. I'm so grateful to them because they get to share this story with us and the world. I also think that telling her story in the detail that we're going to tell it is going to make a lot of people happy. We're gonna cover a lot from when she's little, to when she's older, to when she becomes a superstar. We're gonna see her throughout her transformation.
What was it like to work with a primarily Latinx cast and crew?
I have to commend my previous creators and showrunners because I think I lucked out. John Ridley and Michael McDonald, executive producers of "American Crime," have always been about inclusion. Especially John, tackling those really hard themes on "American Crime," like homophobia, racism, and human trafficking. I'm very grateful for that being my first show because the room was very diverse, and the cast and crew were also very diverse.
That taught me that there is a value in making sure that all voices are included in the room. With Lee Daniels [co-creator of "Star"], again, it was a very diverse room and a very diverse cast and crew. I was very grateful to be part of a group that has a lot of points of view. That just feeds your fire and passion. This is kind of a unique experience because it doesn't happen very often, but I don't know what it's like to be the only person of color in a room. For that reason, I'm always gonna have very inclusive rooms and very diverse cast and crew.
The stories that I want to tell come from a very authentic point of view – from the Latinx point of view. You can only achieve that by making sure that the room is represented likewise. Even within our own Latinx, spectrum, we have a lot of races represented. Latinx, to me, isn't a race. It's like an ethnic, cultural sort of identity. So in my room, we had a lot of racial and ethnic and cultural backgrounds represented. There is diversity within the Latinx monolith, so I wanted to express that.
It's no accident that we hired plenty of Texan Latinas to make sure that we got that voice right, because that was also important for the family. You're going to be hearing a lot of "yall's."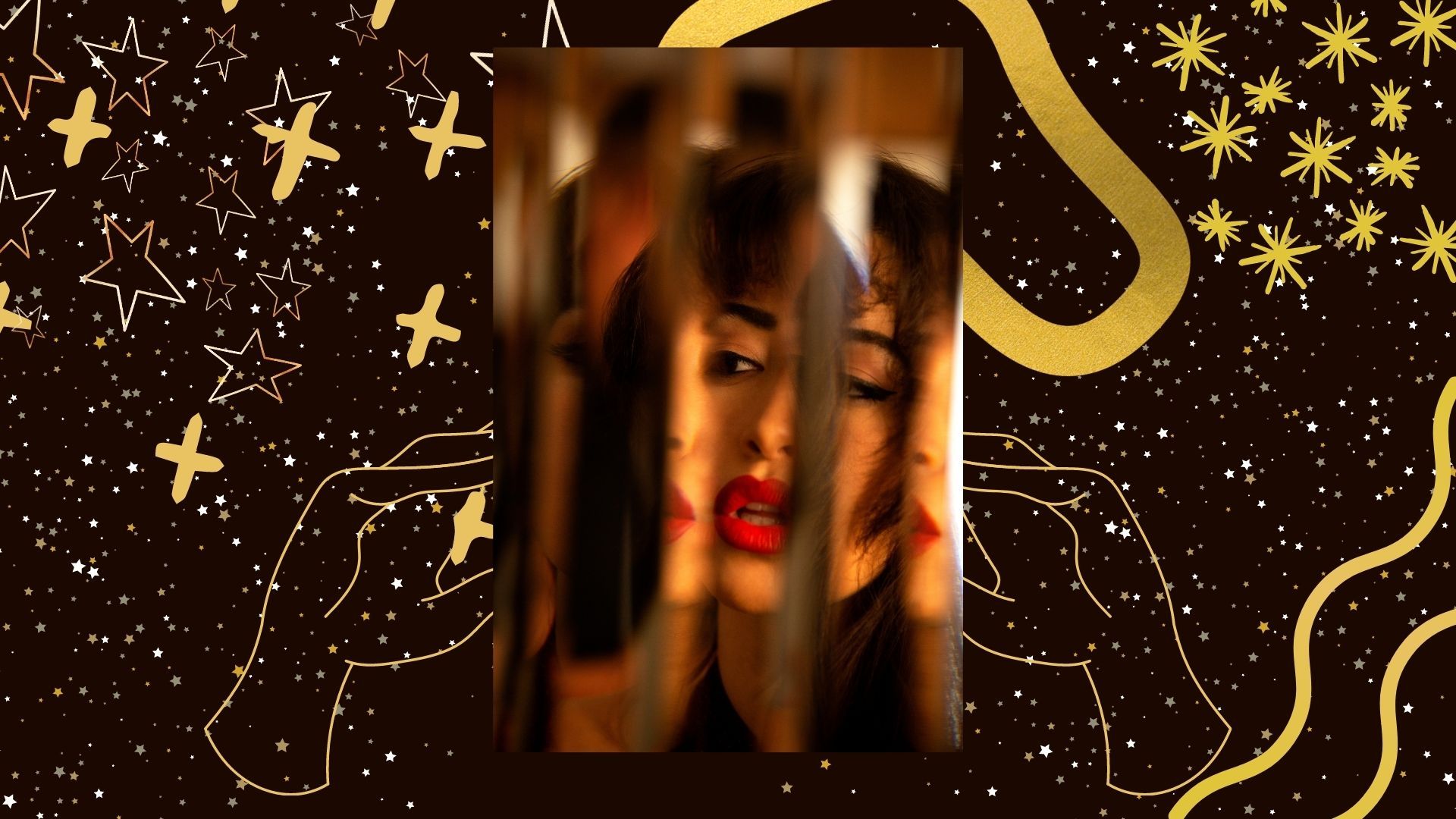 As a Latina myself, I feel like Latinx people are very spiritual. Were there any moments during writing or filming where you felt her spirit the most?
It happened all the time. Like, all the time. Everyone in the room knew Selena and is a fan of Selena. Some were more affected [by her passing] than others because they grew up in Texas, or they grew up with her as a role model. And there were moments, especially because we were just listening to music in the room where it was just like, [gasps]. Where it just like, landed.
One of my favorite moments in one of her songs that I think like always does it for me is "Como La Flor." Sometimes when they would perform it, they would slow down the intro. Suzanne [Selena's sister] told us that they would do it because it would allow the band to have a little bit of a break in between songs. That intro was so emotional for us [in the writer's room] because it allowed us to take a breather and be like, holy crap. We are doing Selena's story. The Quintanilla's are sharing this with us. The pictures were everywhere. It was such a joy. Writing about her was a joy.
You hear so much that she was so great, she was wholesome, she treated everyone kindly and had a passionate heart. After all the research and hearing from her family, it's like, oh, yeah, she was amazing. She was kind-hearted and the role model that we needed then, and we still need now.
I think that's why she transcends. After 25 years of her passing, she's more alive than ever. You don't get to work on a story like this very often. We always acknowledge that and thank the universe that it's part of our journey.
You got to know Selena so well working on this project. How did her story have an impact on you?
She empowered me to actually be more of an entrepreneur like her. Selena had other businesses. She had boutiques, she had a perfume line. She had all these other things that like, in those days, you never really heard of a singer having her own clothing line. Now, it's very common.
I saw what she was doing, and as a result, I'm not holding back. I'm asking for what I want. I'm becoming very entrepreneurial, I have my own production company. We're gonna establish Latinx projects because that's my point of view and my passion. I'm not seeing the doors opening quick enough, so I'm going to try to build that building and those doors myself.
I really truly feel that the Quintanilla family, and Selena herself, are incredible models for that kind of entrepreneurial spirit.  If the doors are not opening, find a door, build the door, and build the building. Put in the work and it will happen.
When I have those moments of 'I can't do this anymore,' I just channel Selena. I actually had "Bidi Bidi Bom Bom" as my morning alarm. It brings me so much joy, and it immediately puts me in such a good mood, no matter what anxiety I might have. I think it's essential for other people of color to find their positivity. There are so others like us, and we need to rise together. Giving up is not an option. It's your journey, so don't walk away from your journey. She didn't walk away from her journey.
Is there anything you can tell us about what we can expect from 'Selena: The Series'?
I can't say much, but honey, the outfits!
Watch "Selena: The Series," on Netflix Dec 4 here.
(Photo via Netflix)