If you've watched The Ellen Show recently, you've probably been thoroughly entertained by Kalen Allen, the show's newest – and might we add, most delightful – addition.
The correspondent now interviews bands from BTS, has his own segment OMKalen, and gives his personal hot take on what's trending on the Internet. All this happened in only the past year, where the 24-year old correspondent was plucked off of his viral Facebook videos where he judged people's cooking recipes.
SEE ALSO: QQ, what sunscreen does Peter from 'To All the Boys I Loved Before…" wear?
"It all happened by chance and the short answer is I got lucky!" he tells Very Good Light. "I made a video about some food one night. It went viral, Ellen saw it, and I had a brand new job and home."
But getting on Ellen and inspiring millions came after years of accepting – and embracing – who he was as a person. "I live my life based off of the energy I feel," he tells us. "I don't do anything that doesn't make me feel good! To love and accept myself made me happy and that was of the upmost importance to me."
And one of those aspects is self-care, as seen from Kalen's glowing skin regimen. Below, the correspondent tells us everything about his skincare, what products he swears by and why it's important now more than ever to embrace yourself.
"I am whoever I choose to be.
I think I have many different personas. I'm always changing, evolving, and growing. Who I am today can be totally different tomorrow. But I do know that I am optimistic, resilient, strong, and a boss!I know deep down, that my disdain for the gym is rooted in the fact that I hate the beauty standards associated with it. I don't have to have a fit, muscular body to be beautiful. Beauty is defined by our own perception.
live my life based off of the energy I feel. I don't do anything that doesn't make me feel good! To love and accept myself made me happy and that was of the upmost importance to me.
When we start to base beauty on what other people consider beautiful, that is when our perception gets skewed. Confidence can be beauty all in itself. You ever met someone who may be the most plain person you ever met, but the way they carry themselves or their personality as a whole just makes your heart sing! Beauty isn't always cosmetic, it can be what lives within you shining out, causing internal beauty to seep from your pores.
My skin's not flawless all the time! Chile, somedays I have to bathe in holy water! My friend Tony loves a good hydra facial and I am now obsessed with them. It's nonsurgical and it brightens, tones, and makes that skin glow. Clearly I like to glow. When it comes to my regimen, it varies depending on what my skin needs at the time. But, it goes a little something like this.
Day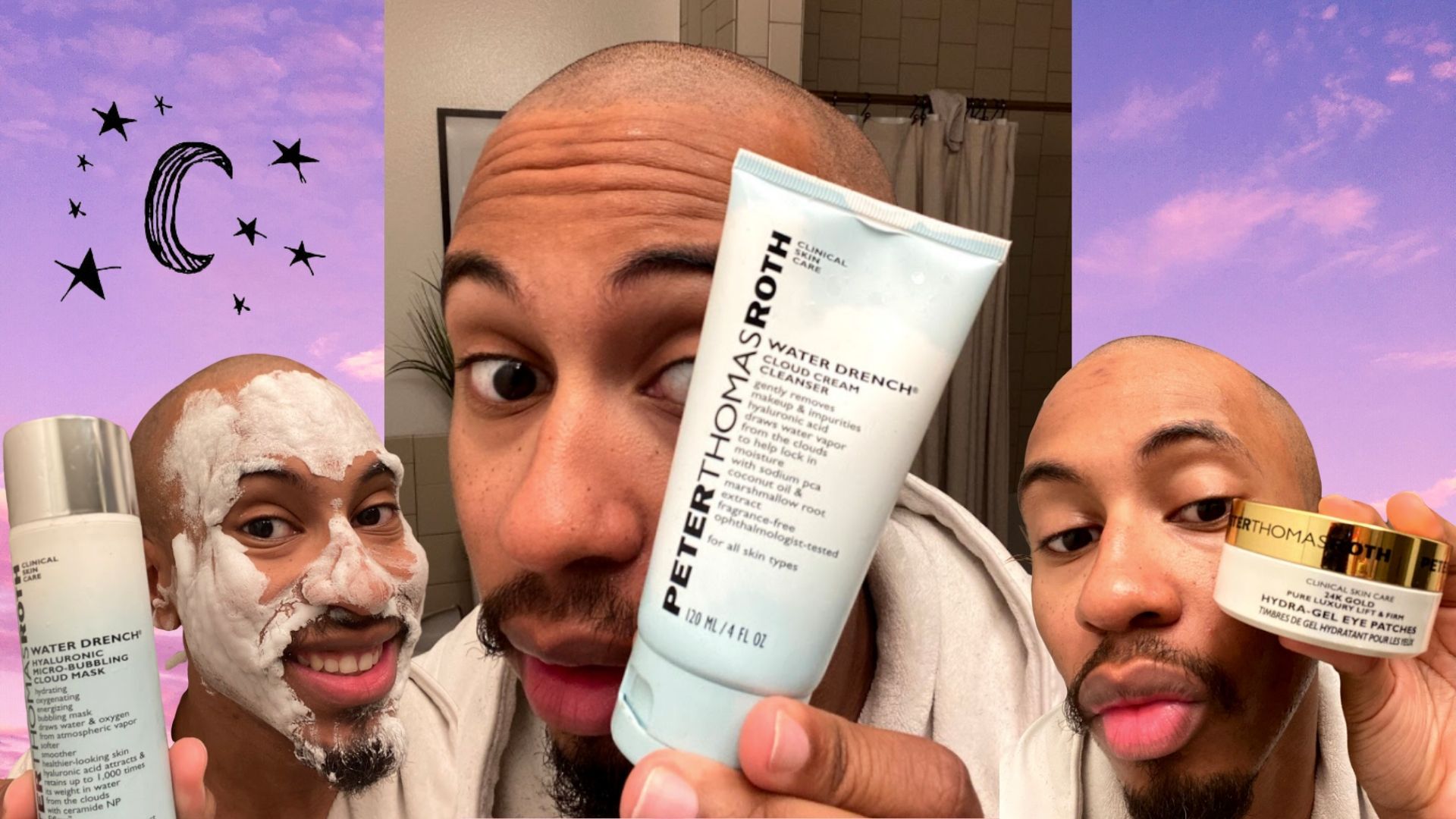 1. Peter Thomas Roth, Water Drench Cloud Cream Cleanser, $30
I learned about this product after redeeming points at Sephora. My skin is neither oily or dry but more so in the middle and this cleanser does a great job of giving me just the right amount of moisture.
2. Peter Thomas Roth, Water Drench Hyaluronic Micro-Bubbling Cloud Mask, $52
I only use this product once a week. I also have a plethora of different masks, depending on how my face is doing. This mask really locks in the moisture!
3. Peter Thomas Roth, 24K Gold Hydra-gel Eye Patches, $75
Out of all my Peter Thomas Roth collection, these are hands down my favorite. Baby, because these bags can be something vicious!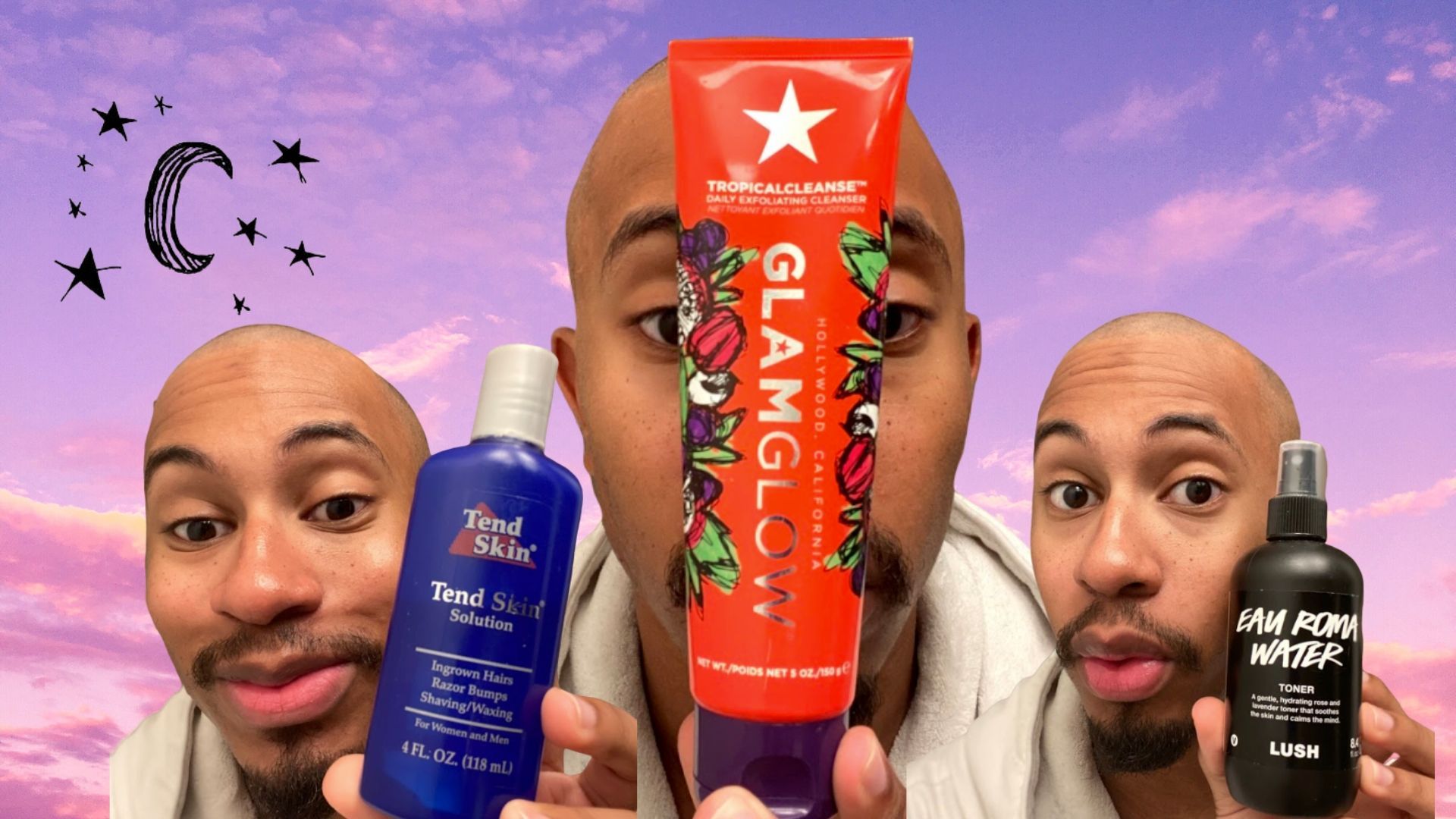 4. Tend Skin, Ingrown Hair Solution, $16
Unfortunately, I suffer from ingrown hairs, which is my least favorite thing about my skin. Most barbers swear by this product. It has helped me reduce inflammation immensely.
5. LUSH, Eau Roma Water Toner, $10.95
When it comes to toner, I like it to be very lightweight and clean. This one from Lush will leave you feeling refreshed.
6. GLAMGLOW, Tropicalcleanse Daily Exfoliating Cleanser, $34
I also don't use this one every day, even though it says daily. When I may sense a breakout coming along, I use this to exfoliate!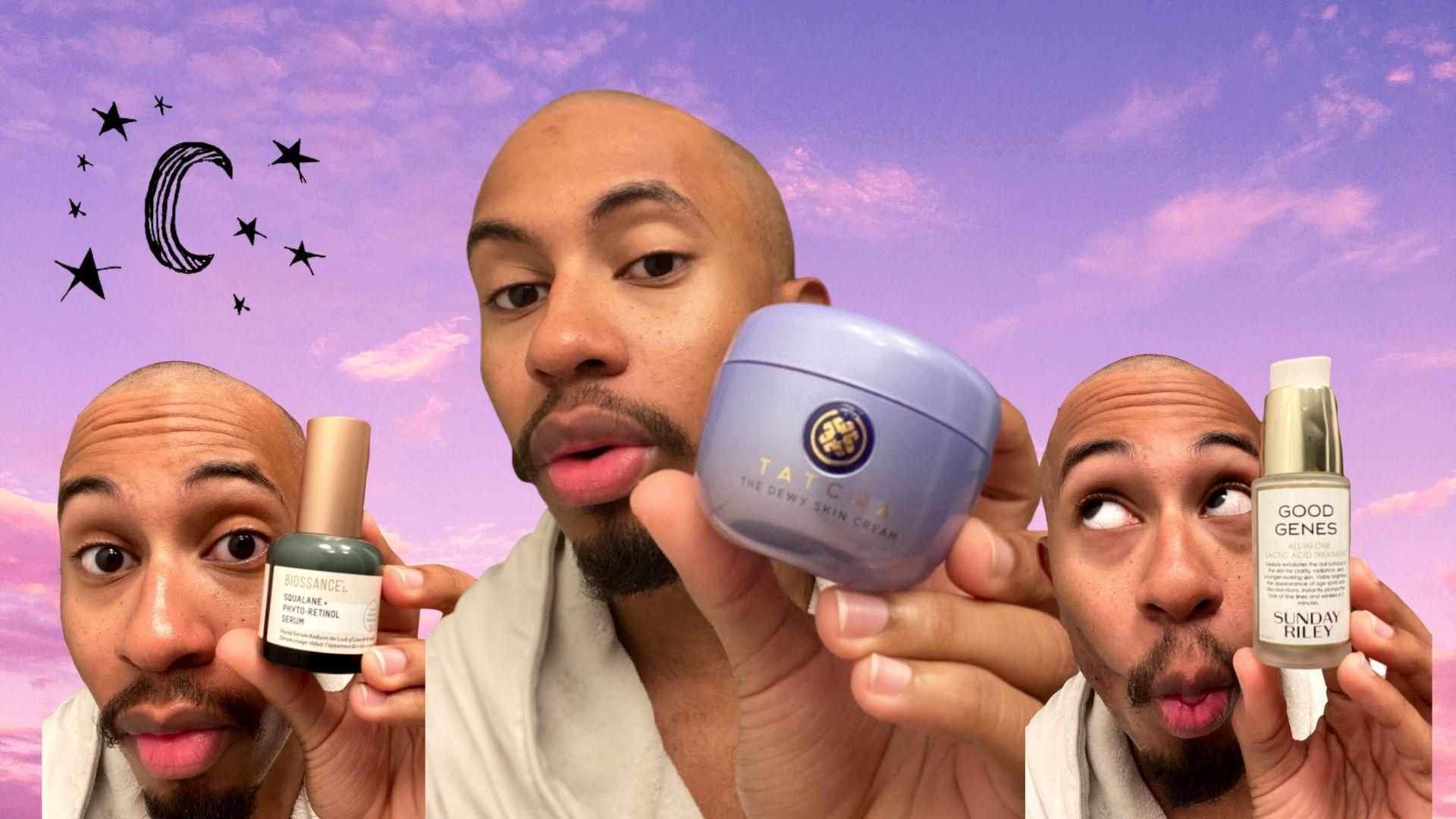 7. Good Genes, All-In-One Lactic Acid Treatment, $122
Another product I love dearly. Since this is an acid, you can't use it every day. But, it does do a deeper exfoliation that the GLAMGLOW. My friend Andre put me on to this!
8.Biossance, Squalane – Phyto-Retinol Serum, $72
I mean everyone needs a retinol! I discovered this through redeeming points at Sephora as well. I don't know what retinol does but I know people swear by it on twitter.
9. TATCHA, The Dewy Skin Cream, $68
I love a good moisturizer and PatrickStarrr loves Tatcha, so I too decided to try it. I love how it makes me glow! Especially in the sunlight. It also works well with makeup application.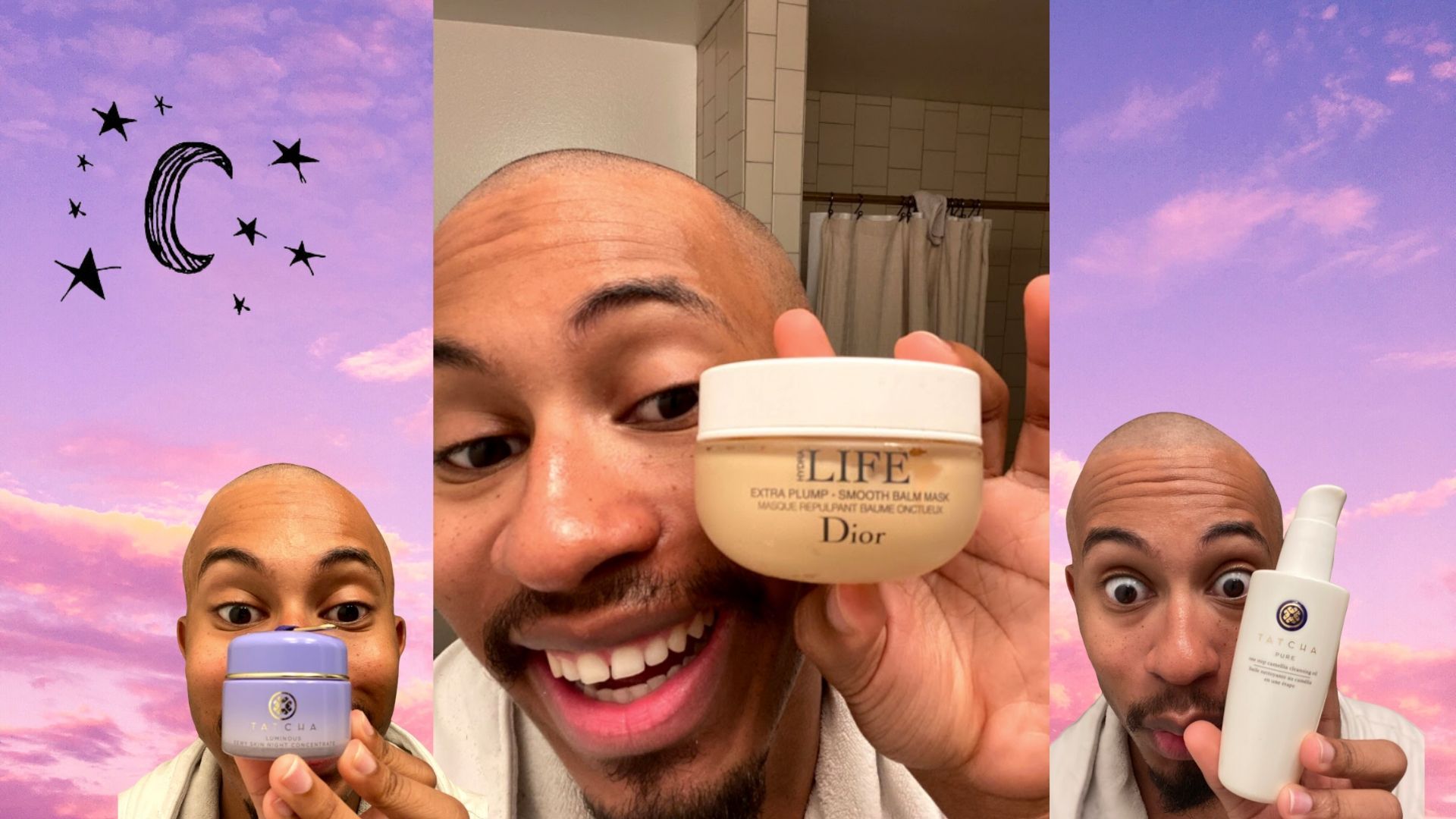 10. Dior ONE Essential, City Defense SPF 50
SUNSCREEN IS ESSENTIAL! You have to have some kind of sunscreen in your beauty regimen. This one by Dior is lightweight, doesn't leave any residue and will get you smooth together!
Like I said, bags! This just brightens them up!
Night: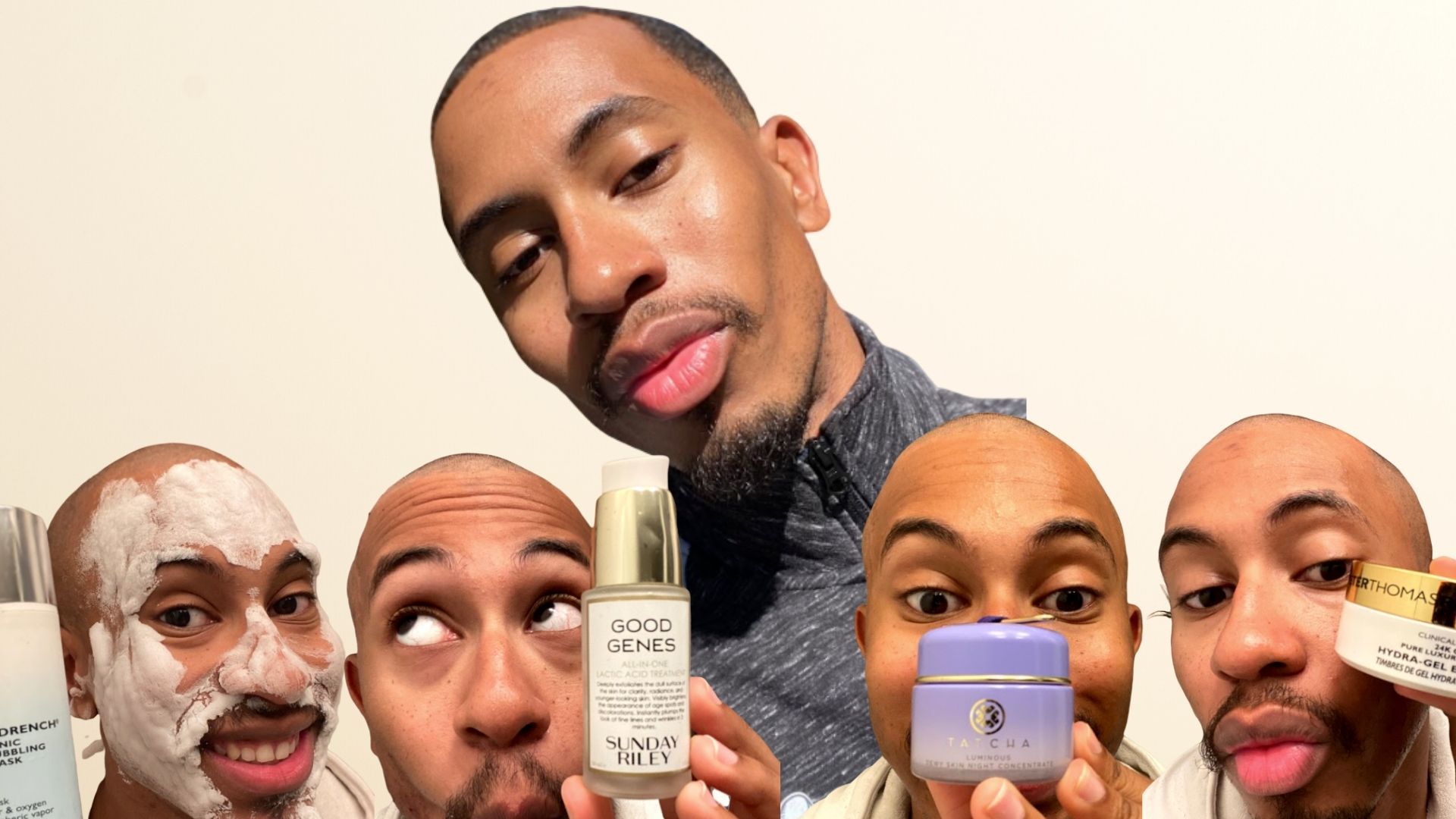 1. TATCHA, Pure One Step Camellia Cleansing Oil, $48
I only use this when I have on makeup and it is remarkable. I mean you just throw this oil on, rub it around, and boom makeup be gone! A blessing!
2. Dior – Hydra Life, Extra Plump Smooth Balm Mask, $69
This just makes sure my face doesn't start drooping before it should. Don't do it on a daily basis.
3. TATCHA, Luminous Dewy Skin Night Concentrate, $110
This just adds to maintaining that glow and we know at night that skin can dry out.