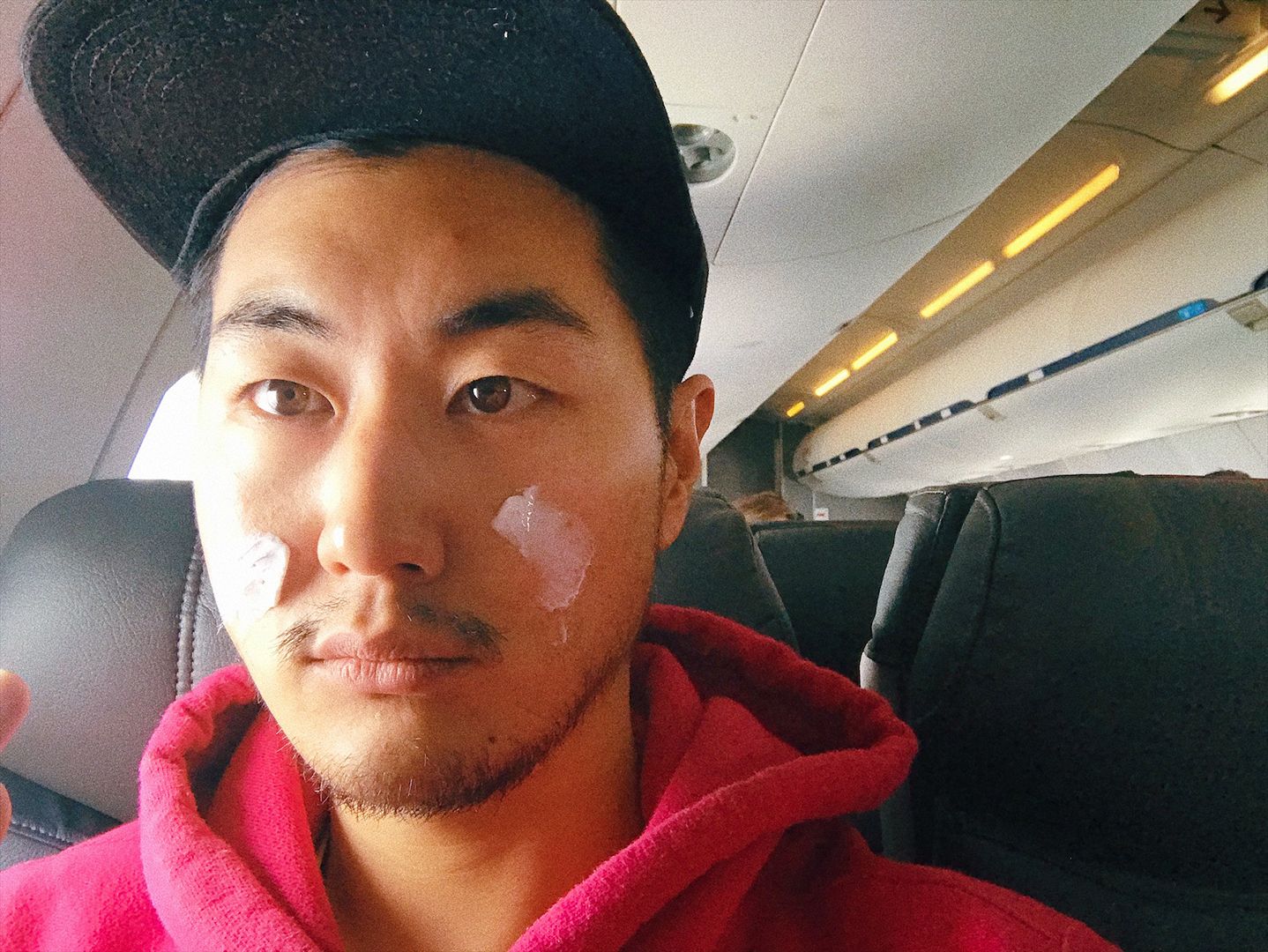 What's worse than holiday travel (other than traffic, rude flight attendants, small children in your way while you're RACING to the actual flight you're late for)?
The disgusting planes we're forced to travel in.
With Thanksgiving travel in 2019 at its highest travel numbers in YEARS (there were 4.5 million people traveling by plane!), chances are, you've probably encountered many foreigners on your journey. And we're not talking about the good humans around the globe. We're talking bacteria and viruses you'll inevitably meet on your journey. Planes, after all, are cesspools for germs, which are at their bests inside enclosed spaces. Though airlines are required to clean each cabins between flights, they're FILTHY. It's almost difficult to thoroughly wipe every surface area. According to the New York Post, the following are the biggest areas of contamination:
Tray tables
Magazines and in-flight entertainment touch screens
Bathroom handles
Toilet and lid
Water faucet and soap dispenser
Paper towel dispenser
AC knob on the ceiling
Headrest (includes blankets and pillows that are never washed, simply reused).
So what's an innocent person supposed to do? If you're seriously spooked about breaking out after a flight – well, you should be. That's because your skin is at its worst during travel and can do real damage to your skin. Luckily, we got some really good advice from Dr. Y. Claire Chang, a board-certified cosmetic dermatologist at Union Square Dermatology in NYC. She advised us what to do before, during and after a flight so that your skin stays untouched during the holiday hustle and bustle. Here's what you need to know.
1 Before you take off …
Your skin is about to battle the elements – and it's going to get rough.
Yes, your skin will be parched. According to the World Health Organization, humidity in planes is less than 20% less than humidity land. This means the low moisture in your skin will lead to it dry, or worse, flaking.
"The low humidity can also affect your mucous membranes, which can lead to chapped lips, nosebleeds and dry eyes," , Dr. Chang tells Very Good Light. To combat this, she says prevention is key.
Cleanse they skin. First and foremost, Dr. Chang says cleansing the skin is the most important steps. Any makeup can clog pores, she says. If you need to ensure your skin is squeaky clean, take a makeup wipe with you, she says.
VGL recommends: A wipe we LOVE is one from CeraVe. It has zero fragrance and is super gentle but powerful at cleansing your skin. BUY HERE
, $7.97
Sun of a gun. Possibly the most important step that most people skip, Dr. Chang says, is foregoing sunscreen. "At high altitudes, the UV exposure is much stronger than on the Earth's surface," she explains. "If flying during the daytime with the windows open, I strongly recommend using sunscreen – yes, even inside the plane! – to prevent UV-related skin damage."
VGL recommends: We're into French drugstore brand, La-Roche Posay's Anthelios 60 Clear Skin Dry Touch Sunscreen SPF 60. It's milky, soaks into your skin well without that annoying grey cast. BUY HERE
, $35.99
2 While mid-air …
Hydration queen. After cleansing, hydrate like your pores have never felt hydration before. As per mentioned, the cabin is not only dry, but will pull moisture from your skin until it severely dehydrates this. To combat this,
"I will use a hydrating face sheet mask for the skin to soak up extra moisture," she says. "I recommend using a sheet mask with antioxidants to calm the skin prior to the flight as well."
VGL recommends: Neutrogena's Hydro Boost Water Gel plumps up your skin and improves your skin barrier. It's super affordable as well, which we're all for. BUY HERE
,$16
Sheet happens. If you're a little insecure to use a sheet mask in-air, Dr. Chang says you can use both a thick moisturizer and a spray mist for that extra hydration boost. If you're looking for a moisturizer that will do a good job, Dr. Chang says to find one with ceramides and hyaluronic acid. The former replenishes natural lipids lost from harsh environmental factors. It restores moisture as well as reinforces the skin's natural barrier. The latter is a naturally-occurring substance in your skin that holds onto 1000x of its weight in moisture. Basically, it works overtime and does the most in enhancing your skin with lots of hydration.
VGL recommends: A hyaluronic product we are seriously impressed with is Hanskin's own. It sinks into your skin immediately and completely drenches it. BUY HERE
, $20
High altitude breakouts. Your skin is also stressed out AF. Whether it's from an early morning, getting onto your actual flight, or the environmental pressures, your skin will freak out. "Stress is known to increase stress hormones, like cortisol, which increases inflammation in the skin," Dr. Chang says. "The combination of poor air quality and stress from traveling can worsen inflammatory skin conditions, like acne, eczema, and psoriasis."
Good anti-inflammatory ingredients include niacinamide (aka vitamin B3), which increases hydration, skin texture and makes it less irritable, green tea, or non-comedogenic moisturizers.
VGL recommends: What we're loving is Youth To The People's own Adaptogen Deep Moisture cream, made from Ashwagandha, a powerful healing herb, and Reishi, a mushroom that helps establish homeostasis in the body. It'll level out your body's cortisol levels and is really soothing, especially if your skin is freaking out. BUY HERE, $58
Skip the chips. Puffy eyes? Swollen face? If you're in-air, your chances of being bloated increases. Dr. Chang suggests you completely skip salty snacks altogether. "Long hours of sitting as well as the salty food and alcohol  on can lead to water retention," she says. "This can make your face swollen and puffy after the flight! Skip the chips and walk around to prevent puffy eyes and swollen feet."
3 After you land …
Treat yo'self. You made it. You've been through a war. Now it's time to rest and reward your skin. The easiest way is to sheet mask but to enhance that experience, you can use a jade roller. A jade roller will allow your skin to easily soak in the mask's essence while helping to drain the lymph nodes. Simply go under your eyes and roll up towards your ears and down.
VGL recommends: Tao Radiance's own rose quartz or jade rollers are perfect for de-puffing and comes in a chic, plush package. BUY HERE
, $38
Se-rum pum pum pum. Dr. Chang recommends calming the skin with antioxidant-rich serums to fight free radicals and inflammation. "It deserves a reward," she says. We couldn't agree any more.
VGL recommends: Paula's Choice Moisture Renewal Oil Booster, a product that relieves dry skin, has plant oils and is renews with its ceramides. Basically, it's the perfect formula for allowing your skin to heal. BUY HERE
,$36
Very Good Light will occasionally use affiliate links, which do not interfere with our editorial judgment.