"I'm not fearful, I wasn't ever, try me," says Queer Eye for the Straight Guy's resident grooming expert, Jonathan Van Ness. We're talking about the series reboot on Netflix, one that's become a must-watch for its miraculous makeovers that take oblivious men from oblivious to, well, fabulous. The entire series switched up its location from New York City to Georgia, a location that isn't known for its liberal ideals.
Not that that stopped Jonathan's sassiness. "I wasn't every afraid to shoot the show down there. I'm gay. I will out weird you. I wish you would!"
It's apparent that Jonathan, who's a hairstylist, has become Queer Eye's breakout star for his ebullient personality and his clever, one-lined zingers. But it's also his humanity that allows viewers to becoming emotionally invested in each of the episode's subjects. In episode one, we see Jonathan touchingly boost recent divorcee named Tom's confidence. He calls himself "ugly." Jonathan quickly lets him know that that is the ugliest thing about him, reassuring him later that he'd totally date him. In another scene, he explains how his shampoo is dehydrating his hair. "But it says hydrating," Tom quips. "She's a liar," Jonathan says back, in gay speak.
[aesop_image imgwidth="80%" img="/content/images/wp-content/uploads/2018/02/inw9qXy.png" align="center" lightbox="on" captionposition="left" revealfx="off" overlay_revealfx="off"]
These subtle moments are completely powerful. Not because it's two humans making what's seemingly a real connection. Rather, it's the normalization of gay men befriending straight, with these guys feeling comfortable with each other. It's something that Jonathan says is progress since the first show in 2003.
"Back then, being open about your sexuality was in its infancy," he tells us. "It was 'I love you but I don't agree with your lifestyle.' Today, LGBTQ people have found that they can't be put into a box. We are being ourselves and it's not about tolerating us. It's now about accepting us as we are. We're able to go deeper this time around."
Of course, that journey to self-acceptance wasn't an easy road for Jonathan either. The now successful hairstylist who resides in Los Angeles says that growing up in a small town in Missouri was far from easy. Junior high and high school, he says, was a period where he was viciously bullied. "I was the very flamboyant kid and that was not the norm," he tells us.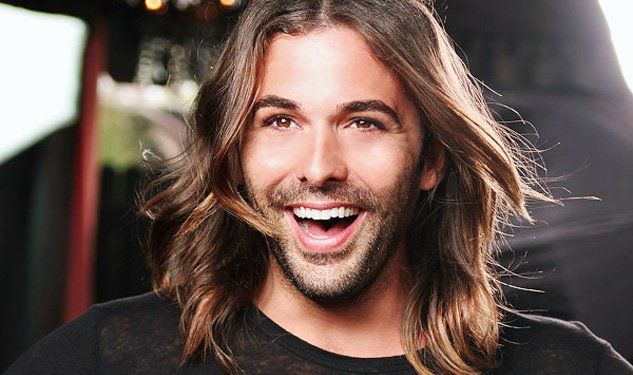 "Faggot!" they tell him as he's walk down the street. The bullying got so bad that when Matthew Shepard, a gay teenager was killed in 1998, Jonathan was warned not to come to school. "I hope you get the same fate," said messages sent his way.
To cope, Jonathan said he stuck close to the few friends he had and found humor in his situation. "I joked I was the most popular kid in school. It's important you don't take anything personally. How I got through it all? Good friends and Pop Tarts … a lot of pop tarts," he says, laughing.
When it got really bad, his mother told him something she'd heard from a televangelist named Joyce Meyer. "Listen to your instincts and don't trust your feelings," she said. "I mean, not to quote her but it's really true. We all have that voice that assumes the worst and it's really important not to trust it and hold you back."
After moving on to college and attending a university for three years, he dropped out to pursue hair. And after years or working for other salons, he decided to open his own in Abbot Kinney in Los Angeles. It's where he started his series, Gay of Thrones, one that made him into a cult gay celebrity. But it's not to say his success came quickly or easily.
"You can't give up," he says of success. "None of this happened overnight. Gay of Thrones was a random success but I can't tell you how many times I've worked on ideas or got to the preliminary stage to be a host somewhere. I've literally had people tell me I don't have enough followers or I'm too gay. The point is, nothing comes easily but you have to keep going on."
Which must taste sweeter than a Pop Tart now that he's found it.
The other day when he walked into a Starbucks in sweats and a disheveled top knot, he was welcomed with a surprise.
"Literally the Starbucks lady pouring my coffee stopped and slow clapped at my arrival," Jonathan says. "I was kind of janky and red faced and a mess but then everyone started slow clapping. That's exciting. That's special. That's kind of really cool."
Jonathan's Must Have products for winter:
"I'm super into right now traveling Intelligent Nutrients eye serum. It seeps into your skin and smooths it out while brightening. But I wouldn't put makeup over it. Dr. Dennis Gross under eye with Hyaluronic acid is also amazing because it's super hydrating. I also always use Cover FX's concealer and that's been doing wonders. For my hair, I'm using Ouai and also Hair Story's cleansing conditioner."