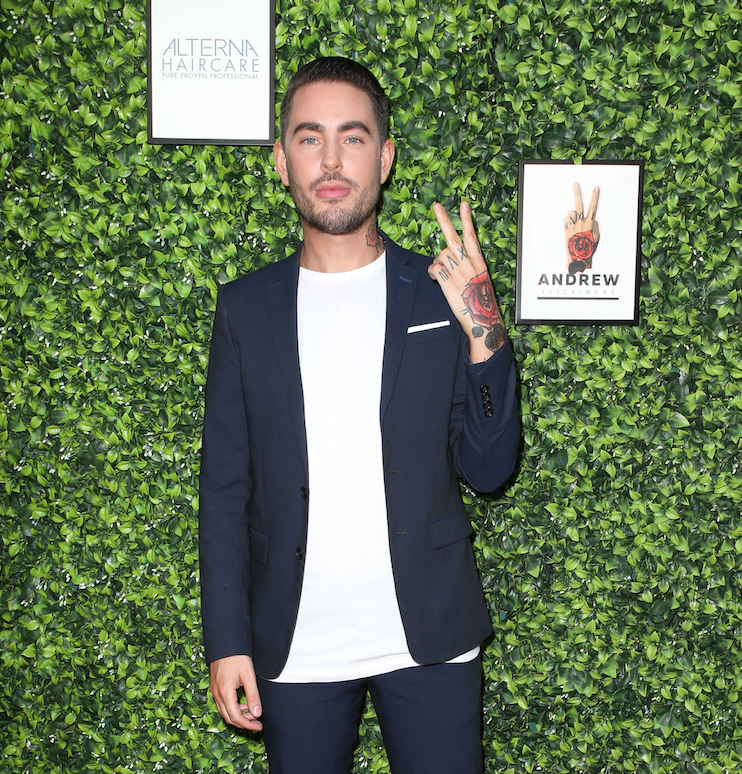 After years of hairstyling for the likes of Kourtney Kardashian, Kendall Jenner, Shay Mitchell, along with an impressive roster of other Hollywood talents, Andrew Fitzsimons realized there was a huge problem.
As a celebrity hairstylist and now an ambassador to the hair care brand, Alterna, he was being sent boxes upon boxes of products that were going to waste.
"We never know what to do with the products we get on a daily basis," he tells Very Good Light at Los Angeles' LGBT Center. "There are boxes that aren't going anywhere."
Wanting to give back to the community while solving this problem, he put two and two together and decided that he'd start an active service for transgender and non-binary communities. "It's bringing the beauty industry together to make a physical act and starting a conversation and a beautiful community that is so dear to my heart," he tells us. "The beauty industry is an industry of artists. I knew speaking to my community I would be able to highlight communities other than me. When you know better you do better. The more you learn about your fellow man the more you can help."
He's now teaming up with the Trans Economic Empowerment Program (TEEP) as well as the LA LGBT Center, asking his friends, clients and the industry as a whole, to provide beauty products for transgender or non-conforming people in need. "It's about empowering through beauty and allowing us to empathize with a community that really needs support, especially in a political climate like ours," he says.
Andrew says his empathy for people goes back to when he was growing up "super gay" in the suburbs of Ireland. "Any outsider will know how it feels to be left on the sidelines," he says of his youth and not fully being able to fit in. "You grow up and realize no one has it altogether." After working at a salon early on and gaining experience, Andrew moved to Paris, where he worked mostly on fashion shoots.It wasn't after moving to New York that he got his first opportunity to work with a celebrity. A chance encounter got him his first gig with Adele. "I'm from Ireland, she's from England and we got off really, really well. It kickstarted my career into the world of celebrity and who better to start off with?" he says.Years in the industry eventually led him to working with the Kardashians and solidifying himself in Hollywood. "They're the most professional, sweet and kind people, always on time," he says of the sisters. "And they're also supportive. I feel lucky because I get to work with really, really incredibly sweet people and have a platform where I can do something like this."For those who are struggling with fitting in or their own identity, Andrew has a few words of advice: "
"My childhood wasn't straightforward and most people didn't understand who I was and what I wanted to do. In adulthood, it really does get better. There are people out there who love you and your life is important. All you have to do is get through it and you'll find your people. We are hear waiting for you. You're beautiful!"To support his cause, head over here to find ways to contribute.