A few weeks ago while scrolling through Twitter, I noticed a beautiful man's photo becoming viral before my eyes.
There he was, sporting a pink sweater, a red flower tucked behind his ear, in a photo that was getting hundreds of RTs and Favorites in mere minutes.
It was none other than of Clyde Drayton, a rising college freshman whose photo had him smiling serenely in front of beautiful flowers. While the photo itself was striking, the caption made it a powerful statement: "Y'all still hyper-masculine in 2017?" The tweet quickly accumulated likes as well as a follow-up tweet: "Imagine being so homophobic you don't appreciate flowers."
Clyde makes it clear in his tweets that he is straight, yet won't let traditional masculinity define him. He also makes a point to dismiss homophobia, and that he stands for freedom on expression. A scroll through his Twitter reveals he is also passionate about social justice, especially when it comes to the black community.
Very Good Light caught up with Clyde for a quick Q&A and talked manhood, vulnerability in the black community and why inclusivity matters.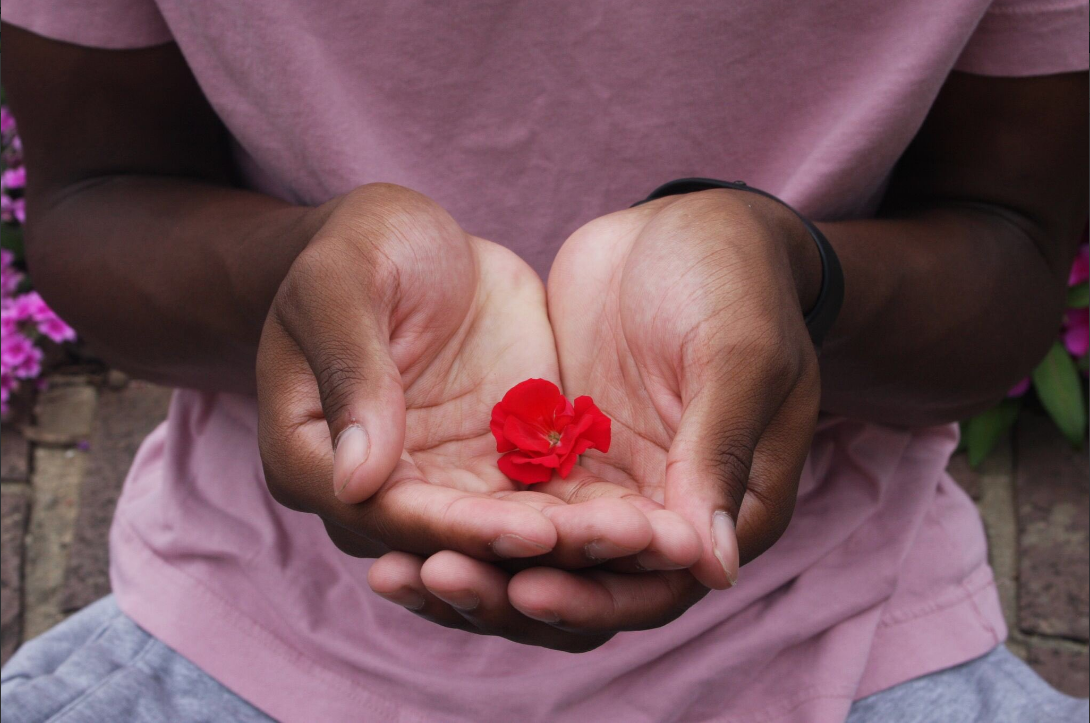 What is the story behind the tweet?
My best friend (@yungidealist) is a year younger than me. I'm going away to college, and she decided that she wanted to have a photo shoot with all those that are closest to her.
She told me how she envisions me is such a physically strong male, but still vulnerable and able to be himself, so that's why my veins were popping, and my chin was strong, but she had me with flowers, and I was wearing a pink shirt. It was all about me defining my own masculinity right there, and and that's how she sees me as well.
What does masculinity mean to you?
I think that it doesn't have much of a definition, it's been so definite since time has began. I'm an African American male and in the African American community, you have to be as tough as possible. Like if I'm hanging out with my friends and somebody's in love it's like "oh man, I can't believe you're catching feelings" and all that, so I think it holds us back and it's a bit of a barrier for guys being themselves.
Why do you feel it is important to be vulnerable and to fight toxic masculinity?
I really want to take a stand against hyper-masculinity because I'm a pretty emotional person, and emotions are what makes us human. To be so hyper-masculine and to throw away all your emotions is to throw away your humanity a little bit.
You mention fighting homophobia in your tweet as well, why is it so critical for you to be an ally?
Even though I'm a straight male, I just want to make people happy, honestly. I want to unite the world in as many ways as possible. And for me, the first step is to unite the African American community, and to unite the African American community, you have to unite everyone. So that's accepting all the males, all the women, all the homosexual African Americans, transgender people, it means accepting everyone. And once we get to that point we can expand to unite the rest of the world. But to unite the African Americans we have to come together as one, because we can't be separated if we want change.
And what was the feedback?
It was very positive. I didn't get a lot of reactions from my local friends, but I was getting notifications from people all the way in Oregon, or the UK, and it was positive from people of all races, and it happened to be like all women though. And they were really positive saying things like "you go boy!"