Let's get ready for the day with our favorite guys who give good face. It's our series called #GRWM ("Get Ready With Me"), where we wake up with our friends and uncover their hidden grooming secrets, documenting every step of the way.
Ian Michael Crumm, fashion influencer, @ianmcrumm
"I do a dance while waiting for this to set!" So says Ian Michael Crumm, the fashion influencer based in Philadelphia. We're getting ready at AKA University City in Philly with Ian, who's fanning his face while waiting for his aftershave to dry. His hips playfully swaying side to side, he sticks his tongue out in the mirror.
You may not know it, but the soft spoken 24-year old, who touts over 300,000 Instagram follows, is a Who's Who in Pennsylvania. Immediately after hanging out with him for a day, we noticed just how beloved he was by the city. Wherever we went, there were at least a handful of people who came to greet him or say hello as if he was the Prince of Philly himself.
And he's always ready to bump into someone, which is one reason he takes care of his skin. "Rather than wake up to your phone, why not take some time for yourself?" He says to us. Rain or shine, Ian makes sure he goes through his 13-step beauty process, which includes shaving, moisturizing, using concealer and a brow brush (among many others). We got ready with him for the day and to see how he gets Instagram ready.
1 Cleanse
"The first thing I do is meditate in the morning and get off of technology. I love being able to pamper myself and so I look forward to giving my skin some love. I'll usually take a very, very hot shower. It's intensely hot, actually. I normally let the water wash over my face and head and have a zen moment.
I've been using this Clinique face wash with charcoal for a long time. It gets all of the impurities out and makes me feel really fresh in the morning. I'll then use this pre-shave oil from Gryffin to help prep the skin. It softens it and preps it for shaving. It's lemony and I love that it gives me a jolt of fresh energy. I found out about it from the Rittenhouse Spa in Philly. I got a hot shave treatment and a razor shave with a head massage – it was orgasmic.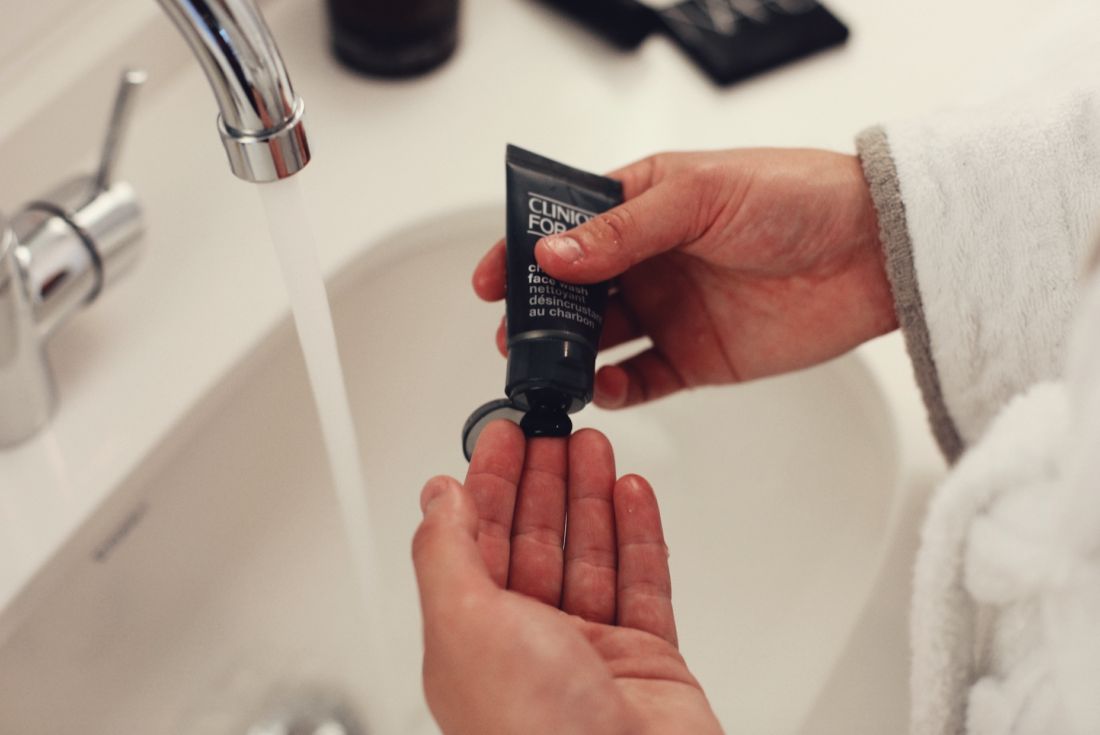 2 Shave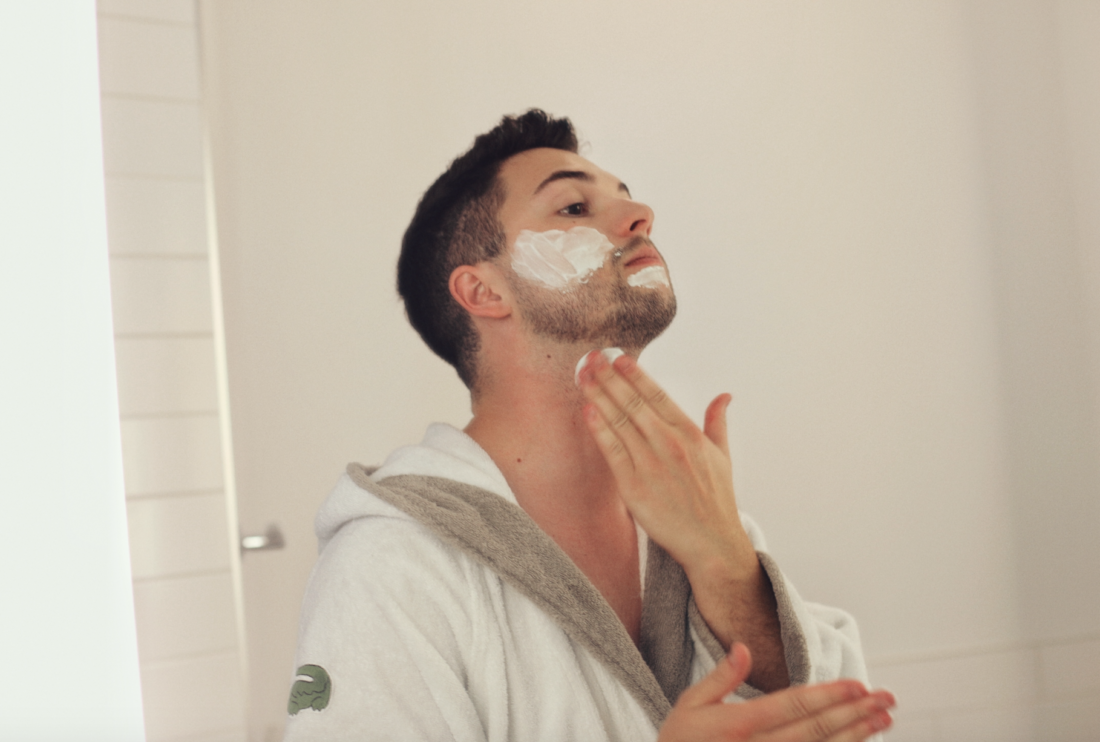 "Then, I apply a small amount of shaving cream from Clinique. It's the aloe shave gel and has this cooling effect. I apply to top of my checks and on cheeks, chin and neck and leave it for 30 seconds.
I'll then use a Gillette power razor. I've been using this for years and it's my go-to electric razor. My skin is sensitive so I try to take my time on my neck. It's easy to get razor burn and stubble with a razor so using this one prevents me getting more than I would with a straight razor. I don't shave every day I shave every three days. I tried growing out a longer and fuller beard recently but realized it just wasn't me. The very groomed facial hair has become my signature."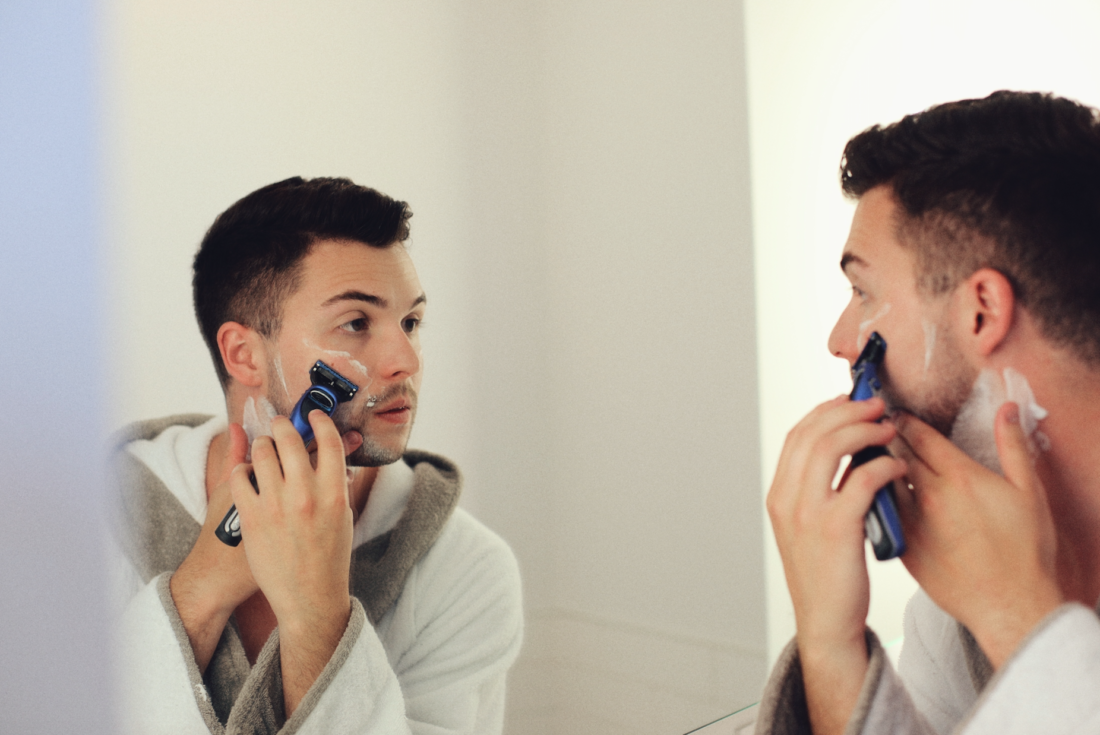 3 Post-shave treatment
"After shaving, I splash my face with hot water. I use the roller from PFB Vanish. I use it to help aid from razor burn. It's also brightening so relieves some dark spots. It tingles a little when you use it and it calms my skin. I walk around and let it dry and soak in. It will let ingrown hairs free, while preventing infections."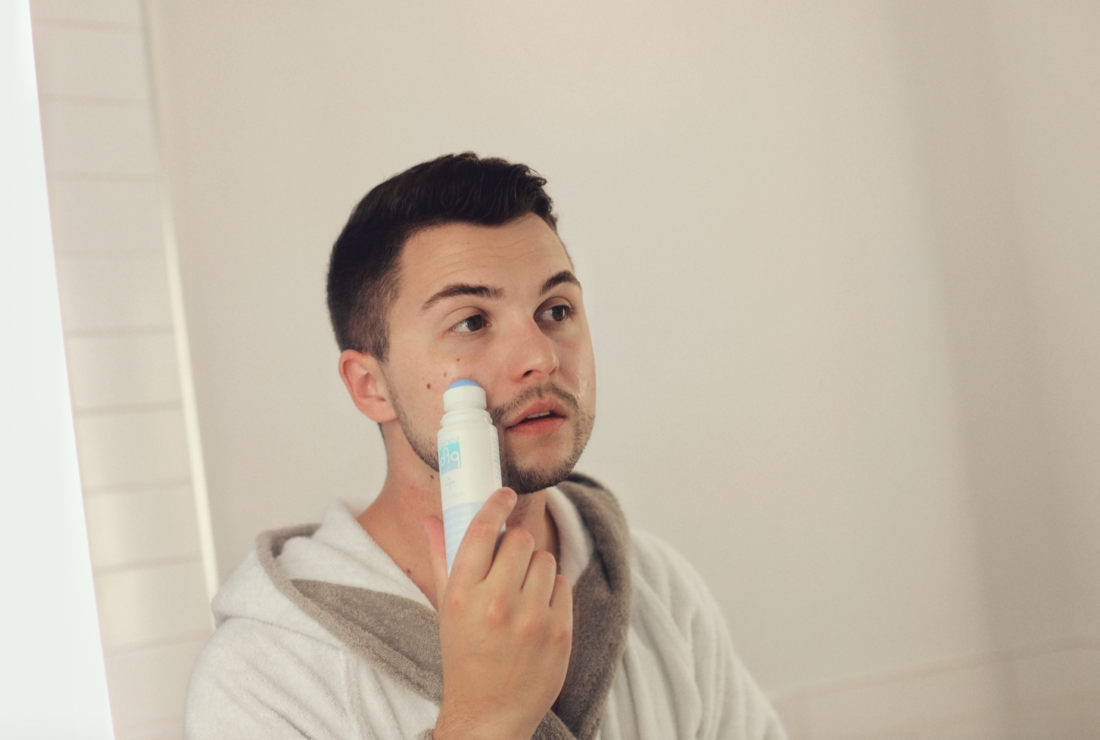 4 Moisturize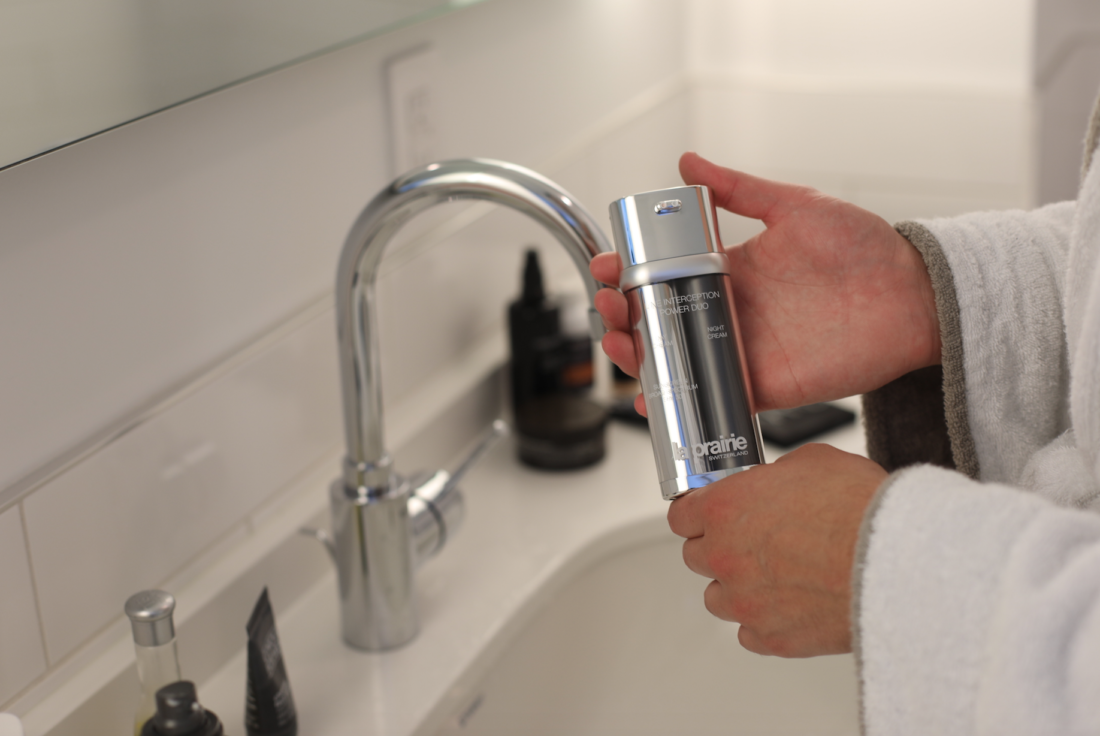 "Lately, I've been using the La Prairie dual. On one side it has an SPF built in and the other side has a night cream. How genius is that? It's a great travel product and so convenient, you can put it in your gym bag. At night, I put on more but in the daytime I'll put a little on the fine lines. At night, I'll apply all over.
I've been using it very consistently for a few years. When I was 16-years old, I became really interested in skincare. In fact, I wanted to become a dermatologist in high school so I was obsessed with skin. Now I use sunscreen every day. I was adamant with not being in the sun because I knew of the sun damage. From a young age it caught on and preserving your skin and feeling great. It's something that I take very seriously – sun damage is so real!"
5 Concealer
I'll use the Smashbox camera ready BB cream. It's a really light formula and it's a few tones lighter than my skin, so it brightens my eyes. But it is a lighter formula so it's better on the cheeks and eye. It's great for if I have a teeny red bumps and it evens out the skin.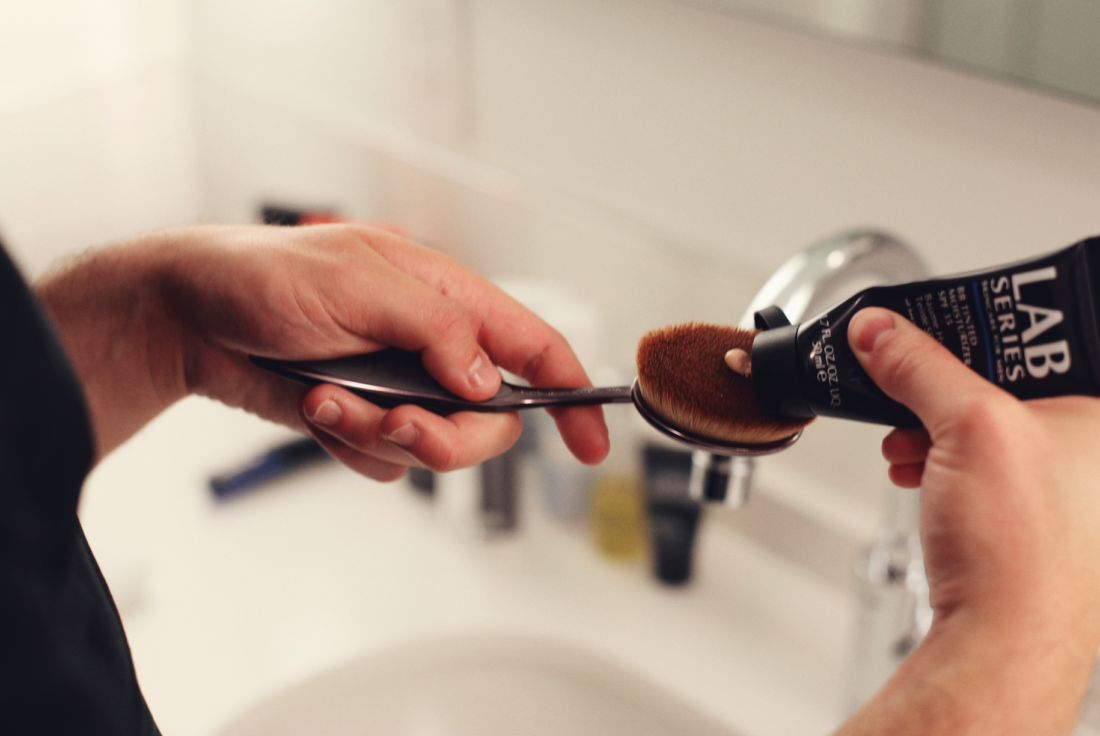 6 Artis brush
To apply the cream, I use an Artis brush and put my Lab Series BB cream on to smooth it out. I'll then blend all that out. I tried a few BB creams but I like this one because it feels creamy and every time I use it I get compliments that I'm glowing. The Artis brush has been a game changer. I can't imagine putting makeup or anything else on with my fingers. It's so soft and I feel like I'm massaging my face every morning. I'll then use a NARS bronzer for my face to give me just a little bit of that sunkissed look."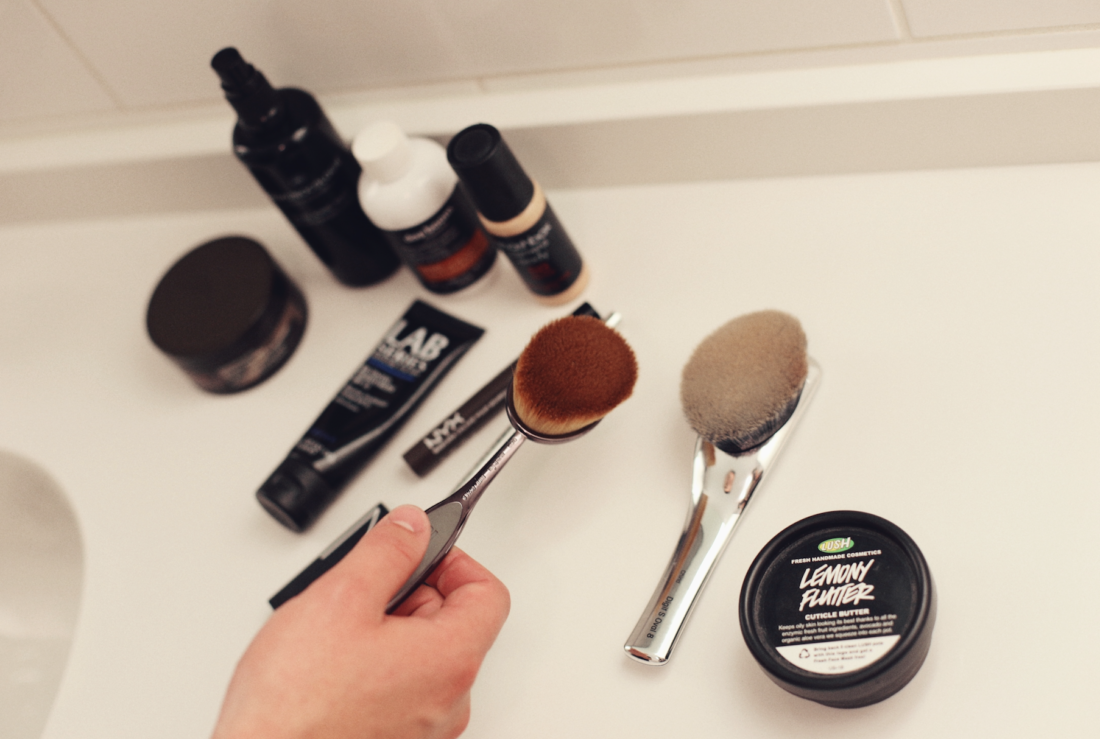 7 Concealer stick
"If there's any red bumps from shaving or any uneven tones, I'll go over it with this concealer stick from Evolution Man. It has salicylic acid in it so it also treats bumps or any blemish as well. I'll do this and then blend in later."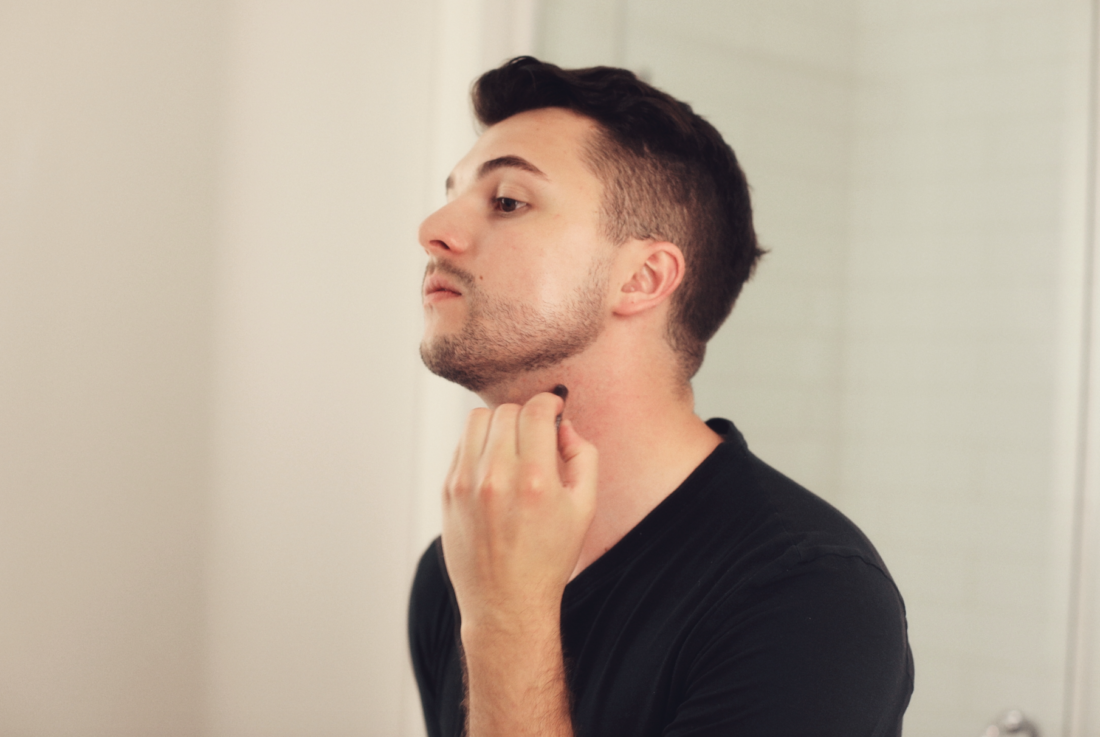 8 Nude eyeliner
"I use this Marc Jacobs wide eyes white waterline pencil that's been a game changer. That's a newer product I just started using. For my Philadelphia Magazine story where they shot me, the makeup artist used it made me instantly look alive. I like to use it to look very present and to have bright, wide eyes. I use it on the tear duct and a third of the way in the eye. It adds a pop of brightness. If you stop where your pupil starts it looks best."
9 Brows
"If I'm in a mega hurry and need to get out the door and get somewhere quick I still have to use NYX's eyebrow mascara. I love that this product makes my brows instantly change my face. I naturally have nice eyebrows but I like to build the in. This wonder product shapes them and darkens them. It makes a huge difference. I love the applicator because it has a good point in it I start in the inside I fill in and dab. In the parts of my eyebrows that have less hair I'll do light little strokes to fill it in. Then, I start blending it and brush up. Voila! I'm now done with my face and it's off to hair. But that's another story."