Welcome to Groom Raider, a series where we, well, raid the grooming closets of the people we admire to see what products they use. While we browse through their moisturizers, creams, fragrances and more, we get a glimpse into their past lives and the stories behind how they came to be. This week we meet with Ayler Young, the co-owner of the barbershop, Frank's Chop Shop Los Angeles and designer of his own eponymous bomber jacket brand.
A walk inside Frank's Chop Shop, the barbershop located in NYC's Lower East Side, you feel as if you're definitely inside the epicenter of cool.
There's nothing especially remarkable about the barbershop's unassuming decor, its black and white tiled floors scuffed, its brick walls rustic but standard. But it's immediately known you're inside some place buzzing with swag. A couple of tatted barbers clip their clients in leather chairs. One of them is the DJ, Atrak, whose blonde hair is currently being shorn. Another is a woman in braids who's getting an undercut. It's apparent that it's the clientele and the barbers who've created the mystique around Frank's Chop Shop, now a bonafide destination for a who's who of downtown types and creatives. If you're anyone in New York City, it's the place you go for your trims, fades, undercuts, and shaves.
Behind the store is one of the co-founders, Ayler Young (the other is Michael Malbon), who's come to the shop for his own haircut. Ayler, a serial entrepreneur, recently launched his first fashion brand called Philip Ayler (his legal first name), a line exclusively made of reversible bomber jackets. If the name sounds familiar it's because he's made custom jackets that blew up at last year's Coachella with Guns N' Roses to other celebs rocking his looks. Recently, Gigi Hadid and Axl Rose wore Ayler's designs, deemed the "it" jacket of the season. Sean Penn, Mickey Rourke, among other stars, followed suit.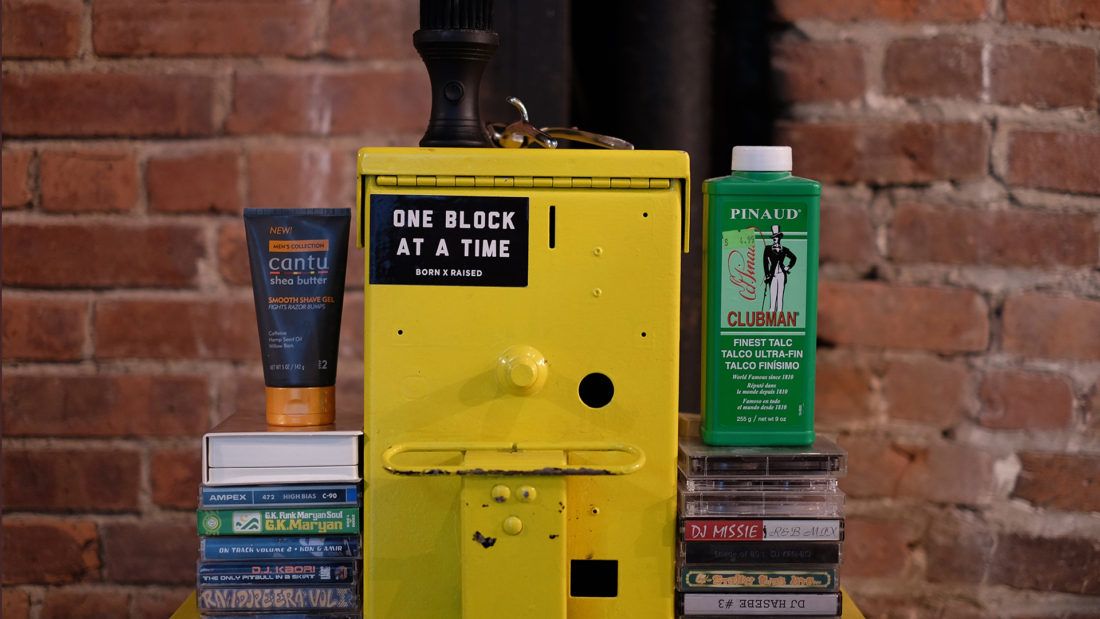 As he'll tell it, getting into design was because of a dream.
"In it, I felt this burgundy jacket and it really was special and life changing," he tells Very Good Light. Moments later, a friend came over his digs in L.A. to drop something off. "It was a burgundy bomber jacket, no joke. It's almost as if I had to put two and two together to realize this was something I had to do."
After dropping off a few designs to a local factory in downtown Los Angeles, he was stopped at a club by a guy who said he wanted the jackets for his band. "I asked him what band it was," he recalls. "The guy replies: Guns N' Roses. That's really when things took off."
Today, his brand, worn by every It girl of the moment from Gigi to Kendall Jenner, is now sold at places from Miami's The Webster, to What Goes Around Comes Around. It's quite a departure, given Ayler's a musician by trade and in the grooming world.
The California-born, Massachusetts-bred designer, started out in music. At 22, he became the music director for the Off-Broadway musical, Cafe a Go Go, production set in South London. The show went through hundreds of performances before it came to a close. Afterwards, Ayler would find himself successfully creating businesses from Tribeca Cinemas, to then partnering with his friend, the founder of the cult magazine, Frank151 to create Frank's Chop Shop.
The idea for the business was spurred when both couldn't find a space for their clients to come and enjoy themselves. "We had this idea of giving them amazing hair cuts and having them leave looking great and feeling fantastic," he says. "It's a great way to change someone's life in such a short period of time and have them leaving that much more confident."
Today, the brand has expanded to Los Angeles, and is constantly booked. One of the shop's stylists, Hiro, is booked for the next two weeks. For Ayler, success is all about creating a passionate community.
"From the beginning, Mike (Malbon) was about to find the best barbers around," he says. "You can't create a strong business without these loyal guys. They could have all had their own barbershops. It's about the community. It's the great staff and people."
As for his own hair cut? He goes down to a #2 with clippers. "I don't like skin," he says. "I don't like hard lines and I don't necessarily like to look like I had a hair cut when walking outside."
If you're looking for a good barber, here's a few key tips Ayler would give you:
Have a 15 minute consultation. "It's important to be open to your barber. Talk to him or her and get a game plan together."
Know your terms but ask if you don't know. "Scissor cuts. Tapers. Razor fade. Full baldy. There's a lot to know, but don't be afraid to ask if you're unsure of what these are specifically."
A good barber will make you sleepy. "If you make clients so relaxed they want to fall asleep, it says everything about a barber. How they're using your clippers, they're touching them, that's a good gauge if they're dozing off. A good barber will make you very at ease."
To make an appointment at Frank's Chop Shop head here. And to check out Philip Ayler, go here.
Photos by Adj Regidor/Very Good Light