It's finally time for prom, aka, the biggest party of the year.
And that means coming up with the perfect fire outfits to completely slay the dance floor. No pressure. Whether you've been scouring the Web for inspiration for months, or screengrabbing a few Instagram looks in the past few days, it takes a lot of effort to look next level.
For those of you who are bored of the traditional tuxedo and bow tie situation, here are some swaggy looks to try. Note: These are definitely not for those who want to blend in with the crowd. If you're a rebel and want to steal the show without even trying, any of these outfits below will do. To top it off, we came up with a few subtle yet completely ~cool~ makeup options to amplify your look. Just make sure you take a fire extinguisher as an accessory. Someone will surely need to put out your flames. Prom's about to get lit.
Scarf It Up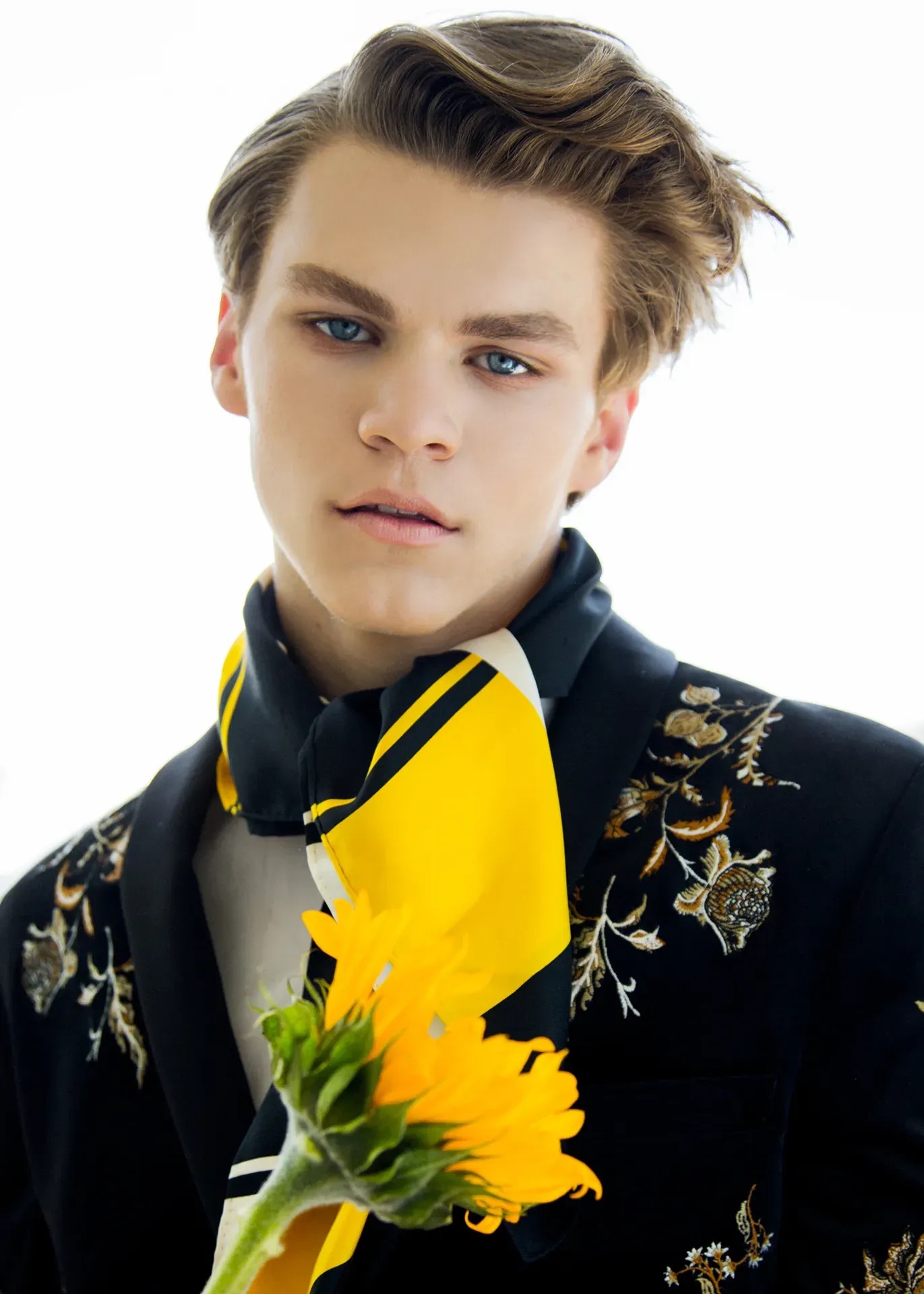 The easiest way to spruce up your look? Keep the tie at home and go for a scarf, like shown here on Giles. It'll add an old school charm that will instantly elevate your outfit. Just make sure to use a brightly colored one to give your overall look an added pop. We used a vintage Yves Saint Laurent silk scarf here, but you can definitely try any you find in your mother's closet or at a thrift store. Tie it around once and loop it through, like you would a bandana.
Since your scarf is the star of the show, try a "no-makeup makeup" look to enhance your outfit. This means having a clean face with a touch of color to your eyes. For the lips, keep them natural, fresh, and moisturized.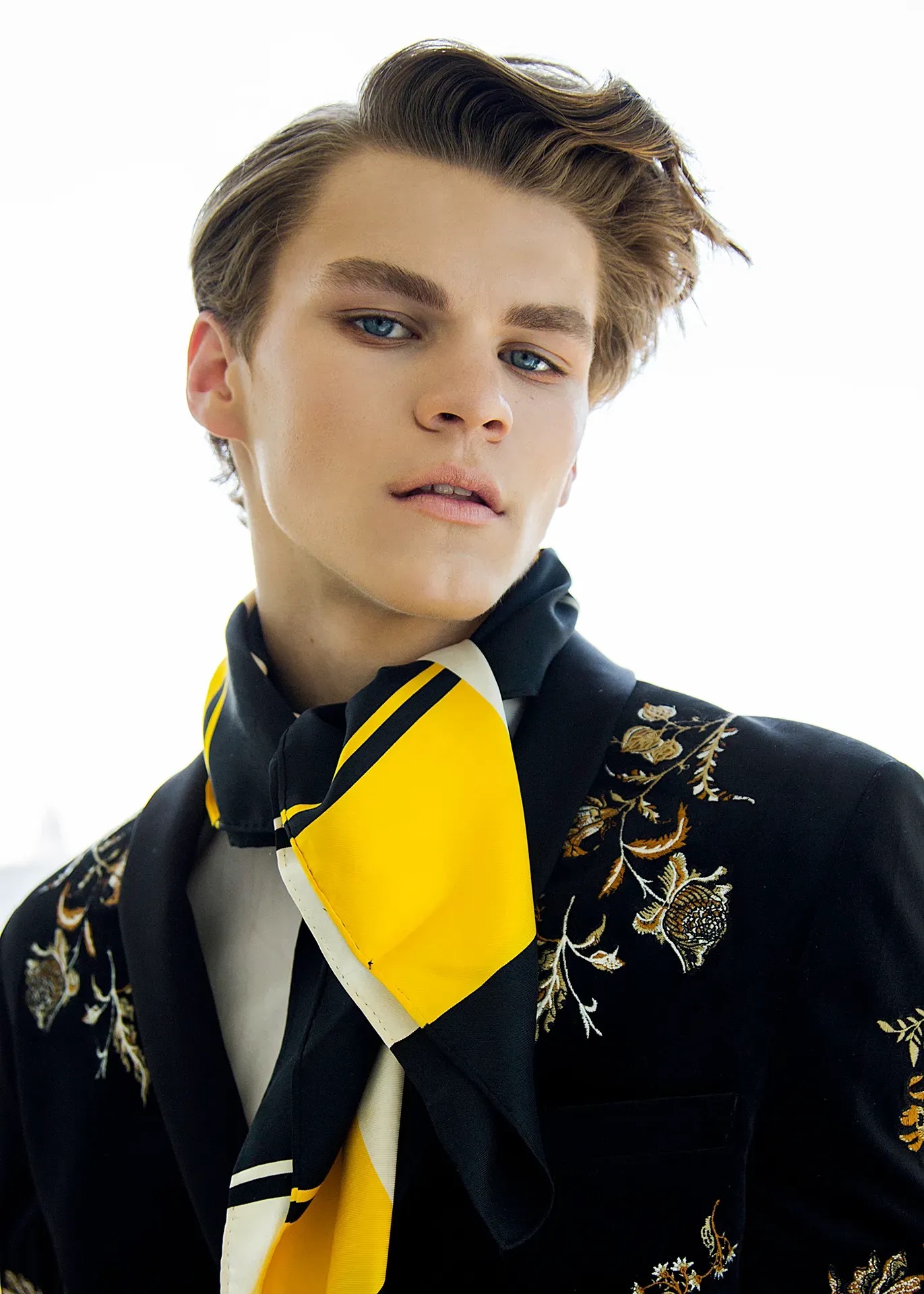 Giles is using:
1 MAC Face and Body
2 Laura Mercier's cream blush stick in Peach Glow
3 Becca's cream highlighter in Moonstone
4 NYX's Vivid Brights Glam Rock cream eyeshadow
5 MAC's Subculture lip liner
6 Fresh's lip balm in Nude
---
Purple Rain
Keep it mixed, high and low. That's what fashion is all abou these days. If you're trying to mix streetwear with a formal look like this outfit on Dylan, try a simple mockneck. That's a fancy name for a shorter version of a turtleneck. Mock necks are sportier and not so serious. To maximize on the mockneck, style it together with a neutral-colored jacket or button-up, underneath. We found a perfect windbreaker from Champion. Finally, put it together with a suit. It is prom after all. We found this awesome emerald suit from Topman. It's a loud color, for sure, but the classic cut makes it completely dapper.
Accessorize this swaggy look with a dash of glitter on the sides of your eyes to add some mystery (and fun!). Give a glitter gaze towards that special someone you're trying to impress across the dance floor. Then, bust out your best Prince moves to the sounds banging from the speakers. The night is yours.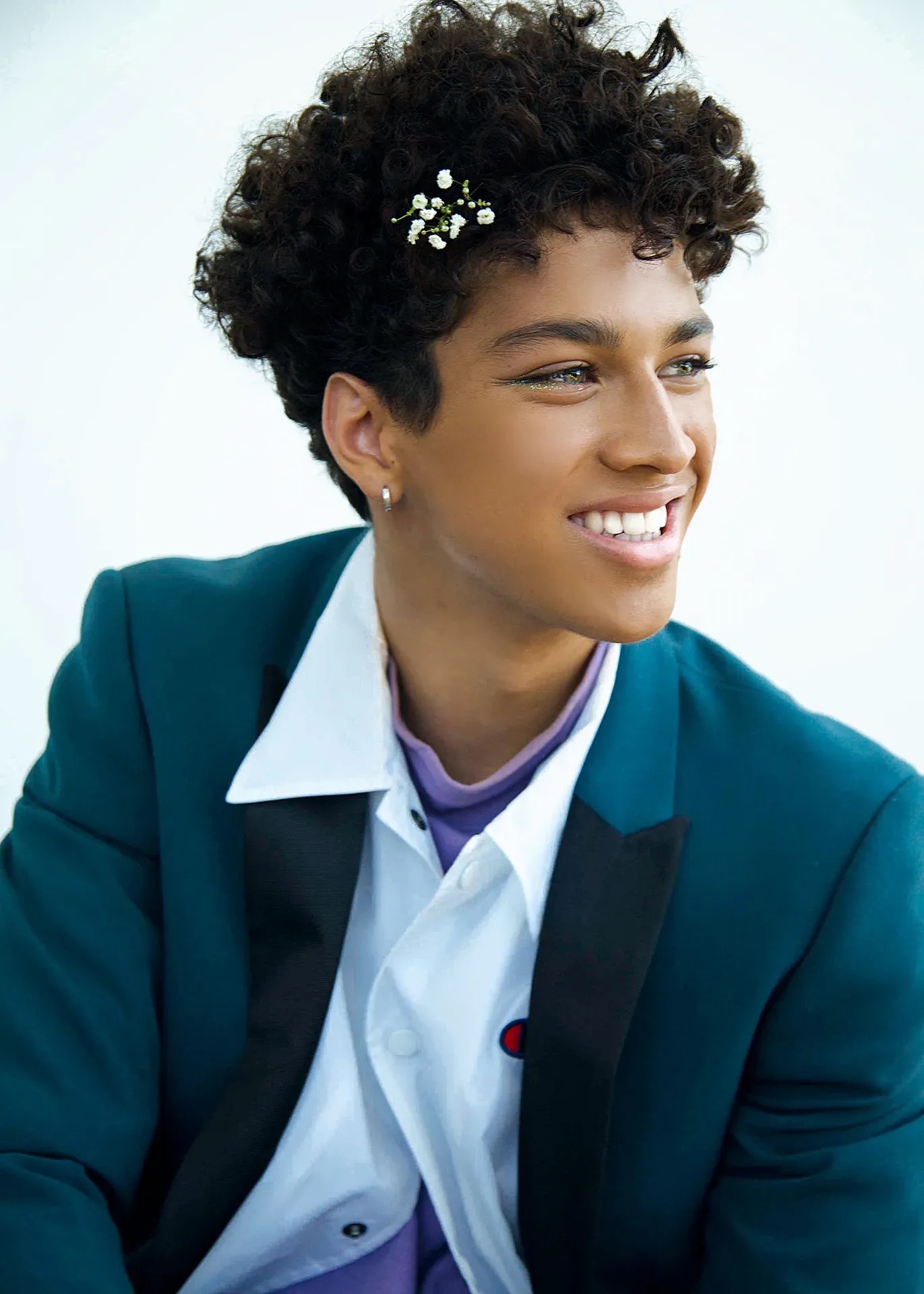 Dylan is using:
1 MAC Face + Body
2 NARS Creamy Concealer
3 LIT Cosmetics' Caviar Dreams loose glitter
4 Becca cream highlighter in Topaz
5 Fresh's Honey lip balm
6 DKDKD
---
Bad Romance
Sometimes you come across a piece of clothing so statement-making, you can't really do anything else but let it shine. That's exactly what happened when we found this lace top with floral embroidery from ASOS. It's romantic, in a gothic sort of way. Corbin here, pulls it off completely with a beautiful, vibrant, blood-red flower behind his ear. The look reminds us of a Game of Thrones Targaryen prince.
To make the entire look more dynamic and even more romantic, we enhanced it with a touch of pink on his cheekbones, eyes and a little on his kissable lips. It's subtle, yet absolutely alluring, mixing sweet and dangerous together. Show your soft and hard side with this look. Every rose, after all, has its thorn.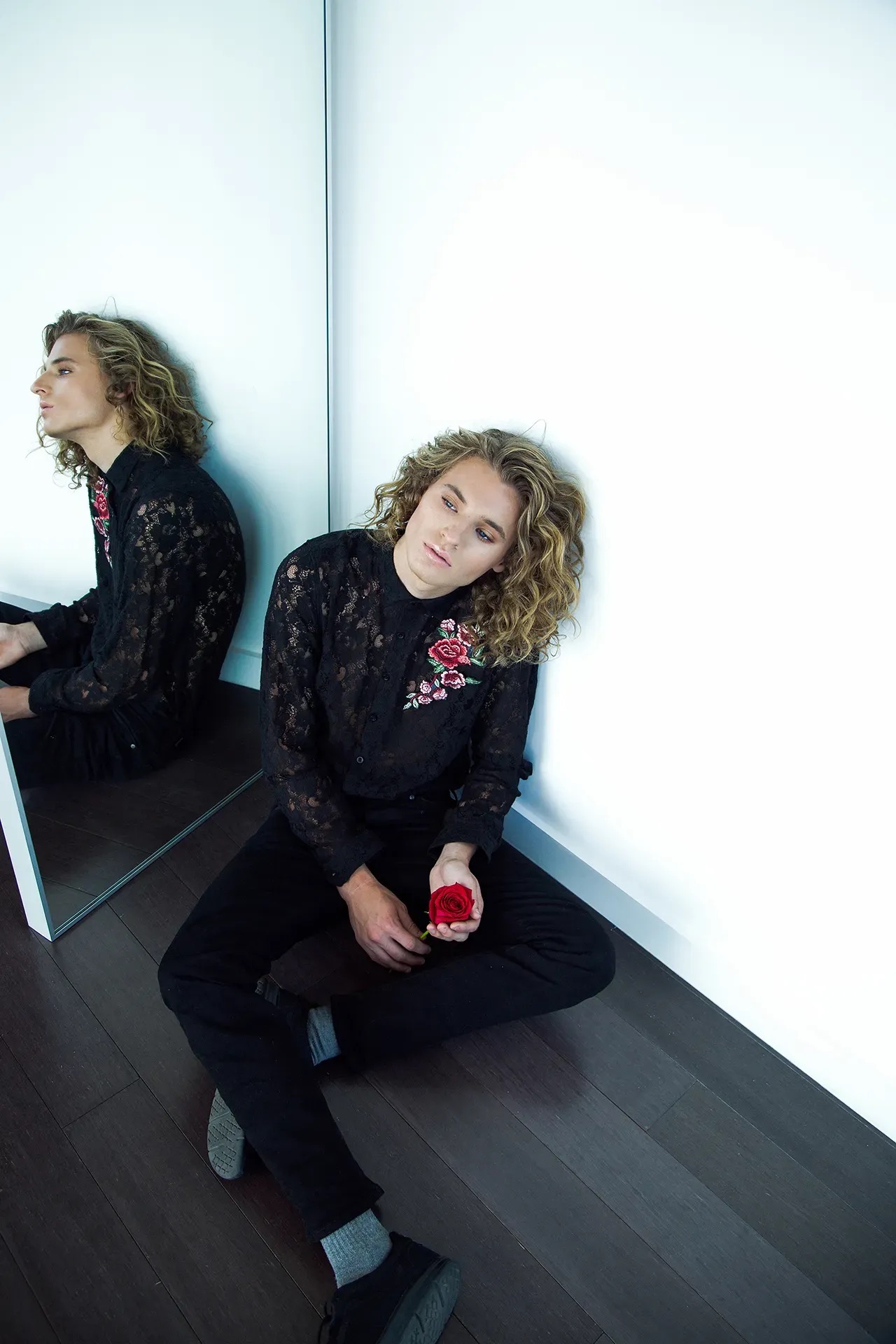 Corbin is using:
1 MAC Face + Body
2 MAC paint pot in Indianwood
3 Urban Decay eyeshadow in Beware
4 Stila convertible lip color in Camelia
5 MAC lip gloss in Love Nectar
---
You See Right Through Me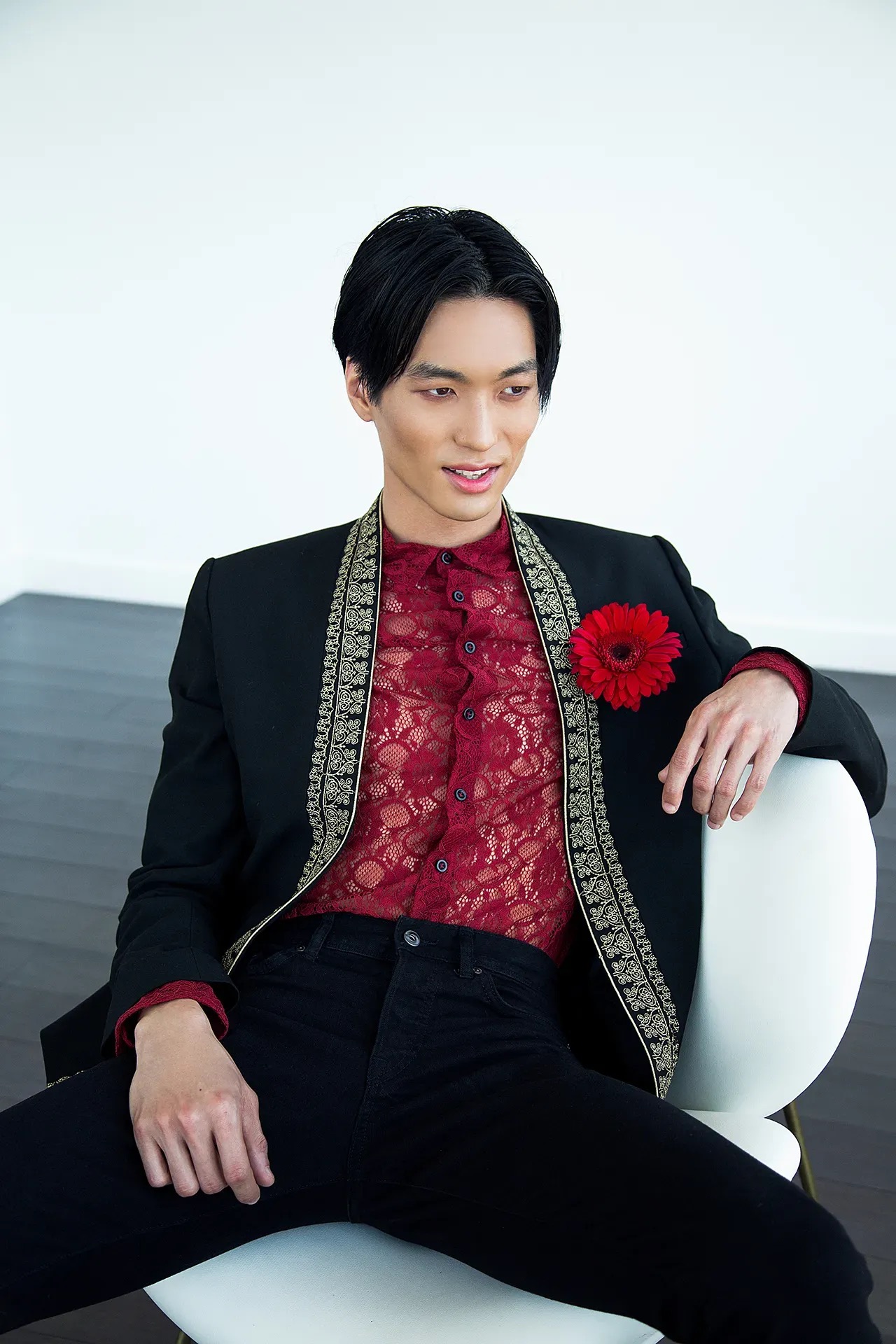 When in doubt, use a flower for anything. Use it as an accessory in your hair, like the guys above, or in place of a pocket square. Se is using his to complement the deep red, sheer button up he's wearing. It brings dimension to the overall look and gives more texture to it. We love that each of the pieces in his top have a lot of detail but isn't too much. A tie, in this case, would clash with everything else going on. When it doubt, keep it simple. To bring everything together, Se used red and orange colors for his deep cheekbones and eyelids. With yellow skin, like most Asians, colors that are warmer bring out the face's rich features.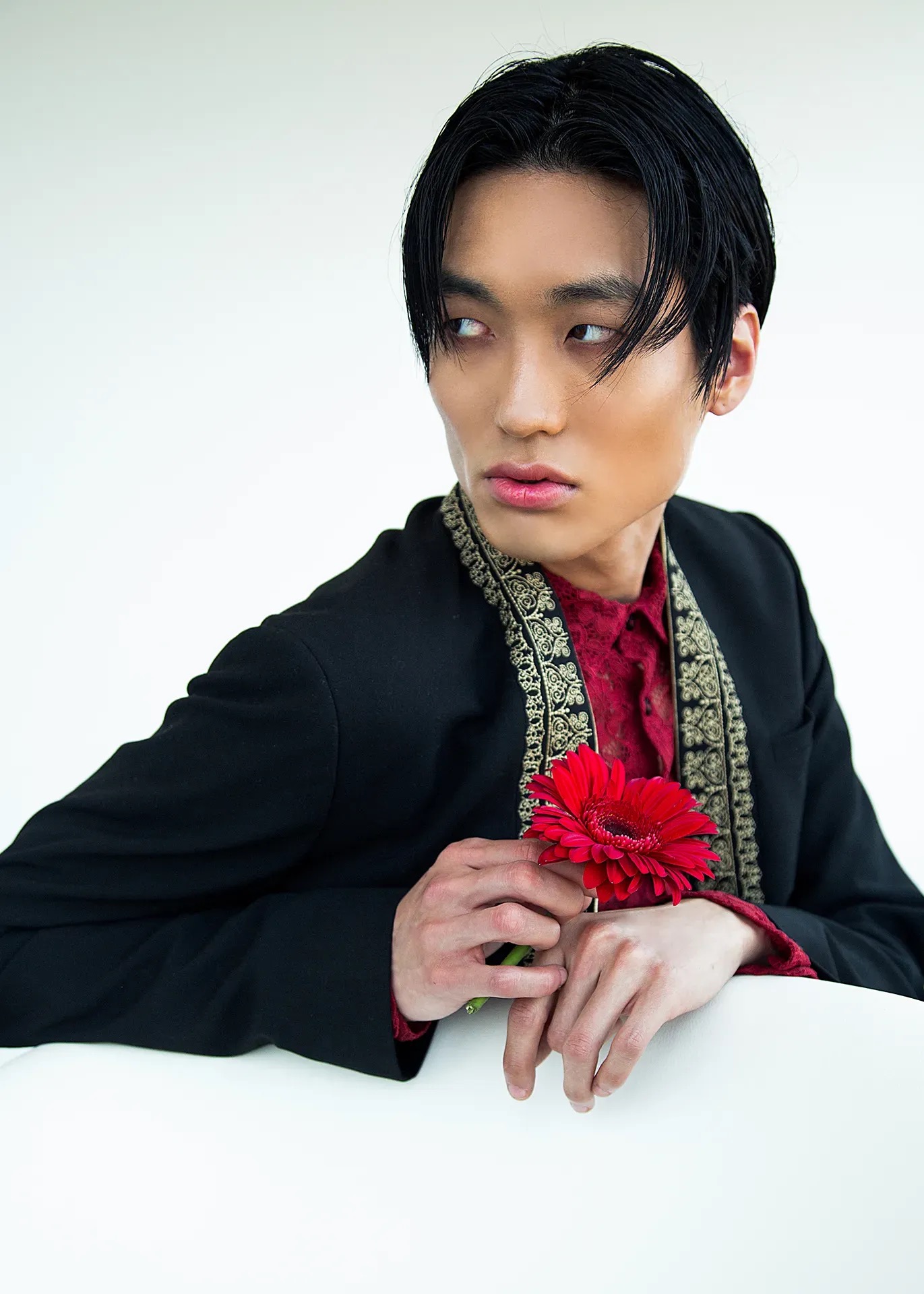 Se is using:
1 MAC Face and Body
2 NARS Creamy Concealer
3 MAC eyeliner in Costa Riche
4 Stila convertible color in Hibiscus Coral
---
Moves Like Jagger
Got some moves like Mick Jagger. Take a rocker chic vibe with this bad ass outfit and get loose. This look on Alejandro is all about not taking your style so seriously, just like the great rockers of yesteryear. We took a button-up and paired it together with a black tie. Notice how it's tied in a nonchalant manner. Nothing's too complicated. We then added it together with striped, fun, easy wide-legged trousers, you know, perfect for getting down on the dance floor. Also, great for ventilation when it gets too hot.
Cool it down with your makeup. We took inspiration from the greatest gender-bending rocker of all time: the late David Bowie. This turquoise makeup will amplify your rocker steeze to the umpteenth degree. So go on, with your bad self. Make the dance floor your stage.
Alejandro is using:
1 MAC Face and Body
2 MAC Pearl highlighter
3 NYX Vivid Brights cream color in Aqua Sapphire"
4 YSL Blue Mascara
---
Silver Bullet
Want to shine like the disco ball hanging from the ceiling? Look no further than this entire ensemble that Harry's wearing. He's completely wearing the s*** out of these sequined party pants. Going along the rocker motif from above, he's owning his rebel attitude by pairing it with an open blouse from ASOS as well as a blazer that brings it all together. If you want to add some extra flair (not that you need it with this outfit!), use silver eyeliner to pump up the volume. It's loud, it's proud, and you'll be the biggest thing that ever happened to your prom with this look.
Harry is using:
1 Anastasia Beverly Hills Brow powder and clear Brow gel
2 MAC Face + Body
3 Kevyn Aucoin Skin Enhancer
4 Stila Convertible Color on cheeks and lips in Lillium
5 Make Up For Ever Flash Color Stick in Silver
6 MAC Haute and Naughty mascara
---