The other day, I was enjoying my lavender ice latte like any good and basic LA person does, trying to blend in, when my friend, Estefania, walked past me.
We were having a reunion of sorts and hadn't seen each other in years. But the one thing I couldn't stop focusing on was how good this girl smelled. As she walked towards the cart where the simple syrup was, her denim jacket placed over her waif shoulders, a waft of leathery, cedarwood mixed with sandalwood slapped my face so hard I was left shook.
Shop Maison Louis Marie No. 4 Boi de Balincourt, $57, HERE!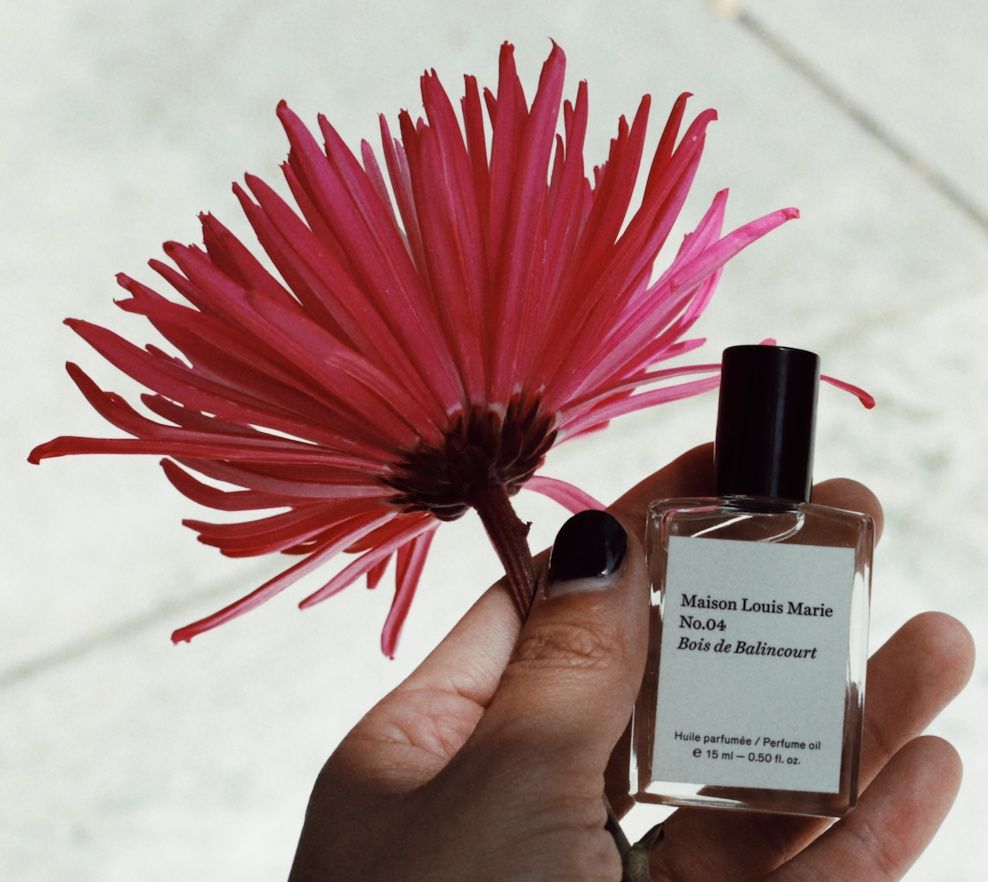 What was that fragrance? Was it, per chance, Le Labo's infamous Santal 33? Nah, she replied. It was none other than a fragrance oil from Maison Louis Marie. This was one Bois de Balincourt in No. 4. I didn't know it was an actual thing until the woman next to us stopped us in mid-conversation to make it known that she, too, used the exact same fragrance.
But what was most interesting is that this attractive fragrance didn't come in a spray, rather, a roll-on oil. Huh. Immediately, I had to do my research. I had to do a Maison Louis Marie perfume oil review. Were oils better than sprays?
We already know my predilection for extremely affordable scents. I mean, I use a $6 one without remorse. That, because I'm lazy and cheap, but also because studies have shown that I really don't produce body odor. The last time I prescribed to an expensive fragrance was when Bond No. 9 sent me their New York Oud, which lasted me a good 4 years. Yes, FOUR YEARS. When I used the last drop, I felt it was too much of an expense to replace. So I completely stopped using fragrances altogether.
That is, until recently, when I hauled my ass to a local store in Eagle Rock to find Maison Louis Marie No. 4. The fragrance comes from Marie du Petit Thouars, a Belgian-born perfumer best known for her candles. Inspired by her family estates outside of Paris, which apparently smelled of the forests after heavy rain, she mixed a few notes including: cedar wood, nutmeg, cinnamon and vetiver, a grassroot essential oil.
The result is something so glorious, so good, and completely intoxicating you'll want to bask in it all your life. For perfume snobs, if you're comparing it with Santal 33, it's much more subtle. While Santal 33 hits you with a punch, No. 4 slaps you silly, and the sting lingers on. Best of all, it's non-gender specific, so you can use it with your girlfriend or boyfriend or keep it all to yourself, which I plan on doing.
The price is pretty forgiving as well. For a small 15 ml bottle, it's $57. I know, it may seem a lot for such a small size, but according to the shop owner who helped me, this can last anywhere from six months to years! If you used it for all four years, that's around 3 cents per use, which I find pretty economical.
But what, exactly, is a roll-on perfume oil? And is it better or worse than a fragrance spray? In my research, I've found that overwhelmingly, people have found oils to be longer lasting. While sprays last for 1-3 hours per use, oils are said to last 6-15 hours per use. Also, fragrance sprays, I've read, are wasteful since it's sprayed into the air, where as perfume oils are used specifically where you place it. Sprays are also usually diluted with alcohol for shelf-life, where as oils are pure. Basically fragrance oils > sprays. Got it.
If you're ever in need of a new fragrance for special occasions, like, say, prom. Based on my Maison Louis Marie perfume oil review, I'd definitely say to go buy this immediately. Don't walk, don't even run, SPRINT.
Shop Maison Louis Marie No. 4 Boi de Balincourt, $57, HERE!
Want to try out a smaller size before committing to the whole bottle? Try the No. 4 Boi de Balincourt Travel Set ($30)!
Shop the Maison Louis Marie No. 4 Boi de Balincourt Travel Set, $30, HERE!
What are your favorite fragrances? Comment below!