Friday Night Light is a new series that commemorates the act of winding down and the personal rituals that help us reset and recharge after we've peeled off our human costumes at the end of the week. For the inaugural edition, we spoke with Simone Oliver (she/her), Refinery29's Global Editor in Chief.
Global Editor in Chief, Professor at Syracuse University @newhouseNYC
"Storyteller by trade, innovator by trait, curator as passion, that bish"
"My week is intense, especially since I started this role during the pandemic, and I've been tasked with evolving a legacy digital brand, rebuilding the trust and inspiration across the team, and defining how Refinery29 shows up in the world.
It's important to put as much effort into decompressing as you do working because you'll be rewarded with your own creativity."
I've been so excited about our recent relaunch of @r29style on Instagram to celebrate personal style, beauty, shopping, identity. We also recently created a new gaming franchise called Good Game, or GG for short. We feature leading women and non-binary gamers through the lens of identity, entrepreneurship, wellbeing, community, self-expression, and personal beauty. These are folx who push the status quo and play to win."
It's 6:00 p.m. What's the first thing you do?
"Finish emails and outstanding hi-pri projects. I work on my laptop until about 6:00. Then I transition to my phone until 6:30. I try to make 6:30 my cut-off. I'm constantly trying to do better at drinking water, so I try to force myself to have a glass of water once I log off because I know a glass of something else is sure to follow."
"Friday evenings are really about giving the kids my full attention and catching up on T.V. I mean fully reclining on the couch and not bugging out when my toddler literally sits on my head while I find something my eight-year-old daughter and I can watch together.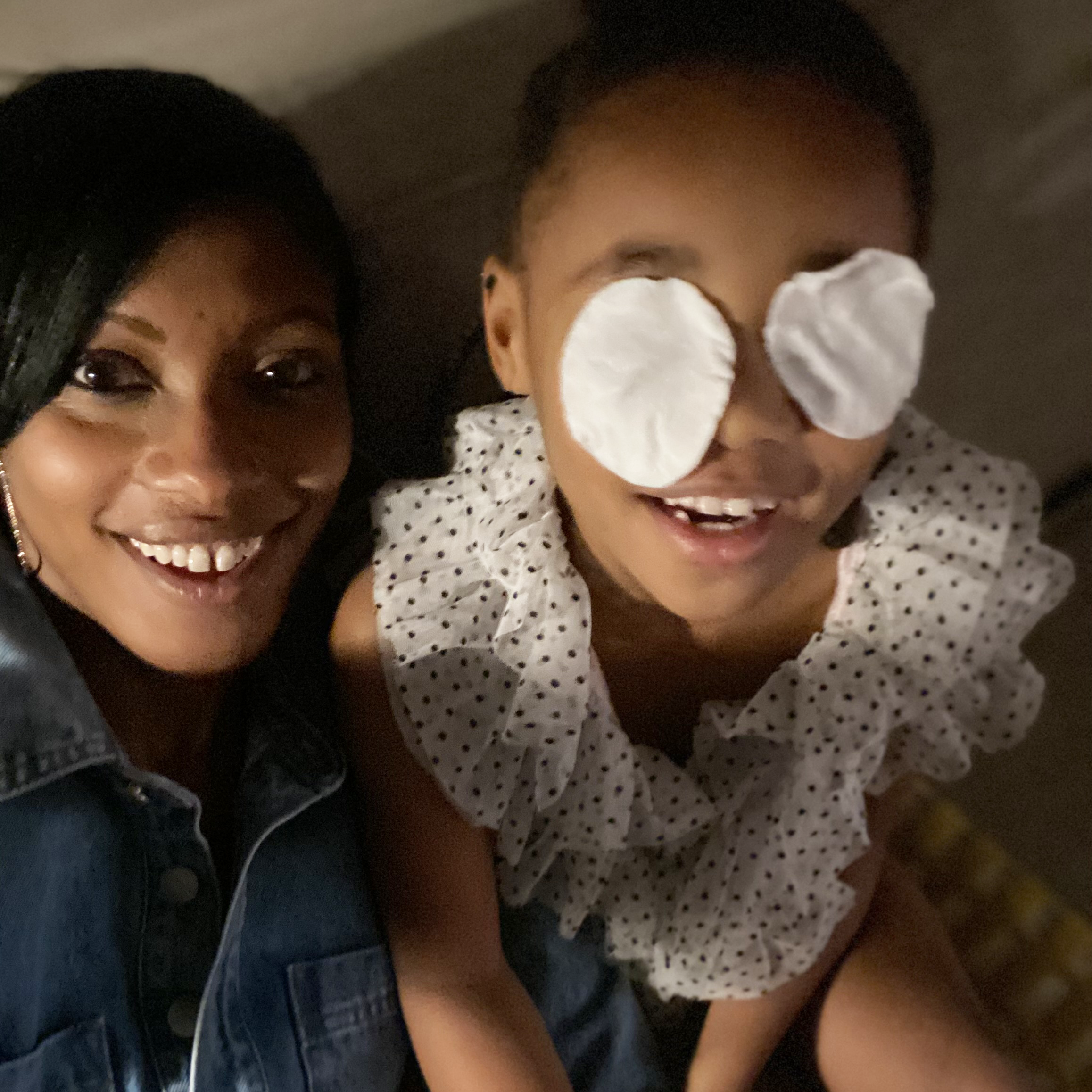 On Friday nights, my daughter likes to play with makeup, do fake masks and we cuddle!
It's important to put as much effort into decompressing as you do working because you'll be rewarded with your own creativity."
Do you ever find it hard to slow down and really allow yourself to relax?
"Hell yes."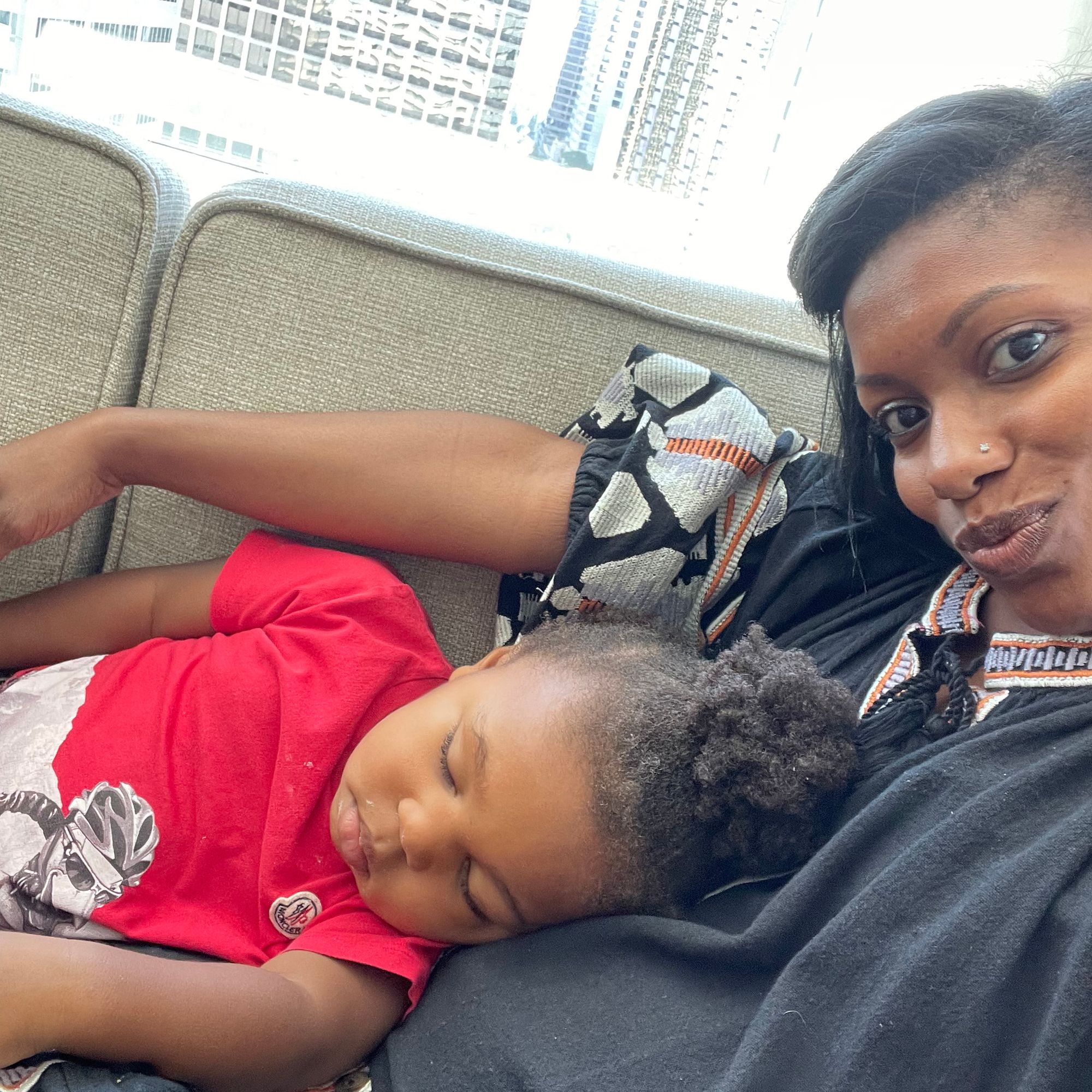 "When I put the kids to bed around 9:00, I usually try to do a face mask. If all fails, I at least use a dab of Dr. Dennis Gross Retinol Eye Serum before drifting off. If I can't get a full-on mask in, I definitely do it on Saturday mornings.
On what she watches when the kids go to sleep:
I just finished Snow Piercer and Dexter's New Blood. They're juicy in — a different way.
Her evening skincare routine
good light Cosmic Dew Water Cleanser. Not just saying that because David and I are collaborators! I love a gel or cream cleanser that's gentle on my aging and changing skin but gets the world off of my face. I'll also use Dermologica Daily Microfoliant, Kiehl's Calendula Toner, and the Tracie Martyn Face Resculpting Cream. In my experience, it tightens the skin, making your face feel and look like you got a bomb facial even if you're actually kind of bloated. Whenever I use it, I feel like my cheekbones pop more.
When I crawl into bed, I usually try to have another glass of water. (Emphasis on try.) This is the time I end up down a TikTok or Instagram rabbit hole. I'm usually cracking up and having lively convos with friends."