The beauty world never sleeps and we're here to make sure you don't miss the latest news.
It's that time again! Very Good Light has returned with our weekly series on what the beauty community is buzzing about this week. Just a few things happening this week: Lil Nas X's new music video has social media talking, beauty is trying to make its grand return to big retailers, men's makeup brand War Paint has just opened its first store in London, Thirteen Lune launches in J.C. Penny, and Simone Biles reveals that she is both a legendary gymnast and Olympic glam squad. Read on for all the tea.
SEE ALSO: Glossier finally launched bronzers, but is the shade range inclusive?
1. Lil Nas X's new music video for "Industry Baby" creates major buzz
Lil Nas X dropped the prison-themed video, meant to mock his recent legal trouble over Nike designs, for his new single "Industry Baby" on Friday, featuring Jack Harlow. The video has all the things you'd expect from him: naked men dancing, tons of references to the star's sexuality, and even a celebrity cameo with actor Colton Haynes appearing as a prison guard. An instant hit, the video already has over 30 million views and has raised over $43,000 for The Bail Project.
2. Beauty retailers Ulta and Sephora are betting on big-box stores.
Ulta and Sephora have both announced partnerships with retail outlets.
Ulta is teaming up with Target and launching their shop-in-shop sections in 100 Target stores this August, with plans to expand to 800 stores in the next few years. Last year, Sephora revealed that they were removing their mini-stores from J.C. Penny and the company just announced their new home: Kohl's. Starting in August, Sephora lovers will be able to find some of their favorites in 200 Kohl's locations. Eventually, you'll be able to find your favorite products from Sephora in over 850 Kohl's locations across the United States.
3. War Paint opens its first brick-and-mortar in London
The controversial men's makeup brand, War Paint, opened its first store in London on Friday. The store will feature the brand's full line of products and plans to offer programming for men "to learn about makeup and trial products." The store will also have a high-tech digital Q&A area where customers can have their questions answered by War Paint founder Danny Gray and have complexion products made to match their exact skin tone.
4. Thirteen Lune launches at J.C. Penny
Just as Sephora is leaving the store, Thirteen Lune is making its J.C. Penny debut. The online retailer, which mainly features beauty and wellness brands founded by Black and brown people and counts Diddy and Gwenyth Paltrow among its major investors, will open its first physical locations through a shop-in-shop collaboration with J.C. Penny. The collaboration will be launching at select stores now and will continue to expand.
5. Simone Biles announces that she is doing her own hair and makeup at the Olympics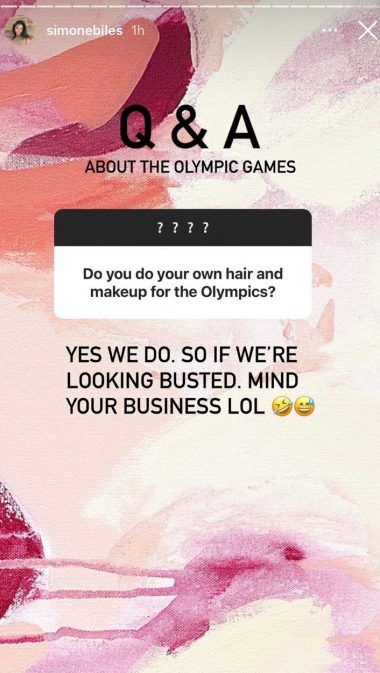 Olympic superstar and all-around GOAT Simone Biles has just proven that she is a jack of all trades. During an Instagram Q&A session, she revealed that she (and all of her Team USA teammates) does all of her own hair and makeup for the Olympics, even adding "So if we're looking busted. mind your business lol." So far, Simone's makeup and hair have looked as great as her performance in Tokyo.
---
READ MORE LIKE THIS