Sustainable makeup has never looked this fun.
A lot of us beauty lovers place a huge emphasis on "clean" skincare, which today describes just about every skincare brand on the market. But when it comes to clean and efficacious makeup, the choices are limited.
However, I do think "clean" makeup has come a long way in the past couple of years. And more people are paying attention to drugstore brands when they realize brands like Essence Cosmetics, Wet & Wild, and W3ll People check all the boxes: clean, vegan, cruelty-free, sustainable, etc. But there's another brand on the block turning our heads, and it's damn cute.
SEE ALSO: 9 ways to incorporate Vaseline into your beauty routine
Enter: PYT Beauty. Launched almost three years ago, PYT Beauty (PYT stands for "pretty young thing") is stealing all of our hearts since they first appeared on the shelves at Target this season. Their products are decked out with bright hot pink and red recyclable logos. Plus, every single one of their products just looks delicious. PYT definitely slayed the Gen-Z branding. Can I get a round of applause, please?
The brand
"We Are Clean: Product, Performance, Planet, Conscience. It's a Damn Look," claims PYT on the brand's website. You don't have to look hard to realize PYT puts sustainability first. They have a couple of startling statistics on there, too, like how 33 percent of US landfill waste is from personal care and beauty products alone.
Created by two friends who met in college, Amy Carr and Mary Shulman, PYT Beauty carries eye, lip, and face products. All products are incredibly user-friendly, especially their eyeliners. Everything is also under $30.
The brand uses three different types of sustainable plastic options throughout its product line. And for every product they have, they give instructions on exactly how to recycle on each of the pages. They use post-consumer-recycled plastic (PCR), sugarcane-based plastic (a renewable resource), and pre-degraded plastic, which has a close to 0 percent plastic footprint.
PTY is sold direct-to-consumer on their website, but they've also scored spots in retailers like Credo, Ulta, and now Target!
Clean standards
Besides being cruelty-free, vegan, and hypoallergenic, PYT advertises an entire list of ingredients their products are free from.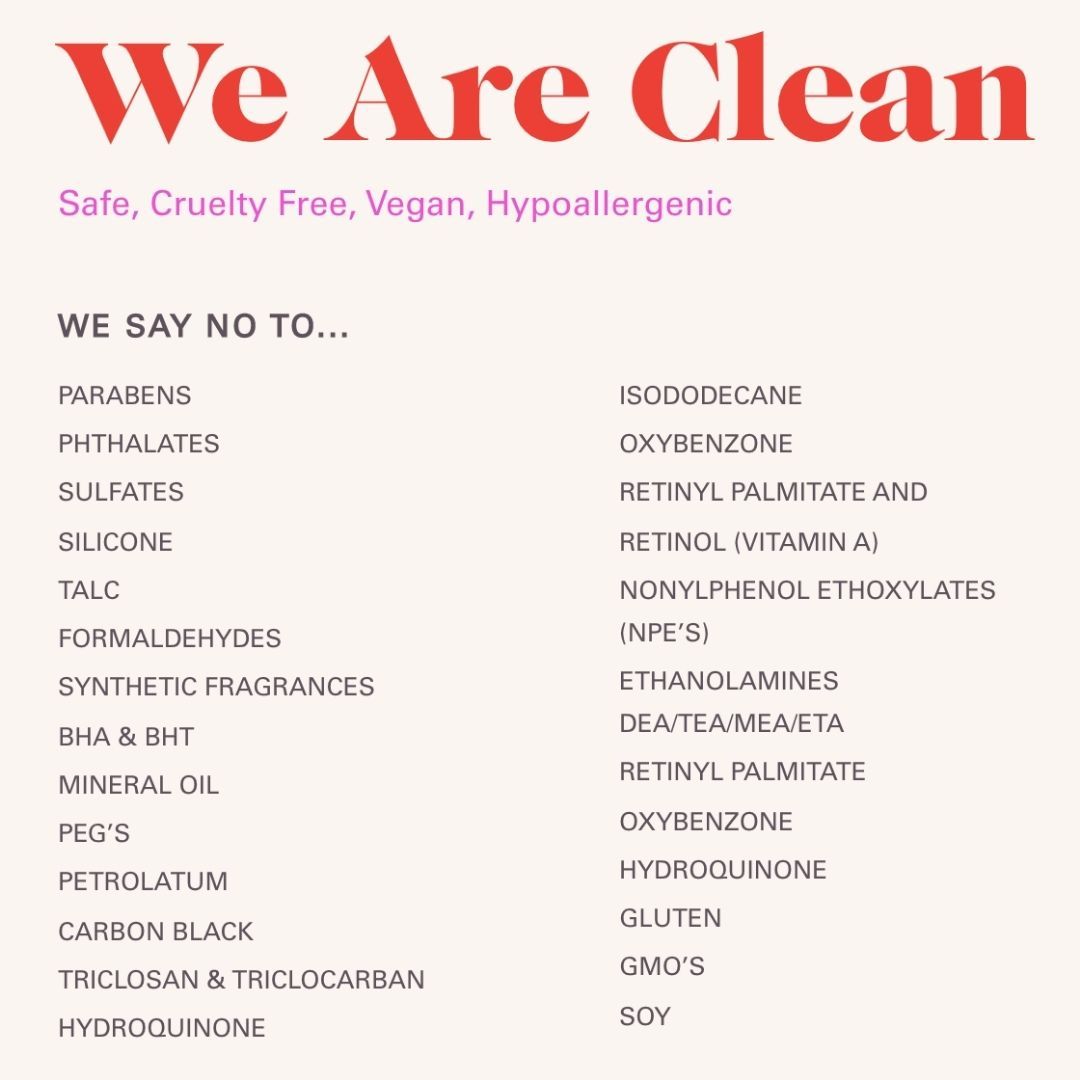 Their delicious and hydrating One and Done Setting Spray, $16 has super ingredients like niacinamide, hyaluronic acid, and lingonberry. The Dew Me Lip Gloss? It's packed with hydrating (and tasty) coconut and acai berry oils.
The review
I tried just about everything from PYT Beauty. But, I do have a top three of my favorite products from the brand. Overall, I think it's a fabulous brand to buy from that won't break the bank. Great values and practices. Plus, as I said, it's pretty damn cute. Read on for the deets.
One and Done Setting Spray, $16
OK, I'm not really all that into setting sprays. I used to be loyal to the one from Urban Decay but I feel I just don't use that much makeup anymore to really need one. Unless it's a big event, of course, and everything needs to stay in place. I didn't reach for this spray right away when I got everything in the mail. But, once I read some reviews I was pretty intrigued. It's packed with antioxidants and has blue light protection. And as much as this is marketed as a makeup setting spray, you can use this like any other face mist.
It doesn't have a tacky or filmy feeling. I've used it on top of makeup, in the middle of the day when my face is oily as hell, and on a bare face. It's delish thanks to all the niacinamide, hyaluronic acid, and rosehip extract. This one is a must-buy. Maybe buy two.
I'm so picky about lip products. Mostly because I think they're wasteful. I can't think of a time when I have actually finished a lipstick. Maybe a Lancome Juicy Tube when I was a kid, but a full lipstick? Nope.
I'd agree with the name of the product in that it's a true balm. Most tinted lip balms can be pretty drying and leave your lips looking parched. But this one uses hyaluronic acid, olive, coconut, grape seed, vitamin E oils. It's a pretty sheer tint which I love and wear just about anywhere. It's not greasy either. I wish there were some more popsicle colors for summer, though. Like a subtle orange or poppy color.
I've been using the color "MILF," (a pretty hilarious name) along with the other two colors: "boss babe" and "HBIC." It's a beige nude, similar to my natural lip color which I am always in search of. Try it on your eyelids too.
The Upcycle Eyeshadow Palette (Warm Lit Nude), $28
Eyeshadow palettes are hard, and not everyone wants to invest in a new one or has space to add to their collection. But if you buy one palette this year, let it be this one.
Despite its 12-color range, it's compact, and honestly, you could travel with it. It comes in a couple of different shade families but I'm currently enjoying the warm lit nude version. It has both matte and some shimmery colors. The pigment lasts and it doesn't crease or fall out.
The best part about this palette is its element of sustainability. It's made with 15 percent recycled plastic and completely composed of pre-degraded plastic, lowering that plastic and carbon footprint. I recently learned that 75 percent of aluminum circling around the US has been here since we began using the material. So while the pans in the Upcycle Palette are aluminum, they're 100 percent recyclable. You'll just have to do without a mirror, but it's all in the name of saving the planet.
To recycle, pop the pans out through the holes in the back of the palette, wash them, then toss the empty pans, eyeshadow palette, and box into your recycling bin. Be sure to check your local program on size requirements (you might have to put the pans in something else to be recycled).
TLDR;
– PYT Beauty is the Gen Z sustainable cosmetic brand of our dreams
– Everything product is recyclable and the education is on point
– The brand carries eye, lip, and face products
– PYT Beauty is sold on their site plus at Credo, Ulta, and Target
BYE or BUY?
I think it's a total buy, especially if it's at a store near you. It's insanely fun to thumb through the products on the shelf. Plus, if you can make the switch to have all your cosmetics embody a sustainable/recyclable element… do it! Buy HERE.