Resting in front of an exposed brick wall, Ryan Jamaal Swain exposes his vulnerability and lavishes in it.
The 26-year old Alabama native and HBCU-(historically Black college/university) alumni from Howard University smiles into our Zoom call with joy. Sporting a striped shirt and infectious smile you can't help but return a gleaming, cheesing grin back.
On FX's Pose, Ryan plays Damon, a young dancer who's taken under the house of Mother Blanca Rodriguez after being kicked out for his sexuality by his own biological family. The poignant portrayal had many in the industry paying attention to the actor. Almost instantly, he made the Forbes '30 under 30′ list and soon, the show was nominated for over 50 awards including multiple Golden Globes and Emmy's. Pose, which has just been renewed for a third season, has also made history by having the most Trans actors in television history. Its second season is now on Netflix.
He takes Damon's role in stride. Being a Black and queer man, Ryan has experienced pain in ways that the majority of America is just now waking up to. While many celebrities are only recently speaking out about the abuse that Black people deal with on a day-to-day basis, activism runs in Ryan's blood. "My grandparents have been freedom writers, part of the Southern Christian leadership conference, Black Panthers, and all that stuff," he tells Very Good Light. "They didn't want my life to be hard."
Before he played Damon in "Pose," Ryan spent his career in theater. "I just had my off-broadway debut in National Black Theater with the world premiere of Kill Move Paradise." This was around the time when Hamilton was the hottest ticket in town. "I thought that was going to be my way into this industry altogether. I'm a theater baby. TV and film are things that I'm now learning how to master, and I'm so grateful for 'Pose' for allowing me the space to do that."
SEE ALSO: 'The High Notes's' Kelvin Harrison Jr. on sex, Tracee Ellis Ross, and wearing Joel Edgerton's sweaty socks
Ryan expresses his gratefulness for his character, Damon. "It's such a spiritual thing to me, so just knowing that I was going to be endowing a queer narrative or queer person of color, I said I have to do this justice because this is a part of my community. This is a part of my tapestry and this is a part of my history."
In fact, Ryan's senior thesis at Howard was about Stonewall.  "I was this fictional drag queen that lived there and that is when I found Paris Is Burning," he tells Very Good Light. "Never seen it before, at the time I didn't know that Pose was going to be on the docket, my senior thesis was preparing me."
We caught up with Ryan over Zoom to talk about Pride, how attending an HBCU helped him nail the role of Damon, and how he deals with newfound fame.
When did you come out? How did your friends and family react?
The first person I came out to was my best friend during my freshman year in college. I had this moment, where I was like, 'Yo I'm tired of not telling my friend all of the story, all of the tea.' I sat my friend down in the cafeteria and I told her that I was attracted to men. I'm queer. She responded, "Finally thank you for letting me know." The one that was a bit tricky was with my family. I was working on a one-man show and my boyfriend was the production director and my mother found out through his mother.
Tell me about your experience growing up in the South. Did you have support growing up?
I think what was so powerful about what's happening right now in my life in connection with me coming out is that my grandfather, who is my father figure, was just giving me tenants of manhood. He was the first man in my life that I felt that I was given permission to say that another man was handsome or attractive. That was never present with my immediate family. Growing up I was emotionally and physically abused by my stepfather. My grandfather gave me the courage to step into what it meant for Ryan Jamaal Swain to be a man, on top of the fact that I went to Howard, and that just kind of blew my mind of, like, the possibilities.
Speaking of Howard, which is an HBCU how did that shape your perspective as a Black person?
When you go to an HBCU, or specifically Howard, it's just us. It let me deepen my nuance and what makes me, me. I can just be me and use everything that is me, in addition to what I'm learning, to create what's going to make me powerful beyond measure. That's what Howard gave to me. It was this space where I could cultivate my excellence without my race being attached to it. It's the reason why I got "Pose," because of the way that I spoke about it in my audition. Ryan Murphy and Steven Canals said, "That's when we found Damon."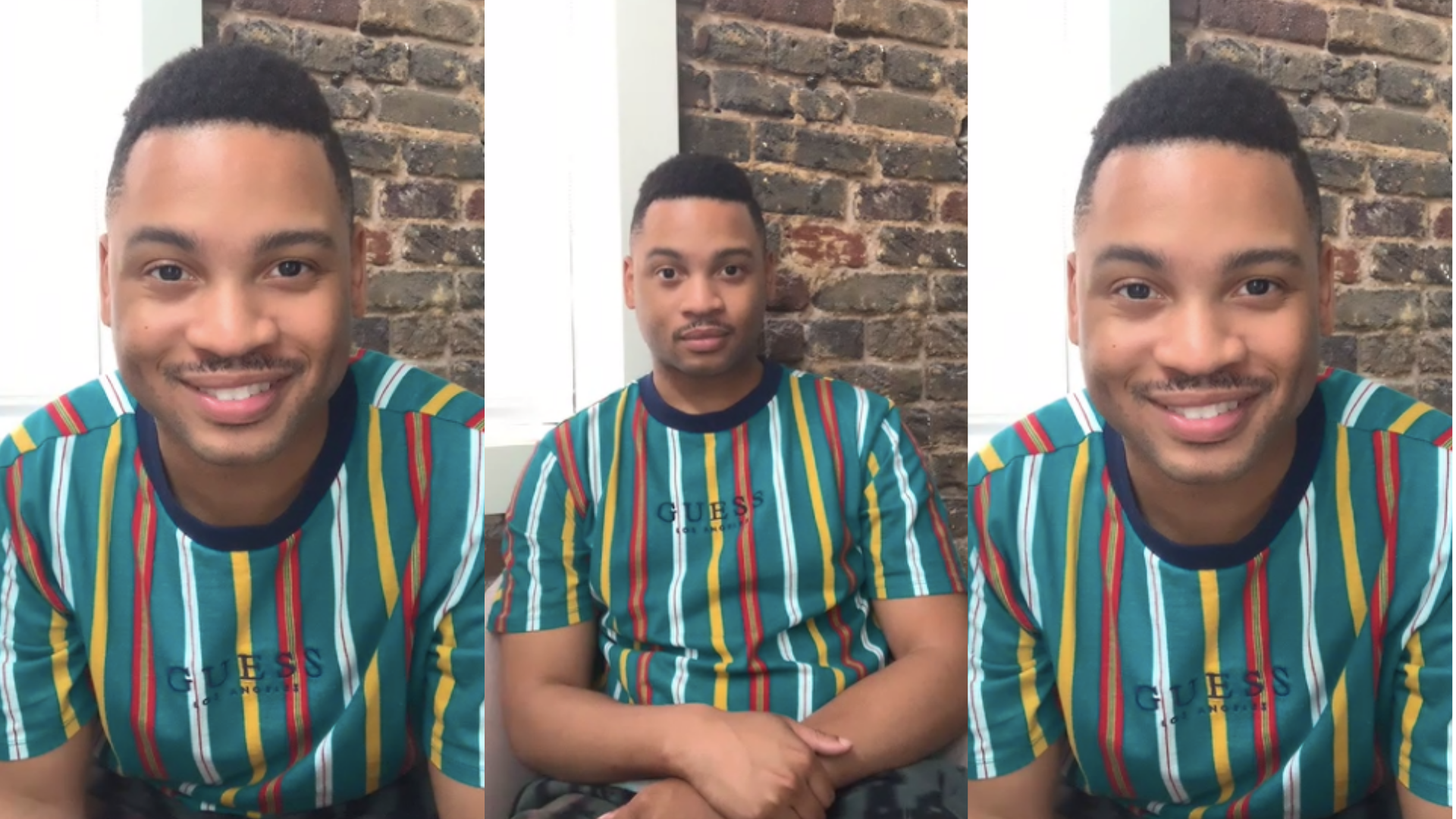 You credit Howard during your audition, how was that process of auditioning and nailing Damon?
The audition process was kind of normal. I just had my off-broadway debut in National Black Theater with the world premiere of 'Kill Move Paradise.' I was sitting on my break reading the script thinking, 'Yo this is crazy I've never in my life seen a script like this.' Leslie Odom Jr. described in an NPR interview about how he tanked all of his auditions, until one day leading up to all the stuff that he's doing he just risked it, going in there as a character. So I said, you know what? I'm going to do this. I'm going to go in there dressed, looking like Damon doing everything that I need to do. Six hours later Ryan Murphy wanted to meet me, and we did a character interview. Then, four days later I got a call that they gave me the role and it's just been a whirlwind since.
How do you get through the heavy scenes on set?
I'm a very spiritual individual, so I had to really meditate and take the time to go in and endow like a psychophysical gesture—something that I don't have to go home and have on me. It's very hard because my body has that sense of memory, even though it's part of the acting craft, but my body doesn't know that it's not real. I had to do something immediately after we wrapped to just throw myself out of it, so I tell myself, 'Okay Ryan, you took off the clothes, you took off Damon's underwear, you took off all the things. You go home you make yourself some tea you listen to some music and just try and do it again.' I allow myself grace and take myself out of the world because I knew that I would have to go in again tomorrow and share and bare.
Who has given you a piece of advice that's really stuck with you during your time on set? And what's that piece of advice?
I would have to go to my papa bear Steven Canals. Being a queer artist, there were a bunch of avenues and channels that I had to exit out of to find some type of liberating spirit around myself. In the beginning, the episodes were weighing heavy on me. Canals sat me down and he told me, "You got it. You have everything that you need. What I need you to do is actually believe in you, like truly believe in you." That shook me. He also told me to get a therapist, which I did. I learned to truly understand what it means to believe in yourself is life work. That's self-awareness. That's self mindfulness. That's self-mastering.
On top of being an actor, you also are an activist and very vocal on social media. How do you take mental breaks for your own self-care?
My mentor, Jonathan McCrory of National Black Theater, gave me this jewel of wisdom: You have to wake up every morning and do something for yourself because throughout the day you're going to be giving so much to everybody else. I have to separate Ryan Jamaal Swain and Ryan. Like Ryan, that's from Birmingham Alabama, eldest of four, lover of music, likes to spend time with friends, loves french fries. Ryan loves to be in the cinema by himself, loves crystals, enjoys meditating to the moon, and all the sage in the world. Those are the type of things that reintroduce me to myself and connect me back to self.
If you could give one piece of advice to a younger you, just another Black, queer child living in a rural town in the south, what would it be?
I see you, I love you, there's no one like you. The world needs you. Don't lose sight of that because to choose your truth over your safety is in itself a superpower that nobody has. Whatever your truth is it does not warrant your safety at all. You have tapped into what makes you ALL of you, you're incredible, you're unique beyond measure, you are powerful beyond comparison, and I can't wait to see what you're about to do. If you can't find the voice, if you can't hear it, continue to just live your truth. Because you doing that is raising your vibration for your dreams, your goals, and for that voice to meet you.
It is, of course, Pride Month. How are you celebrating Pride this year, and what does it mean to you?
Pride right now is looking like a cute virtual happy hour. The cast of "Pose" is doing a pose-a-thon, which is pretty dope. Overall, pride for me this year is all about education. It's reading as much as possible and creating work that puts what is my legacy into the pot of what is Pride. Pride is sitting in your truth, sitting in your power, and I've also always recognized it as a form of rebellion.
What are your favorite skincare products?
If I had to pack up a bag it would definitely have Scotch Porter's face scrub, Dr. Barbara Sturm, because Angela Bassett is the face of their Darker Skin Tones line, Beauty Counter's radiant essence, Elemis' veggie masks, Glow Recipe's overnight mask, and face oil from Skin Glass.