You can't talk about beauty without sleep. From the beginning of time, man has relied on deep sleep as a vital part of good health and well-being. Studies have shown that sleep affects growth and stress hormones, heals, boosts the immune system, and more. But experts are now seeing just how little sleep or "good sleep" ?millennials and Gen Z are getting from their own lifestyles. Said disruption of sleep is why we've partnered with hims, an all-encompassing wellness brand for men, to launch our first SLEEP WEEK. Among hair, sex, skin, mouth products, hims launched sleep gummies. Together, we're bringing you an entire week of stories that are all about achieving your best sleep – ever. From influencers sharing their best sleep tips, to the science behind sleep, to the best products before bed and more, we've rounded the best info to get you zZz-ing asap ?.
"But does it spark f***ing joy?"
Marie Kondo asked me – well, the Marie Kondo in my mind – as I grumpily rolled over my decades-old king-sized mattress. The Japanese sensation, who's helping the world clean their homes – and lives – has been haunting me since she debuted her book, "The Life-Changing Magic of Tidying Up."
In it, she extols the virtues of cleaning, folding clothing, minimalistic living and purging things that don't provide you with happiness. That includes sleep. Up until now, I was never someone who cared much about bedroom decor. The most I did was place a quirky clock over my bed and called it a day. My bedsheets were $10 from Amazon and my down blanket was on sale from Macy's. My life mantra: why spend money on "comfort" when there are actual necessities like jade rollers, cute clothes, and Hot Cheetos?
SEE ALSO: Everything you wanted to know about sleep
But one night living large while drinking a large cup of Kung Fu Tea in bed, dusting Cheeto crumbs off my shirt led me to realize my sleep situation and how I'd possibly hit rock bottom. Was it the itchy sheets, my mattress, or my desire to stay awake thinking about my world domination while eating in bed– or all of the above?  Was my room a mancave or an actual, uh, cave? It's only when I spoke to Jamie Diamonstein, the co-founder and CPO of the mattress brand, Leesa, that I realized how I'd been doing it all wrong.
"In order to get better rest, you need three things out of a mattress: support, pressure relief on your muscles and joints for recovery, and comfort," he told me. "A good mattress should feel like its hugging you and that mattress should not sleep hot."
My life mantra: why spend money on "comfort" when there are actual necessities like jade rollers, cute clothes, and Hot Cheetos?
The last two parts of what Jamie said stuck with me. My extremely firm bed was definitely not hugging me. It was more like me awkwardly hugging it and it not hugging back like me at my middle school dance. I decided we needed a permanent break – and the next week, I purged the thing completely.
On my quest to find that spark of bedtime joy, I went and tested the most popular new mattresses, pillows and sheets on the market. Could it spark f***ing joy? Well, read on.
Mattresses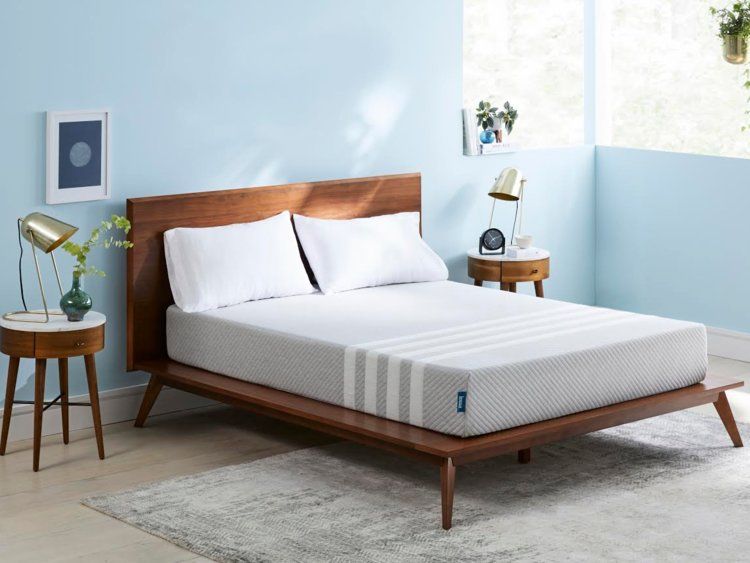 When it comes to mattresses I want to lay on something and instantly zonk out on. A mattress hugging me doesn't cut it – I need it to embrace me, sing me to sleep, tell me I'm beautiful. Here are the best ones on the market.
If you want to feel good and do good
Leesa- Lessa feels like a friend you've know for seven years but actually just met yesterday. Maybe it's the way she spells her name – with two e's and not an i. Or the way she hugs you – snug but not too tight, firm but inviting. For a month, I tested the brand's Sapira mattress, which mixes foam together with 1000 soft springs. That means this bed contours to every curve in your body. Whether you're a stomach sleeper, a starfish sleeper, or someone constantly in a fetal position like me, it's completely comfortable. I found it to also be cooling – maybe a little too cooling? – and in the winter needed an extra down blanket. But maybe I'm just a cold-blooded. Buy here, starting at $845.
For athletes or those with finicky backs
Bear- The Bear mattress touts itself as one for those who workout a lot and need to repair their bodies during rest. That's because the bed uses Celliant technology, one that is clinically proven to help with quicker recovery and works through a protector, sheets or your clothes. I just sprained my lower back and had to quit Crossfit for a few weeks and sleeping on this made me feel like I was actively massaging my body while I snoozed. At first, I had to get used to the mattress. Coming from a firmer bed, this one felt way too soft and I had back pain for an entire week. Thinking that this bed wasn't for me, I contacted Bear's customer service and they assured me that it was my body getting used to the bed. I'm glad I waited for an extra week because the second Day 8 came along, it was the soundest sleep I got since spraining my lower back. Buy here, starting at $415.
The most bang for your buck
Allswell- Okay, so let's be real here. How many of us love a beauty product JUST because the packaging is cute AF? I felt the same way about Allswell and immediately fell in love with it thanks to its millennium pink box the mattress shipped in. But then I realized that Allswell pricing was one of the most affordable around but didn't skimp on quality. Uh, what? That felt almost like getting Charlotte Tillbury makeup for the price of NYX. Each bed comes with a mix of foam and coils, a cooling foam top, which allowed me to sleep cool – but also warm when it was a cold night. At $245 this seemed like I was cheating the system in the best way. Buy here, starting at $245
Best firm
Tuft and Needle- Could it be possible for a bed to be ultra sexy? That's what I thought when I received Tuft and Needle's Mint bed. It's completely covered in black, which is cozy charcoal that's knitted as a cover. It also has graphite and gel heat dispersion, which I felt to be completely comfortable and made my night super cozy. When the heater blasted, I felt my own body temperature was stable and when the room was cold, I kept warm. It's a little firmer than the other mattresses – which, coming from a firm bed was perfect for me – but isn't hard. Sleeping on this bed made me feel as if I was snoozing on top of mint chocolate and melting deliciously into the mattress. Totally enjoyable and completely luxurious. Buy here, starting at $650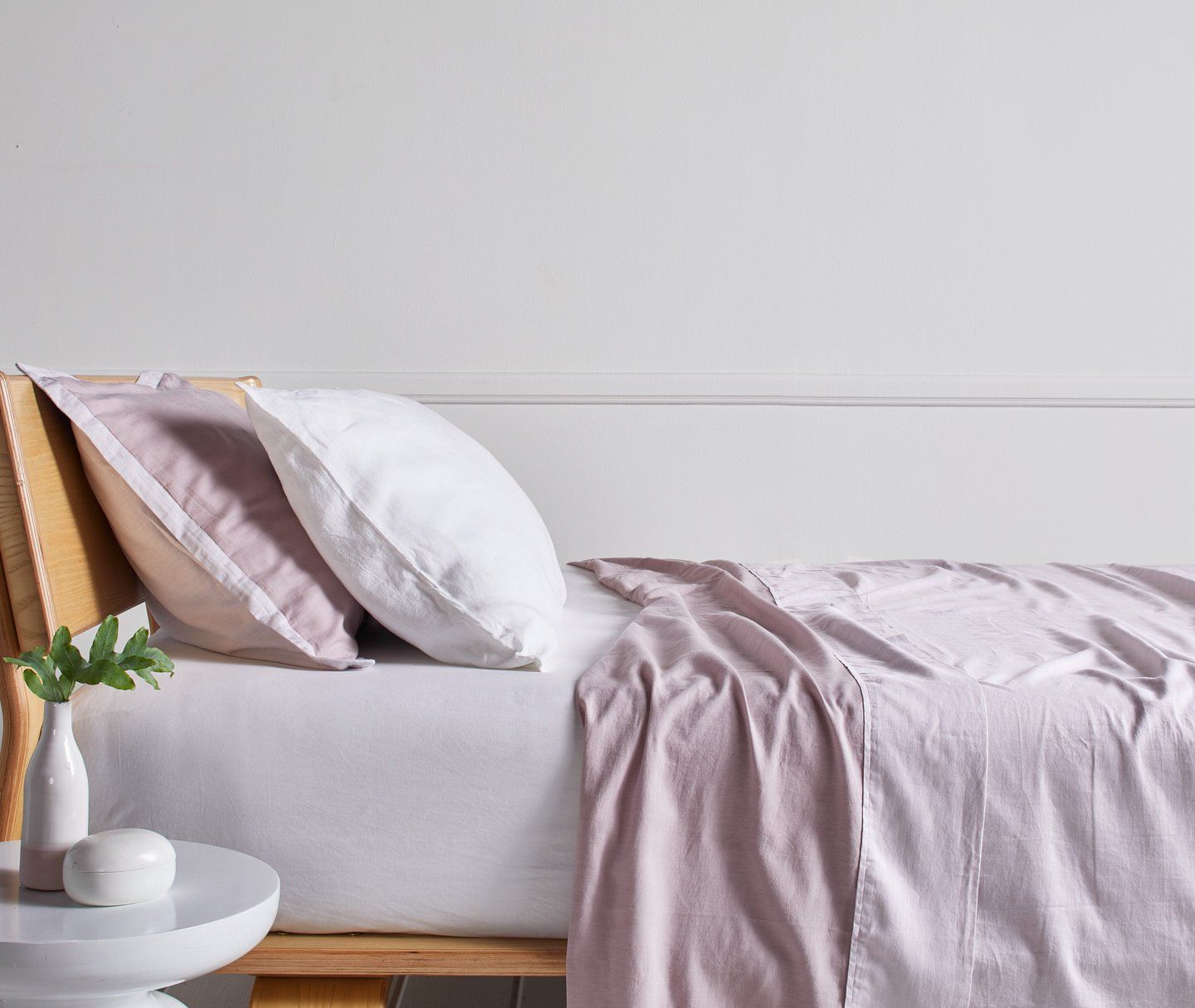 Sheets
Don't sheet where you eat. This was a good lesson I learned from many of the sleep experts throughout my findings. Literally don't eat on your bed or do anything but sleep. If you're going to sleep on something, it better be soft, comfortable and cooling. Which brings me to my next point: Are you a percale kind of guy or sateen? The former is crisp, cool and feels like the same sheets you'd find at a hotel. The latter, sateen, feels very soft, silky and has a slight sheen. They're more delicate than percale and so some do pill. If you're looking for super silky against your skin, sateen is the way to go but if you're looking for more cooling, definitely get percale.
Best sateen sheets
Parachute – If you haven't experienced sateen, you haven't been living. When I first switch over to Parachute's beautiful monochrome color-blocking sheets, it not only instantly made my bed look that much chic, the feel was so inviting I may have slept for 12-hours straight. The matte sheets are 100% made from cotton and make for a luxurious experience.  Buy here, starts at $100
Best linen sheets
Brooklinen – I ordered Brooklinen's linen sheets because I wanted to try a breezy feel, micking the summer in the cold winter months. At first, I was kind of skeptical that the sheets would be comfortable. Linen, in general, is great for summer months but has an itchy feel to it. When I received the sheets, I was surprised that the linen wasn't only comfortable, cooling, be super soft. That's because each is stonewashed and pre-washed. It totally made a difference and I felt the sheets to be actually perfect for the winter, the heater blasting and you dreaming about warmer months. Buy Brooklinen's core set here, $249
Best crisp hotel-like experience
Snowe – Honestly, I didn't know I'd like crisp sheets at all. The thought of sheets being anything other than silky smooth or soft sounds pretty uncomfortable. And so, I was pleasantly surprised when I received Snowe's percale sheets. Though super crisp, it's made from Egyptian cotton, has a 500 thread count and is completely cooling. So much so that even with the heater blasting I was completely comfortable in my little cocoon. Snowe's sheets made me feels as if I was sleeping inside a fancy hotel – except, it was my own bedroom. If I'm dreaming, please don't wake me up. Buy here, starts at $188
Best value
Allswell – The Allswell percale sheets are 64% Lyocell (a form of rayon) and 36% cotton. The two blended together in a washing process create a very light but warm feel. It's cool to the touch but super soft. So luxurious, you'll almost forget that these sheets are a complete steal with its great price. Buy here, starts at $115
Best comforter on the market
Buffy- Okay, so this isn't a sheet. It's not a duvet cover. It's a comforter aka a blanket that touts itself as being as soft as a cloud. The marketing is genius and the photography is completely dreamy. And so can you blame me for being a sucker and order this immediately? The entire brand is eco-friendly as touts itself as being completely free of any harmful chemicals. The brand uses no animal byproducts but is still super warm, comfortable and fully. The hypoallergenic comforter is resistant to microbes, mites and allergens and is fully breathable for temperatures all year round. It's the best comforter I've used. Period. Buy here, starts at $120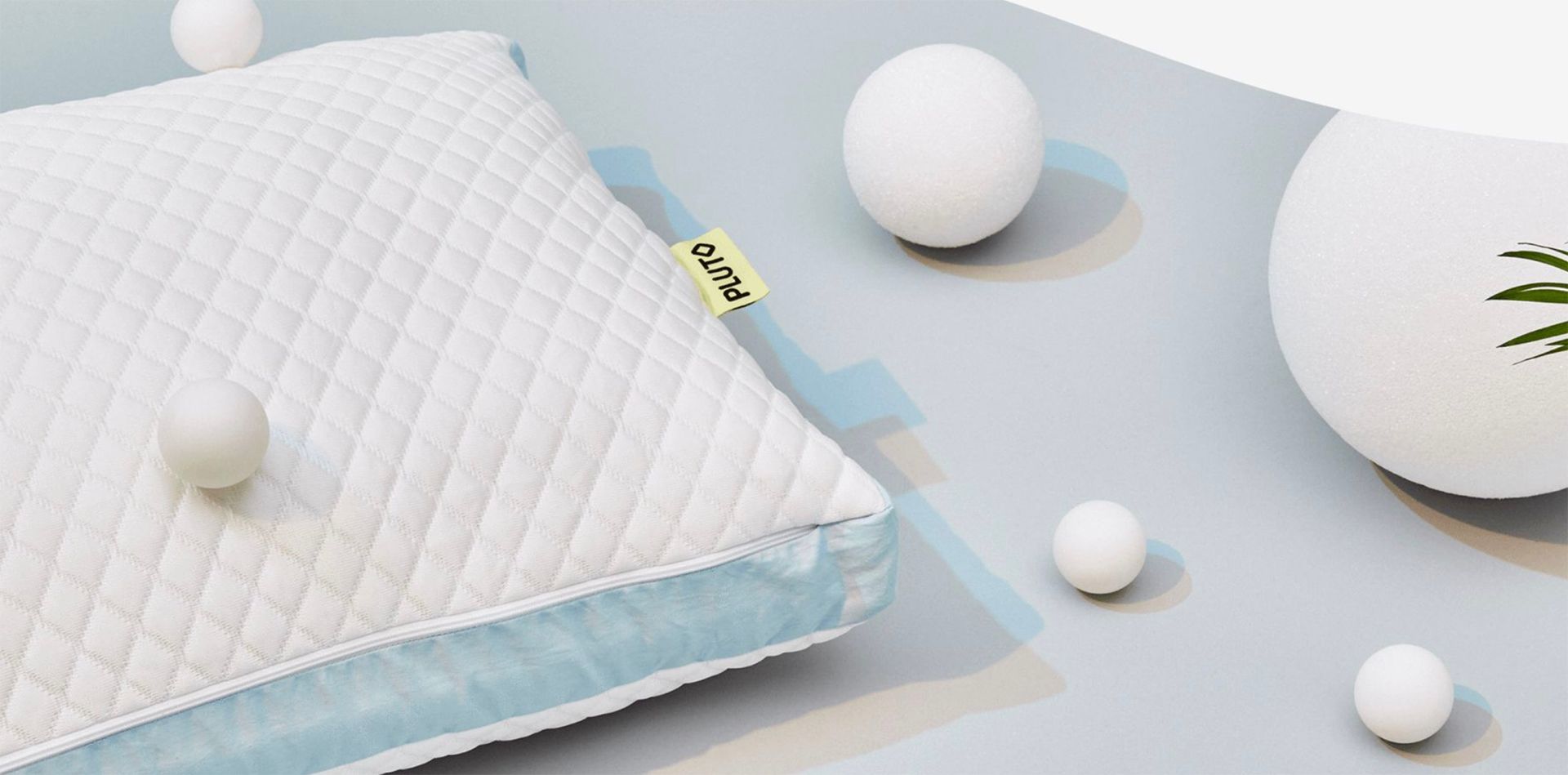 Pillow
Pillows are a universal symbol for sleep. And throughout history, they've been used for proper relaxation around the world. The first pillow is said to date back to around 7,000 BC in in Mesopotamia. Though the first pillows were made of stone, it later evolved to softer materials. From the use of jade in China, to marble and ivory in Egypt, the pillow has always been seen as something sacred as it protected the head during sleep. Today, people have different preferences between hard and soft but one thing is certain: you cannot get to sleep without a good pillow. Below, are the best ones I found online.
Most customizable pillow
Sleepgram – Sleepgram, how I love thee. This pillow (or should I say PILLOWS) adjust to you. The pillow comes in threes – with a bigger pillow and two smaller ones stuffed inside. That makes your sleeping experience customized to if you like high pillows (like me) or super low ones (like most people). But what's really cool is that if you do like low pillows, the Sleepgram pillow really is like buying three pillows for the price of one. So go on and put pillow cases around all three if you want – or make one, giant super pillow. Your choice. Each is 100% cotton with percale weave for a seriously cooling experience – truly and amazingly comfortable. Highly endorse. Buy here, starting at $49.95
The literal coolest pillow
Pluto – Can a pillow be too cool? That was our experience while using the Pluto Pillow, which is perfect for those who sleep super hot. The pillow is cool to touch and somehow STAYS cool throughout the night. That's because it uses a unique foam to create no only support but a cool-to-touch surface. It's fluffy, thick, and is seriously a great investment for those who feel they have to constantly turn their pillow over. Buy here, $85
Best Sham pillow
Allswell – How did I survive all these years without a sham pillow? Here I was thinking shams were just for bougie people but after I got these affordable pillows from Allswell, everything changed. Sure, they're most for decorative purposes, but I've found that sleeping with these extra big pillows allows me to feel more secure, almost as if there's a fortress behind and next to me. The pillows are also very soft, fluffy and I'm not ashamed to admit, I've been hugging them every other night. Highly recommended. Buy here, $25.
Best dual side pillow
Leesa – If you're a picky sleeper and can't decide if you like fluff or foam, Leesa gets you. The brand's dual side pillow has a cooling foam side and a quilted fluffy side so you can sleep on either depending on your mood. WARNING: The pillow is pretty heavy. But the heft is welcomed as it most likely won't be pushed off of your bed throughout the night. Buy here for $99
Best pillow sold on Amazon
– Are you also a sucker for rave reviews on Amazon? As I was looking for the best pillow, I researched Amazon to what the highest raved pillow was. It was the Wondersleep, sold for $52.99 for two. With over 1300 reviews and a solid rating of 4.5 I decided to give it a try. And can I say that it's actually my favorite pillow? The pillow is completely made of 100% shredded memory foam, which I was skeptical at first, but it became INCREDIBLY comfortable. With a breathable cover made of 40% Viscose Rayon and 60% Polyester it's super cool. I do have to say that there is an odor for the first week. Meaning, it smells like chemical-y (?) foam. But like many fans of the pillow recommend, you can either leave the pillow outside for an afternoon to air it out, or actually wash it (??) though I don't know how you'd do that. Either way, after a week, you'll fall in love with this pillow. I'm still obsessed. Buy here
, $52.99.