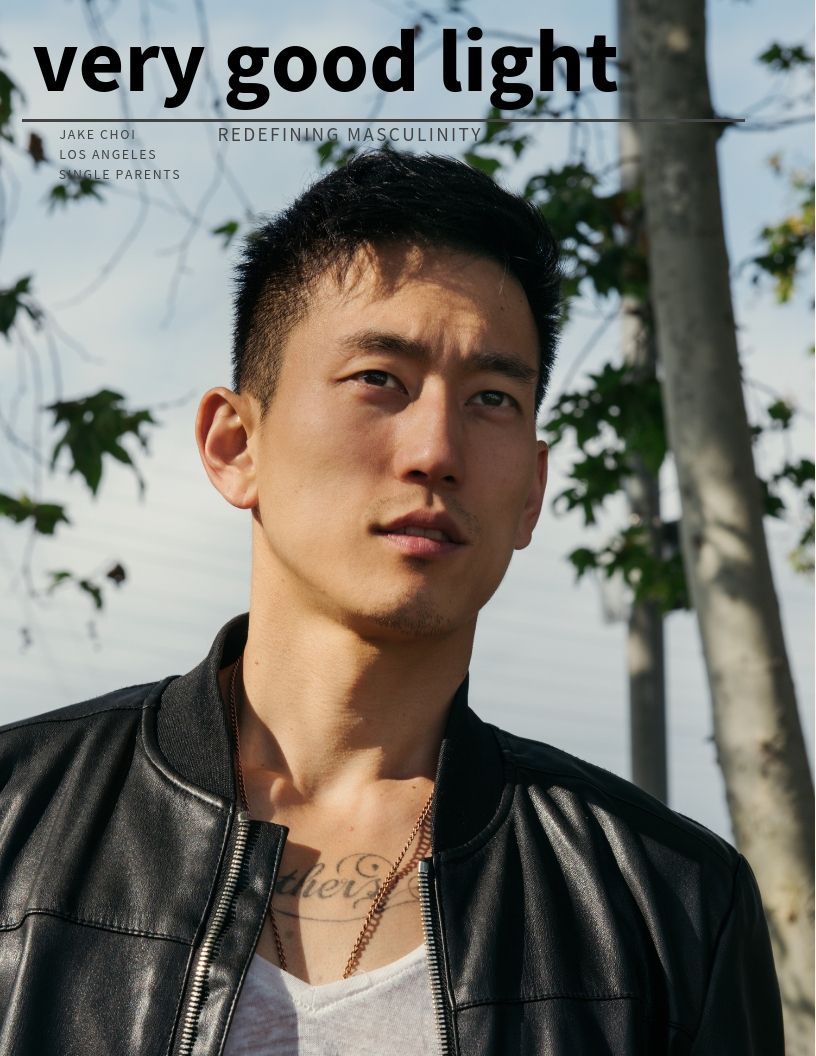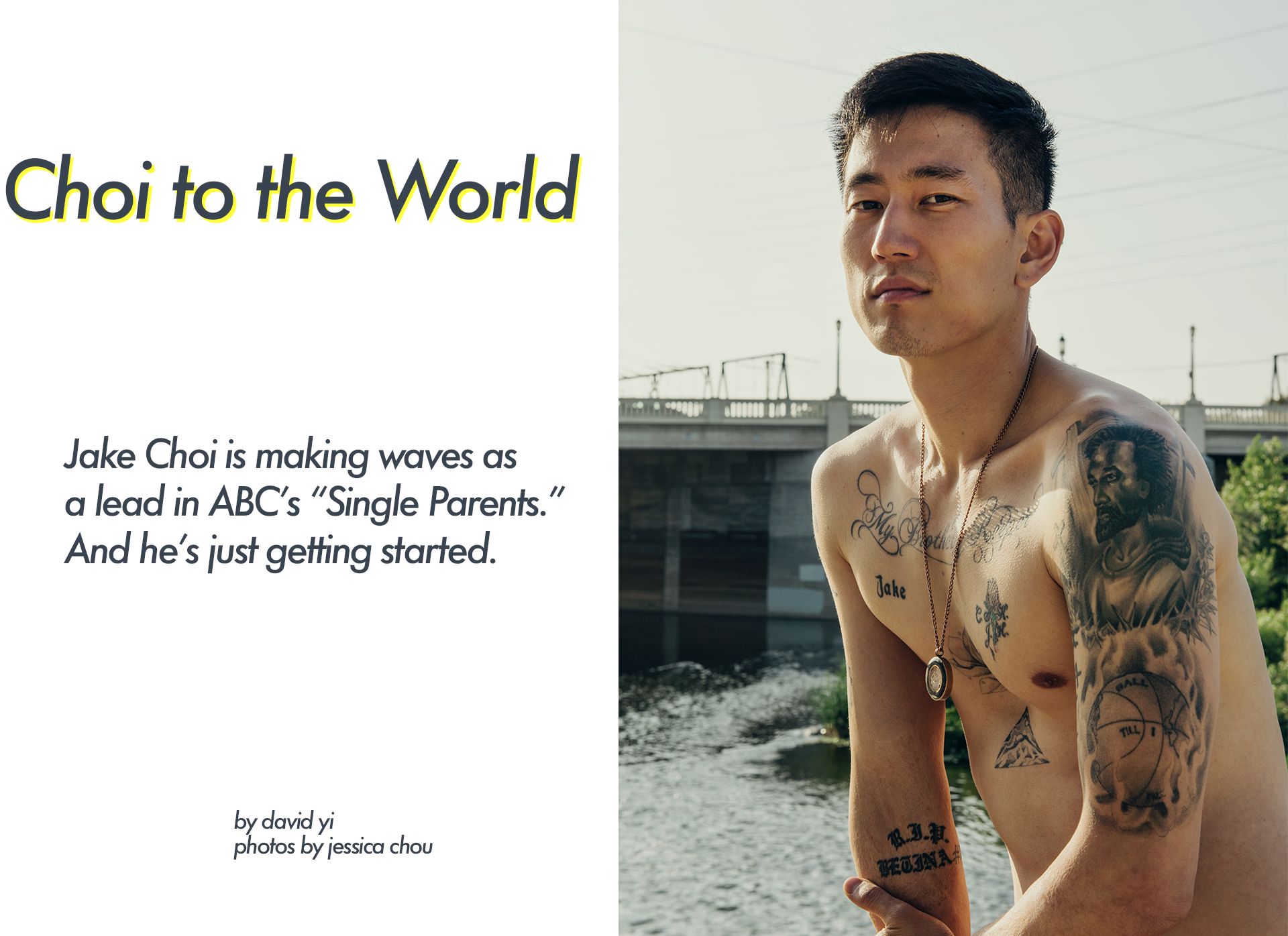 It's noon and an hour before Rubies and Diamonds on Sunset Blvd. is about to kick us out. The popular cafe is shutting down to accommodate filming.
How Hollywood.
Before the doors close on us, Jake Choi orders a coconut cold brew (apparently Ava DuVernay's favorite) and a chicken bowl (because there was nothing left on the menu). He's starving, having just woken up not too long ago after moving into his new West Hollywood pad. It's an upgrade from his last one, he says proudly. He did so to celebrate his new major gig as a series regular on ABC's newest Wednesday night comedy, Single Parents, which premieres tonight.
SEE ALSO: Asian American men aren't taking s*** any more.
Up until now, Jake's been a working actor who felt fairly uncertain about his path. As every struggling artist, he questioned his life calling. "I definitely felt some days that maybe I wasn't good enough," he says, wearing a white wife-beater and shorts. "I was scared for the future. Jobs are so inconsistent in his industry that, up until this point I never had a concrete feeling that acting was for me."
That's all changed. With a lead role in "Single Parents," playing Miggy, a 21-year old who had an "oops" baby, he's acting alongside Hollywood veterans like Leighton Meester and Taran Killam.
"He's that lovable young hipster that wears his heart on his sleeves," he says, his accent Queens-inflected. "He's trying to do his best to this baby. He was basically like me in high school or college. Except I didn't have a baby – not that I know of."
The feel-good show normalizes what it's like to be a solo parent, raising kids in this stressful world. Already, "Single Parents" is being named the "edgy" new show of the fall season. Variety already says it's a hit. "It's refreshing to see a comedy that acknowledges a different experience than most hangout sitcoms do," they wrote. TV Guide is saying that Single Parents is "a gem."
Next year, he'll star in the teen flick, "The Sun is Also A Star, " playing Charlie Bae alongside Yara Shahidi and Charles Melton. The movie is an adaptation of the bestselling novel by Nicola Yoon.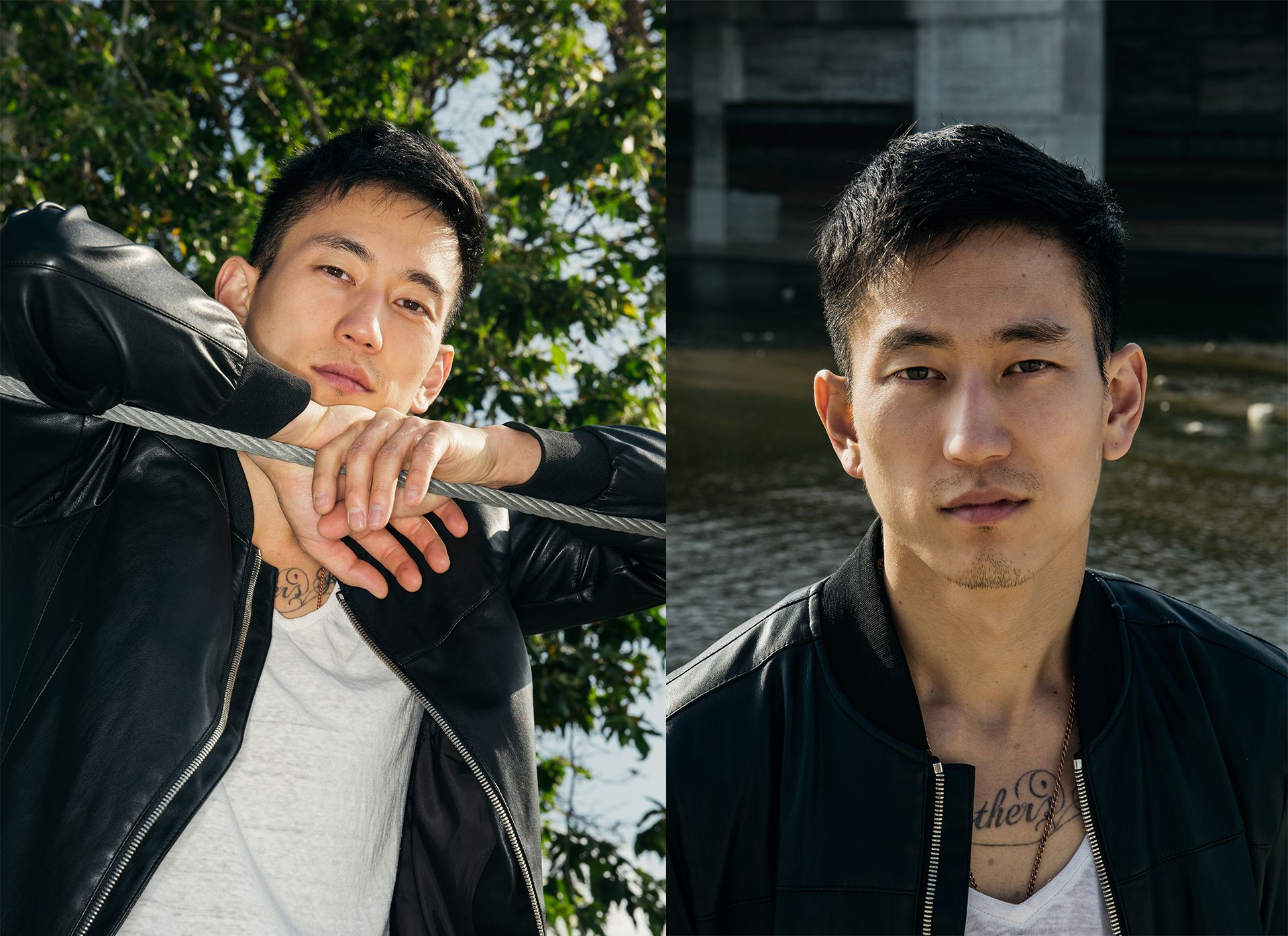 The role resonated deeply with Jake as Charlie is also Korean American and from New York City. "It was great to play this role and be able to actually give feedback to how the character is," he says. "There's this part of the movie where I suggest he actually speak Korean. If you had a non-Korean actor it wouldn't be so nuanced. It's in the ethnocentricity from actors of that background who can bring that authenticity to life."
Jake, who was born at the intersection of Elmhurst and Jackson Heights, definitely empathizes with that movie's character. He, too, felt misunderstood growing up. A "non-traditional Korean," he wasn't academic like his Asian American peers. "My SAT scores were so low I couldn't even taken any basketball scholarships," he recalls. He was going through, what he calls a "tumultuous time" with his mother and decided to go to Korea. There, he played basketball for Yonsei University and later entered South Korea's official league, the KBL (Korean Basketball League). It was there that he got in touch with his Korean side, learning the language and understanding more of the culture.
It wasn't until years later that he decided he'd return to the States to pursue acting, something his then girlfriend and friends urged him to try. After enrolling at the Lee Strasberg Institute, he realized he couldn't afford more classes. That's when he ended up taking odd jobs here and there like at the U.S. Census Bureau and working as a store model at Abercrombie & Fitch for 9 months.
For eight years, he would audition and land small roles here and there. After landing a major commercial alongside Amy Poehler in a Best Buy commercial for the Super Bowl, as well as a small guest role on "Broad City," he would play the biggest role of his life in a move called "Front Cover."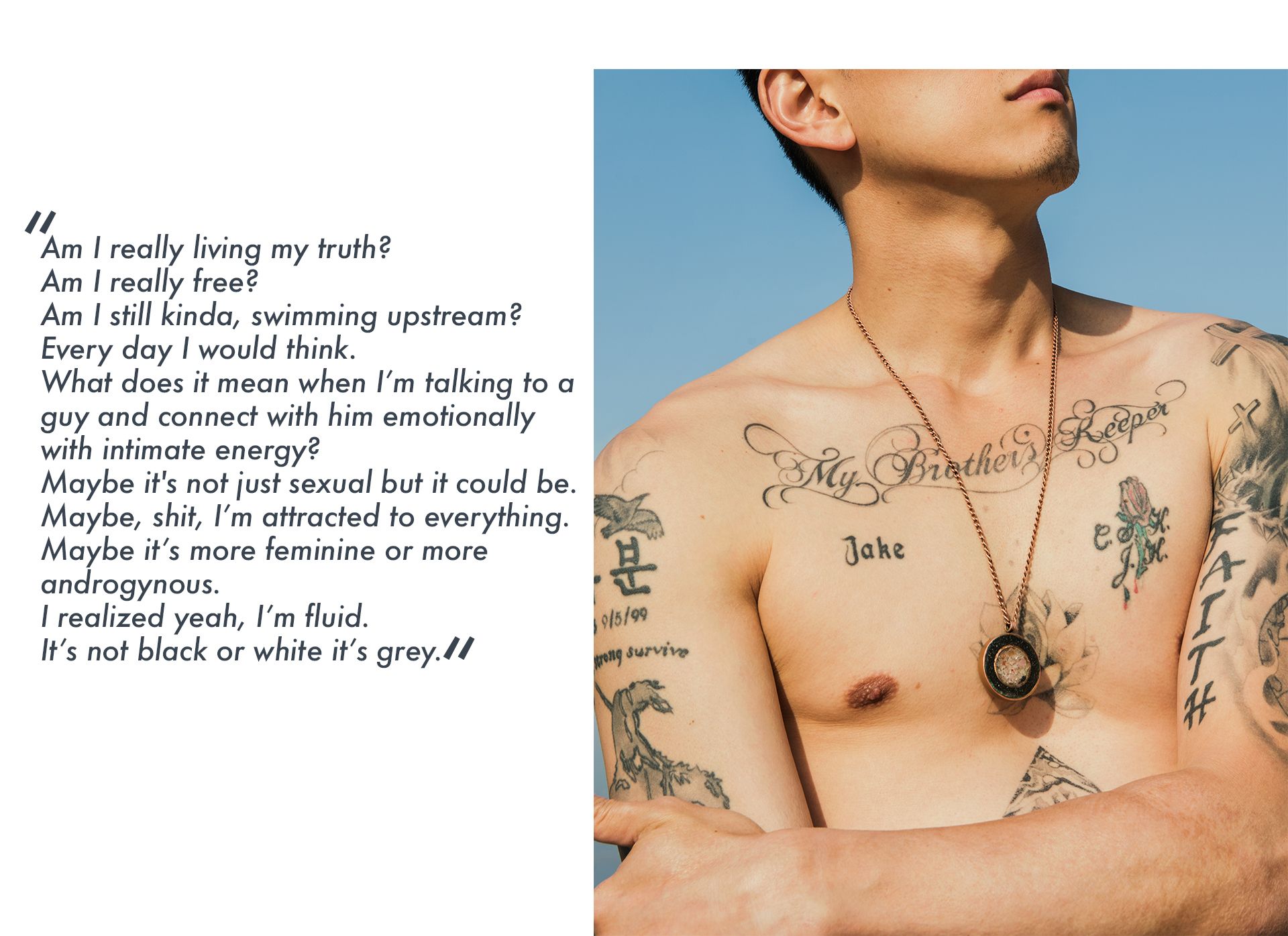 The movie centers around an Asian American stylist named Ryan who falls in love with a Chinese actor named Ning. The movie was praised by critics and eventually made its way to Netflix. But for Jake, the experience was completely "transformative."
"When I auditioned, I was bartending for a gay party for a couple of years," he says. "I was like, this is reflective of all the friends I have and he's an amalgam of 10 people I know in one role. I felt a huge responsibility tell this for my gay Asian loves. For Asians and Asian Americans."
It was his first role playing a gay man, something that could have been terrifying for any new actor. But Jake takes offense to that notion. "Being an actor means that you are truthfully reflecting human experiences. Gay people are people, too. Human-beings aren't defined by their sexuality. That drives me crazy when cis straight actors who are like, 'I don't play gay.' As an artist, it shouldn't matter: you're telling a story."
To get to that point, Jake says it took years of self-reflection and untethering himself from his childhood conditioning.
"Ever since I was young, all the images you saw around you, or at least for me, was catered towards heterosexuals," he says. "Very cis, very heterosexual. I was an athlete. When you're an athlete everything is hypermasculine and hetero. That's where you think you're supposed to be and everything else is abnormal and you're not supposed to do that."
It's how he came to redefining his own identity. "When I shot the movie I identified as straight – that's how I was conditioned," he says.
"Now, I identify as fluid."
It was only after the movie that allowed him to reflect on his own sexuality. "Back when people questioned if I was gay after the move, I was like, 'no, no.' But after I did "Front Cover," it made me think. A lot. Am I really living my truth? Am I really free? Am I still kinda, swimming upstream? Every day I would think. What does it mean when I'm talking to a guy and connect with him emotionally with intimate energy? Maybe it's not just sexual but it could be. Maybe, shit, I'm attracted to everything. Maybe it's more feminine or more androgynous. I realized yeah, I'm fluid. It's not black or white. It's grey."
His newfound identity, he says, allows him to become empathetic towards others who are different from him. It's a reason why he fights for others rights. When asked if he's an activist, he shies away from the term. "I used to say that," he says. "But now, I don't even want to say I am. I want to speak through actions."
And that means fighting for roles and representing disenfranchised people, like Asian Americans in Hollywood. At a time where people of color are fighting to be represented, it seems like a perfect time for an actor like Jake to become a household name. With movies like "Crazy, Rich Asians" proving Asian-led films are extremely profitable, and with more Asian Americans in lead roles, the world might be ready for a heartthrob that looks like Jake. It's almost as if he's the poster child for the new generation of what leading men can look like.
"I feel honored to represent groups of marginalized people," he says. "But the representation has to be truthful and real. It has to be authentic. I hope that I can continue playing – and living – that authenticity."