A new breed of grooming products are hitting the market and no, they're not your older brother's Irish Spring bar soap.
They're men's-specific grooming brands, catered to the modern man, one who's as conscious about the product's ingredients as he is its aesthetic. And they're actually cool. Long gone are the days when only women had choices in their side of the beauty aisles with men stuffed in the back, where they'd discover a graveyard of grooming products (that is, beard oil and a shaving cream).
SEE ALSO: The best facial products of 2017
Since, men have evolved. They're becoming savvier consumers, one who is more demanding to their needs. Brands from indie to mass, are now starting to respond, refiguring their products and understanding that their male consumer isn't one-dimensional. Rather, he has a variety of interests, is well-rounded and open to various types of beauty.
This in part has a lot to do with beauty's gateway drug: the sheetmask.
With everyone from athletes like Christian Ronaldo to music moguls like Diddy and actors like Orland Bloom getting into the sheet masking game, it's a natural next step for men to become curious about different products. Which is how we're at this point in history now, where men are just starting to become hungry for feeding their pores. As a response, brands are following suit. There's even a new crop of men's sheetmasks, from Bro Masks to Hommeface, to fill this void.
"Looking good is a form of masculinity and it's no longer feminine to care about your appearance," Xander Tran, a consultant at the projects* recently told me. According to his research, grooming will only become a bigger business. Currently, it's $50 billion worldwide.
Which is why we're now seeing a seismic shift in the men's grooming business. Grooming is no longer cringey nor is it lame. There are now brands that are shifting to become sophisticated and yes, sexy options. With every Irish Spring (and literally, no offense to that brand or guys who use it), there's a Byredo. With every generic hair gel (we're looking at you, LA Look), there's an R + Co.
To celebrate National Grooming Day (yes, it's a thing), we've rounded up the best grooming brands we're REALLY into at the moment. These aren't your brothers' products that scream fragile masculinity, either. Chic as they are genuinely good products, they're leading a new path towards a grooming revolution.
Below, our favorite products, rounded out! Tell us: what are yours?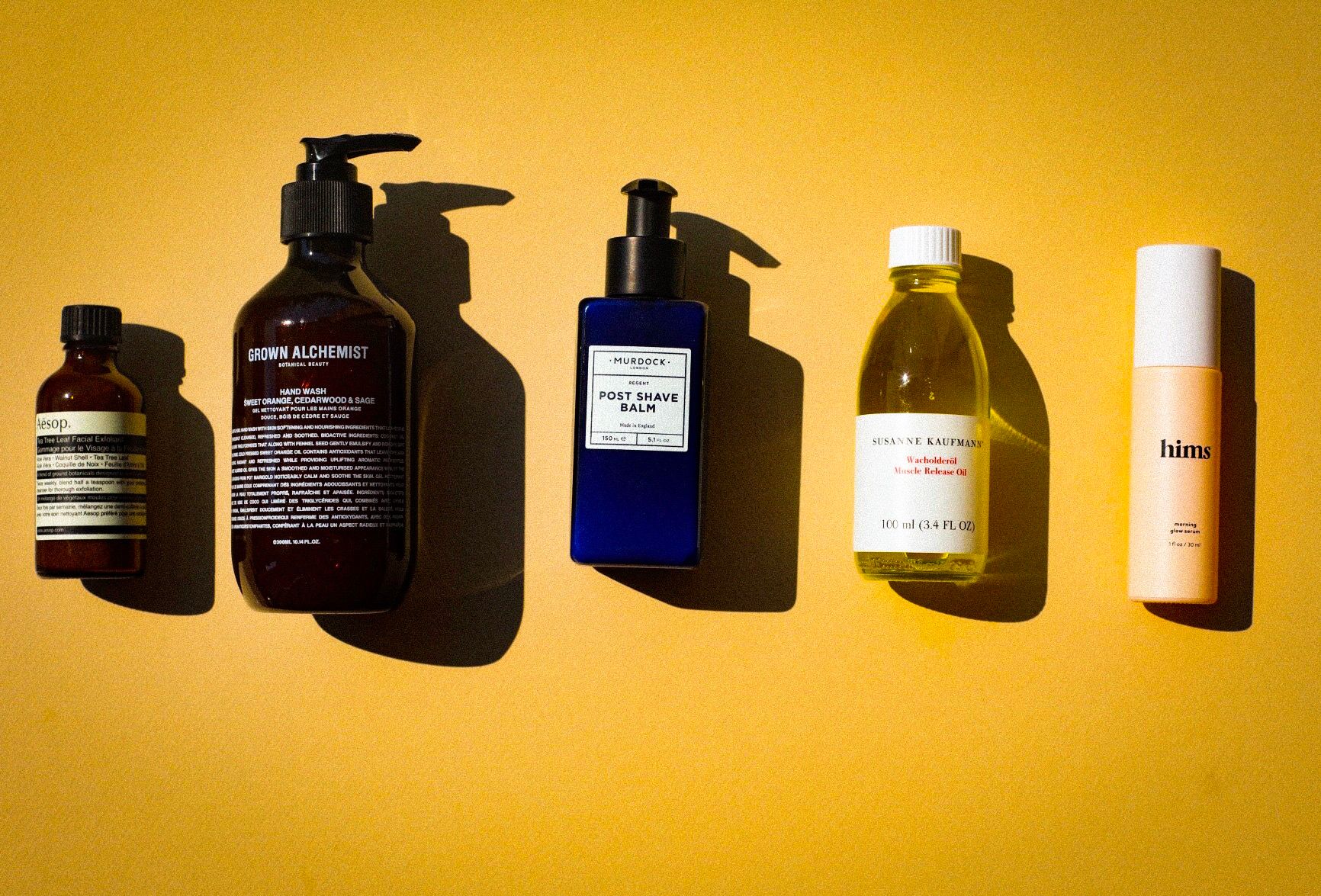 Aesop Tea Tree Leaf Facial Exfoliant, $40 – We're really into chemical exfoliations like AHA or BHA. But sometimes, we like feeling like we're really getting gunk out of our pores. For that, we turn to Aesop's own exfoliator, a mix between tea tree leaves (great for breakouts), nut shells (for that sloughing), purified clay, among others. You mix it with a little water, make a paste, and get your exfoliation on!
Grown Alchemist Hand Wash, $29 – The Australian brand's hand wash is absolutely divine. With coconut oil as its base, it's cold pressed with sweet orange oil for great antioxidant benefits. With a sweet almond oil finish, this is so sweet, it'll make you wanting to lick your hand.
Murdock Post Shave Balm, $44 – One of the coolest men's grooming brands to come of London, this product cools your skin after you shave. The product, an anti-inflammatory moisturizes your skin while also sealing your pores shut.
Susanne Kaufmann Muscle Release Oil, $40- Probably one of every beauty editor's secret product comes from Susanne Kaufmann, the Austrian brand that now has a cult-following. We love the brand's muscle release oil, containing nourishing oils with active plant extracts to give you muscles a much needed woo-sahhhh.
hims morning glow- If you're a Vitamin C snob, this product is probably not for you. But if you're a guy and you've been wanting to try Vitamin C products for the first time, hims has a great entry-level product with a smaller concentration for you. The product has less than 15% Vitamin C, a product that will make you glow.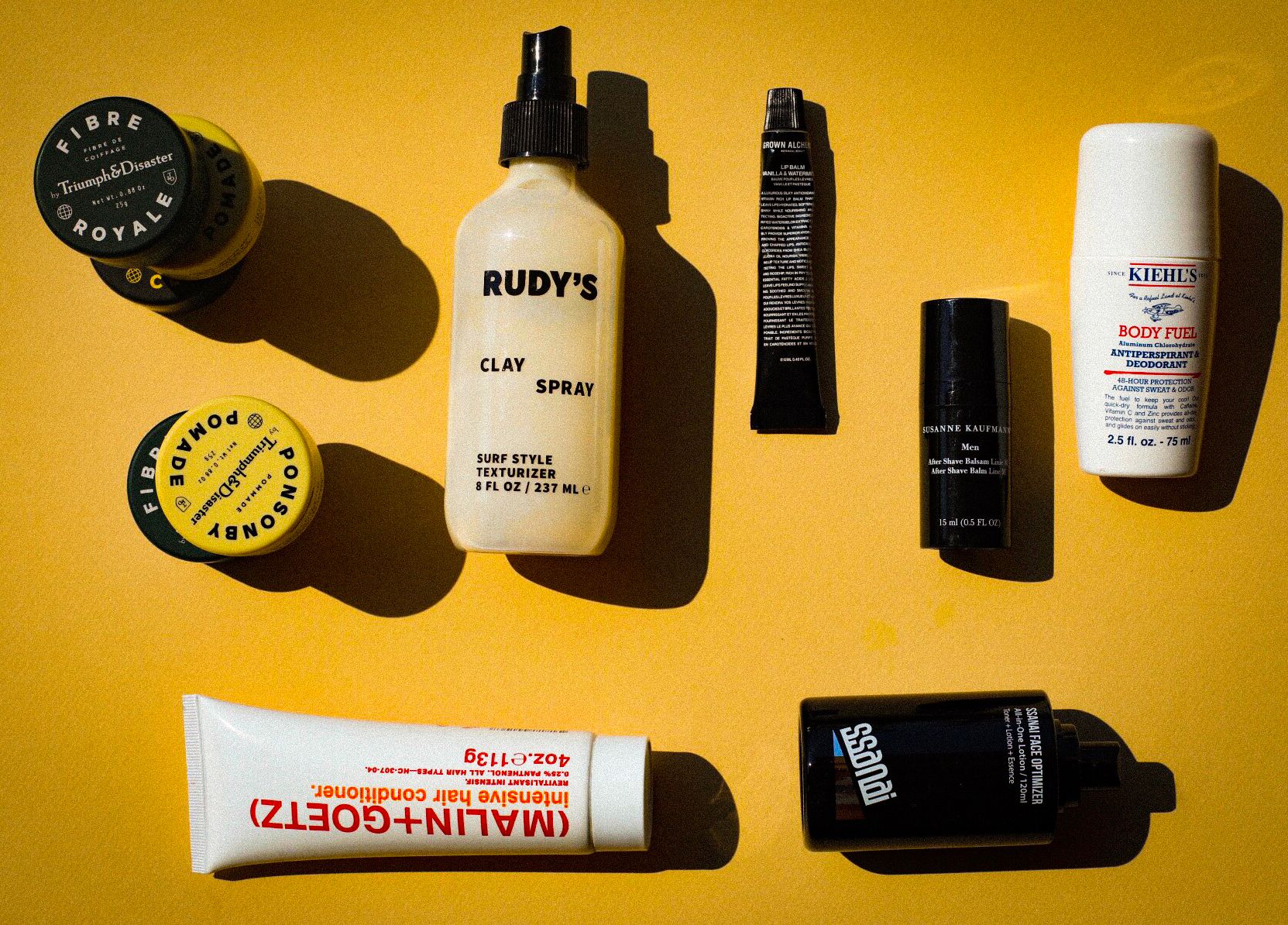 Triumph & Disaster Little Pucks, $12 – The New Zealand-based brand launched its smaller hair pomades called "pucks," and they're not only travel-friendly, but pretty cute. With three textures: clay, fibre, and a traditional pomade, each packs a punch.
Rudy's Clay Spray, $24 – We've written about the Clay Spray but we'll have to say it again: it's one of the best products for those looking for that gritty, lived-in look. It's not for everyone, but if you have thick, coarse hair, it's the one product you'll probably use for the rest of your life.
Grown Alchemist lip balm, $23 – This is a bougie ass lip balm and it's not for someone looking for Chapstick. But if you're looking for something luscious – delicious, even – this watermelon vanilla balm will improve your lip texture over time. Whether cold or dry, or both, this will make your lips juicy and succulent for any and all occasions.
Susanne Kaufmann men's gel, $53 – This teeny tiny travel-sized version is from Susanne Kaufmann, and one of the most lightweight men's formulas we've come across. Derived from apple acids, this has a 24-hour protection that will leave your skin hydrated until the next day.
Kiehl's Body Fuel deodorant, $16 – For those of you who intend not to bathe for 48 whole hours, this product is for you. It's Kiehl's own deodorant, which comes with a ball glide. With caffeine, vitamin C and zinc, this energizes your pits as well as fending off all stink.
Ssanai Face Optimizer, $28 – Kbeauty just for the guys? Yep, now there's a product that's stateside and specifically for men. It's Ssanai, a brand from Seoul, that's one of the biggest products to hit every major drugstore there. This one is a facial treatment in a bottle, one that absorbs quickly and is an aftershave, moisturizer and essence in one.
Malin + Goetz Intensive Hair Conditioner, $24- Not a new brand by all means, but one that's stuck around because it's just that good. This leave-in hair conditioner has amino acid proteins and fatty acids to restore and protect dry, damaged hair.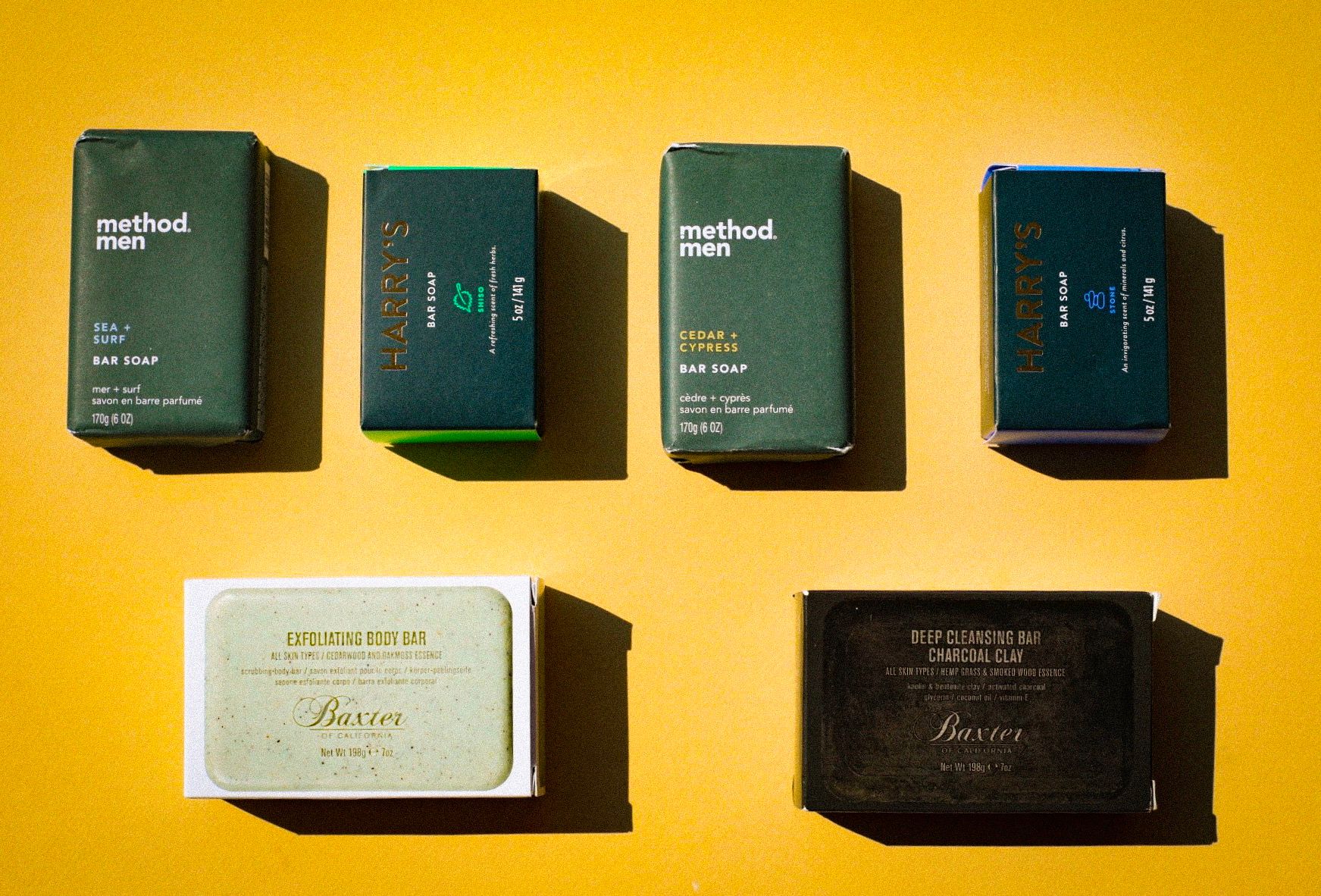 Method Men Bar Soap, $3.99 – Bar soaps have never been cool. Until now. Method, best known for hand soap, launched its men's line and we're totally into using these beautifully scent-uous fragrances. Our favorites are Sea + Turf and Cedar + Cypress, both bars that will leave you squeaky clean without the oily film or greasy residue.
Harry's Bar Soap, $3.99 – Harry's may have the most inclusive messaging of all current grooming brands. They're also screaming that ALL guys can and should use body bars. These fragrances are the best we've smelled from all body bars, period. We love Shiso and Stone but are FAVORITE is the Fig. It's so sweet, you'll feel as if you dipped yourself in a fruit smoothie.
Baxter of California Exfoliating and Deep Cleansing Charcoal Clay, $18 – Save up your cash for these exceptional body bars. We've named Baxter as our favorite bar for 2017, but the brand's new charcoal clay feels so luxurious. The clay extracts impurities while the entire bar completely saturates your skin with moisturizing goodness.