The 7 Virtues has cracked the code on how to make a long-lasting natural scent that is good for the world, for your soul, and for your skin.
Fragrance can be a hard product to fall in love with. The idea of discovering a signature scent that becomes a part of your aura has interested me. I always questioned, "Does my signature scent exist?"
SEE ALSO: How to make your shaving routine more sustainable
Staying at home this year has made me rethink what I look for in a fragrance. With all this extra time on my hands, was this the perfect opportunity to discover… my signature scent? The process of discovering your signature scent really makes you question who you are as a person, what your values are, and what you offer to the world. After digging deep, I think I found the answers.
But most importantly, I came to the realization that fragrance can be so much more powerful than just a lovely scent.
The 7 Virtues
I recently had the chance to sample The 7 Virtues, a fragrance brand committed to using organic, natural, and fair-trade essential oils. Made with organic sugar-cane alcohol, their eight fragrance blends are the first of its kind to ditch the traditional drying alcohol, preservatives, and bull s**t from the ingredients.
It does not stop there. Some of The 7 Virtues fragrances contain up to 30% essential oils, while a typical eau de parfum only contains 10%, making this a long-lasting natural scent.
The founder story
Barb Stegemann, the founder of The 7 Virtues, was a journalist before she became a beauty entrepreneur. Her brand began out of tragedy when her best friend and mentor Captain Trevor Greene was wounded in Afghanistan while serving a peaceful mission to liberate women and girls. Barb promised Captain Greene in the hospital she would take on his mission of peace while he healed, which led to the founding of The 7 Virtues.
The 7 Virtues is a beauty and social enterprise. They buy all-natural essential oils from countries that are rebuilding after war and strife. The brand can trace its roots back to 2009 when Barb first sourced one cup of orange blossom oil to support farmers in Afghanistan. Barb's mission is to source the purest ingredients from these small suppliers in underdeveloped nations in order to help stimulate the local economy and allow its citizens to lift themselves up and out of poverty.
The 7 Virtues is a testament to Barb fulfilling her best friend's mission while offering fragrance and beauty lovers an excellent product that positively impacts the world. The orange blossom and rose essential oil come from Afghan farmers who previously had to farm and harvest illegal opium from poppy plants in order to survive. The cost of growing and harvesting this plant can often result in farmers bartering their daughters in marriage to settle the loan to cover the cost of the seeds – a practice known as "opium brides."
Barb has taken her mission around the world to Rwanda, The Middle East, India, Madagascar, and has even sourced vegetable oil in Haiti with President Clinton. I also hear that the Clinton family fought over who got which scent!
The review
I might not be a Clinton, but I did get to try out The 7 Virtues fragrances. Since immersing myself in The 7 Virtues world, I will never go back. These fragrances envelop you in an incredible experience from the moment the fragrance hits your skin until you get your last whiffs in before going to sleep. Each unique blend transports you to somewhere new, and when mixed, it creates something entirely new and unique. Long-lasting indeed, it seems like these scents have no end to them. However, they are just the right amount of scent that is not overpowering. But just like how I want my skincare, these fragrances feel rich and comfortable on the skin.
My favorite? All of them. The 7 Virtues experience has led me to discover the depths of their eight signature fragrances. One that isn't budging from my top shelf is Vanilla Woods. This sweet, warm, and calming scent not only makes me feel empowered but provides aromatherapy benefits, just like the rest of the collection. This set is incredible for everyday use, especially while working from home. I have been applying this one immediately after a morning shower to begin the day on a sweet note.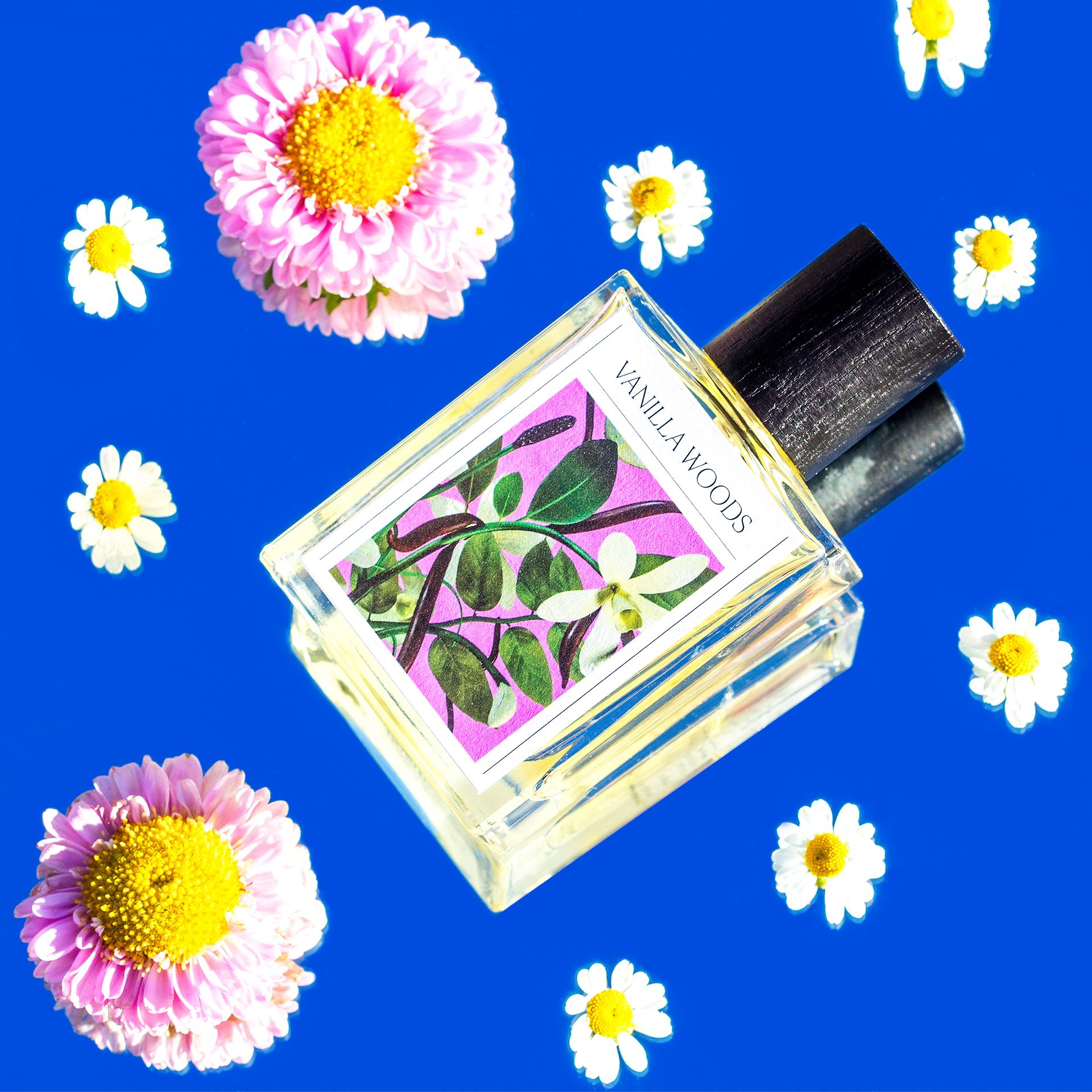 The Patchouli Citrus is my second favorite. It's a sultry, mysterious, and edgy scent. I feel powerful and wise while wearing this fragrance. The patchouli harvested for this scent provides widows and adult orphans from Rwanda economic independence. This scent has a hint of nostalgia for me, taking me back to when I would circulate the beauty sales floors of Neiman Marcus with my mom when I was in a stroller.
To take these fragrances to the next level, you can layer and mix each one to fit your own mood. Barb even suggests spraying one on a friend and giving them a hug for a perfect blend. (Something to look forward to post-vaccine, for sure.)
The exciting thing about The 7 Virtues is that they're made for everyone. My mom, dad, and brother were even fighting for a spritz! These fragrances are not only an excellent personal treat but make for the best gift for anyone on any occasion. The entire collection offers universal smells that will uplift and accompany anyone's aura.
If you're stuck on which one to start off with, the Peace Blend Box is the way to go. The set comes with seven 1.5 mL samples from the brand, packaged in a beautiful case that shares the origins of each ethically sourced essential oil. If you want to splurge and go with the full size, I would highly recommend it. The bottles are absolutely aesthetic in my collection, while the highly concentrated formula will allow you to cherish the bottle for a long time. If you have a hard time committing, the brand offers travel size rollerballs.
TLDR;
– The 7 Virtues is a fragrance brand that uses essential oils from countries that are rebuilding after war and strife
– They offer eight excellent unisex, long-lasting fragrances
– The Peace Blend Box is a great opportunity to try all the scents, and great for gifting!
– The brand is available exclusively at Sephora.com
– Buy HERE starting at $29