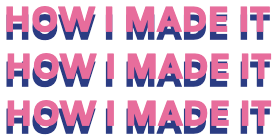 Welcome to our series, How I Made It, where we talk to beauty brand founders about their come ups, their origin stories, and how they finally, well, made it. The recurring series talks to beauty founders from all walks of life to uncover what inspires them, what pushes them, and the secret to their success.
Rex Chou is no newbie to the skincare game.
14 years ago, he "stumbled" into a career in skincare sprung from his passion for the industry and created Ghost Democracy. The skincare brand has been recognized by publications like Refinery 29 and was even a finalist at the 2020 Clean Choice Awards. For our How I Made It series, Rex dives into how he first approached skincare from a problem-solution standpoint and his unique perspective as a Taiwanese-American beauty entrepreneur.
SEE ALSO: How I Made It: Soko Glam and Then I Met You`s Co-Founder, Charlotte Cho, was told K-Beauty would never make it in America
What made you want to get into the skincare and beauty business?
After school, there was a marketing opportunity with one of the world's largest beauty companies. I followed my heart and thought, "This will be fun, I'll do it for a few years and see what happens."  14 years later I'm still in beauty and my professional background in skincare has aligned with my forever personal passion of being skincare-obsessed!  Having pretty severe acne as a teenager, I know how important skincare is tied to self-confidence and I'm very grateful to be on this mission to bring that feeling to more people.
What is your go-to product?
I use an entire pipette of our Floodgate Hyaluronic Acid Serum morning and night (I slather it on). 2.1% low-molecular-weight hyaluronic acid + 4% niacinamide…. I'm OBSESSED. I'm all about that dewy glow. Lastly, micellar water every day for gentle cleansing.
Growing up did anyone influence or spark your love for skincare? If so, who and how?
I kind of discovered it on my own. It started out as a problem-solution focus (acne/oily skin) but then developed into self-care, to look and feel better about myself.  Then, working in the beauty industry where everyone is so passionate, I drew a lot of inspiration from my colleagues across multiple countries and the importance of beauty no matter where you are. It goes so much further beyond fulfilling "superficial" needs.
Where do you see the future of sustainability and beauty heading towards?
I see the future of sustainability making a significant shift toward a "less is more" approach. The movement toward more eco-friendly options and sustainable ingredients will continue, but I see overall consumption decreasing as consumers are more discerning with how they spend their dollars (Do we really need $500 eye creams?) and what they spend it on (Do I need 6-7 serums, and 10-11 lip glosses or can I streamline my routine?)
What does it mean to you to be an Asian-American beauty entrepreneur?
It's very exciting because I naturally approach everything with a different lens. The lens of what beauty is in the US is inherently Westernized, and I am grateful to provide a different perspective. To be an Asian-American male in the beauty industry allows a different POV on the category and beginning a stronger conversation about skincare being for everyone, regardless of gender identity.
Who is your inspiration within the beauty industry?
A huge inspiration for me is Brandon Truaxe, he really transformed what transparency means in the beauty world, and skincare specifically. He was unapologetically himself, always prioritizing the needs of the consumer and giving people what they wanted without being profit-first or driven by greed. It's very inspiring what he was able to achieve by being true to himself and educating people that expensive doesn't mean quality. He put that power in the consumer's hands.