May is officially Asian Pacific American Heritage Month, celebrating the journey of Asian Pacific Americans, what they've accomplished, and what's to come. For an entire week, Very Good Light is kicking off a series of Asian American stories, highlighting the future of Asian America. From Generation Z activists, healthcare workers on the front lines, music artists, and more, we're uplifting Asian stories. We've partnered this week with Hate Is A Virus, a grassroots campaign that aims to raise $1 million to businesses affected by COVID-19. Together, we hope to spark conversations, change, and community. After all, the Asian American experience is the American experience. We're in this together. For more on Hate Is A Virus, go here.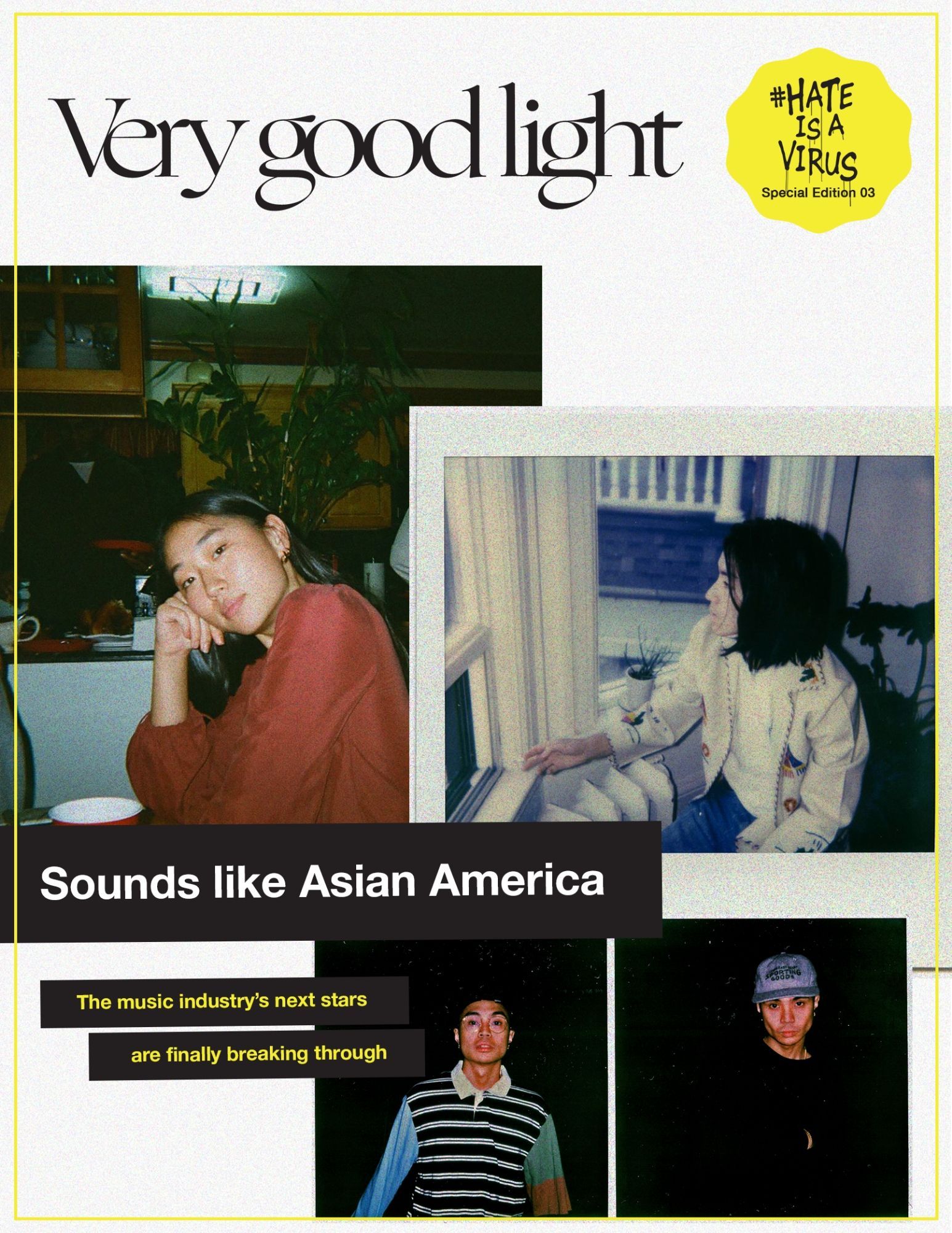 Four years ago, a black-and-white clip of a musical number on a mid-century The Ed Sullivan Show circulated Twitter.
The guests, a female trio angelically harmonizing an American classic in coordinating sequined-hemmed outfits, would grace the variety show's stage more times throughout their career than any other act. They were also Korean.
SEE ALSO: Why white people are so triggered by BTS
"The Kim Sisters" became the blueprint for the Korean-US crossover. Composed of the two daughters and niece of famous Korean diva, Lee Nan-Young, the group arrived in Las Vegas unable to speak English in a still-segregated America and began to sell-out venues before becoming the first Asian group to release an album in the States. Soon, Americans would stop to applaud them on the street, and compliment them on their "kimono." The sisters would respond, 'No, it's a hanbok—a traditional Korean dress."
Flashing-forward fifty years, it seems history's repeating itself. South Korean boy band BTS incites frenzy whenever they touch down Stateside breaking records and selling out stadiums. Blackpink, a band that has hit the Coachella stage and featured on Lady Gaga's upcoming Chromatica, is the highest charting K-Pop girl group in history. Jackson Wang, a Chinese-member from the K-pop group GOT7, sings in American-affected English over trap beats, and is enjoying solo-success in the U.S.
Asian American music, however, appears has still yet to translate. There isn't an Asian American artist who is currently charting, or can be pointed to as a pop culture mainstay. Not that they haven't tried. From Coco Lee to Utada Hikaru, Asian Americans have long-since attempted to conquer the American music scene, often retreating across the Pacific to find success in East Asia. It perhaps explains why the few American artists with Asian heritage – but aren't Asian-passing – choose to keep their ethnic identities hidden. Supernovas  Bruno Mars and Nicole Scherzinger are both of Filipinx descent. Tyga is Vietnamese-Black.
"The only people who really found success in entertainment en masse were white." – Yano
But perhaps things are changing. Rappers such as Rich Brian, movements like 88rising, singer Slayrizz, or indie stars from Keshi to Yaeji are creating a new Asian American musical identity and sound, and armed with an array of social platforms, Asian Americans are no longer at the mercy of record labels for discovery and promotion. Instead, they're finding their own fans.
Only a decade ago this feat was near-impossible, affirms music manager John Kim. While Kim played a significant part in K-Pop's explosion, introducing Korean group Girls' Generation and singer Boa Kwon to the Western market in the mid '00s, he admits Korean artists of the era were "too early" for major success. At the time, Hollywood still insisted white actors don yellow face — or simply whitewashed them altogether — while Asian actors were, for the most part, relegated to the same roles on screen.
"It was bad timing [for Korean artists]. Back then and still now, the perception of Asians has always been studious, polite, keep to themselves, and then you had someone like Boa come along who sings and dances — [it was a shock]," Kim remembers of the reaction. "Now with technology stereotypes are slowly breaking for the better. No one knew what Kpop was just [back then], look at it today."
The genre's popularity has brought awareness to the stereotyping of Asian musicians, says Kim, facilitating a palpable shift toward inclusion. One would expect homegrown talent to welcome the progress — more eyes on Asian entertainment should mean more investment in Asian entertainers, particularly in those who don't have to overcome the East-to-West barriers of Asia-born artists. But the flood of talent from across the Pacific hasn't unlocked the door to mainstream approval for Asian American artists. In reality, Taiwan-American singer Pinky Swear believes it's had the opposite effect.
"Music from Asia is growing in the US – and that's cool – but on the flip side, [I feel] it's kind of continuing to exoticize Asians as a whole," Pinky Swear (née Effie Liu) tells Very Good Light. "The message is kind of like, 'We need to look across the pond for Asians who are popping, because the domestic ones aren't.'"
It also perpetuates a long-held image and expectations of Asian American artists.
"When there is an artist of color or a certain ethnic background, there are typically assumptions that it has to display a certain 'heritage' or some type of social commentary," says Nina Lee, director of publicity at entertainment firm Shorefire. To combat this, she says that the music industry at large needs to become a lot more diverse. "We need label execs, agents – folks in the industry with a voice – to step up and advocate for Asian artists, and frankly, all artists of color."
"I still feel stereotyped, but I'd rather not play the victim." – Yeek
Which, in turn, might give Asian Americans the agency to pursue music in the first place. For many Asian Americans with immigrant parents, a career in the arts doesn't seem like a viable option. Long-time music supervisor and current SVP of film music at Universal Pictures Angela Leus, whose family hails from the Philippines, pegs Asian parents' aversion to creativity on their "cultural upbringing."
"The arts are something that we do growing up so it looks good on a college application," she adds. "You aren't encouraged to make a profession out of it. I'm lucky that my parents encouraged and supported my interest in music and desire to make it my livelihood."
Fellow Filipino-American Sebastian Caradang, known professionally as Yeek, was herded toward "financial stability" throughout his adolescence, only experiencing familial support for his career choice when music finally began to pay the bills. The singer-songwriter has long since eclipsed his parents expectations of his potential in pop music – his famous fans (read: hip hop heavyweight A$AP Rocky) earn him well-deserved cultural cache.
Despite the industry recognition, Yeek feels as if he needs to fight preconceived notions and stigmas.
"I still feel stereotyped, but I'd rather not play the victim," he shares. "I want show what I am capable of off the strength of my music to make it easy for the masses to focus on what's important – not the fact I'm Filipino-American….At the same time I'll still be putting on for my people in the subtle-but-impactful way I've always wanted to."
When singer-songwriter Jonah Yano told his Japanese mother music was more than a hobby, she advised him to "find a talented white man and stick with him." Yano says while he was initially discouraged by his family's objection to his pursuing a career as a performer, he's since realized it was for his own protection. Because "the only people who really found success in entertainment en masse were white," Yano's parents simply couldn't imagine an East Asian musician making any kind of living, let alone achieve chart-topping success.
But they did.
Breakout hit "Like A G6," easily became one of 2010's most-memorable tracks, performed by an electro-hip hop group whose Asian pride was worn on their sleeve, or articulated in their name: Far East Movement. That's not to say the moniker was an easy victory. On a 2016 press tour to promote their album Identity, the group alleged they were told to reconsider the name 'Far East Movement.' Executives also advised they wear glasses to obscure their eyes, presumably so as to seem more racially ambiguous. While the name stayed, sunglasses appear to have been the compromise.
"There was an identity crisis in the sense that you're from the U.S., and you're 100 percent American, but you don't necessarily feel that way, and you don't feel that people see you that way," member Kevin Nishimura told NBC News at the time. "You get execs that say, 'You're too Asian, how do we make this less Asian?'"
"I think what entertainment is getting wrong with Asian Americans is similar to what they get wrong with other backgrounds," echoes Pinky Swear, four years later. "Everyone is not defined by their ethnicity or how they look — the more we are out there, the more normalized we are, and people can learn that we are not so different from everyone else."
Swear claims that while Asian representation in film is on the rise – from Henry Golding's international heartthrob status to the critical success of Korean film Parasite – music is yet to show substantial progress.
Leus disagrees, revealing there's been a conscious shift from studios toward inclusion in casting and even a diversity program enacted for composers. Nonetheless, in the pop music realm, it's difficult for Leus to pinpoint a present day Asian musician. Society privileges what it's used to seeing, she says, or what's believed to be "appealing to mainstream culture."
"To be honest most of the major US pop artists look like they are from the Western Hemisphere," seconds Swear, "so perhaps when an Asian American artist approaches a major label, they do not see the same potential."
Nina Lee affirms there's still "plenty of work to be done" when it comes to Asian representation in music, but she remains optimistic, especially as Asian-owned organizations like 88 rising, a management-recording label hybrid that champions Asian artists, gain traction. "I think we're just now coming into this renaissance of pushing forth the careers of Asian-Americans. It'd be a sign of a much more healthy, diverse climate when there is more than just one singular label to point to that champions Asian artists. It would be nice to see Asian artists integrated in all labels and not just to hit some type of quota."
Then again, many aspiring Asian artists may need to sell themselves of their own star power long before they win over label executives. The systemic racism rooted in entertainment means that Japanese men rarely find themselves rewarded in media depictions, and as a result,Yano feared he would never be considered a worthwhile artist.
"I think the main [stereotype] that sticks out to me is the perception of the Asian male as non-masculine, or lesser-than all other men," the 25-year-old explains. "It really had me convinced for a long time that because of the way I looked no one would ever take me as seriously as an artist as non-Asian men. It's a concept I've since overcome, but let me tell you, it's hard to unlearn these things."
The new frontier, Yano believes, will be when 'Asianness' is no longer referenced as a point-of-difference. Most publications brand him as the "Japanese-Canadian singer," which, to him, feels like sugar-coated othering.
Despite his reservations, Yano acknowledges that any Asian visibility in mainstream media is progress – regardless of the intentions of those behind-the-scenes. "I still think that a lot of how Asian people are becoming integrated into media is tone deaf and stupid," he says. "But every path to normalization is uncharted territory and therefore impossible to be done without some mistakes. How could we learn the right way if we never get anything wrong?"
It's because modern social guidelines dictate demonstrations of "wokeness" says Pinky Swear of the recent focus on inclusion: "There has been a shift, but mostly because tolerance is being demonstrated." Still, the unprecedented commercial and critical success of films and books such as To All the Boys I Loved Before and Crazy Rich Asians in the United States, as well as that of Asian music performers, proves there's an appetite for Asian entertainment that is yet to be satiated.
The floodgates have burst, it's now just a matter of keeping them open.
/*<![CDATA[*/ (function () { var scriptURL = 'https://sdks.shopifycdn.com/buy-button/latest/buy-button-storefront.min.js'; if (window.ShopifyBuy) { if (window.ShopifyBuy.UI) { ShopifyBuyInit(); } else { loadScript(); } } else { loadScript(); } function loadScript() { var script = document.createElement('script'); script.async = true; script.src = scriptURL; (document.getElementsByTagName('head')[0] || document.getElementsByTagName('body')[0]).appendChild(script); script.onload = ShopifyBuyInit; } function ShopifyBuyInit() { var client = ShopifyBuy.buildClient({ domain: 'very-good-light.myshopify.com', storefrontAccessToken: 'a42f36788c3ffd7b1ca3ce7a8b4d8e71', }); ShopifyBuy.UI.onReady(client).then(function (ui) { ui.createComponent('collection', { id: '197674893472', node: document.getElementById('collection-component-1591967692752'), moneyFormat: '%24%7B%7Bamount%7D%7D', options: { "product": { "styles": { "product": { "@media (min-width: 601px)": { "max-width": "calc(25% - 20px)", "margin-left": "20px", "margin-bottom": "50px", "width": "calc(25% - 20px)" }, "img": { "height": "calc(100% - 15px)", "position": "absolute", "left": "0", "right": "0", "top": "0" }, "imgWrapper": { "padding-top": "calc(75% + 15px)", "position": "relative", "height": "0" } }, "button": { ":hover": { "background-color": "#55aab3" }, "background-color": "#5ebdc7", ":focus": { "background-color": "#55aab3" } } }, "buttonDestination": "checkout", "text": { "button": "Buy now" } }, "productSet": { "styles": { "products": { "@media (min-width: 601px)": { "margin-left": "-20px" } } } }, "modalProduct": { "contents": { "img": false, "imgWithCarousel": true, "button": false, "buttonWithQuantity": true }, "styles": { "product": { "@media (min-width: 601px)": { "max-width": "100%", "margin-left": "0px", "margin-bottom": "0px" } }, "button": { ":hover": { "background-color": "#55aab3" }, "background-color": "#5ebdc7", ":focus": { "background-color": "#55aab3" } } }, "text": { "button": "Add to cart" } }, "cart": { "styles": { "button": { ":hover": { "background-color": "#55aab3" }, "background-color": "#5ebdc7", ":focus": { "background-color": "#55aab3" } } }, "text": { "total": "Subtotal", "button": "Checkout" } }, "toggle": { "styles": { "toggle": { "background-color": "#5ebdc7", ":hover": { "background-color": "#55aab3" }, ":focus": { "background-color": "#55aab3" } } } } }, }); }); } })(); /*]]>*/