Beauty brands are struggling to find the balance between sustainability and design.
When thinking about your last delivery from your favorite skincare or cosmetics brand, how many things did you need to unwrap before you made it to your product? We all love cute and chic packaging but scary to think about all of the excess. Even with so much research that says how plastic is destroying our planet brands aren't always ready to invest the time and money into 100% recyclable packaging. This, especially if they think it will hurt their chances of profit or aesthetics.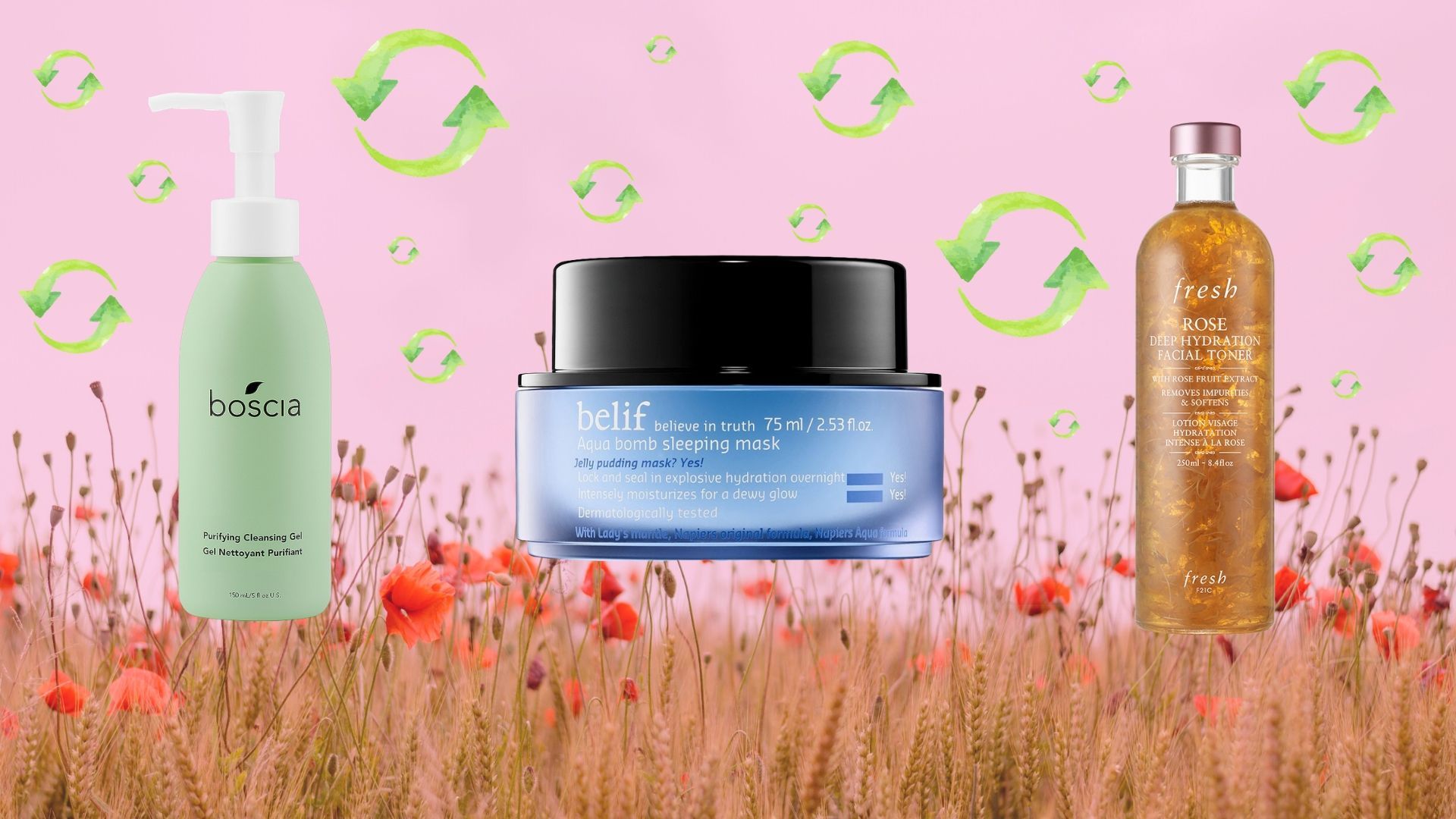 A 2019 Zero Waste report noted more than 120 billion units of packaging are produced globally by the cosmetics industry each year. Unfortunately, not much of that is recyclable. The good news is beauty brands to major conglomerates like Unilever have announced that by 2025 they will halve their use of virgin plastics and commit to using post-consumer recycled plastic or, 'PCR.' This would make Unilever the first major global company to commit to an absolute reduction in plastics across all of its brands. Hopefully, many other companies follow suit.
In lieu of Earth Day, here's everything you need to know about beauty, sustainability and the future.
SEE ALSO: You're recycling your beauty products all wrong
What is PCR plastic?
Post-consumer recycled plastic or PCR is plastic that has already been recycled before and ultimately repurposed. So by recycling your beauty products, cans, oat milk bottles, and cardboard boxes, you're contributing to the revolving amount of PCR that brands have to use and distribute.
Recycle, Reuse, but Refuse to do it
As we mentioned, if we don't take steps to recycle we can't change the future of packaging. Our bathrooms and skincare collections are filled with products waiting to be recycled. But, more than have us actually put those bottles and jars in the right bins.
Johnson & Johnson
once reported nearly 60 percent of people rarely recycle or have never recycled their bathroom products. The conglomerate also once reported that 20% of Americans didn't recycle because they didn't have a recycling bin in their bathrooms.
Clean your recyclables!
You can't just throw it and think you're doing good. Recycling beauty products actually takes a lot of energy on your part. Because not everything is 100% recyclable, you'll have to take your products apart. Certain face cleansers and shampoos often have the bottle and then an additional pump. In most cases, recycling the bottle is no problem but the pump can be a little confusing since it's made of mixed materials, its small, and oddly shaped (more on recycling difficult items below). You'll also need to clean your bottles and remove your labels. While you don't need to stress yourself out by washing every last drop, spending a good two minutes washing out your bottles and jars will go a long way. If you just toss your recyclables without washing them, there's a pretty good chance they won't be able to be sorted when it comes time to be.
When in doubt, head to TerraCycle.
Terracycle is a company that hopes to eliminate the idea of waste. Remember those pumps to your shampoo and face cleansers? This is where TerraCycle comes in. Some things are harder to recycle than others but, TerraCycle won't take no for an answer. Their goal is to recycle anything and everything and teach you how at the same time. You can drop off anything that is difficult to recycle at a TerraCycle collection site, or mail it to them!
Have a product you're unsure about? Head to terracycle.com and type in what you have via their search bar. They'll tell you everything you need to know and what collection program(s) can take your recyclable goods.
Bottom line: You have the power to change the industry standards.
Recycling saves energy, space in landfills, and ultimately helps our earth. The most important thing though is the more we recycle, the more opportunities companies will have to create packaging out of PCR plastics and other materials. The future of packaging within the beauty industry is in our hands.
If you have questions about collections within your state or are wondering how to recycle a certain item, visit Terracycle.com. Many beauty brands like Acure,  Burt's Bees, and Paula's Choice have their very own programs and incentives!