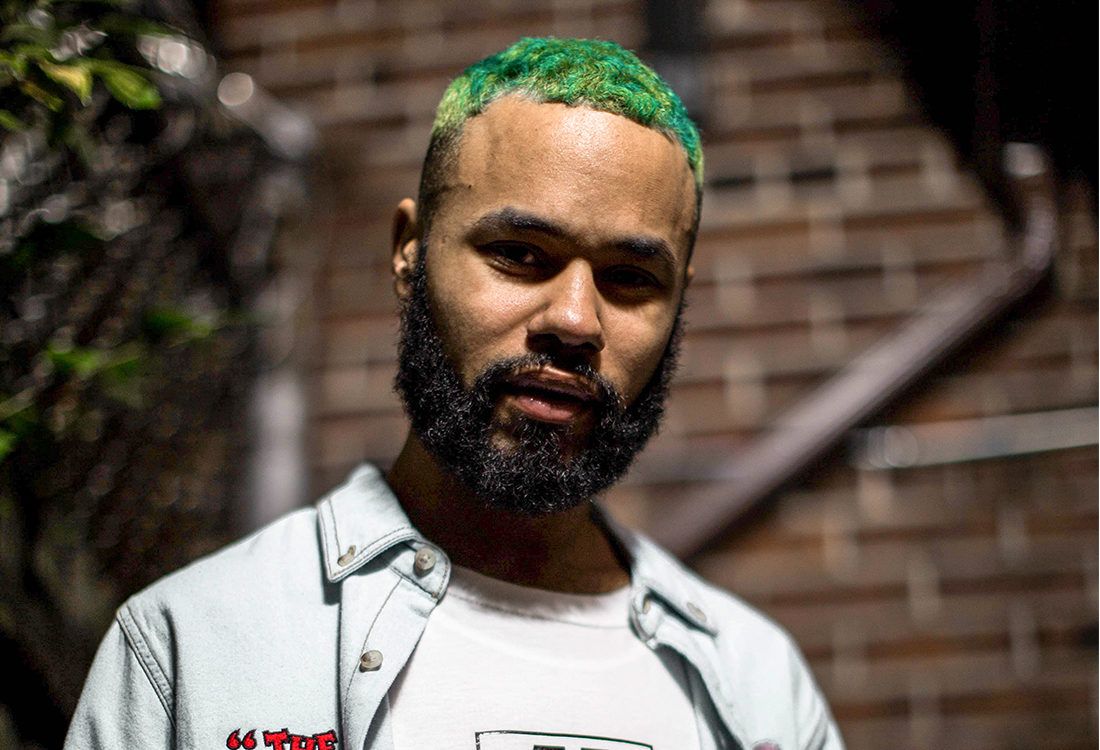 "Don't do it bro, don't do it," they said.
It was the summer before the first leg of his tour for his debut album, True Colors, the first under Capitol Records, and the rapper named Chaz French was contemplating if he wanted to dye his hair a bright color. That's when he had his fair share of critics and friends who told him it'd be best "not to do that." But he'd been wanting to color his locks for the past five years and felt it was finally the time to do it.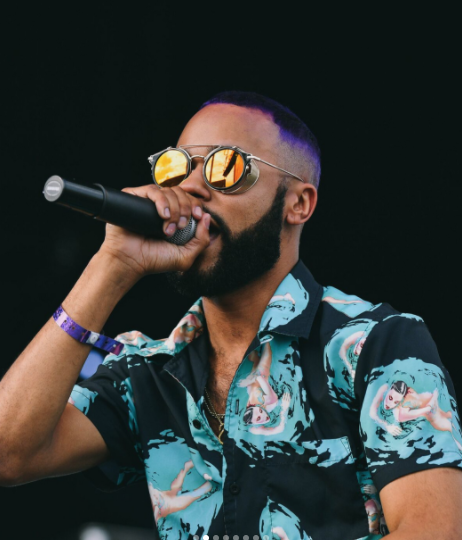 "F*** it."
He went midnight blue.
In a traditionally hypermasculine culture of hip hop, where guys have historically been taught to be "hard," and "man up," the very act of deviating from these notions could be looked upon. Dying one's hair an outre color, then, could real consequences. Like antiquated critics who'd question one's masculinity or sexuality by the color of their outfit or by something like their hair. But for Chaz, hair is hair, expression is expression. "It doesn't take away from s***," he says. "The whole thing doesn't even matter."
Coloring his hair blue "felt really good."
"It's freedom and I can do whatever I want," he explains. "If someone doesn't like it that's their problem." Since, it's evolved to blonde, purple, green, to an off-orange color.
"I'm a sappy ass person."
"[Hip hop] s not what it used to be," he tells us. "We now live in an era of hip hop where we can express ourselves in different ways. The kids, we run style and run culture. There's no rules to this s***. Back in the day, the older generation weren't dying their hair but had hard tattoos and piercings. Today, we're not going to do that."
The entire process of dying his hair isn't an easy one, especially on the road. But it's one that he's committed to, his stylist on-call when he might have a hairspiration. If you thought the process was easy (because he makes it look so), you'd be wrong. "It burns!" Chaz explains, of the amount of bleach that's added to his hair. Apparently, one has to get it blonde enough to add permanent pigment. After changing his locks so frequently, Chaz has discovered it doesn't come without mishaps.
On time, after his stylist dyed Chaz's locks into a "perfect purple," he requested she bleach it one more time. Though it was against her better judgment, Chaz wanted to try it out. It ended up with hair falling out and a distinct bald spot on the side of his head.
"I was so upset," he says, with a laugh. "My barber fixed it but I'll never make that mistake again."
The constant change of his hair's colors are almost symbolic of his debut album, one that takes a vibrant look into the D.C.-based rapper's upbringing. From growing up without a father who was incarcerated since his childhood, being homeless, to finding his way through music, True Colors is about, if anything, the human and its resilience. "It's about pulling through," Chaz says. If that sounds emotional, it's because it is – and Chaz will be the first to admit it.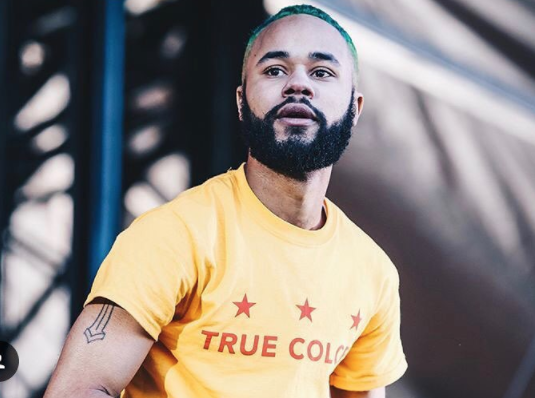 "I'm a sappy ass person," he tells us. "It's hard to make music that doesn't show otherwise. When I'm making music I'm the most vulnerable."
With his father behind bars, the young Chaz grew up resenting him. It was only years later, after having children of his own, when he began empathizing with his dad's experience. "Let me shed a different light on my dad and realize how no matter what he did he still cared for me," he says. He even wrote a track called "POPS" in homage to his father.
"Wasn't around a lot and I blame it on prison
As crazy as it may sound I wanna be just like him …
You may say he ain't shit
But to me he's the realest, he the realest," he raps.
Without a dad around, his mother stepped in and taught the young Chaz how to steer his own destiny. "She's gone through a lot and still stays strong if she ever had a breakdown," he says. "We all have moments and times when we shut down – that's life. It's how we get back up that's important."
And that's exactly how Chaz discovered his own definition of manhood. "Being a strong person means being really mentally and emotionally strong," he says. "There are many guys who are physically stronger than me but they wouldn't be able to have gone through what I've been through. They'd crack under pressure."
With that mantra, Chaz is doing Chaz – green-hued hair, colorful outfits, with a vivid view of his future ahead, he's unstoppable.
"I'm going to fulfill everything I've wanted," he says, assuredly. "Modeling, acting, getting a Grammy, an Oscar, even having my own beer brand." You want to believe him.
But for now, he's plotting his next hair color. "Maybe it'll be peach, maybe it'll be something else. I don't know. You gotta keep them guessing."
To find tour dates for Chaz French's tour, head here.