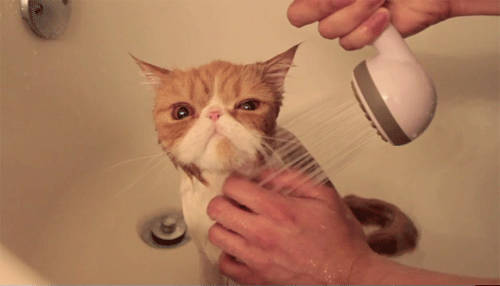 Back to school jitters are real.
And if you're going off to college for the first time, forget it. Cancel life. You are antsy AF, scrolling through your Instagram, stalking your potential roommates and their friends, stressing over who you'll hang out with and who's going to get breakfast, lunch and dinner with you.
SEE ALSO: Why one night stands are perfect for beauty buffs
Another huge conundrum: the bathroom situation. Whether it's a communal bathroom or one that's private, you're definitely going to have to get used to a new way of showering. Because you won't be able to actually keep your belongings inside the bathroom, you'll have to learn to adjust quickly.
In order to ensure your first communal bathroom experience is as pleasant as possible, we have virtually pre-packed a shower caddy with all your bathing essentials. And because we know the college diet consists of ramen noodles and cheap beer, everything is under $20.
1 Shower caddy
A shower caddy is crucial if you will be commuting back and forth to a shower. No matter how basic or extra your routine, throwing everything in a caddy will be much easier than lugging around an armful of product.  This one is big enough to hold all your essentials and is 100% waterproof, and is much chicer than other options out there.
2 Flip flops
You'll need a pair of flip flops to protect your feet from the danger that is the shared shower….foot fungus, grime, who knows what lurks on those tile floors.  You'll want to toss them by next semester so stick with something cheap. Go with a classic from Old Navy.
3 Body Wash
We really shouldn't have to explain why you need to clean your body. Liquid body wash lasts longer than bar soap, and the less money you spend on soap the more money you can spend on late night McDonald's. This one from CeraVe is great for all skin types, it's unscented and won't dry your skin.
4 Sponge
While it's not a necessity per se, a sponge can help take your skin care to the next level. They are great for exfoliating the skin and helping to reach hard to scrub places like the back. When you're cramming for finals it's the little things like taking an extra two minutes on your skincare that can help keep you sane.  This one from Dove has two different sponges for double the fun.
5 Shampoo and Conditioner
Pro tip: Bulk up while you are still close to a Target! Save some cash and some effort by buying a larger size of shampoo and conditioner to last you until Thanksgiving. This one from Tresemme is super moisturizing and will keep your hair as shiny as your future.
6 Body Lotion
Use a light unscented lotion to keep your skin hydrated af. Lubriderm is a classic because it is great for sensitive skin and doesn't have any scent. This formula also includes SPF which is crucial for anti-aging and sun protection.
7 Cleanser
A gentle and unfussy face wash is an essential, even after a night of partying (or studying). Burt's Bees makes great cleansers for all skin types. This one will gently cleanse the grime from your skin, and contains brightening ingredients like daisy extract so you will be glowing for your morning lecture.
8 Toner
Don't forget toner! A soothing toner will calm skin, rebalance the skin's pH and make sure skin is actually clean. This classic from Thayer's uses witch hazel to keep acne at bay, as well as cucumber to  soothe any irritations. Witch hazel is also great for keeping ingrown hairs from popping up, so this product does double duty as a post-shave treatment.
9 Moisturizer
Hydrate hydrate hydrate! This lightweight cream from Neutrogena rivals luxury brands and will give you the dewy baby sin of your dreams. The key ingredient is hyaluronic acid which pulls water from the air into your skin, keeping it hydrated and plump. The light, gel texture makes it work for all skin types, even oily.
Tell us what you're bringing to college this week in the comments below!