Featured Advertisement
Testosterone support can be a tricky subject.
When it comes to finding hormone-free options to support your body's testosterone production it can be confusing. Even when you do recognize you want help, there are so many options it can be overwhelming.
Thankfully, Roman, the digital health clinic for men, is the answer. The company created a convenient way to receive supplements discreetly by mail. The platform tackles the issues that men are concerned about but often slow to address, including testosterone support. Roman isn't new to the market, they've been offering testosterone support supplements since 2019, and know exactly what men are looking for in a product to help maintain healthy testosterone levels.
Below, we dive into the many reasons why men are turning to Roman for testosterone support.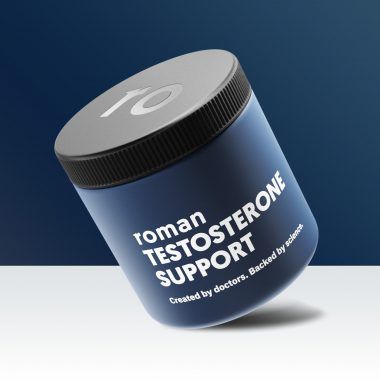 Consumer-driven products
After sending out a survey to Roman members, 52% said they'd be interested in taking a testosterone support supplement. Roman went to the drawing board and decided to formulate their own supplement with carefully sourced ingredients.
Ingredients matter
It's normal to be skeptical about supplements. And that's why Roman's supplement contains scientifically-backed ingredients, including ashwagandha for testosterone support. The Testosterone Support supplement also includes vitamin D3, zinc, magnesium, maca, and copper. This bespoke blend is only available by Roman, so you know you're getting a specialty supplement that is unlike anything else on the shelves.
Quality manufacture
All ingredients in Roman's Testosterone Support supplement are non-GMO and made in a cGMP certified facility.
Functional benefit
Roman's doctor-formulated blend is for anyone seeking a hormone-free option to support their body's natural testosterone function, who doesn't have a contraindication (that is, a symptom or condition that makes a treatment potentially inadvisable) to the individual ingredients. This is not for men diagnosed with low testosterone. If you think you may be experiencing a hormone deficiency, please talk to a healthcare professional in person.
Free shipping, flexible plans
You can order Roman's Testosterone Support right now, from your phone or laptop. And you'll get free 2-day shipping with discreet delivery. There are flexible subscription plans that can be paused or canceled at any time.
Right now, Roman is offering new members $15 off their first order on a monthly or quarterly plan. If you have any questions about your Testosterone Support supplement Roman's care team is available 24/7 by email and Monday to Friday during business hours by phone.
Roman provides safe and accessible testosterone support for men who want to take control of their sexual health and keep their bodies functioning at their peak. Try Roman's Testosterone Support supplement today.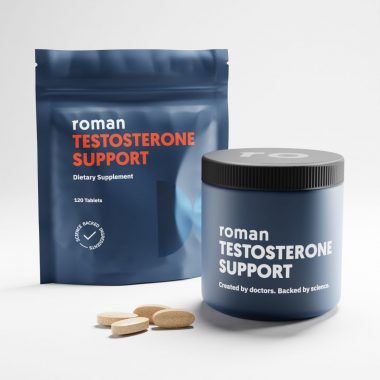 *These statements have not been evaluated by the Food and Drug Administration. This product is not intended to diagnose, treat, cure, or prevent any disease.