Over the past few weeks, we've seen a spark in the Black Lives Matter movement.
The wrongful killing of George Floyd by police has resulted in protests organized in all 50 states and abroad in places like Berlin and Barcelona. Last week, with curfews in effect across the nation, protesters were met with higher rates of violence. During this time, many police agitated and arrested protesters as an attempt to suppress their voices.
Though many are being tear-gassed and injured by the very people whose job it is to keep them safe, the compassionate American spirit continues on. This is true with protesters like Stefan Perez, a teenager from southwest Detroit who led thousands home safely after a peaceful protest. The 16-year old has since emerged as a powerful leader for the Black Lives Matter movement and even spoke to Detroit's own mayor.
SEE ALSO: Very Good Light stands with Black Lives Matter
But being vocal about social injustices isn't new with Stefan. "My first few raps that I actually wrote around sixth grade were directed towards civil rights and activism," he recalls to Very Good Light. "I used to write about how it's unfair that we have to live like this. I talked about social injustices and systematic oppression we must endure on a day-to-day basis because of the color of our skin."
The high schooler didn't plan on becoming a leader in the protests—it happened naturally. "I actually didn't organize the protest. I just came and attended," Stefan explains. "There was an organization that was there and I was with them at first, until I realized they wanted to keep people after curfew. This is not a problem, people protest when they want to protest, but I still wanted to make sure people got home."
Stefan took the moment to speak out to almost 2,000 protesters. "That was a very different type of adrenaline and I knew I had to get the people home safe because they were listening to me."
But it's his devotion to his hometown that he cares for most.
He recalls a time in life where he put himself in a predicament that led to housing insecurity. "I left the house and my mom moved out of state," he says. "At first, I was with my grandma, but then I left and it was just me on my own."
Stefan describes at this point living out in the streets. He was living with no money in his pocket, little to no food in his stomach, barely any clothes on his body, and couch surfing from place-to-place.
While advocating for Black Americans, Stefan's time living on the streets led him to also value helping out the homeless in his community. After protests, if there's any food or water leftover, Stefan passes it out to the often-overlooked homeless population. "We do have [homeless] people that walk by and so we say, 'Hey we're giving out food and water. Take what you need, take what you want to sustain yourself.' Right now, I'm fighting Black Lives Matter, social injustice, etc. and at the same time. I'm still trying to help fight the battle against homelessness and stuff like that. I'm just trying my best."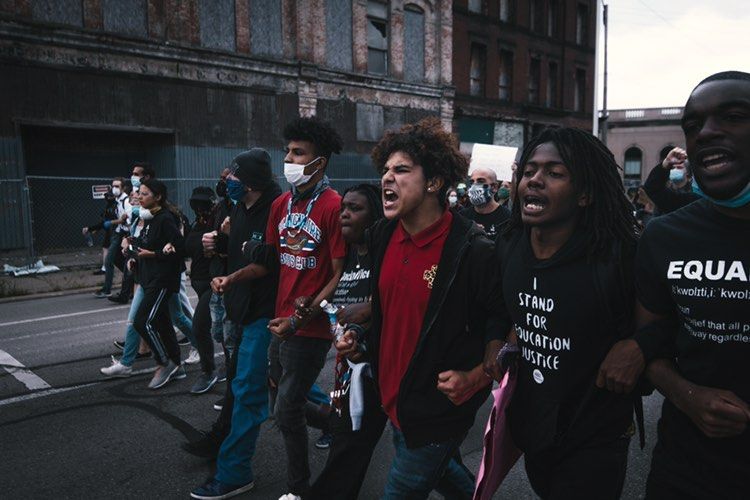 Stefan has experienced many tragedies in his years but he knows he isn't an isoloated case. He describes the power behind his strength to be through his brothers and sisters that have passed away.
"I've lost many people through gang violence, car crashes, sickness, and jail," he tells us. "I actually saw one of my close friends die in a drive-by shooting. They always told me that I was going to be something great all my life. But I saw me ending up like them, not being here and alive. I was going to be in a box either way, whether that was going to be a box in jail or a box in the ground."
Stefan beat the odds that he never knew he would. "I never expected to hit 16, so the fact that I'm here made me question, 'What does that mean?'" he says. "Every time I march—every time—I think of them, I just remember how they told me, 'You got this.' The death that affected me the most was my brother Reggie. He was supposed to be graduating so I'm going to walk across that stage for him. But who knew I would have walked across so many stages before I hit that graduation stage?"
Even though protesting is new to Stefan, he wants to continue doing it and working towards his future. "Besides school and music, I am also trying to support my friend's real estate businesses. With the connections that I have now with the city, hopefully, I can get them grants and properties. This is, ironically, not just flipping houses, but flipping the community towards us. That's one of the reasons why I wanted a peaceful protest—because I should be filled with rage, but you have to break down the system, not the buildings."
Finally, Stefan describes the future as being like a computer. "Everything needs to update eventually. Systems need to update, such as the police, Congress, and the government. We can achieve that if we put enough power. Even when I was given the platform and opportunity to discuss other things,  I still talked about the message. Because that's the main focus of what we're trying to get in there. So in five years, I hope to be alive. I hope to see the people that I've marched with and fought with and continuously done this stuff with alive also. I just hope that we can continuously build a future for ourselves."

Change is coming – and Stefan proves it's never too late (or early) to fight for it.