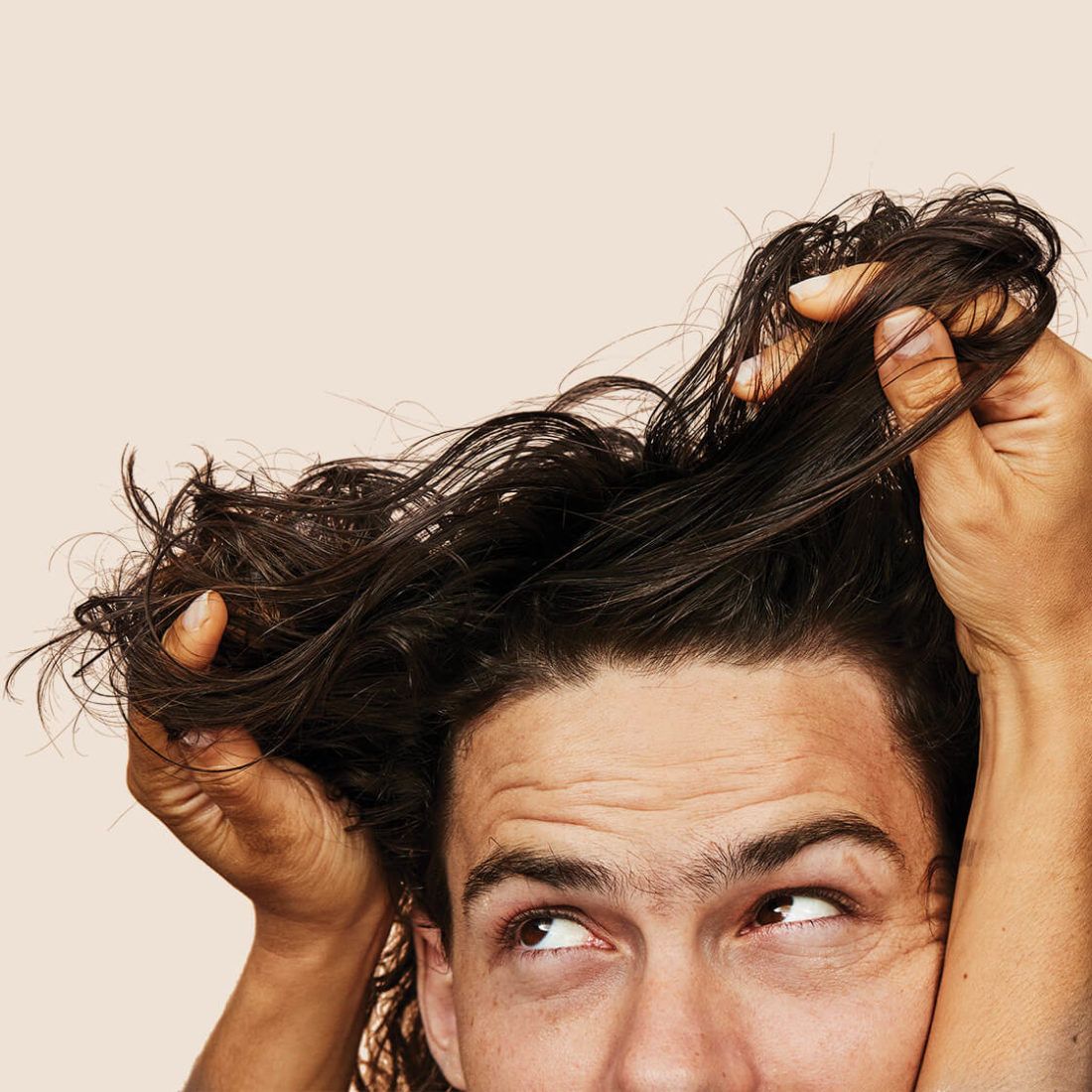 The thinner the hair, the bigger the pocket.
At least, that's the thinking behind a few new startups and the VCs that have backed them, that are rushing to capitalize on the men's hair loss market. In the past few months alone, slick new millennial brands like Keeps and Hims have bubbled into the market, introducing hair loss solutions in sexy, affordable ways. Both of their sites make addressing men's health approachable, utilizing easy navigation bars, beautiful minimal font, and photos that are drool-worthy. They're also educational, providing consumers answers to their everyday questions (like, WHY is this happening to me?!)
And if they look, sound and feel exactly alike, it's because they are.
SEE ALSO: What it's like to have erectile dysfunction as a teen
Hims and Keeps have capitalized on the expiration of medical patents from the main hair loss drugs propecia (finasteride) and Rogaine (monoxidil). Back story: By law, medical patents are exclusive to brands for 20 years (eight of which go into testing). It's only after two decades that companies can take ingredients and create their own generic drugs. Which is exactly what both brands have done.
Both brands offer the exact same generic solutions like finasteride (a pill that President Trump reportedly still uses) and monoxidil (a topical solution). Where as Keeps offers its bottle of finasteride for $25, Hims does so for $28.50. Keeps' 5% monoxidil solution is $10 where as Hims' is $13. What makes the brands different other than packaging? Service.
[aesop_image imgwidth="80%" img="/content/images/wp-content/uploads/2018/01/finasteride.jpg" align="center" lightbox="on" captionposition="left" revealfx="off" overlay_revealfx="off"]
Keeps, which just launched Tuesday by co-founders Steve Gutentag and Demetri Karagas, offers a doctor consultation for free. Customers can also follow up with a doctor without charge. After, their product runs out, consumers can pay $30 for further questions. Both Steve and Demetri worked at startups for seven years before landing at Google. It wasn't until they began experiencing hair loss themselves, spending hours upon hours of research that they decided to launch Keeps.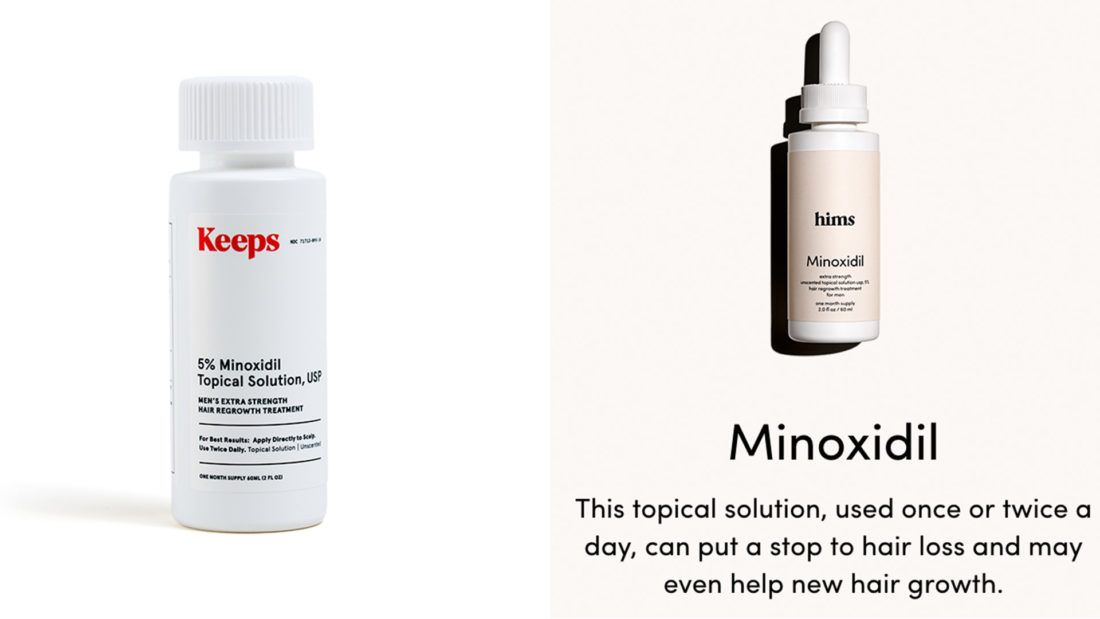 For Steve, being seamless is what's core to Keeps. "Our big thing is the straightforward approach," he says. "We want this to be super easy for guys." Which is why there's a subscription model attached, where guys can receive new products on a quarterly basis.
Hims also has a subscription model and offers a monthly kit for $44. While the brand focuses on hair loss, it's expanding to becoming a men's health brand, offering generic drugs for erectile dysfunction and also venturing into skincare. While Keeps offers two products for hair loss, Hims also offers a daily Biotin gummy supplement ($16) as well as a DHT blocking (that is, the hormone that causes hair loss) shampoo ($11).
"The brand came about after I was talking to dozens upon dozens of guys who struggle with [hair loss] but aren't comfortable talking about it," says Andrew Dudum, founder of Hims. The serial entrepreneur, who's worked in startups since he was 19, started the brand after the lack of relatable products on the market.
"Why is it that all of these products are gross and super, super expensive?" he says. "Why couldn't there be a brand that tastes good, feels good and looks good on your bathroom counter?" Andrew says he looked at the women's market and saw how women were not only proactive with their preventative health but had many options for well-being. "For guys, they have to have their head bleeding or break something to finally go to the doctor," he says. "Let's change that."
Along with hair loss products, Hims also offers a generic version of Viagra for erectile dysfunction (which rivals the other ED startup Roman) and will be venturing into skincare in the near future.
Though it's awesome that there are more options for guys, as for any drug, there are possible side effects. The drug finasteride (the one President Trump also uses), is undergoing a class action law suit. According to the Miami Herald, There are 1,370 people who have accused Merck, a brand that markets and sells finasteride as Propecia, who says there have been severe sexual dysfunction side effects. In 2012, the Food and Drug Administration announced a label change for Propecia and Proscar, and forced the brand to warn consumers that the drug could cause "libido disorders, ejaculation disorders, and orgasm disorders that continued after discontinuation of the drug." Scary.
But that's not stopping either brands. "We found that 1-2% of guys will have decrease in sexual drive," Andrew tells us. "But because of the small likelihood of it happening to many guys and the big opportunity to save their hair, it's appealing."
The side effects, Steve says, it "definitely something to consider."
"This is something so many guys experience, often starting younger than they expect, and they feel they have no control over," says Steve. "Our goal is to make it easy and affordable for guys to get access to high quality care and proven treatments that can help them stop hair loss and keep their hair."