I remember as a kid watching commercials for body washes and white people would be using their hands, washcloth, or sponge to clean themselves.
"What are those?" I would ask myself. "How the hell are they getting clean?" Then I'd hop into the shower and scrub my body with a green body exfoliator, a 때밀이, what I recently learned in English is called the "Korean Italy Towel." Nothing Italian about it as far as I'm concerned, unless scrubbing away dead skin like they were the memories of a ratchet night is an Italian thing. So I'm calling them K-scrubs, that is, Korean scrub rather than "Korean body exfoliating mitt," the name Vogue gave it.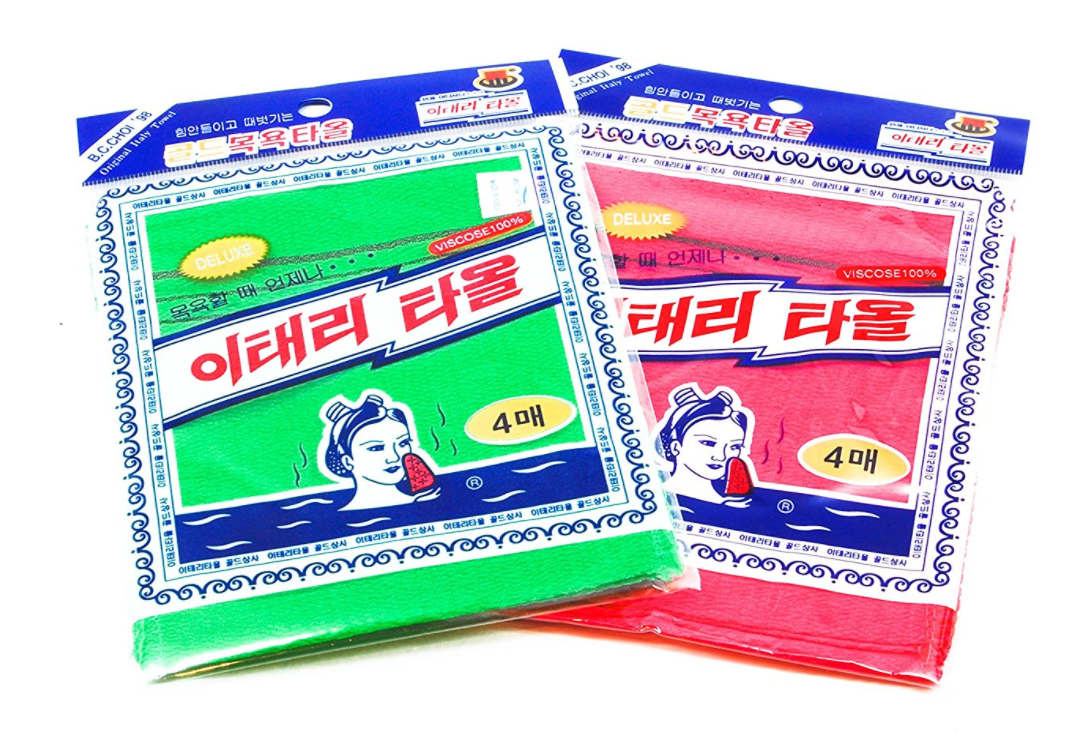 Growing up in a Korean household meant you were well aware of the vibrantly-colored body exfoliating k-scrubs. They were used to scrape your entire body of dead skin, scum and everything else between each and every crevice. The k-scrub is like sandpaper, and like sandpaper, it came in different coarseness. Pink is the 'softest', followed by green, then yellow – and for the masochists, blue is the roughest. A successful scrub was when the corners of your bathtub was lined with a light gray layer of dead skin.
You'd be told to lay in your hot, steaming tub to make your skin soft and open your pores. It'd be for around 10 minutes. Then, you would scrub your entire body until it turned pink, what is sometimes a very painful experience.
Of course, the ultimate scrub down is if you go to a 찜질방 aka a Korean spa. You may have seen Steven Yeun of The Walking Dead take Conan O'Brien to have his skin eventually match his red hair there.
These spas are an amazing consortium of magical rooms ranging in temperature and mineral composition. You can step into the ice room at like 30 degrees, then walk into the fire room at over 200 degrees.
Beyond that, there are rooms filled with large pink salt crystals, or clay balls, or jade-lined walls. You walk in and people are just lying there sweating their asses off and taking in the mineral powers that surround them… or something like that.
When you're over being icy, sweaty, and salty, you can take a nap outside of these rooms after eating some Korean food, shaved ice, or an ice cold drink from the cafeteria. It's the ultimate chill spot, and when I went for the first time, there were people of all races and cultures in there.
Needless to say, chilling like a Korean is trending (see 'space out' competition).
While you can purchase additional services like massages like any other spa, the only not-so-chill service is the scrub down. This is what Conan got – basically, an older Korean man comes out with these professional-grade k-scrubs, sprinkles you with epsom salt, lathers you with bar soap, then scrubs the shit out of your naked ass body from your neck down. Every crevice, like every, is touched. My friends who get this done love it because they feel so refreshed afterwards, especially after looking at their dead skin in a pile on the floor. I think I'm cool with scrubbing myself down for the time being.
After almost three decades of exfoliating with Korean towels, it was interesting to see how they've inspired a lot of Western products. When the good people at DUO asked me to try out their newly-created body scrub and polisher, I was intrigued. Could it soon replace my Korean towel, I wondered?I totally took them up on their offer to test the product to see if it was comparable to my Korean one.
The DUO has an exfoliating side and a smooth polishing side for sensitive areas, with a block of cleanser (aka soap) in the middle. You get three choices: Old Spice, Olay, and Ivory. If those aren't your go-to fragrances, it's going to be hard to be convinced to get this.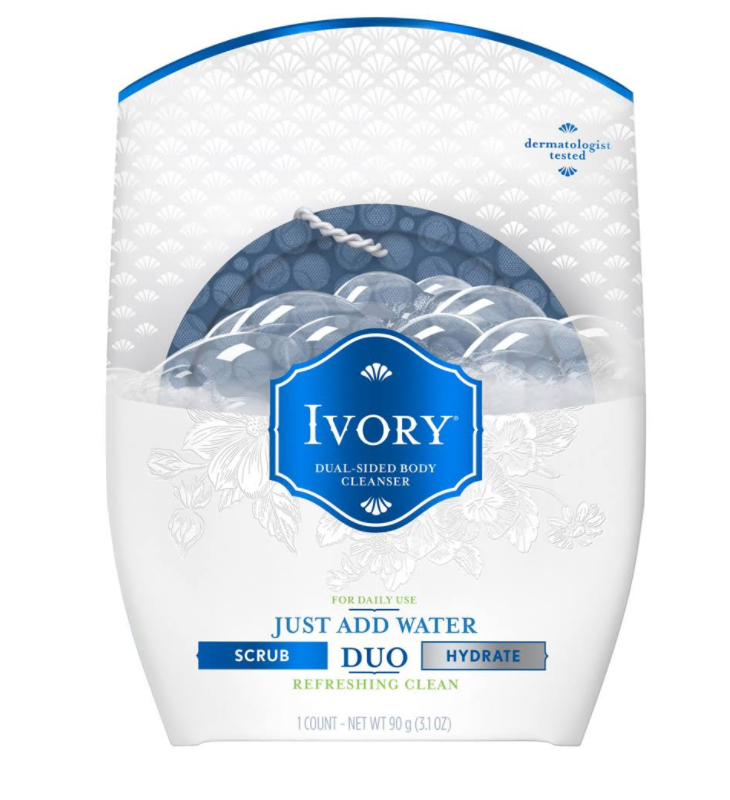 I tested out the Ivory version because it was made for more sensitive skin. The scent is neutral, relative to the other two (the manly smell of Old Spice or the fruity smell of Olay) and I've had an Ivory phase before I moved on to more natural bar soaps with lavender, which is my current phase.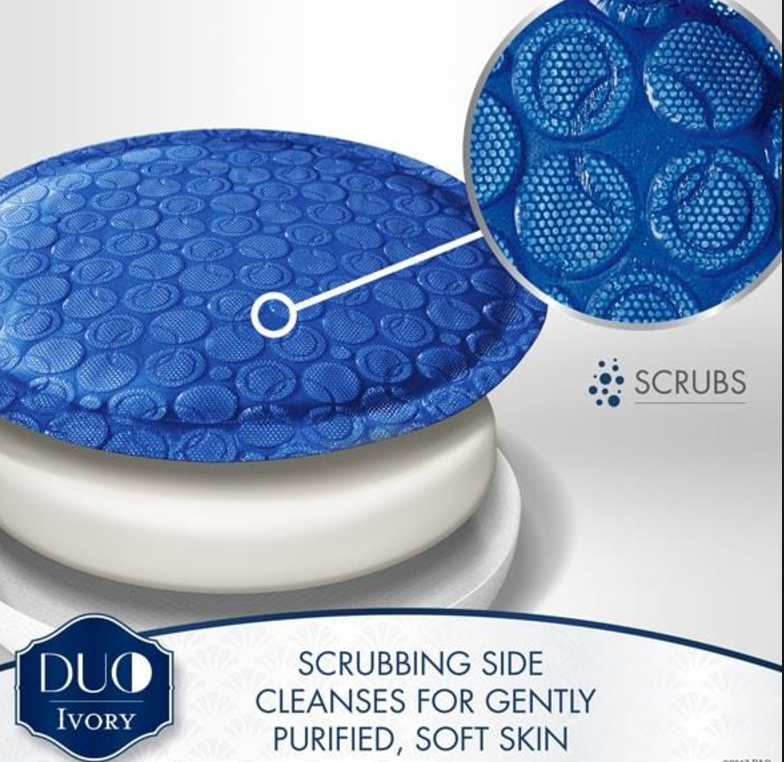 The scrub side is surprisingly comparable to the Korean Italy Towel – particularly the pink one which is the softest of the three K-scrubs. The soft side is something fairly new to me. I've used those cloud like mesh sponges before, but this was much smoother. It feels almost as if you are polishing your body, which is nice after a good hard scrub. It is perfect for sensitive areas of your body like your underarms, nether regions, neck, and if you got a bad sunburn. It is definitely nice to be able to switch back and forth from scrub to polish, and the thing foams up nicely for those who need the visual effect to feel clean. It's also nice to not need to put more soap on because the DUO has a cleanser inside.
This is the lazy man's body scrub, for sure. I find myself using this when I'm doing a quick shower after a run or a lazy weekend when I haven't really "earned" a shower (like sitting around Netflix-ing all day but still wanting to be fresh for bed).
The price point for this is the biggest downside. Essentially, it's charging you for the soap and the scrub. A similar scrub would be that AXE one they advertised as something to keep your balls clean, which is $6 at Duane Reade. Then add $6 for a container of whatever mainstream liquid body wash you use. I found the DUO on the same shelf for $12. It's slightly cheaper online, but damn, I can't find myself buying one every month at that price especially with such limited choices. This is supposed to last 30 days if you use it everyday.
Alternatively, I can probably see myself using this as a travel soap/scrub for sure. Currently my travel kit consists of a bar soap holder and a green k-scrub which takes up a fair amount of space in my toiletries bag. Maybe that was the whole purpose for the creation of the DUO.
At home, I'm still going to make my parents proud and stick with the K-scrubs, and maybe adding in a softer washcloth quick, light showers. I mean, for only $5.99 for 8 scrubs, that's a deal you cannot pass. Sometimes being traditional – and traditionally frugal – can actually be a great thing. And as for me and my K-scrub, I'll be sticking to what's worked wonders for years.