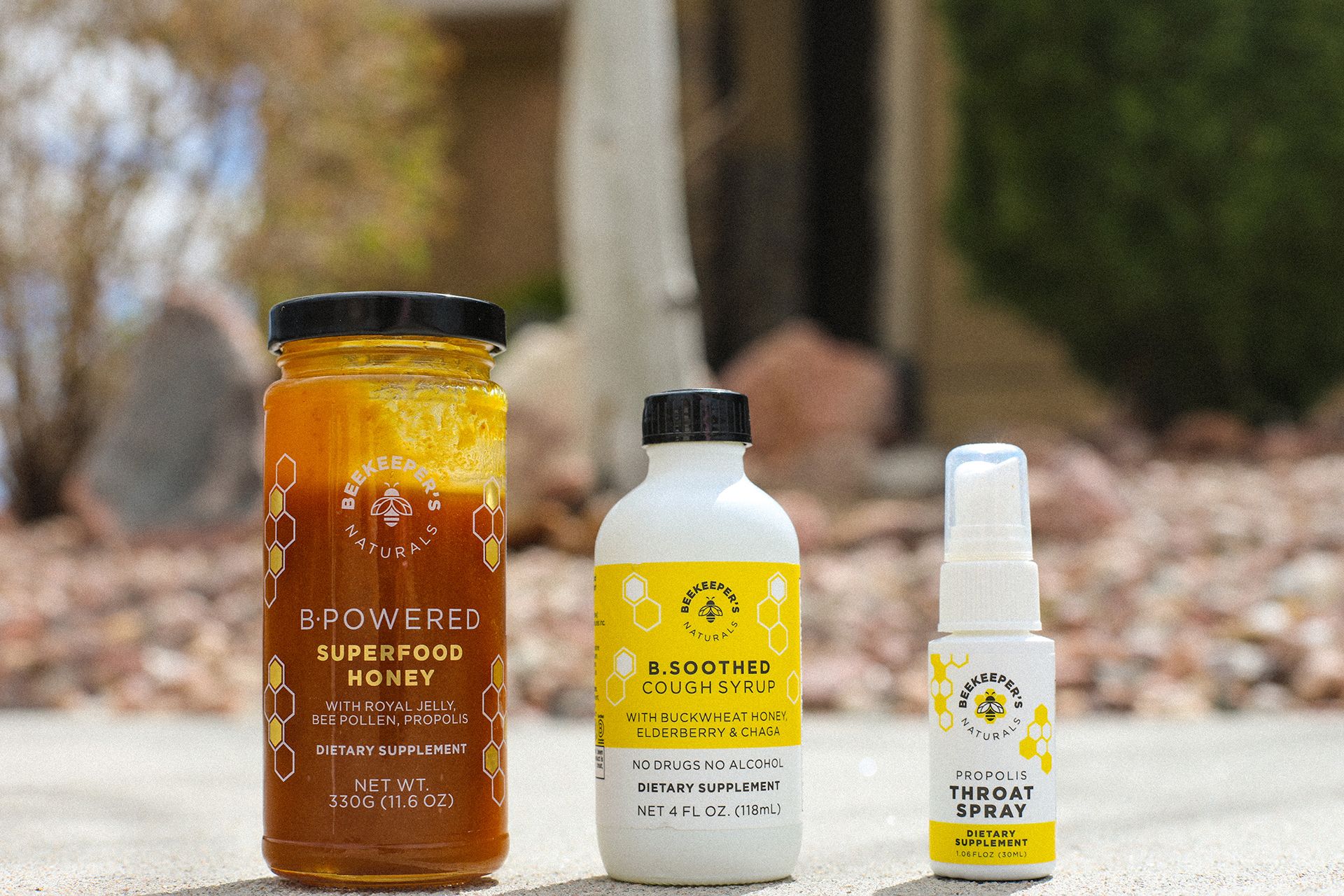 Growing up, Carly Stein couldn't take over-the-counter medicines due to an autoimmune condition.
That meant that for every cough, sneeze, or fever, she'd have to figure out other remedies to cure her condition. It was while studying abroad a few years ago that she came down with tonsillitis. Fearing she'd have to go back home, she searched her local pharmacy, hoping she might find anything to help. It's there she found an ingredient that would change her life. It was bee propolis, what she was told had over 300 beneficial compounds, many supporting immunity. What was most incredible is that it wasn't only natural, it was super efficacious at curing her tonsillitis.
SEE ALSO: Wait, is honey actually good for your skin?
It's at that moment she realized others needed to know about this natural alternative as well. Back at home in Canada, she searched far and wide and couldn't find bee propolis readily available.
"It's crazy to me that people live clean lives when it comes to their diet, beauty products and homes, yet when it comes to being sick, turn to remedies with harmful toxins and chemicals," she tells Very Good Light.
She has a point. In an industry obsessed with vegan and clean ingredients, the same energy isn't put into over-the-counter drugs or synthetics we put into our bodies. As such, she decided to quit her then position at Goldman Sachs and launch her own brand called Beekeeper's Naturals.
But for those worrying about the health of bees, fear not. Being a sustainable beekeeper is actually helping bees to survive and thrive. It's no secret that in the past few years, global bee populations have declined due to wide uses of pesticides, climate change, which leads to habitat loss. Because of that, 1 in 4 bees are at risk for extinction. Recently, almond farms have come under the microscope after being accused of overworking bees – to death. Other farmers feed bees with sugar water, which weakens their health. "We make sure we never over harvest, from our hives always ensuring our bees have plenty of their own foods to stay healthy and thrive," she says.
This means that she partners with "green apiaries," that is sustainable bee farms, which provide 5 miles for bees to forage with plants that are free from pesticides.
"In the big picture, sustainable beekeeping serves the greater health of all pollinators—it promotes an awareness of dangerous, pollinator-harming pesticides and supports healthy habitat maintenance," Carly tells us. "By buying sustainably-sourced bee products like honey and propolis, you are speaking volumes with your dollars. The greater the demand for sustainable bee products, the greater the incentive for large-scale beekeepers to adopt more sustainable practices—which would be a win for everyone, especially the bees."
But do her products actually work?
Review
In short – yes, they really do. So much so that I was compelled to immediately write about the amazing results. Beekeeper's Naturals couldn't come at a better time, when people are attempting to boost their immune systems. For an entire month, I tested the brand's classics: B. Powered Superfood Honey, Propolis Throat Spray, and its newest, which launches today: B. Soothed Cough Syrup.
First of all, can I just say that every single one of these products tastes better than candy?
B. Soothed Cough Syrup, $14.99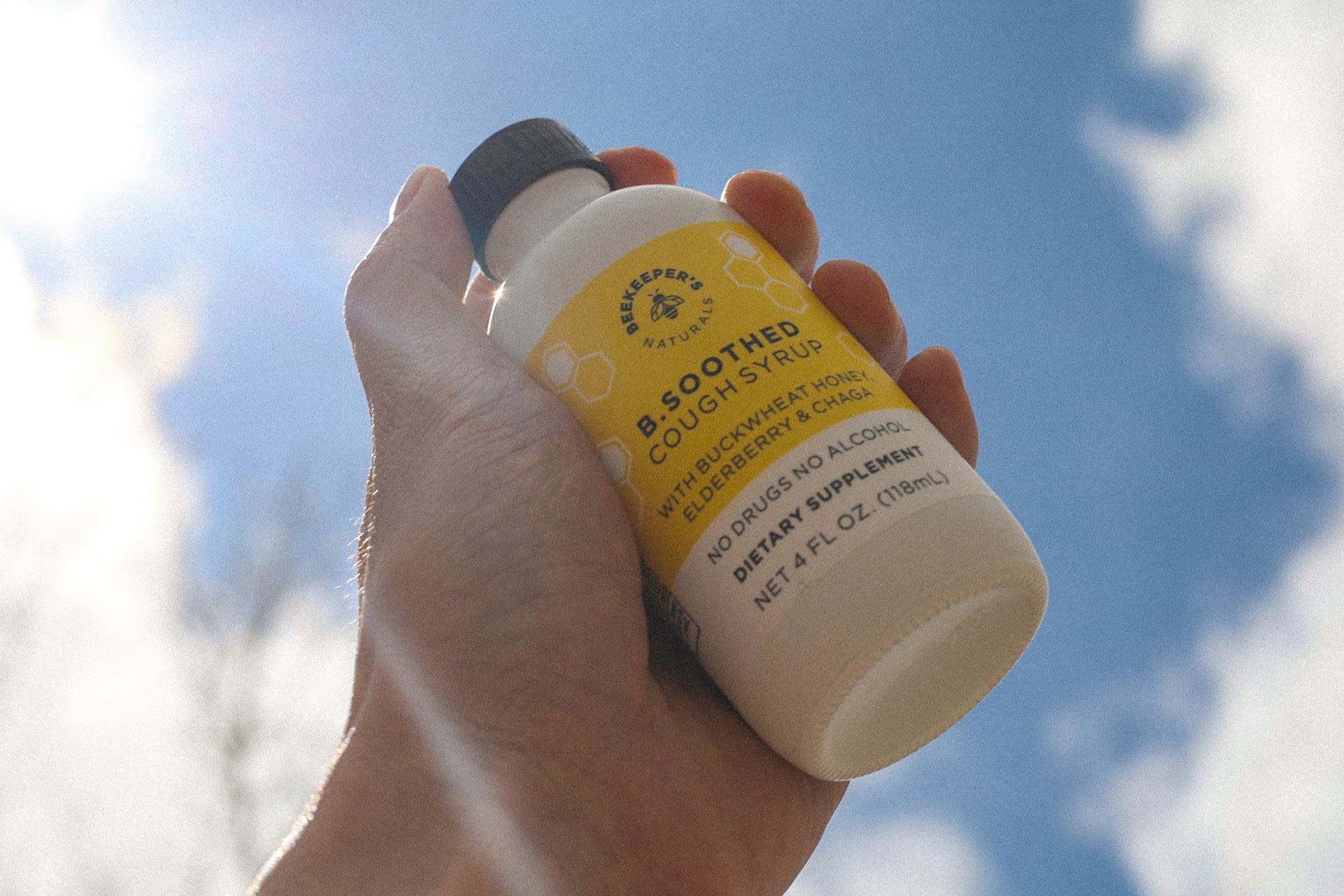 Let's start with the B. Soothed Cough Syrup. Obviously, honey is a sweet-flavored product, but the B. Soothed Cough Syrup was sugary but not too saccharine, a little tart from its elderberry, and had an umami flavor profile thanks to its chaga mushrooms. But it doesn't end there. The syrup – free from drugs, chemicals, refined sugars, dyes, and more – also includes pure buckwheat honey, a super powerful and antioxidant-rich honey. As Carly tells us: "Its antioxidant count rivals honeys that of widely acclaimed therapeutic honeys like manuka—which is why I like to call it 'North America's manuka.'"
One morning, I woke up with a sore throat. Like many world citizens, I panicked, thinking that I probably had symptoms of COVID-19. I took this cough syrup and it immediately coated my throat. So much so, that there was instant relief. After two days, my throat was back to normal. How could this be true? What witchcraft was this?
As Carly explains, it works because of its superpower ingredients taken together. Elderberry is an amazing source of Vitamin C, a known ingredient to ward off colds, as well as a powerful antioxidant. Together with Chaga mushrooms, which heal and boost immune systems, they are potent for getting the body back to tip top shape.
How do I 100% know that this product actually isn't a placebo? I also had my parents, who had the same symptoms, take it and at the end of the third day, we all had no more throat soreness.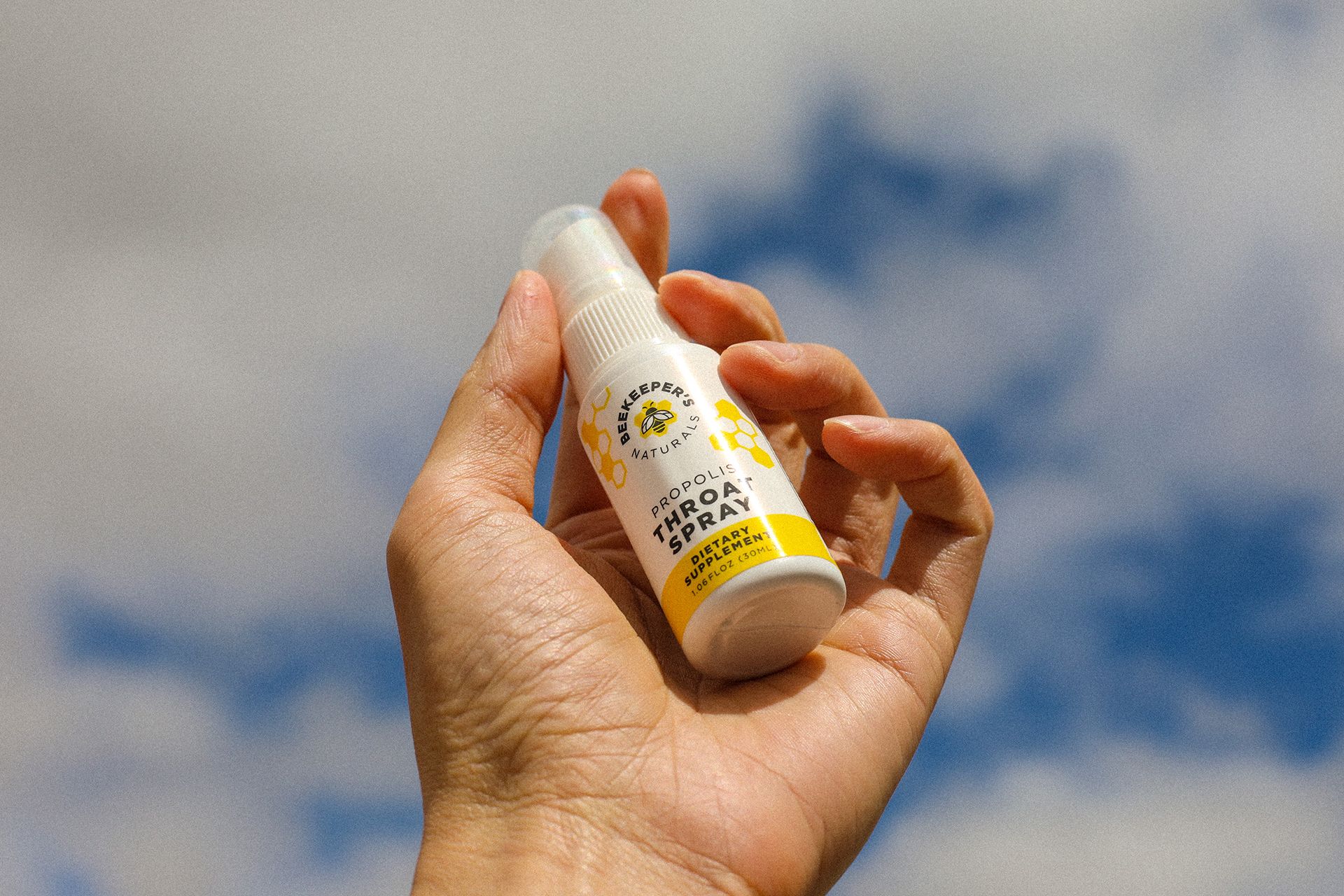 While taking spoonfuls of the delicious cough syrup day and night, inbetween, we used the Propolis Throat Spray. It was like a spritz of sugar down your throw – a pleasant if not seemingly sinful experience. Propolis is great for cleaning the system, and has been used for centuries to keep immunity going strong. For bees, propolis is lined on hive walls to keep germs out. Not only did this remedy any pain, it was such a pleasure to use, I found myself spritzing my mouth even when I didn't need to. Don't judge.
B. Powered Superfood Honey, $39.99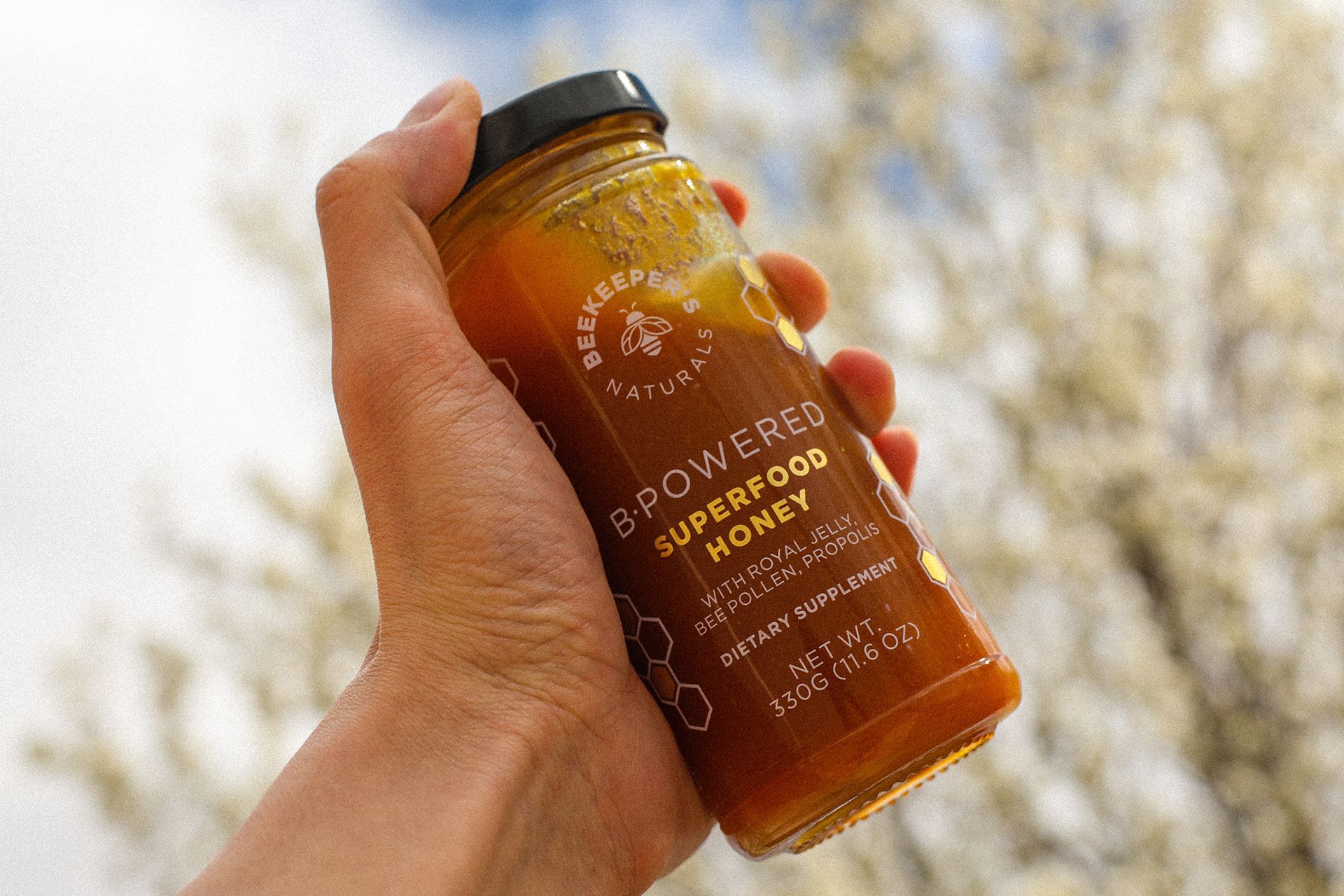 This is a product my family's been taking every day for the past month. Not only does it have raw honey, it's also royal jelly (what the queen bee eats!), pollen, and propolis. It's now become a part of my family's daily regimen, with over 300+ beneficial compounds. A small amount every morning goes a long way. For the past month, I've been feeling stronger, more energetic, and less sickly – even from allergies. Not only that, I find myself thinking better as well. When I asked Carly about this, she said it only makes sense. Royal jelly contains 10-HDA, an ultra unique fatty acid that is said to nourish the brain, clarifying it in the process. Not only does this help my body, it's truly been a godsend for working from home and focus.
TLDR;
Beekeeper's Natural, how obsessed am I?! Honestly, I'll never go back to synthetic, chemical-filled cold remedies after this. One taste of the B. Soothed Cough Syrup, I was hooked. So much so, Lighters, I had to write a review about this – even if it isn't traditionally a beauty product. Why? Because it works.